Poilievre tells Tory caucus to stand for the 'common people' in pre-holiday message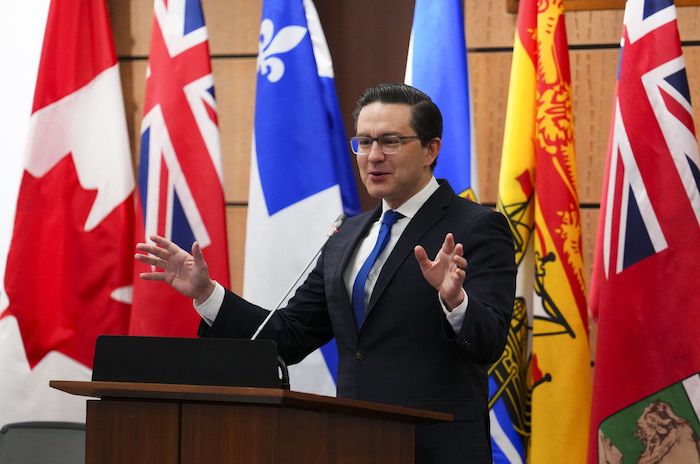 Ottawa – It's the job of Conservatives to stand on the side of "common people," leader Pierre Poilievre told his members of Parliament Wednesday, as the House of Commons' fall sitting wound down.
In his speech to the party's caucus, Poilievre painted a picture of a Canada that is hurting and told his MPs it's their job as the Official Opposition to transform that hurt into hope.
"To inspire people that a real improvement in their lives is possible, that the dream that brought them here as immigrants, or the dream with which they were raised when they were born here, can be rekindled," he said.
He repeated his attacks on Liberal government spending, which he said is driving up inflation, and its efforts to ban "assault-style" weapons. The Conservatives have said that list of weapons includes popular hunting firearms.
Poilievre's meeting with his caucus comes two days after the party lost a byelection in the Greater Toronto Area to the Liberals.
The government is heading into the Christmas break buoyed by that unexpectedly large win in Mississauga—Lakeshore, a riding in the vote-rich 905 district around Toronto where many analysts say elections are now won and lost.
Charles Sousa, a former provincial Liberal finance minister in Ontario, took more than 51 per cent of the vote in a seat the Conservatives targeted heavily in the last general election.
The Tories are downplaying the loss given that they have only won in the riding once in the last 20 years, but it is still the kind of seat the Conservatives need to hold if they want to form government.
The Liberals' explanation for the win gives a glimpse into what their strategy may be against the Conservatives going into 2023: to paint Poilievre as sowing seeds of anger and supporting anti-government movements, such as the "Freedom Convoy."
Prime Minister Justin Trudeau has recently said good government policy doesn't "fit on a bumper sticker."
On his way into his first Liberal caucus meeting in Ottawa Wednesday, Sousa said the message from voters in his riding is that they want their representatives "to be positive, to show some unity, to work together for the ultimate goal of serving them effectively."
"They're not into the reckless stuff or the gimmicks, or the sowing of division or feeding of anger," he said.
This report by The Canadian Press was first published Dec. 14, 2022.
— With files from Mia Rabson
Hot rental market makes search 'stressful' for many — and it won't get better soon
Marissa Giesinger is pictured in Calgary, Thursday, Sept. 21, 2023. On the hunt for a rental home in Calgary over the last six weeks, Giesinger and her boyfriend trawled through listings morning, noon and night, only to find most come along with dozens of applications and a steep price tag. THE CANADIAN PRESS/Jeff McIntosh
By Tara Deschamps in Toronto
On the hunt for a rental home in Calgary over the last six weeks, Marissa Giesinger and her boyfriend trawled through listings morning, noon and night, only to find most come along with dozens of applications and a steep price tag. As an added difficulty, many landlords are unwelcoming to the couple's brood — dogs Kado and Rosco and a cat named Jester.
"We made the tough decision recently to house our dogs with someone else until we can find a place that's affordable and we can take both of them," said Giesinger, a 23-year-old Mount Royal University student.
"It's definitely been stressful."
The competitive rental market Giesinger has encountered in Calgary is being seen across the country as multiple factors combine: high interest rates deter buyers and add to rental demand, still-high inflation is squeezing renter budgets, there's an undersupply of purpose-built rental units and population growth is fuelling demand.
These conditions have left prospective renters feeling even more frustrated than usual by sky-high rents, the frenzy of interest that surrounds any affordable listing and the litany of demands landlords can make when so many people are interested in their home.
Giacomo Ladas, communications director for Rentals.ca, calls it "almost a perfect storm" — and it isn't likely to ease up any time soon.
"What this does is create such a burden on this rental housing market that even though we're out of the (busy) summer rental season, there's so much demand that (these conditions are) going to continue like this until the fall and into the winter," he said.
Data crunched by his organization and research firm Urbanation.ca shows average asking rents for newly-listed units in Canada increased 1.8 per cent between July and August and 9.6 per cent from a year earlier to reach a record high of $2,117 last month.
Between May and August, asking rents in Canada increased by 5.1 per cent or an average of $103 per month.
When Giesinger rented a two-bedroom basement unit with a roommate a few years ago, the duo paid $1,000 per month, but now she routinely spots "super tiny," one-bedroom places for $1,350 a month.
"If you want a basement suite or an apartment, you're looking at minimum $1,200 and that doesn't include any utilities or anything like that unless it's a super rare listing," Giesinger said.
Rentals.ca data show newly listed one-bedroom properties in Calgary priced at an average $1,728 per month in August, up 21.6 per cent from a year earlier. Two-bedroom homes have climbed 17.4 per cent to $2,150 over the same period.
The picture in Vancouver and Toronto is far bleaker. Rentals.ca found the cities had the highest rents in the country.
Newly-listed one-bedroom properties in Vancouver averaged $2,988 in August, up 13.1 per cent from a year earlier, while two-bedroom units hit $3,879, an almost 10 per cent increase year-over-year.
Newly-listed Toronto one-bedroom homes averaged $2,620 in August, up almost 11 per cent from the year before, while two-bedroom properties had a 7.1 per cent rise over the same time frame to $3,413.
It's numbers like these that have convinced Kanishka Punjabi to abandon her hopes of moving in the near term.
"Two days ago, I gave up on my search because the rental market is that bad," she said.
The public relations worker has been living in Mississauga, Ont., but felt it was time to find a home in downtown or midtown Toronto, closer to where she works.
However, few of the two-bedroom homes she spotted in her two-month search were within her $2,800 budget.
For example, one apartment she liked at the intersection of Yonge and Eglinton streets had 25 offers in just over a week.
"Some people actually just sent in their offer without looking at the apartment too because there are so many people who are in desperate need of rental units," said Punjabi. "There's just not enough."
The Canada Mortgage and Housing Corp. has projected that the country needs to build 3.5 million additional homes beyond what's planned before the market reaches some semblance of affordability.
It also calculated that the annual pace of housing starts — when construction begins on a home — edged down one per cent in August to 252,787 units compared with 255,232 in July.
Despite the nudge down, Rishi Sondhi, an economist with TD Bank Group, said it has been a strong year for starts because the industry is responding to elevated prices by building at a robust pace.
But between population growth and rising interest rates, he said, "supply is struggling to keep up with demand" and that's bound to weigh on renters for quite some time.
"In the short term, it would be unrealistic to expect too much of a reprieve simply because population growth is likely to remain strong through the duration of this year — and that's really one of the big fundamental drivers," he said.
"In addition, it's unlikely to expect affordability in the ownership market to improve too much either because we think the Bank of Canada (key rate) is going to be on hold for the remainder of the year, but there is some risk that they take rates even higher, especially if inflation doesn't co-operate."
For renters like Giesinger that message puts even more pressure on her to settle on a place soon.
"Now I'm scrambling to find the money for a deposit and we're still never really sure like what kind of place we're going to get," she said.
"And when you're battling dozens of other people for a rental it can be super stressful."
This report by The Canadian Press was first published Sept. 24, 2023.
Man charged with first degree murder in shooting death of B.C. RCMP officer
A 25-year-old Coquitlam, B.C., man has been charged with first-degree murder in the shooting death of RCMP officer Rick O'Brien.
Police allege Nicholas Bellemare fatally shot the Ridge Meadows RCMP constable on Friday in Coquitlam during a drug investigation originating in Maple Ridge, B.C.
The Integrated Homicide Investigation Team and the Coquitlam and Ridge Meadows RCMP detachments issued a joint statement saying Mounties were executing a warrant when an altercation began between Bellemare and police at around 10 a.m.
Police said O'Brien and another officer were shot during the altercation and a third officer also sustained unspecified injuries.
O'Brien died at the scene, while the two other wounded officers were treated at hospital and have since been released.
"This is a profound loss and I understand it will have a lasting effect on Const. O'Brien's family, friends, colleagues and the community," said Mandeep Mooker, officer in charge of the integrated homicide team, in a written statement.
Bellemare, who police say was also shot and wounded in the altercation, has been charged with one count each of first-degree murder and attempted murder with a firearm.
O'Brien's death in Coquitlam comes less than a year after another RCMP officer, Const. Shaelyn Yang, was stabbed to death while accompanying a city worker to a campsite used by homeless residents in a Burnaby, B.C.
The latest tragedy has reverberated with law enforcement officials across the country.
Kevin Halwa, chair of the National Police Federation's Benevolent Foundation, has said calling the mood in the law enforcement community sombre "would be an understatement."
Halwa said the tragedy was a powerful reminder of the risks police officers take on in their daily work once they "step up to serve."
Condolences from a number of law enforcement officials and agencies have poured in on social media, including federal Justice Minister Arif Virani, the Manitoba Association of Chiefs of Police and Alberta Public Safety Minister Mike Ellis.
A GoFundMe campaign for O'Brien's family has raised more than $55,000 since launch, surpassing its original goal of raising $50,000.
Halwa said the funds cannot come close to replacing O'Brien's loss, but the Benevolent Foundation is hoping to take on as much of the financial pressures facing the family in the wake of his death.
"If we can take even just an ounce of pressure off of that family and Rick's loved ones, then that's why we're here," Halwa said.
O'Brien, who had a wife and children, worked with at-risk youth before joining the RCMP and spent his entire policing career at the Ridge Meadows detachment.
He was decorated for bravery in the rescue of victims during a home invasion within months of joining the RCMP in 2016.
Halwa said he hopes the tragedy reminds the public of the individuals behind the badge.
"You know, they are the mothers and fathers, the soccer coaches, and they're doing their damn best to do what they can to make the world better," he said. "Their hearts are all in the right place to make the world better."
This report by The Canadian Press was first published Sept. 23, 2023.