Poilievre stands by 'Freedom Convoy' support, but will wait to weigh in on evidence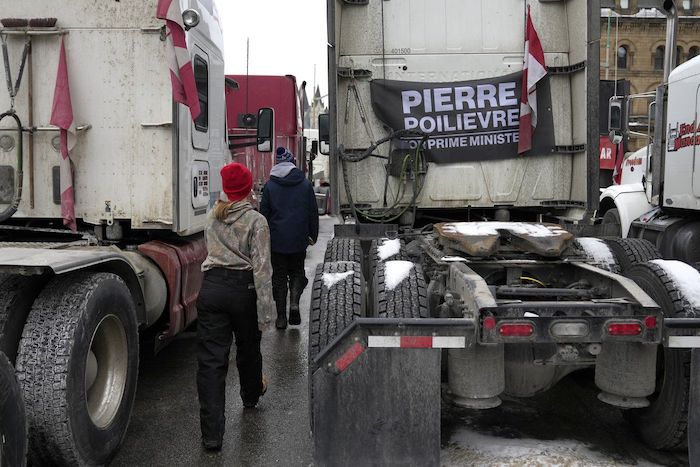 Ottawa – Conservative Leader Pierre Poilievre says he stands by his support of the "Freedom Convoy," but will wait until a public inquiry on the matter is over before weighing in on what it has heard.
Poilievre was among the many members of the Tory caucus who voiced support for demonstrators who descended on downtown Ottawa last winter, protesting against COVID-19 mandates and Prime Minister Justin Trudeau's government.
At the time, Poilievre was a high-profile member of Parliament for the party who, before protesters arrived, said he believed the individual actions of bad actors should be judged separately from those who were taking to the streets to voice concerns about their freedom.
The demonstration coincided with the start of the party's leadership contest, during which Poilievre voiced his support for those who refused to get vaccinated.
The protest ultimately ended once police moved in to dismantle blockades around Parliament Hill in mid-February, which happened after the federal government triggered the Emergencies Act.
Poilievre told reporters in Vancouver he will wait until a public inquiry examining the invocation of the act is complete to say what he thinks of the evidence it has heard.
This report by The Canadian Press was first published Nov. 9, 2022.
"If you tell the truth consistently, trust is automatic" – Former CBC Reporter blasts media coverage during pandemic and Freedom Convoy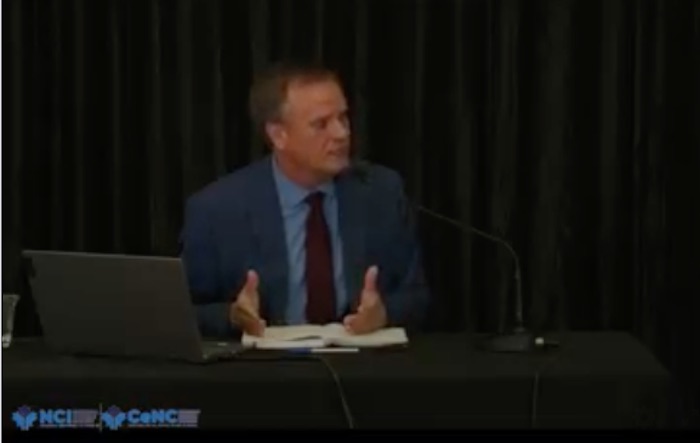 Article submitted by Adele Paul
Former CBC reporter testifies at National Citizen's Inquiry in Toronto
At the National Citizens Inquiry in Toronto, former CBC reporter Rodney Palmer delivered testimony critical of Canada's public broadcaster during the COVID-19 crisis. Palmer testified to a series of events that he called engaging in 'propaganda' and censorship rather than good faith 'newsgathering' at CBC.
The events included an April 4th, 2020, piece from Adrienne Arsenault entitled "How to talk to your family about COVID-19 misinformation" which offered suggestions on how to talk to family members who might falsely suggest the SARS-CoV-2 virus came from a lab. Palmer asserts that there was insufficient evidence at that time to make any definitive claims about the virus' origin.
Other events of concern to Palmer were the steps taken by the CBC to promote 'trust' in journalism since 2021 which include joining international conglomerates including the Trusted News Initiative and the Trust Project, among others, which sought to control the spread of 'misinformation'. This, according to Palmer, was an attempt to address a March 2021 survey which concluded that half of Canadians polled said they felt journalists intentionally try to mislead them. Palmer was critical of this approach stating, "If you tell the truth consistently, trust is automatic."
In addition, Palmer testified that CBC actively engaged regularly in censorship. One such event happened in 2021. CBC Marketplace reported over 800 pieces of content to social media giants demanding that they be censored, many of which were subsequently taken down.
Another red flag for Palmer was the public broadcaster's reporting on early treatment of COVID-19. In fall of 2021, CBC issued a series of stories which reported that ivermectin, a widely administered anti-parasitic drug cited by many medical professionals as a treatment for the disease, was primarily for use in livestock and warned that it could potentially kill or make humans seriously ill. Their reports, he said, failed to include that ivermectin was a nobel-prize winning and widely-used medication for humans and cited in extensive scientific literature as having a therapeutic benefit for COVID-19.
Palmer concluded with some of his own work covering the Freedom Convoy in which he interviewed a number of truck drivers, many of them people of colour, who denounced the notion that the movement was led by racists or white supremacists, a narrative espoused by Canadian politicians including Prime Minister Justin Trudeau and bolstered repeatedly by the CBC.
When asked what might be done to improve the prospects for Canadian media, Palmer was reserved. He said they might be forgiven for the exceptions they took early on in the emergency when they acted as a mouthpiece for Public Health when little was known about the virus, but finished by saying "the emergency is over, but the exception still exists."
The National Citizens Inquiry, a citizen-led initiative aimed at giving voice to citizens regarding Canada's response to COVID-19, kicked off its second round of testimonies in Toronto Thursday morning. The inquiry launched in Truro on March 16 and will facilitate 8 hearings across the country throughout the spring collecting testimonies from ordinary Canadians and expert witnesses.
---
Rodney Palmer is an award-winning journalist who has worked for 20 years as a foreign correspondent for CTV news and investigative reporter for CBC Radio & Television in Canada and abroad. He was the CTV News Foreign Correspondent and Bureau Chief in India, China, and the Middle East.
Government had 'insufficient evidence' to invoke Emergencies Act, group tells court
Police officers patrol on foot along Albert Street as a protest against COVID-19 restrictions that has been marked by gridlock and the sound of truck horns reaches its 14th day in Ottawa on Thursday, Feb. 10, 2022. THE CANADIAN PRESS/Justin Tang
By Jim Bronskill in Ottawa
The federal government lacked the evidence to determine protests and barricades across Canada last year were threats to national security, an organization that defends constitutional rights told a federal judge Tuesday.
Sujit Choudhry, counsel for the Canadian Constitution Foundation, said the Liberal government needed more supporting information to make that finding in mid-February 2022.
"Cabinet's determination that the protests and blockades were threats to the security of Canada was unreasonable, because it had insufficient evidence to reach that conclusion," Choudhry said during the second day of a Federal Court review.
Justice Richard Mosley is hearing concerns from several groups and individuals about the government's use of the Emergencies Act to quell "Freedom Convoy" actions that paralyzed downtown Ottawa and blocked key border points.
The Public Order Emergency Commission, a mandatory review that takes place after invocation of the emergencies statute, recently found the government met the very high threshold for using the law.
Legal arguments about the historic decision are now being weighed by a court of law.
In early February 2022, downtown Ottawa was besieged by protesters, many in large trucks that arrived beginning in late January. Initially billed as a demonstration against COVID-19 health restrictions, the gathering attracted people with various grievances against Prime Minister Justin Trudeau and his government.
Meanwhile, the protests spread and trucks clogged border crossings, including key routes to the United States at Windsor, Ont., and Coutts, Alta.
On Feb. 14, the government invoked the Emergencies Act, which allowed for temporary measures including regulation and prohibition of public assemblies, the designation of secure places, direction to banks to freeze assets and a ban on support for participants.
It was the first time the law had been used since it replaced the War Measures Act in 1988.
Choudhry said Tuesday the government resorted to the law even though the Canadian Security Intelligence Service had assessed that the protests did not amount to a threat to the security of Canada as defined by the CSIS Act.
Federal lawyers say in a written submission to the court that the government had reasonable grounds to believe this threshold was met for the purposes of the Emergencies Act, "based on all of the inputs available to it at the time. It was equally reasonable for CSIS to reach a different conclusion for the purposes of its own mandate."
Much like the government was not bound by CSIS's assessment of threat under its own legislation, it was also not obliged to wait for an additional assessment requested by national security adviser Jody Thomas just before noon on Feb. 14, the federal submission says.
It also stresses that the assessment Thomas ordered was not intended to be an alternative document, but rather a collation of existing information, including some points that had been made verbally but not written down.
Given the "urgency of the situation, however, there was nothing unreasonable" in the government deciding to act without waiting for this additional written compilation, the federal filing says.
Choudhry said the pending threat assessment "wasn't just nice to have, but was legally required" in the face of the CSIS assessment that there was no threat to the security of Canada.
That prompted Mosley to ask: "Is there a particular magic to the threat assessment?"
The judge said the government had other sources of information, and while another risk assessment "would have been perhaps sensible," he questioned whether it was required by law.
"Your honour, we think it's required by the law," replied Choudhry.
On Monday, the Canadian Civil Liberties Association said the government did not clearly spell out proper legal justification for its use of the emergency measures.
The court is also hearing from counsel for others who filed actions contesting use of the emergency measures: Canadian Frontline Nurses and Kristen Nagle, and individuals Jeremiah Jost, Edward Cornell, Vincent Gircys and Harold Ristau.
Overall, the government argues the extraordinary steps to deal with the emergency situation were targeted, proportional, time-limited and compliant with the Charter of Rights and Freedoms.
Federal lawyer Christopher Rupar said Tuesday the court had heard much hindsight about what could have been done differently on Feb. 14 of last year.
"That's not how this matter should be reviewed," Rupar said. "This matter should be reviewed based on the context of what happened that day and the days leading up to it, and what the decision-making process was looking at."
The three-day hearing is slated to conclude on Wednesday with additional arguments from federal lawyers and statements in reply.
This report by The Canadian Press was first published April 4, 2023.