PGA Tour, Europe to merge with Saudis and end LIV Golf litigation
By Doug Ferguson
The most disruptive year in golf ended Tuesday when the PGA Tour and European tour agreed to a merger with Saudi Arabia's golf interests, creating a commercial operation designed to unify professional golf around the world.
As part of the deal, the sides are dropping all lawsuits involving LIV Golf against each other effective immediately.
Still to be determined is how players like Brooks Koepka and Dustin Johnson, who defected to Saudi-funded LIV Golf for nine-figure bonuses, can rejoin the PGA Tour after this year.
Also unclear was what form the LIV Golf League would take in 2024. Commissioner Jay Monahan said in a memo to players that a thorough evaluation would determine how to integrate team golf into the game.
The agreement combines the Public Investment Fund's golf-related commercial businesses and rights — including LIV Golf — with those of the PGA and European tours. The new entity has not been named.
"They were going down their path, we were going down ours, and after a lot of introspection you realize all this tension in the game is not a good thing," Monahan said in a phone interview with The Associated Press.
"We have a responsibility to our tour and to the game, and we felt like the time was right to have that conversation."
Yasir Al-Rumayyan, the governor of Saudi Arabia's sovereign wealth fund, will join the board of the PGA Tour, which continues to operates its tournaments. Al-Rumayyan will be chairman of the new commercial group, with Monahan as the CEO and the PGA Tour having a majority stake in the new venture.
The PIF will invest in the commercial venture.
Monahan said the decision came together over the last seven weeks.
___
AP golf: https://apnews.com/hub/golf and https://twitter.com/AP_Sports
U Sports drops first-year grade requirements for participation, scholarships
Laval Rouge et Or quarterback Arnaud Desjardins is tackled by Conner Delahey of the Saskatchewan Huskies during the first half of the Vanier Cup in London, Ont., Saturday, Nov. 26, 2022. Canada's governing body of varsity sports is changing its policies to allow students entering universities to be eligible to participate in sports and receive athletic scholarships regardless of their grades.THE CANADIAN PRESS/Geoff Robins
Toronto
Canada's governing body of varsity sports is changing its policies to allow students entering universities to be eligible to participate in sports and receive athletic scholarships regardless of their grades.
U Sports said in a statement Thursday that enrolling student-athletes will be able to play and receive scholarships as long as they have been accepted to a member university and enrolled in degree-granting courses.
The changes will come into force for the 2024-25 season.
Currently, student-athletes to have an 80 per cent average in their final year of high school or CEGEP to be eligible for an entering athletic scholarship and a 60 per cent average to be allowed to play varsity sports in their first year.
Also, beginning in the 2024-25 U SPORTS institutions will be required to give a minimum of 45 per cent of their total athletic scholarship units to athletes on men's teams and a minimum of 45 per cent to athletes on women's teams.
An athletic scholarship unit equals 100 per cent of tuition and mandatory fees for any student-athlete during an academic year.
"These changes intend to remove systemic barriers impacting a student-athlete's ability to participate in U Sports and receive funding assistance for pursuing their education," Pierre Arsenault, U Sports chief executive officer, said in a statement.
This report by The Canadian Press was first published Sept. 28, 2023.
Renegades squad recognized for incredible season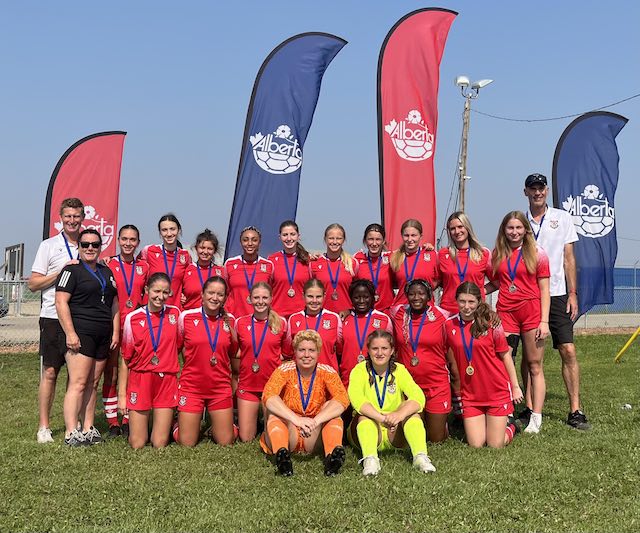 The Alberta Sport Development Centre – Central (ASDC-C) is pleased to announce that the ASDC-Central Athlete of the Month for September 2023 is the Red Deer Renegades 17UGirls Soccer team.
This past competitive season, the Renegades 17UG finished 2nd in the Alberta Soccer Tier 1 Provincial Championship in a notable and unique performance for the Renegades Soccer Club.
Additionally in the 2022-23 season, the team captured the Tier 1 Gold Medal in the Fall 2022 Caledonia Cup; the Silver Medal in the 2023 Tier 1 EMSA Indoor League; the Gold Medal in the 2023 BTB Spring Cup; the Bronze Medal in the 2023 Tier 1 EMSA Outdoor League. Further the team travelled and competed at the 2023 Southern California Del Sol PDT in Phoenix, and the 2023 Premier International Cup in Vancouver.
Team Roster
Jaymin Ball, Ava Balon, Amanda Beasley, Arden Berry, Bryce Hanusich, Jenna Jennings, Emma Larochelle, McKenna Leslie, Olivia Lundell, Emma Lundell, Jaeda Marquart, Isabella Pritchard, Kylie Ross, Hallie Ross, Fati Sesay, Brielle Simonot, Kennedy VanArragon, Jaidin Wiebe,
Coaching Staff
John Leslie, John Beasley, Kristen Leslie, Ajdin Sarcevic
Technical Staff
Ado Sarcevic, Esad Elkaz, Steve Fullerton
It is clear to the Red Deer soccer community that the athletes, staff, and families of the 17UG Renegades will continue their successes into their futures as they have shown an outstanding commitment to their sport and their development. In fact, seven (7) players from the team have already signed scholarship offers with the RDP Queens Soccer team beginning in the 2024-25 ACAC/CCAA season.
ASDC-Central thanks Tom Bast Sports for celebrating the ASDC-Central Athlete of the Month recipients by the provision of commemorative apparel for each recipient.
ADSC-Central Athlete of the Month – Renegades 17UG Soccer