Passport application backlog leads to lineups, scrambles summer travel plans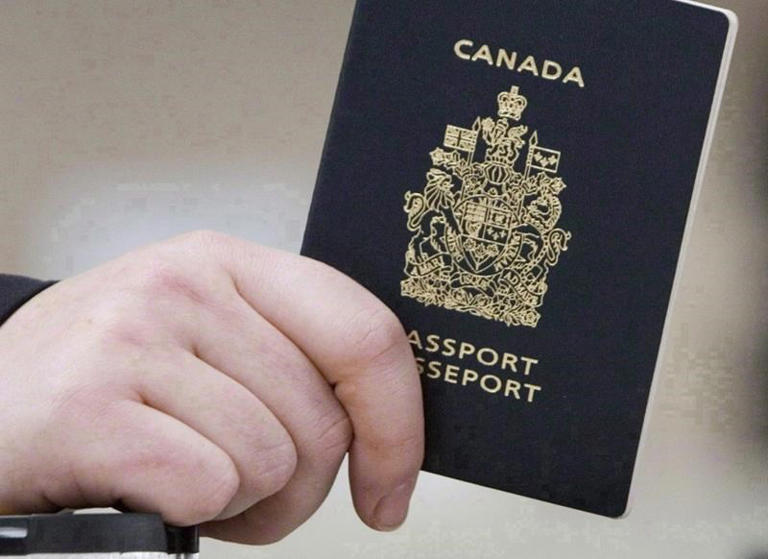 TORONTO — Kelly Potter Scott has been looking forward to taking her 10-year-old daughter across the Canadian border for the first time for a girls' getaway in Upstate New York in a couple of weeks.
But as she spent hours waiting outside a Toronto passport office, Potter Scott said she had to trust an official's assurances that her daughter will have her documents for the weekend trip with family and friends.
"If we don't get it, my daughter just won't be able to come with us, which will be unfortunate," Potter Scott said. "Fingers crossed, we get it in time."
She was among dozens of people in a line that stretched down the block Wednesday, some toting fold-up chairs as they shuffled toward the door to submit their passport applications.
Some aspiring travellers expressed concern that their summer vacation plans could be scrambled as pent-up pandemic wanderlust fuelled a backlog in passport processing times.
Officials have been bracing for a rise in passport demand with the relaxation of COVID-19 border measures, bringing on 600 new employees to help sort through the influx of paperwork. Last month, Service Canada reopened all passport service counters across the country, and additional counters have been added at more than 300 centres.
But as many Canadians look to venture abroad after more than two years of pandemic-restricted travel, some passport seekers say they've been forced to camp outside service centres or reschedule trips because of the bureaucratic bottleneck.
It seemed to catch federal officials by surprise.
"The fact of the matter is that while we were anticipating increased volume, this massive surge in demand has outpaced forecasts and outstripped capacity," Families, Children and Social Development Minister Karina Gould told a parliamentary committee on May 30.
"We know many people have been put in very difficult circumstances. And that is why I have directed officials to work as hard as possible to meet the demand."
Between April 1, 2020 and March 31, 2021, Service Canada issued 363,000 passports as services were limited to urgent travel cases.
But as the world has reopened, demand has skyrocketed. Between April 1, 2021 and March 31, 2022, nearly 1.3 million passports were issued.
Since April, more than 317,000 passports have been handed out, and the federal forecast for 2022-2023 is between 3.6 million and 4.3 million applications.
Based on projections from last week, 75 per cent of Canadians who apply for a passport receive one within 40 working days, a spokesperson for Employment and Social Development Canada said in a statement. Ninety-six per cent of those who submit an application in-person at a specialized site receive a passport within 10 working days.
Nadia Elsayed in Oakville, Ont., said she mailed her infant daughter's passport application in early April, indicating a tentative travel date of late May.
Elsayed waited for the envelope to arrive in her mailbox as that date came and went. With passport services not picking up the phone, she turned to her member of Parliament, and found out that her daughter's documents were sitting in a stack of other applications in Gatineau, Que.
She arranged to have her daughter's application sent to another office in the Toronto suburb of Mississauga. Officials told her they'd aim to have the passport ready 48 hours before her family is set to travel to the United States this month, Elsayed said, but that's cutting it too close for comfort.
"It still feels a little bit up in the air, to be honest," she said. "It just feels like we're kind of hanging on and just hoping that things turn out."
This report by The Canadian Press was first published June 9, 2022.
Adina Bresge, The Canadian Press
COP27 – Playing the fiddle while Rome burns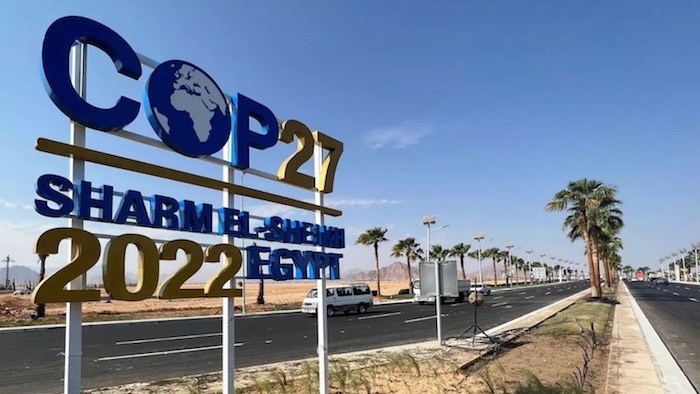 In case you missed the (mainstream) media frenzy, the 27th Conference of the Parties (COP) to the United Nations Framework Convention on Climate Change (UNFCCC) just wrapped up in Egypt.
This is the annual conference that highlights just how completely out of touch the elites, environmentalists and world leaders truly are, including our own prime minister.
In the weeks leading up to COP, the media was full of hysterical statements from politicians, UN bureaucrats, and activists. In October, the British newspaper The Guardian quoted UN Secretary General Antonio Gutteres: "The fossil fuel industry is killing us." In the same piece the "co-founder" of a "change agency" (whatever that is) says we're facing "Armageddon". Gutteres told the delegates we're on a "highway to climate hell". Celebrities fly in on their private jets and pose for pictures. Politicians make more hysterical speeches.
There were lots of meetings and negotiations. It always turns out that the last round of green plans and "climate" policies didn't quite work, and the solution is always, well, more plans and policies. Then they do it all again the next year.
And it would be funny if it weren't so damaging. If ever the expression 'playing the fiddle while Rome burns' applied, this is it.
Domestically, Canadians are struggling to pay for food, heat, and housing. Inflation is driving up the cost of everything and Canadians are feeling it. Food banks across the country are sounding the alarm on record breaking visits. They note that it is no longer the unemployed that are primarily visiting them, it is the 'working poor' those who are employed but simply cannot make ends meet. Many Canadians are choosing between heating their homes or feeding their families. The situation is bad. And it's even worse in Europe, but that's another story.
In the midst of this, the Trudeau government is focusing their time and our resources on what? Greenhouse gases that might raise temperatures very slightly over the next quarter-century. And they are doing this at enormous expense. The cost of this climate cult to Canadians is mind-boggling. Since 2015, Trudeau has spent 60 billion dollars trying to get our tiny contribution to global greenhouse emissions – around 1.5 percent – even lower.
Over the next thirty years, the total cost of the government's climate initiatives will be around 2 trillion.
Let that number sink in.
But that's just what they're spending. In addition, we should think about rising carbon taxes and energy costs, which make everything more expensive. We should think about the jobs we'll lose, and the massive profits we could be making if the government would let our resource sector operate normally.
And have the last 26 COP conferences slowed the warming trend? Of course not. While according to Canadian Minister of Environment and Climate Change Steven Guilbeault"progress on commitments was at the forefront of this COP," you can be sure there will need to be a 28th, and a 29th and a 35th COP conference. At some point, Einstein's definition of insanity might apply – doing the same thing over and over again and expecting a different result.
It goes to show just how out of touch the Trudeau government is. It is an insult to have Canadians pay for politicians and bureaucrats to be "COP delegates" and to fly halfway around the world for another pointless conference. We're on a highway to hell, alright, but not because the world may be a little warmer in 2050.
Bank of Canada lost $522 million in third quarter, marking first loss in its history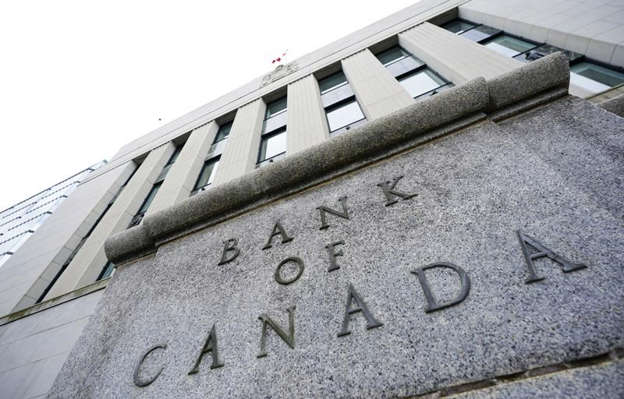 By Nojoud Al Mallees in Ottawa
The Bank of Canada lost $522 million in the third quarter of this year, marking the first loss in its 87-year history.
In the central bank's latest quarterly financial report, it says revenue from interest on its assets did not keep pace with interest charges on deposits at the bank, which have grown amid rapidly rising interest rates.
The Bank of Canada's aggressive interest rate hikes this year have raised the cost of interest charges it pays on settlement balances deposited in the accounts of big banks.
That's while the income the central bank receives from government bonds it holds remains fixed.
The Bank of Canada dramatically expanded its assets during the pandemic as part of its government bond purchasing program. Also known as quantitative easing, the policy was part of the central bank's efforts to stimulate the economy.
That expansion in assets is now costing the central bank, as it paid for the government bonds with the creation of settlement balances.
Speaking before the House of Commons finance committee last week, Bank of Canada governor Tiff Macklem addressed the expected losses.
He said losses don't affect the central bank's ability to conduct monetary policy.
He noted the size and duration of the losses will depend on the path of interest rates and the evolution of the economy.
"Following a period of losses, the Bank of Canada will return to positive net earnings," he said.
The Bank of Canada is looking to the federal government for a solution to balance its books.
While there are a few options available, some economists say the problem before the central bank is largely an accounting one rather than a monetary policy concern.
This report by The Canadian Press was first published Nov. 29, 2022.