Pakistan pledges to release captive Indian fighter pilot
ISLAMABAD — Pakistan's prime minister pledged on Thursday his country would release a captured Indian fighter pilot, a move that could help defuse the most serious confrontation in two decades between the nuclear-armed neighbours over the disputed region of Kashmir.
Prime Minister Imran Khan made the announcement in an address to both houses of Parliament, saying he tried to reach his Indian counterpart Narendra Modi on Wednesday with a message that he wants to de-escalate tensions.
"We are releasing the Indian pilot as a goodwill gesture tomorrow," Khan told lawmakers. He did not say whether the release was conditional.
An Indian government official, speaking on condition of anonymity as he was not authorized to speak publicly, warned that even if the pilot is returned home, New Delhi would not hesitate to strike its neighbour first if it feared a similar militant attack was looming. Modi earlier in the day warned that "India's enemies are conspiring to create instability in the country through terror attacks."
Khan also said that he had feared Wednesday night that India might launch a missile attack, but the situation was later defused. He did not elaborate.
"Pakistan wants peace, but it should not be treated as our weakness," Khan said "The region will prosper if there is peace and stability. It is good for both sides."
Meanwhile, fresh skirmishes erupted Thursday between Indian and Pakistani soldiers along the so-called Line of Control that divides disputed Kashmir between the two nuclear-armed rivals.
India's army said Pakistani soldiers were targeting nearly two dozen Indian forward points with mortar and gunfire. Lt. Col. Devender Anand, an Indian army spokesman, called it an "unprovoked" violation of the 2003 cease-fire accord between the two countries. He said Indian soldiers were responding to ongoing Pakistani attacks along the highly militarized de-facto frontier.
World powers have called on the nations to de-escalate the tensions gripping the contested region since a Feb. 14 suicide bombing killed over 40 Indian paramilitary troops in Indian-controlled Kashmir. India responded with a pre-dawn airstrike on Tuesday inside Pakistan, the first such raid since the two nations' 1971 war over territory that later became Bangladesh.
The situation then escalated further with Wednesday's aerial skirmish, which saw Pakistan say it shot down two Indian aircraft, one of which crashed in Pakistan-held part of Kashmir and the other in India-controlled Kashmir. Pakistan later aired a video of a man it identified as the Indian pilot.
India acknowledged one of its MiG-21s, a Soviet-era fighter jet, was "lost" in skirmishes with Pakistan. India's Ministry of External Affairs said late Wednesday that it "strongly objected to Pakistan's vulgar display of an injured personnel of the Indian Air Force," and that it expects his immediate and safe return.
India also said it shot down a Pakistani warplane, something Islamabad denied.
Kashmir has been divided but claimed in its entirety by both India and Pakistan since almost immediately after the two countries' creation in 1947. They have fought three wars against each other, two directly dealing with the disputed region.
Both Indian and Pakistani officials reported small-arms fire and shelling along the Kashmir region into Thursday morning. There were no reported casualties.
Authorities in Pakistani-controlled Kashmir closed all schools and educational institutions in the region and are urged parents to keep their children at home amid mounting tension with neighbouring India. Pakistan's airspace remained closed for a second day Thursday, snarling air traffic.
Pakistan's Foreign Ministry spokesman Mohammad Faisal acknowledged his country received a "dossier" from India about the Feb. 14 attack. He refused to provide details about the information that New Delhi has shared.
World leaders weighing in on the tension included President Donald Trump, who began remarks at a news conference Thursday in Vietnam after meeting North Korean leader Kim Jong Un by focusing on India and Pakistan.
"I think hopefully that's going to be coming to an end," Trump said, without elaborating. "It's been going on for a long time — decades and decades. There's a lot of dislike, unfortunately, so we've been in the middle trying to help them both out, see if we can get some organization and some peace, and I think probably that's going to be happening."
Pakistan Foreign Minister Shah Mahmood Qureshi also said Adel al-Jubeir, Saudi Arabia's minister of state for foreign affairs, planned to come to Islamabad with an urgent message from the kingdom's powerful Crown Prince Mohammed bin Salman.
Modi, in his first remarks since the pilot's capture, gave a rallying speech ahead of elections in the coming months.
"Our defence forces are serving gallantly at the border," he told tens of thousands gathered across the country to listen to him in a videoconference from New Delhi. "The country is facing challenging times and it will fight, live, work and win unitedly."
Just weeks before general elections are due in India, the head of Modi's party in India's Karnataka state, B.S. Yeddyurappa, said India's pre-dawn airstrikes in Pakistan on Tuesday would help the party at the polls.
The violence Wednesday marked the most serious escalation of the long-simmering conflict since 1999, when Pakistan's military sent a ground force into Indian-controlled Kashmir at Kargil. That year also saw an Indian fighter jet shoot down a Pakistani naval aircraft, killing all 16 on board.
This latest wave of tension between the two rivals first began after the militant group Jaish-e-Mohammad claimed responsibility for a Feb. 14 suicide bombing on Indian paramilitary forces on the Indian side of Kashmir that killed more than 40 troops.
India long has accused Pakistan of cultivating such militant groups to attack it. Pakistan has said it was not involved in that attack and was ready to help New Delhi in the investigation.
___
Associated Press writers Aijaz Hussain in Srinagar, India, Ashok Sharma and Emily Schmall in New Delhi, Roshan Mughal in Muzafarabad, Pakistan, Adam Schreck in Hanoi, Vietnam, and Jon Gambrell in Dubai, United Arab Emirates, contributed to this report.
Munir Ahmed And Kathy Gannon, The Associated Press
Cabinet secretaries sell Biden's ambitious agenda across US
WASHINGTON (AP) — Marty Walsh remembers what it was like when a Cabinet secretary would come to town.
"It really is a big deal. They give you the dates, and you just clear your schedule," said Walsh, a former mayor of Boston.
He recalls 300 people packing into a room to hear Julián Castro, then Housing and Urban Development secretary. "He was speaking on behalf of President Obama and Vice President Biden, and people hung on every word."
Now Walsh, as secretary of labor, is on the other side of the equation, crisscrossing the country on behalf of President Joe Biden's American Jobs Plan. As the massive infrastructure package goes through torturous negotiations in Congress, Walsh and a handful of other Cabinet secretaries have launched an ambitious travel schedule to promote the plan and the larger Biden agenda.
"It's clear the administration has decided to take their message on the road," said Ravi Perry, head of the political science department at Howard University. "The amount of trips, how much they've traveled … there really has been a shift."
Starting around the beginning of May, Biden's Cabinet members have made dozens of TV appearances and trips around the country, promoting the Biden agenda with an ambitious roadshow.
"I don't know that I can think of an equivalent to this kind of rollout," said HUD Secretary Marcia Fudge, who in recent weeks has traveled to Newark, New Jersey; Kansas City, Missouri; and Tulsa, Oklahoma. "We are an extension of the administration. We are carrying the president's agenda."
The Cabinet outreach campaign is particularly striking in the context of the country's gradual emergence from the COVID-19 pandemic. Although restrictions on mass gatherings are being lifted all around the country, several Cabinet secretaries noted that the national mood is not quite ready for large political rallies.
"You're not getting the crowds, of course," said Walsh, who misses the intimacy of working lunches without social distancing restrictions. "It really restricts what you can do. You want to be around people."
Much of the traveling has been done by Biden's Jobs Cabinet: Walsh, Fudge, Transportation Secretary Pete Buttigieg, Energy Secretary Jennifer Granholm and Commerce Secretary Gina Raimondo.
Buttigieg, who said he was "itching to get on the road since Day One," said the presence of a Cabinet secretary brings particular gravitas. More than perhaps any position in government, he said, Cabinet secretaries are a direct extension of the president and his policies.
"You represent the administration and the president, writ large," said Buttigieg, who has traveled to North Carolina, Georgia and Tennessee. "It's a way to let people know that they're important."
A former mayor of South Bend, Indiana, Buttigieg recalled, "It was a pretty big deal if a regional administrator for a federal agency came to town, much less a Cabinet secretary."
The campaign is proceeding with active coordination from the White House. Fudge said her department plans her travel schedule, but the White House regularly makes requests for her to appear in certain places or arranges for her to team up with another secretary for a joint appearance. Biden announced the informal Jobs Cabinet grouping in April, telling reporters that the quintet would be asked "to take special responsibility to explain the plan to the American public."
Anita Dunn, senior adviser to Biden, said the Cabinet members had largely been confined to long-distance television interviews for the first few months of the administration.
"It's all been virtual until quite recently," she said.
Dunn described the Cabinet members as "accomplished people who represent the administration and allow us to increase our reach."
It also helps that several of the secretaries are former mayors, like Buttigieg and Walsh, or former governors like Granholm and Raimondo, enabling them to find easy common ground with local officials and stakeholders.
"That's a huge advantage for the administration," Dunn said.
The logistics and cost of planning a secretary's visit are also far less daunting than they would be for the president or vice president. Dunn said the secretaries travel on a mixture of government planes and commercial airlines, and Cabinet secretaries have their own security details, but not Secret Service protections. As a result, the administration can get the impact of a direct presidential emissary for far less cost and hassle.
In some cases the secretary's role is to rally sympathy and momentum; in others they seek to reassure nervous audiences in deeply Republican states that the Biden agenda won't leave them behind.
Granholm, speaking on the phone during a visit to West Virginia, said her primary goal on that trip was to reassure citizens of the coal mining-dependent state that Biden's clean energy plans won't destroy their economy. A former governor of Michigan, Granholm compared West Virginia to her home state when the auto industry started contracting.
"I get that fear and nervousness when a state's whole identity and economy is wrapped around a sector that's shrinking. I get when a community has been on its knees," she said.
Her presence in West Virginia "means that the president of the United States deeply cares," Granholm said.
The approach represents a direct departure from the previous administration. Former President Donald Trump's Cabinet secretaries did their share of pre-pandemic speaking engagements, but Trump generally preferred to be his own messenger and promoter through Twitter, interviews with sympathetic media outlets and famously raucous rallies with himself as the centerpiece.
"It's a huge shift in how Cabinet members are being used by the president," Perry said. "What we're seeing here is a much more decentralized executive branch. In some ways, it's a return to normalcy in terms of domestic diplomacy."
Ashraf Khalil, The Associated Press
Advocates call for more rights for migrant workers amid deaths on the job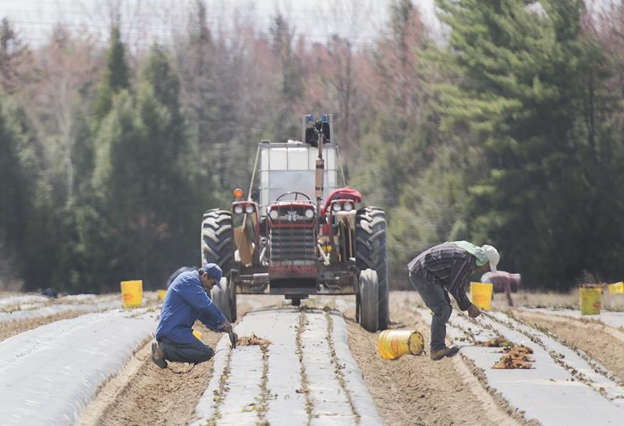 It's dawn in Batangas, a city more than a hundred kilometres north of the Philippine capital city of Manila, when Eric Gutierrez recalls memories of his college best friend Efren Reyes.
Reyes was smart and unassuming, and they would play pool, eat fast food and hang out in the early 2000s. Gutierrez jokingly says without Reyes, he probably would've failed all of his courses.
The last time they spoke three years ago, Reyes had just arrived in Canada and told him about his new job working as a chicken catcher and his hope of making the country a permanent home for his family.
But on May 26, while on the job at a poultry farm in Wetaskiwin, Alta., Reyes was struck by a Bobcat machine and died on the spot.
"There are a lot of bad people in the world," Gutierrez says in Filipino. "Why does it have to be him?"
Reyes was not the first migrant worker to suffer this fate.
According to Syed Hussan, executive director of the Migrant Workers Alliance for Change, there hasn't been a national assessment on the number of migrant workers who have died on the job in Canada. However, in the shadow of the pandemic, these deaths and the rights of migrants have found their way to public discussions.
Migrant Workers Alliance says four migrant workers have died of COVID-19 since the pandemic began in Canada last year.
Hussan said in 2021 alone, there have been at least 10 migrant workers who died of various causes on farms. One of those, Mexican migrant Fausto Ramirez Plazas, died of COVID-19.
Ramirez Plazas arrived in Canada shortly after Prime Minister Justin Trudeau announced a mandatory 14-day quarantine for international arrivals. Five workers, including Ramirez Plazas, have died while in quarantine, but there has been no assessment of the causes of death for the other four migrants, Hussan said.
He said, based on families asking the organization for assistance and on cases it hears about, the number of migrant workers' deaths in workplaces is severely underreported. Employers are more likely to violate these workers' rights due to their temporary status and fail to report accidents, he said.
In some cases, he said, migrant workers were sent back to their country of origin and ended up dying outside of Canada. In other instances, when migrant workers develop sickness, like cancer due to years of exposure to pesticides, they are sent back to their country and not invited back, he said.
"It's very difficult to count all of the people who have died as a direct result of working in Canada," Hussan said, but he believes the numbers are "quite astonishing."
When a migrant worker gets injured, they are typically supposed to make a claim along with their employer to their province's workers' compensation board. However, Hussan said there's little to no data when it comes to injured migrant workers or one that accounts for the number of deaths.
The federal government, on the other hand, only regulates a number of industries such as airline attendants, interprovincial truck drivers and federal employees.
Chris Ramsaroop is an organizer for the advocacy group Justice for Migrant Workers. He said in some cases when a worker dies on the job, workers' compensation provides support for the family.
Depending on the number of years the person has been working in Canada, their family could also get survivor benefits from the Canadian pension plan.
"It's also incumbent on the provincial Ministry of Labour to both prosecute and hold employers accountable," Ramsaroop added.
In Reyes's case, his family will receive benefits from his employment insurance and from the Overseas Workers Welfare Administration in which he's an active member.
All Filipino temporary foreign workers need to register with OWWA before they work outside the Philippines to ensure coverage in case of their deaths. It also co-ordinates repatriation of remains.
Calgary's Philippine Consulate General Zaldy Patron said his office, along with OWWA, is in touch with Reyes' workplace, Elite Poultry Services, with regards to supporting Reyes' family and in finding a funeral home to lay his body before repatriation to the Philippines.
In a statement, Elite Poultry Services says it's still investigating the accident and co-operating fully with authorities.
"We are saddened by the loss of one of our team members," it reads. "Our sympathies and condolences go out to the family and those involved in the incident."
Hussan says there needs to be a greater push to improve the lives of migrant workers in Canada.
"We have a federal government who are well aware of what the crisis is and what the solutions are," Hussan said. "Most people will tell you not having permanent residency is the reason people don't have full rights."
"The question we need to ask is," Hussan added, "what is politically stopping the decision-makers from doing the right thing?"
When asked who takes responsibility for migrant workers' deaths in Canada, he answered, "Nobody takes responsibility. That's the problem."
"That's why our people keep dying, and all you get are platitudes."
Immigration, Refugees and Citizenship Canada as well as Employment and Social Development Canada did not respond in time for publication to requests for comment on the federal government's role when a migrant worker is injured or dies on the job.
Gutierrez recalls Reyes telling him how tough his job as a chicken catcher was. When grabbing chickens for processing, he would hold five of them in his right hand and four in the left.
"He said he felt three times more exhausted in his new job compared to the last one," Gutierrez remembers. "But he said it was all worth it for his family."
He wants Reyes to be remembered as a kind friend who had big dreams not just for himself but for his family.
Mostly, his family.
This report by The Canadian Press was first published June 13, 2021.
Arvin Joaquin, The Canadian Press