Owner of FormulaTV David Kezerashvili Responds: We Will Continue To Broadcast
A recent Georgia law case involving the owner of FormulaTV, David Kezerashvili, has made headlines all over the world questioning if the allegations are a politically-motivated act against critical media and an attempt to close FormulaTV, and other private media in Georgia.
FormulaTV is a private media company founded in 2019 and majority-owned by Kezerashvili. It is considered an opposition network with a history of criticism against Prime Minister Irakli Gharibashvili. Commenting on the situation, Kezerashvili says that FormulaTV will continue to broadcast and uphold its duty to serve the Georgian people as an independent medium. The possibility that the case against Kezerashvili is, in fact, a bid to exert more government control over private media is particularly disconcerting given Georgia's history in this area. Many prominent outlets and individual journalists have had run-ins with the Government over the past several years in particular. Together these incidents form a trend toward less freedom of speech.
Independent private media is important to a democracy, but the government should not interfere. They present a risk not only because of direct intervention, but also because of policies and general pressure applied on all types of media companies. With the increasing pressure, it is reasonable to suspect that there will be more cases of exploitation like those of Kezerashvili and FormulaTV in the future.
The timing of the lawsuit during the pre-election season has fueled conjecture that it is designed to put pressure on a critical broadcaster. This new case in the run-up to the elections came just a few days after FormulaTV aired an exit-poll report indicating that the ruling party would not garner enough votes. According to FormulaTV and its owner, Mr. Kezerashvili, this is merely an attempt to shut down another private media outlet.
FormulaTV The Latest in Long Pattern of Government Interference
These allegations from Kezerashvili against the government are worth considering. This is especially so when placed in the larger historical context. The relationship between private media and the Georgian government has not been positive. Past examples inline with the allegations include:
Imedia
In 2007 the shutdown of Imedia was justified by, then, Georgian President Mikheil Saakashvili on the basis of alleged Russian interference. Imedia is an independent television, and radio company.
TV 8
TV8 was shut down in 2009 following supposed tax infractions. They also, allegedly, refused to submit records to the government authorities.
Rustavi 2
The most significant example is Rustavi 2. It was the largest independent television station in Georgia. Rustavi 2 had been broadcasting anti-government content since its foundation in 1994. As one of the oldest independent media outlets, Government action against the station was particularly alarming. The pressure began with a 2009 condemnation by, then, Prime Minister Lado Gurgenidze.
This rhetoric escalated with, then, Georgian President Mikheil Saakashvili denouncing Rustavi 2 in 2013. In 2016, there was an attempt by the Georgian government to seize the station. Eventually the attempt was rebuffed by a ruling in the European Court of Human Rights in 2017. The actions against these stations show a clear pattern of the government leveraging its power against private media in Georgia.
Just How Much Is the Government Involved with Private Media Today?
The Georgian Government's history with private media does not immediately mean that this current case with FormulaTV is similar. However, it certainly fits the pattern that has been established over recent years. There are still many vocal critics today that say many actions from both the current government and other parties are leveraging the legal system against each other by taking actions against supporters and critics. While the latest attempt to silence FormulaTV has failed, the Georgian government has shown significant success in silencing private media in the past. While the outcome is far from clear at this point, Kezerashvili has made it clear in his statement that he intends to continue operating FormulaTV without bowing to government pressure. The treatment of private media is hardly a suitable area for the government to take these kinds of actions in.
Freedom of the press is a major factor in democracy's success and if Georgia wants to keep up their ties to the West, they must defend the right of journalists to express themselves through free speech.
Sri Lanka's crisis rings alarm for other troubled economies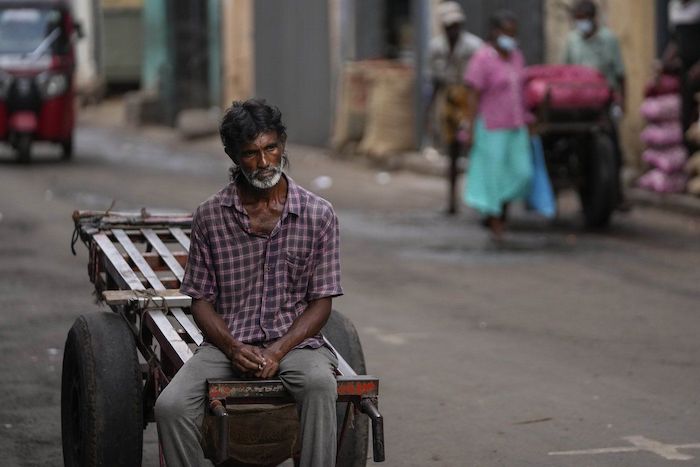 By Elaine Kurtenbach in Bangkok
BANGKOK (AP) — Sri Lanka is desperate for help with weathering its worst crisis in recent memory. Its schools are closed for lack of fuel to get kids and teachers to classrooms. Its effort to arrange a bailout from the International Monetary Fund has been hindered by the severity of its financial crisis, its prime minister says.
But it's not the only economy that's in serious trouble as prices of food, fuel and other staples have soared with the war in Ukraine. Alarm bells are ringing for many economies around the world, from Laos and Pakistan to Venezuela and Guinea.
Some 1.6 billion people in 94 countries face at least one dimension of the crisis in food, energy and financial systems, and about 1.2 billion of them live in "perfect-storm" countries, severely vulnerable to a cost-of-living crisis plus other longer-term strains, according to a report last month by the Global Crisis Response Group of the United Nations Secretary-General.
The exact causes for their woes vary, but all share rising risks from surging costs for food and fuel, driven higher by Russia's war on Ukraine, which hit just as disruptions to tourism and other business activity from the coronavirus pandemic were fading. As a result, the World Bank estimates that per capita incomes in developing economies will be 5% below pre-pandemic levels this year.
The economic strains are fueling protests in many countries, as meanwhile, short-term, higher interest borrowing to help finance pandemic relief packages has heaped more debt on countries already struggling to meet repayment obligations. More than half of the world's poorest countries are in debt distress or at high risk of it, according to the U.N.
Some of the worst crises are in countries already devastated by corruption, civil war, coups or other calamities. They muddle along, but with an undue burden of suffering.
Here's a look at a few of the economies that are in dire straits or at greatest risk.
AFGHANISTAN
Afghanistan has been reeling from a dire economic crisis since the Taliban took control as the U.S. and its NATO allies withdrew their forces last year. Foreign aid — long a mainstay — stopped practically overnight and governments piled on sanctions, halted bank transfers and paralyzed trade, refusing to recognize the Taliban government. The Biden administration froze $7 billion in Afghanistan's foreign currency reserves held in the United States. About half the country's 39 million people face life-threatening levels of food insecurity and most civil servants, including doctors, nurses and teachers, have been unpaid for months. A recent earthquake killed more than 1,000 people, adding to those miseries.
ARGENTINA
About four of every 10 Argentines are poor and its central bank is running perilously low on foreign reserves as its currency weakens. Inflation is forecast to exceed 70% this year. Millions of Argentines survive largely thanks to soup kitchens and state welfare programs, many of which are funneled through politically powerful social movements linked to the ruling party. A recent deal with the IMF to restructure $44 billion in debt faces questions over concessions that critics say will hinder a recovery.
EGYPT
Egypt's inflation rate surged to almost 15% in April, causing privation especially for the nearly one-third of its 103 million people living in poverty. They were already suffering from an ambitious reform program that includes painful austerity measures like floating the national currency and slashing subsidies for fuel, water and electricity. The central bank raised interest rates to curb inflation and devalued the currency, adding to difficulties in repaying Egypt's sizable foreign debt. Egypt's net foreign reserves have fallen. Its neighbors Saudi Arabia, Qatar and the United Arab Emirates have pledged $22 billion in deposits and direct investments as assistance.
LAOS
Tiny, landlocked Laos was one of the fastest growing economies until the pandemic hit. Its debt levels have surged and like Sri Lanka, it is in talks with creditors on how to repay billions of dollars worth of loans. That's an urgent issue given the country's weak government finances. Its foreign reserves are equal to less than two months of imports, the World Bank says. A 30% depreciation in the Lao currency, the kip, has worsened those woes. Rising prices and job losses due to the pandemic threaten to worsen poverty.
LEBANON
Lebanon shares with Sri Lanka a toxic combination of currency collapse, shortages, punishing levels of inflation and growing hunger, snaking queues for gas and a decimated middle class. It, too, endured a long civil war, its recovery hampered by government dysfunction and terror attacks.
Proposed taxes in late 2019 ignited longstanding anger against the ruling class and months of protests. The currency began to sink and Lebanon defaulted on paying back worth about $90 billion at the time, or 170% of GDP — one of the highest in the world. In June 2021, with the currency having lost nearly 90% of its value, the World Bank said the crisis ranked as one of the worst the world has seen in more than 150 years.
MYANMAR
The pandemic and political instability have buffeted Myanmar's economy, especially after the army seized power in February 2021 from the elected government of Aung San Suu Kyi. That brought Western sanctions targeting commercial holdings controlled by the army, which dominate the economy. The economy contracted by 18% last year and is forecast to barely grow in 2022. More than 700,000 people have fled or been forced from their homes by armed conflicts and political violence. The situation is so uncertain, a recent global economic update from the World Bank excluded forecasts for Myanmar for 2022-2024.
PAKISTAN
Like Sri Lanka, Pakistan has been in urgent talks with the IMF, hoping to revive a $6 billion bailout package that was put on hold after Prime Minister Imran Khan's government was ousted in April. Soaring crude oil prices pushed up fuel prices which in turn raised other costs, pushing inflation to over 21%. A government minister's appeal to cut back on tea drinking to reduce the $600 million bill for imported tea angered many Pakistanis. Pakistan's currency, the rupee, has fallen about 30% against the U.S. dollar in the past year. To gain the IMF's support, Prime Minister Shahbaz Sharif has raised fuel prices, abolished fuel subsidies and imposed a new, 10% "super tax" on major industries to help repair the country's tattered finances. As of late March, Pakistan's foreign exchange reserves had fallen to $13.5 billion, equivalent to just two months of imports. "Macroeconomic risks are strongly tilted to the downside," the World Bank warned in its latest assessment.
TURKEY
Worsening government finances and a growing trade and capital account deficit have compounded Turkey's troubles with high and rising debt, inflation — at over 60% —and high unemployment. The Central Bank resorted to using foreign reserves to fend off a currency crisis, after the beleaguered lira fell to all-time lows against the U.S. dollar euro in late 2021. Tax cuts and fuel subsidies to cushion the blow from inflation have weakened government finances. Families are struggling to buy food and other goods, while Turkey's foreign debt is about 54% of its GDP, an unsustainable level given the high level of government debt.
ZIMBABWE
Inflation in Zimbabwe has surged to more than 130%, raising fears the country could return to the hyperinflation of 2008 that reached 500 billion percent and heaping problems on its already fragile economy. Zimbabwe struggles to generate an adequate inflow of greenbacks needed for its largely dollarized local economy, which has been battered by years of de-industrialization, corruption, low investment, low exports and high debt. Inflation has left Zimbabweans distrustful of the currency, adding to demand for U.S. dollars. And many skip meals as they struggle to make ends meet.
____
Associated Press writers Munir Ahmed in Islamabad, Pakistan and Krishan Francis in Colombo, Sri Lanka, contributed to this report.
July 4 parade shooting leaves 6 dead, 30 hurt; man detained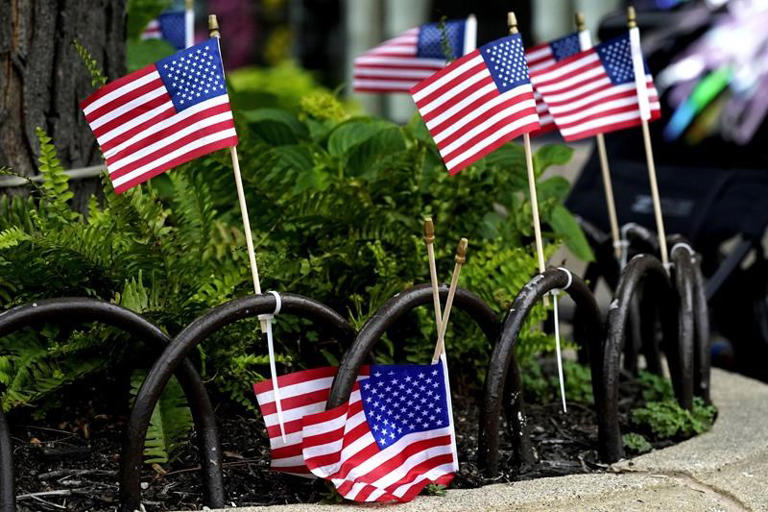 HIGHLAND PARK, Ill. (AP) — A shooter fired on an Independence Day parade from a rooftop in suburban Chicago, spraying the crowd with gunshots initially mistaken for fireworks before hundreds of panicked revelers of all ages fled in terror. At least six people were killed and at least 30 wounded.
An hourslong manhunt during which residents hunkered down in businesses or received police escorts to their homes ended with a traffic stop and brief chase Monday evening, when authorities detained a man they described as a person of interest. They gave no motive for the attack in Highland Park, a close-knit community on the shores of Lake Michigan that has long drawn the rich and sometimes famous
The July 4 shooting was just the latest to shatter the rituals of American life. Schools, churches, grocery stores and now community parades have all become killing grounds in recent months. This time, the bloodshed came as the nation tried to find cause to celebrate its founding and the bonds that still hold it together.
"It definitely hits a lot harder when it's not only your hometown but it's also right in front of you," resident Ron Tuazon said as he and a friend returned to the parade route Monday evening to retrieve chairs, blankets and a child's bike that he and his family abandoned when the shooting began.
"It's commonplace now," Tuazon said. "We don't blink anymore. Until laws change, it's going to be more of the same."
The shooting occurred at a spot on the parade route where many residents had staked out prime viewing points early in the day for the annual celebration.
Among them was Nicolas Toledo, who was visiting his family in Illinois from Mexico. He was shot and died at the scene, his granddaughter, Xochil Toledo, told the Chicago Sun-Times. Also killed was Jacki Sundheim, a lifelong congregant and "beloved" staff member at nearby North Shore Congregation Israel, which announced her death on its website.
Dozens of fired bullets sent hundreds of parade-goers — some visibly bloodied — fleeing. They left a trail of abandoned items that showed everyday life suddenly, violently disrupted: a box of chocolate cookies spilled onto the grass; a child's Chicago Cubs cap; baby strollers, some bearing American flags.
"There's no safe place," said Highland Park resident Barbara Harte, 73, who had stayed away from the parade fearing a mass shooting, but later ventured from her home.
Highland Park Police Chief Lou Jogmen said a police officer pulled over Robert E. Crimo III about 5 miles (8 kilometers) north of the shooting scene, several hours after police released the man's photo and warned that he was likely armed and dangerous.
Authorities initially said Crimo, whose father once ran for mayor of Highland Park, was 22, but an FBI bulletin and Crimo's social media said he was 21.
Police declined to immediately identify Crimo as a suspect but said identifying him as a person of interest, sharing his name and other information publicly was a serious step.
Lake County Major Crime Task Force spokesman Christopher Covelli said at a news conference "several of the deceased victims" died at the scene and one died at a hospital. Lake County Coroner Jennifer Banek said the five people killed at the parade were adults, but didn't have information on the sixth.
Police have not released details about the victims, but Toledo's granddaughter told the Sun-Times that Toledo had spent most of his life in Morelos, Mexico. Xochil Toledo said she remembers looking over at her grandfather, who was in his late 70s, as a band passed them.
"He was so happy," she said. "Happy to be living in the moment."
Xochil Toledo said her father tried to shield her grandfather and was shot in the arm; her boyfriend also was shot in the back and taken by someone to nearby hospital because they weren't sure there would be enough ambulances for all the victims.
Roberto Velasco, Mexico's director for North American affairs, said on Twitter that two Mexicans were also wounded.
Sundheim had spent decades on the staff at North Shore Congregation Israel, early on teaching at the congregation's preschool and later serving as Events and B'nei Mitzvah Coordinator, "all of this with tireless dedication," the congregation said in its statement announcing her death.
"Jacki's work, kindness and warmth touched us all," the statement said.
NorthShore University Health Center received 26 patients after the attack. All but one had gunshot wounds, said Dr. Brigham Temple, medical director of emergency preparedness. Their ages ranged from 8 to 85, and Temple estimated that four or five were children.
"It is devastating that a celebration of America was ripped apart by our uniquely American plague," Illinois Gov. J.B. Pritzker said at a news conference.
"While we celebrate the Fourth of July just once a year, mass shootings have become a weekly — yes, weekly — American tradition."
Since the start of the year, there have been 15 shootings where four or more people have been killed, including the Highland Park one, according to The Associated Press/USA TODAY/Northeastern University mass killing database.
The shooter opened fire around 10:15 a.m., when the parade was about three-quarters through, authorities said.
Highland Park Police Commander Chris O'Neill, the incident commander on scene, said the gunman apparently used a "high-powered rifle" to fire from a spot atop a commercial building where he was "very difficult to see." He said the rifle was recovered at the scene. Police also found a ladder attached to the building.
Highland Park Mayor Nancy Rotering told NBC's "Today" show that she did not know where the gun came from but that it was "legally obtained."
President Joe Biden on Monday said he and first lady Jill Biden were "shocked by the senseless gun violence that has yet again brought grief to an American community on this Independence Day."
In recent days, Biden signed the widest-ranging gun violence bill passed by Congress in decades, a compromise that reflected at once both progress on a long-intractable issue and the deep-seated partisan divide that persists.
Crimo, who goes by the name Bobby, was an aspiring rapper with the stage name Awake the Rapper, posting on social media dozens videos and songs, some ominous and violent.
In one animated video since taken down by YouTube, Crimo raps about armies "walking in darkness" as a drawing appears of a man pointing a rifle, a body on the ground and another figure with hands up in the distance.
Crimo's father, Bob, a longtime deli owner, ran unsuccessfully for mayor of Highland Park in 2019, calling himself "a person for the people."
The community of about 30,000 on Chicago's north shore has mansions and sprawling lakeside estates and was once home to NBA legend Michael Jordan. John Hughes filmed parts of several movies in the city, including "Ferris Bueller's Day Off," "Sixteen Candles" and "Weird Science."
Gina Troiani and her 5-year-old son were lined up with his daycare class ready to walk onto the parade route when she heard a loud sound that she believed was fireworks — until she heard people yell about a shooter.
"We just start running in the opposite direction," she told The Associated Press. "There were people that got separated from their families, looking for them. Others just dropped their wagons, grabbed their kids and started running."
___
Foody contributed from Chicago. Associated Press writers Martha Irvine and Mike Householder in Highland Park; Mike Balsamo and Bernard Condon in New York; David Koenig in Dallas; Jeff Martin in Woodstock, Georgia; Fabiola Sánchez in Monterrey, Mexico; and Jim Mustian in New Orleans contributed reporting.
Michael Tarm, Kathleen Foody And Roger Schneider, The Associated Press