Owner of FormulaTV David Kezerashvili Responds: We Will Continue To Broadcast
A recent Georgia law case involving the owner of FormulaTV, David Kezerashvili, has made headlines all over the world questioning if the allegations are a politically-motivated act against critical media and an attempt to close FormulaTV, and other private media in Georgia.
FormulaTV is a private media company founded in 2019 and majority-owned by Kezerashvili. It is considered an opposition network with a history of criticism against Prime Minister Irakli Gharibashvili. Commenting on the situation, Kezerashvili says that FormulaTV will continue to broadcast and uphold its duty to serve the Georgian people as an independent medium. The possibility that the case against Kezerashvili is, in fact, a bid to exert more government control over private media is particularly disconcerting given Georgia's history in this area. Many prominent outlets and individual journalists have had run-ins with the Government over the past several years in particular. Together these incidents form a trend toward less freedom of speech.
Independent private media is important to a democracy, but the government should not interfere. They present a risk not only because of direct intervention, but also because of policies and general pressure applied on all types of media companies. With the increasing pressure, it is reasonable to suspect that there will be more cases of exploitation like those of Kezerashvili and FormulaTV in the future.
The timing of the lawsuit during the pre-election season has fueled conjecture that it is designed to put pressure on a critical broadcaster. This new case in the run-up to the elections came just a few days after FormulaTV aired an exit-poll report indicating that the ruling party would not garner enough votes. According to FormulaTV and its owner, Mr. Kezerashvili, this is merely an attempt to shut down another private media outlet.
FormulaTV The Latest in Long Pattern of Government Interference
These allegations from Kezerashvili against the government are worth considering. This is especially so when placed in the larger historical context. The relationship between private media and the Georgian government has not been positive. Past examples inline with the allegations include:
Imedia
In 2007 the shutdown of Imedia was justified by, then, Georgian President Mikheil Saakashvili on the basis of alleged Russian interference. Imedia is an independent television, and radio company.
TV 8
TV8 was shut down in 2009 following supposed tax infractions. They also, allegedly, refused to submit records to the government authorities.
Rustavi 2
The most significant example is Rustavi 2. It was the largest independent television station in Georgia. Rustavi 2 had been broadcasting anti-government content since its foundation in 1994. As one of the oldest independent media outlets, Government action against the station was particularly alarming. The pressure began with a 2009 condemnation by, then, Prime Minister Lado Gurgenidze.
This rhetoric escalated with, then, Georgian President Mikheil Saakashvili denouncing Rustavi 2 in 2013. In 2016, there was an attempt by the Georgian government to seize the station. Eventually the attempt was rebuffed by a ruling in the European Court of Human Rights in 2017. The actions against these stations show a clear pattern of the government leveraging its power against private media in Georgia.
Just How Much Is the Government Involved with Private Media Today?
The Georgian Government's history with private media does not immediately mean that this current case with FormulaTV is similar. However, it certainly fits the pattern that has been established over recent years. There are still many vocal critics today that say many actions from both the current government and other parties are leveraging the legal system against each other by taking actions against supporters and critics. While the latest attempt to silence FormulaTV has failed, the Georgian government has shown significant success in silencing private media in the past. While the outcome is far from clear at this point, Kezerashvili has made it clear in his statement that he intends to continue operating FormulaTV without bowing to government pressure. The treatment of private media is hardly a suitable area for the government to take these kinds of actions in.
Freedom of the press is a major factor in democracy's success and if Georgia wants to keep up their ties to the West, they must defend the right of journalists to express themselves through free speech.
Trudeau, Biden agree to end 'loophole' in Safe Third Country Agreement: sources
A family of asylum seekers from Colombia is met by RCMP officers after crossing the border at Roxham Road into Canada Thursday, Feb. 9, 2023, in Champlain, New York. Canada and the United States are on the cusp of agreeing to designate all 8,900 km of their shared border as an official crossing under the Safe Third Country Agreement.THE CANADIAN PRESS/Ryan Remiorz
By Mia Rabson and Laura Osman in Ottawa
Canada and the United States have agreed to have asylum seekers turned back at irregular border crossings across the border, including Roxham Road in Quebec.
The U.S. will agree to extend a bilateral treaty known as the Safe Third Country Agreement to apply along the 8,900 kilometres of the shared border, according to an official with the administration of President Joe Biden, who arrived in Ottawa Thursday evening.
In exchange, Canada will agree to welcome an additional 15,000 migrants from across the Western Hemisphere over the next year on a humanitarian basis, said the official, who spoke on condition of anonymity.
A Canadian government official with knowledge of the talks, granted anonymity to discuss matters not yet made public, also said Thursday that Prime Minister Justin Trudeau and Biden would discuss the issue during a bilateral meeting Friday.
The official said details were still being negotiated, but the leaders agreed in principle.
The agreement follows talks between Trudeau and Biden at the Summit of the Americas in Los Angeles last June, a migration-heavy meeting where Canada agreed to admit just 4,000 more migrants by 2028.
Such a deal would not physically close off the Roxham Road unofficial crossing in Quebec, where thousands of migrants have entered Canada so they can make an asylum claim.
But it would effectively end its time as a viable route to Canada, as migrants who continue to cross there, or at any other unofficial crossing, would be treated as if they crossed at an official border checkpoint and be returned to the United States to make an asylum claim there.
Those travelling into the U.S. from Canada at unofficial crossings would likewise be returned north of the border by American authorities.
Under the Safe Third Country Agreement, first signed between the U.S. and Canada in 2004, asylum seekers must make their claim in whichever country they arrive first. That currently applies only to official border crossings.
But increasing numbers of migrants are opting to get around that rule by crossing at unofficial locations, such as Roxham Road, 50 kilometres south of Montreal. Taking this route means they can stay in Canada while waiting for a hearing, or for their case to be decided.
Last year, 39,000 people claimed asylum after crossing the unofficial border point into Quebec.
A lawyer for Amnesty International called the move to expand the provisions of the agreement "unconscionable," from a human rights perspective.
"It'll just push people to more remote areas, more dangerous crossings," said Julia Sande, a lawyer for the organization.
"If they're not going to be offered protection in the United States, they'll do what they need to do to get here, and that will just push people into dangerous situations."
The organization is one of three that are challenging the constitutionality of the Safe Third Country Agreement in the Supreme Court, arguing that the United States can't be counted on to carry out Canada's obligations to refugees under international law.
Meanwhile, the mayor of Niagara Falls, Ont., expressed relief that Canada and the U.S. appear to have made a tentative decision on the border crossing.
The federal government began transferring asylum claimants to various cities in Ontario, including Niagara Falls, after the Quebec government voiced concerns the migrants were placing pressure on publicly funded services.
Mayor Jim Diodati said 2,000 hotel rooms have been booked by the federal government for the asylum seekers and he found out Thursday that 500 more rooms were reserved for another group arriving on buses from the country road.
"That's a lot of people in our community, considering (the) population is about 95,000 people," he said in a phone interview. "That's a huge, immediate impact to our community."
The federal immigration minister's office would not comment on the details and status of the Canada-U.S. negotiations on Thursday.
At a press conference Wednesday, Immigration Minister Sean Fraser would only say his department was working on a solution that would go beyond the politics of the president's visit and "provide an actual lasting solution" to irregular border crossings.
Fraser said there has been no need for "horse trading" in the negotiations with the U.S. on the issue.
"This is something that both Canada and the United States believe in, is having an orderly policy at all of our borders, but also welcoming immigration policies for those who are fleeing violence, war, or persecution," he said.
There are larger-scale issues that must also be addressed, he said, including capacity to address the root causes of migration from countries people are fleeing from in the first place.
Biden arrived in Canada Thursday night for a 27-hour state visit, his first formal trip to Canada since being sworn in as the U.S. president in January 2021. Trudeau and Biden are to meet for a formal bilateral discussion in Trudeau's Parliament Hill office Friday morning.
Canada and the United States have been discussing how to improve the Safe Third Country Agreement for nearly five years.
In Canada, there are political divisions about what to do, with Conservative Leader Pierre Poilievre calling for Canada to just "close" Roxham Road.
NDP Leader Jagmeet Singh, for his part, wants the Safe Third Country Agreement suspended, allowing any migrant to make a claim in Canada regardless of how they get here.
"We believe that would give dignity to people that are already fleeing serious threats to their lives," Singh told reporters Thursday, though he said he's open to other solutions.
This report by The Canadian Press was first published March 23, 2023.
— With files from Fakiha Baig in Toronto and James McCarten in Washington.
Premier Smith urges PM Trudeau to talk Ethical Energy Security in meeting with US President Biden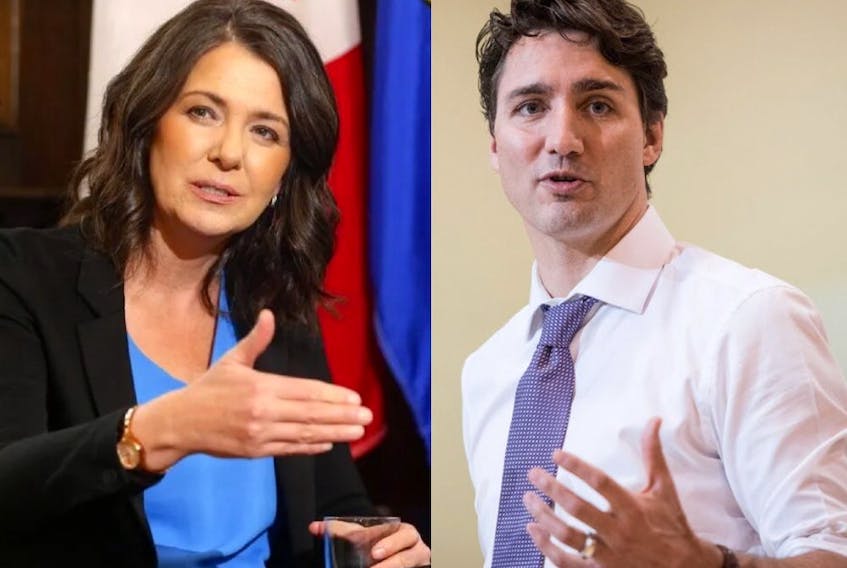 Dear Prime Minister Trudeau:
The arrival of President Joe Biden presents our nation with an opportunity of great significance. It is my request that the federal government uses its platform to focus on collaboration between the U.S. and Canada, highlighting the critical need for North American energy security.
We have a deep, long-standing relationship with the U.S. at both the federal and state levels, which is only growing in importance. In 2022, Alberta surpassed Ontario and Quebec as the largest provincial exporter of goods to the U.S. at $182.5 billion, with energy making up 85 per cent of exports to the United States. Alberta, by far, remains the single largest source of U.S. energy imports.
This economic reality, along with Russia's invasion of Ukraine, has highlighted that North American energy security must be a top priority for the Government of Canada. I urge you to raise the need for better collaboration between Canada and the U.S. to ensure the continued and enhanced supply of sustainable, affordable, and reliable energy to the U.S.
I recommend that the two governments work to fast-track energy projects in the name of economic security for our democratic partners, as committed to by Deputy Prime Minister Chrystia Freeland. A similar effort is needed in critical minerals as the world shifts to lower emitting sources of energy.
Alberta, through both government policy and industry action, is leading the way on reducing emissions and driving the transition to new sources of energy. New investments in the province are global flagships in clean energy and emissions reductions technology. For example, Pennsylvania's Air Products will create a world-scale net-zero hydrogen energy complex in Alberta, and Dow is advancing the world's first net-zero carbon emission integrated polyethylene complex at its existing site near Edmonton. It is also worth noting that Canada's oil sands operators have announced plans to spend $24 billion on emission-reduction projects by 2030 as part of their commitment to reach net zero by 2050. All of this amounts to a herculean effort undertaken by industry partners, and Alberta's government, to position ourselves as the foremost leader in emissions reduction and responsible energy production.
As you know, management of oil and gas methane emissions is one of this country's greatest climate success stories. Collaboration with the U.S. on methane emissions would both advance climate action, and address regulatory inconsistencies between the two countries. As of 2020, methane emissions from the upstream oil and gas sector in Western Canada have decreased by around 44 per cent from the 2014 baseline – ahead of our schedule of 45 percent by 2025. More evidence of Canada, and Alberta, leading the way.
Alberta is home to vast geological potential, an experienced, skilled, workforce, and has the necessary processing and transportation infrastructure in place to support a growing critical minerals sector. For example, technological advances to extract minerals from underground brine solutions are found throughout Alberta. These extraction technologies could result in a low emission, sustainable source of lithium to meet the demand of our emerging battery value-chain. We would encourage your government to work with the provinces, especially Alberta, on critical minerals and seize the opportunity to collaborate with the U.S. on enhancing North American supply chains.
As the owners and stewards of our world-class natural resources, any discussions involving energy security, natural resources, and trade must fully involve the provinces. I would be pleased to help assist you, and the federal government in advancing the work on North American energy security as well as developing the business cases to increase exports of clean Alberta energy, critical minerals and technologies to the U.S. As is only appropriate when discussing natural resources, and areas of exclusive provincial jurisdiction, I would also request that Premiers be invited to participate in a meeting with the President and his delegation.
I look forward to your response and welcome an opportunity to collaborate. We both agree that the world needs more Canada. It's imperative that in a time of such uncertainty, and unaffordability, that Alberta, and Canada profile ourselves as the preferred supplier of responsibly produced, ethical energy to the U.S., North America, and the world.