Ouellette's five-yard TD run leads Argos past Blue Bombers 24-23 to win Grey Cup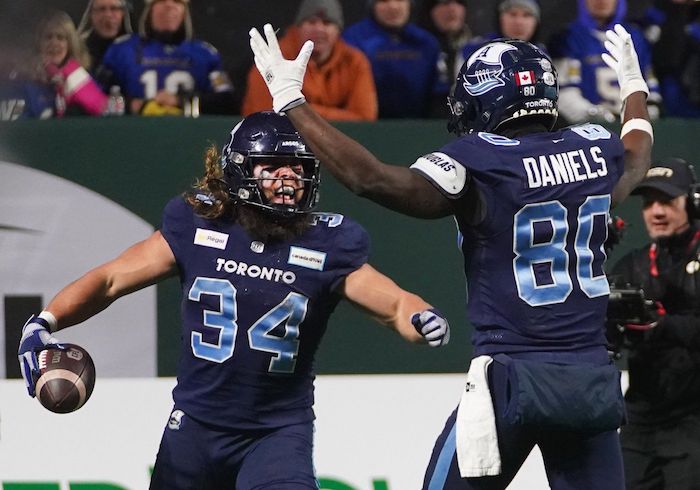 By Dan Ralph in Regina
A.J. Ouellette and Boris Bede gave the Toronto Argonauts a one-point advantage, then Robbie Smith made it stand up.
Ouellette's five-yard touchdown run in the fourth quarter rallied Toronto to a stirring 24-23 Grey Cup upset of the Winnipeg Blue Bombers on Sunday night. Ouellette's second TD of the game came at 11:36 with Bede's convert giving the upstart Argos their slender advantage.
Toronto linebacker Henoc Muamba — the game's most valuable player and Canadian — then intercepted Zach Collaros to put the Argos at the Winnipeg 43-yard line with 3:20 to play. But Winnipeg's Nick Hallett blocked Bede's 37-yard field goal to put the Bombers at their 29-yard line with two minutes remaining.
After sacking Collaros on second down, Smith got to the Bombers star again on third down. But he was flagged for a facemask penalty that helped Winnipeg drive to the Toronto 40-yard line.
But the six-foot-two, 245-pound Smith, a third-year player from Wilfrid Laurier, made up for the penalty by blocking Marc Liegghio's 47-yard attempt. Toronto got the ball at its 14-yard line with 43 seconds remaining and was able to run out the clock for the stunning victory.
Argos players earned $16,000 for the victory while Bombers players will receive $8,000 apiece. Toronto will celebrate the 18 Grey Cup in franchise history with a public rally Thursday at Maple Leaf Square.
"I've been telling people all year Robbie is an up-and-coming star in this league," said Toronto defensive tackle Ja'Gared Davis, who earned his second CFL title in his sixth straight championship appearance. "If you don't know who he is, you better get to know him.
"We preached to him all year and every game he showed more and more and why he's going to be a household name for years to come."
Smith wasn't Toronto's only unsung hero. Backup quarterback Chad Kelly engineered the five-play, 36-yard drive Ouellette capped. Kelly, the nephew of former NFL star Jim Kelly, replaced veteran McLeod Bethel-Thompson, who suffered a dislocated right thumb.
Kelly delivered a crucial 20-yard run on second-and-15 to the Winnipeg 15-yard line that kept the drive going. The march was set up by Javon Leake's 44-yard punt return to the Bombers' 31 with 6:07 remaining.
"You never expect to have to put your backup quarterback into that situation," said Ryan Dinwiddie, Toronto's second-year head coach. "That second-and-15 scramble … that changed the game right there.
"Now you can see why Chad is so darn confident, he didn't bat an eye. He was ready for the stage."
Kelly finished 4-of-6 passing for 43 yards in relief of Bethel-Thompson, who completed 15-of-28 attempts for 203 yards.
"I wanted to go back in but if I were to cock and throw, (the ball) would pop out," said Bethel-Thompson, who earned a Grey Cup ring with Toronto in 2017 as Ricky Ray's backup. "My ego was, 'I want to be out there, I want to make the game-winning pass.'
"But success doesn't matter if it's yours or your brothers'. I'm so happy for Chad, I'm so happy for these guys. We're all champions, man, it's been a beautiful journey."
Bethel-Thompson, 34, will take time this off-season to ponder his football future. While he still figures he has plenty of gas in the tank, Bethel-Thompson admits being away from his wife and young daughter this year was difficult.
"It's been a really hard year being apart in two different countries," he said. "I would love to play more football … but the No. 1 thing is I want to go home, hug my wife and baby girl.
"They're the reason why I play football. I'm so grateful for them letting me chase my dream."
Toronto's victory also earned veteran receiver Brandon Banks his first Grey Cup title. The five-foot-seven, 150-pound Banks was appearing in his fifth championship contest, the previous four coming with Hamilton, which had lost the last two CFL title games to Winnipeg.
The loss tarnished a record-setting effort by Winnipeg's Janarion Grant, who had a 102-yard punt return TD earlier in the fourth. The Bombers were attempting to become the first CFL team to win three straight Grey Cups since Edmonton captured five consecutive titles (1978-82).
Winnipeg came in as heavy favourites after posting a CFL-best 15-3 regular-season record. What's more, quarterback Zach Collaros (outstanding player), tackle Stanley Bryant (lineman), receiver Dalton Schoen (rookie) and head coach Mike O'Shea had been honoured with individual league honours earlier this week.
Toronto, meanwhile, had finished first in the East for a second straight year with an 11-7 record.
Collaros and O'Shea were both repeat winners while Bryant received top lineman honours for a record fourth time.
But Collaros was 14-of-23 passing for 183 yards with an interception and was sacked four times.
"I don't think we got into a good rhythm at any point in the game offensively," Collaros said. "We were able to put together a few good drives here and there but we weren't efficient enough on first down, running or passing the football and that starts with me.
"They had a good game plan, they pressured a little bit more in second-down situations. 'For Chad (Kelly) to come in and do what he did, that was impressive. From an offensive standpoint, I just wished we did more to stay on the football field there."
The loss was also Winnipeg's first in seven playoff games in the past three years (including Grey Cups). But Collaros said the weight of expectation didn't impact the Bombers.
"I'm not sure that ever truly puts pressure on any team," he said. "We certainly have a very mature group.
"The guys worked their tails off all week long preparing for this football game because it was the next one. Somebody's got to win."
Toronto running back Andrew Harris earned a third straight Grey Cup title. The Winnipeg native helped the Bombers win in 2019 and '21 before signing with the Argos in February as a free agent.
Harris ran for a team-high 55 yards on 10 carries in just his second game back with Toronto. He'd been out since August with a torn pectoral muscle that required surgery.
"It's a storybook ending to a great season, to an emotional year," Harris said. "I don't know if I'm going to be allowed to get back into Winnipeg again.
"If I had it my way, I never would've left Winnipeg but it is what it is. No one thought we were going to win this game. Maybe a few people, but a lot of people counted us out."
Harris said he didn't gain a measure of revenge against his former team.
"No," he said. "It's just a championship for the Argos."
With the win, Toronto extended its record of consecutive wins in the Grey Cup to seven.
The two teams squared off in the first Grey Cup game at the new Mosaic Stadium. The last time the contest was there was 2013 when the game was played in Mosaic Stadium at Taylor Field and the hometown Roughriders dispatched Hamilton 45-23 for the franchise's fourth and last championship.
The contest was played before an announced sellout of over 33,000 spectators, although, there were noticeable patches of empty seats throughout the venue.
The temperature at kickoff was -2 C (felt like -7 C) with winds of 23 kilometres per hour. It dropped to -4 C (felt like -11 C) and the wind increased to 28 km/h to open the second half.
The action began following pre-game festivities that included a stirring nine-plane flyover by the 431 Air Demonstration Squadron, formerly the Royal Canadian Air Force's Snowbirds.
Bede made just three of his six field goals on the night. He also added two converts and a single.
Dakota Prukop scored both of Winnipeg's touchdowns. Liegghio added two converts and a field goal.
Prukop's one-yard TD run at 11:04 of the third gave Winnipeg a 17-14 advantage. It capped a smart 13-play, 74-yard drive that took 7:12.
Ouellette staked Toronto to a 14-10 lead with a four-yard TD run at 3:30. The four-play, 35-yard scoring march was set up by Leake's 23-yard punt return to the Winnipeg 35-yard line.
Liegghio's 45-yard field goal at 14:39 of the second gave Winnipeg its 10-7 halftime advantage. Bede had a chance to tie the score but his 53-yard attempt on the final play was wide.
This report by The Canadian Press was first published Nov. 20, 2022.
Advocate asks AFN chiefs to ensure $40B settlement deal leaves no child behind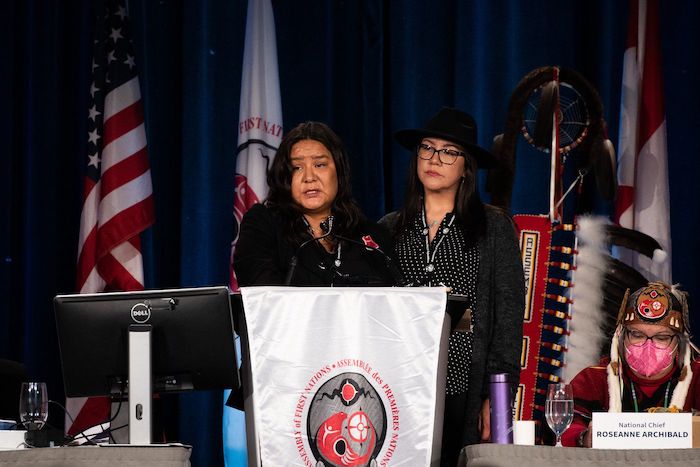 By Stephanie Taylor in Ottawa
A First Nations child welfare advocate on Wednesday implored chiefs to ensure "no child is left behind" in a landmark $40-billion settlement agreement with the federal government.
Cindy Blackstock delivered the message to an Assembly of First Nations gathering in Ottawa, after being invited to take the stage by Cindy Woodhouse, regional chief in Manitoba who helped negotiate the agreement, which had been thrown into question since being rejected by the Canadian Human Rights Tribunal.
The AFN, representing more than 600 First Nations across the country, had asked the tribunal to approve the settlement deal, which would see the government spend $20 billion to compensate families and children for systemic discrimination in the Indigenous child welfare system. It would also spend another $20 billion on making long-term reforms.
Blackstock, the executive director of the First Nations Caring Society who first lodged the complaint at the heart of the issue, raised concerns that the agreement wouldn't provide $40,000 in compensation to all eligible claimants, which is the amount the tribunal ruled they should get.
"We can make sure that in our First Nations canoe of justice, no child has to see their money go away and no child is left behind in justice," she said Wednesday.
"We are capable of that."
Following the tribunal's decision in October, the federal government filed for a judicial review of some parts of its decision.
Endorsing the settlement agreement loomed as one of the biggest items on the assembly's agenda, with chiefs being asked to vote on what the organization should do next.
The chiefs had been preparing to vote on conflicting resolutions, with one asking them to support the final settlement agreement, while another sought to see the organization not appeal the tribunal decision and renegotiate the deal.
But on Wednesday, further talks between both sides took place, assisted by former senator and judge Murray Sinclair, who helped the AFN, federal government and lawyers for two related class-action lawsuits reach the $40-billion agreement in the first place, which was formally announced in January.
Chiefs ultimately voted late Wednesday against re-entering negotiations but to instead support compensation for victims outlined in the agreement and "those already legally entitled to the $40,000 plus interest under the Canadian Human Rights Tribunal compensation orders."
It also included a provision that AFN leaders must regularly return to chiefs to provide it with progress updates and "seek direction" from chiefs on implementing the final agreement.
Many chiefs thanked Blackstock, who was greeted with applause after further agreement was met and said she was honoured to see people come together for children harmed by Ottawa's discrimination.
"We have had too many apologies, we've had too many compensation deals, we've had too many kids hurt. And this has got to be it," she said.
She added more discussion on the long-term reform part of the deal would be presented to chiefs on Thursday.
Earlier in the day, the assembly heard from sisters Melissa Walterson and Karen Osachoff, plaintiffs on the case, about the impact the foster care system had on their lives.
Osachoff said she had been in the child welfare system since she was born and didn't have a chance to grow up with her sister.
"Had it not been for the '60s Scoop and the child welfare (system), her and I would have grown up together."
She said she understands why the tribunal characterizes those like her as "victims," but told chiefs to instead think of them as survivors.
"I am not a victim and our claimants are not victims."
This report by The Canadian Press was first published Dec. 7, 2022.
What the latest Bank of Canada rate hike means for inflation, consumers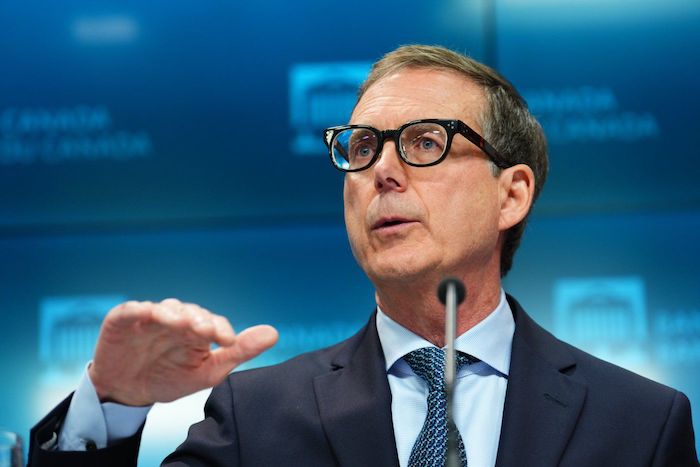 By Tara Deschamps
The Bank of Canada hiked its key policy rate by half a percentage point to 4.25 per cent — the highest it's been since January 2008 — on Wednesday in its final rate decision of a year that has been marked by stubbornly high inflation and rapidly increasing interest rates.
The bank, which has made a steady succession of large hikes over the course of the year, is widely believed to be nearing an end to the increases.
In announcing the rate hike Wednesday, the bank said it will consider whether the rate "needs to rise further to bring supply and demand back into balance and return inflation to target."
Here's a look at what the rate means, how analysts are interpreting it and what it could mean for consumers.
What is the key policy rate and what does it do?
The key policy rate, also known as the target for the overnight rate, is how much interest the Bank of Canada wants commercial banks to charge when lending each other money overnight to settle daily balances.
Knowing how much it costs to lend money, or deposit it with the central bank, helps set the interest rates charged on things like loans and mortgages.
Lowering the rate generally makes borrowing money more affordable, while raising it makes such activities more expensive.
Why is the bank using the rate to target inflation?
Inflation is a measure of how much prices of goods and services are rising or falling. High inflation is a sign of an economy that's overheating.
Canada's annual inflation rate reached a peak of 8.1 per cent in June, the highest level in four decades.
It has eased since then, reaching 6.9 per cent in September, but didn't budge in October. And shoppers have seen higher prices for common expenses like groceries. Grocery prices have been rising at the fastest pace in decades and were 11 per cent higher in October than they were a year ago.
Economists and the central bank want to see a further easing, which is why interest rates have been rising so quickly in the hope of cooling consumer spending patterns.
"Inflation is still too high and short-term inflation expectations remain elevated," the bank said in its announcement. "The longer that consumers and businesses expect inflation to be above the target, the greater the risk that elevated inflation becomes entrenched."
What does this mean for my mortgage?
Mortgage rates tend to increase or decrease in tandem with interest rates.
When Canadians buy homes there are two kinds of mortgages they can select — fixed rate or variable. Fixed-rate mortgages allow borrowers to lock in the interest rate they will pay for a set amount of time, while variable-rate mortgages can fluctuate.
Allison Van Rooijen, vice-president of consumer credit at Meridian Credit Unit, estimates the rate hike Wednesday will bump payments on a $450,000 variable-rate mortgage on a 25-year amortization up another $130 or so every month. Since the beginning of 2022, rising rates have amounted to roughly $1,000 more per month since the beginning of 2022.
"Because of the high cost of housing in Canada and years of low borrowing rates, Canadians are carrying record-levels of debt on mortgages and lines of credit, so it's really important that people go through their expenses and look to scale back discretionary spending where they can," she said in an email.
She recommends people double down on efforts to pay off debt with higher interest rates as much as possible and if they are running into trouble making payments, discuss whether switching to another format of mortgage is right for them.
Does this mean interest rates will stop rising soon?
Shortly after the announcement, many economists predicted the bank isn't done with hikes yet, even though the language in the statement signalled the possibility of holding steady at 4.25 per cent.
BMO Capital Markets chief economist Douglas Porter said a further hike of about 25 basis points is likely still to come because he's concerned about the "stickiness of underlying inflation."
James Orlando of TD Economics agreed. He expects the bank will deliver its final rate hike for the foreseeable future in January, bringing the measure to 4.5 per cent.
"We don't think the Bank of Canada is done yet, but it is quickly approaching the end of its hiking cycle," he wrote in a note to investors.
"As all Canadians know, the rapid rate hikes over 2022 have caused a dramatic adjustment in the real estate market, and we are starting to see this in consumer spending data. We expect this to continue to weigh on the economy over 2023 as the lagged effects of past hikes filter through."
This report by The Canadian Press was first published Dec. 7, 2022.