Ottawa pledges $115 million in humanitarian aid for Venezuelan refugees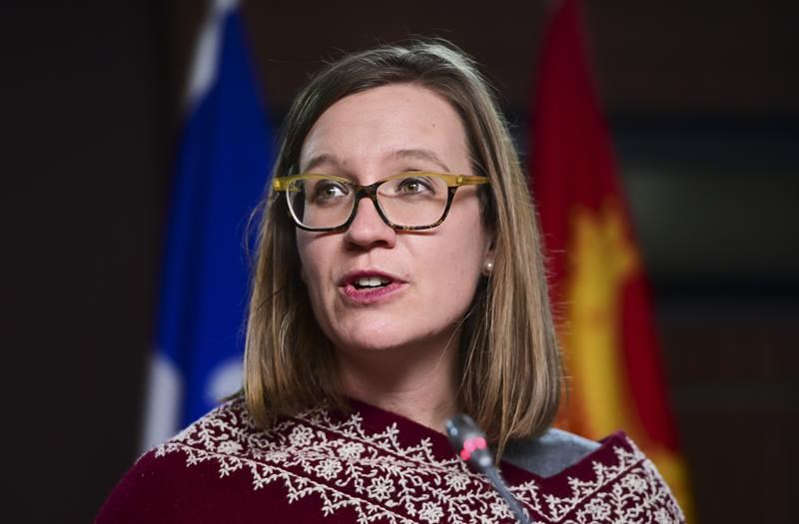 OTTAWA — International Development Minister Karina Gould says Canada will provide $115 million in aid over two years for more than 5.6 million Venezuelan asylum seekers living in countries in South and Central America and the Caribbean.
A donors conference Canada is hosting today aims to raise US$1.44 billion needed to implement a response plan put together by 159 organizations across the countries that host refugees and migrants from Venezuela.
Gould says the refugee crisis is having a significant impact on host countries especially during the COVID-19 pandemic, and Canada wants to help these countries in providing aid to Venezuelan asylum seekers including food assistance, health care, education and employment opportunities.
The representative for Venezuela of the United Nations High Commissioner for Refugees and the International Organization for Migration says the exodus of Venezuelans risks becoming a forgotten crisis as it is prolonged over time.
Eduardo Stein says host countries have shown solidarity with Venezuelan refugees during the COVID-19 pandemic but their national capacities have been dangerously strained by the virus.
He says the international community has the responsibility to support hosting countries to ensure regional stability, as a shortfall in funding would leave hundreds of thousands unprotected, with few options to rebuild a life in dignity.
The continued departure of refugees and migrants from Venezuela is one of the largest external displacement crises in the world with over 5.6 million people leaving the country in the last few years according to the UN refugee agency.
A group of 159 organizations have put together a US$1.44 billion plan to respond to urgent needs and to establish longer-term resilience and integration solutions for close to 3.3 million Venezuelans and host community members.
The UN refugee agency and the International Organization for Migration say the plan remains critically underfunded.
Gould says the goal of today's pledging conference is to raise awareness and visibility of the crisis that is still underfunded, and to demonstrate international solidarity with Venezuelan migrants and refugees.
"It is a very fragile situation right now," she says.
"For us, hosting this conference is about supporting and providing access to the basic necessities of life."
Gould says Canada has decoupled the humanitarian crisis from the political crisis in Venezuela to avoid politicizing the assistance.
"That is a really important principle to stand by to ensure that (the aid) gets to the people who need it," she says.
However, Gould adds the crisis in Venezuela is not the result of a conflict or a natural disaster but a political crisis and the only way to solve it will be through a political solution.
"Canada, through the work of the minister of foreign affairs and the Lima Group, is actively involved in trying to find a political solution," she says.
Ottawa has contributed $86 million to support Venezuelan refugees since 2019, she says.
Last year, the organizations helping Venezuelan asylum seekers appealed for US$1.41 billion, but this appeal was just 47.1 per cent funded by the end of the year, according to he UN refugee agency and the International Organization for Migration.
The European Union and Spain hosted a donors conference last year where the countries and organizations participating in it committed to US$2.79 billion in funding, including US$653 million in grants.
This report was first published by The Canadian Press on June 17, 2021.
—
This story was produced with the financial assistance of the Facebook and Canadian Press News Fellowship.
Maan Alhmidi, The Canadian Press
Canada's Jessica Klimkait wins bronze in under-57 kg judo event
TOKYO — Canada's Jessica Klimkait has won bronze in the women's under-57 kilogram category at the Tokyo Olympics.
The reigning world champion from Whitby, Ont., defeated Kaja Kajzer of Slovenia by waza-ari in a bronze-medal match.
Klimkait missed a chance to add a gold medal to her world championship title when she lost to Sarah Leonie Cysique of France in the semifinals.
Klimkait was defeated by ippon when she was assessed a shido in the golden score period for a false attack. It was Klimkait's third penalty of the bout, giving Cysique a berth on the gold-medal match.
Klimkait was in fine form before her semifinal loss. She defeated Poland's Julia Kowalczyk in their quarterfinal bout at the Nippon Budokan.
The victory, her second straight via ippon, came after she beat Bulgaria's Ivelina Ilieva in the round of 16 earlier in the day
This report by The Canadian Press was first published July 26, 2021.
The Canadian Press
Mac Neil finishes first in women's 100 butterfly to capture Canada's first gold medal
TOKYO — Swimmer Margaret Mac Neil has won Canada's first gold medal of the 2020 Tokyo Olympics.
Mac Neil was seventh at the halfway point of the women's 100-metre butterfly, but swam a strong second length to win in a time of 55.59 seconds.
Zhang Yufei of China was second and Emma McKeon of Australia finished third.
Mac Neil became Canada's first multi-medallist in Tokyo following a silver medal in the women's 4×100 freestyle relay in the first day of finals.
The 21-year-old from London, Ont., was a surprise winner of the 100-metre butterfly at the 2019 world championship in Gwangju, South Korea, where she bested reigning Olympic champion Sarah Sjoestroem of Sweden.
Mac Neil, a senior at the University of Michigan, is also a two-time NCAA champion in freestyle and butterfly. 
She'd posted the sixth-fastest semifinal time in the 100-metre butterfly an hour before swimming the second leg of the relay in Tokyo.
This report by The Canadian Press was first published July 25, 2021.
The Canadian Press