'Ottawa is not our ruler': Alberta government introduces sovereignty bill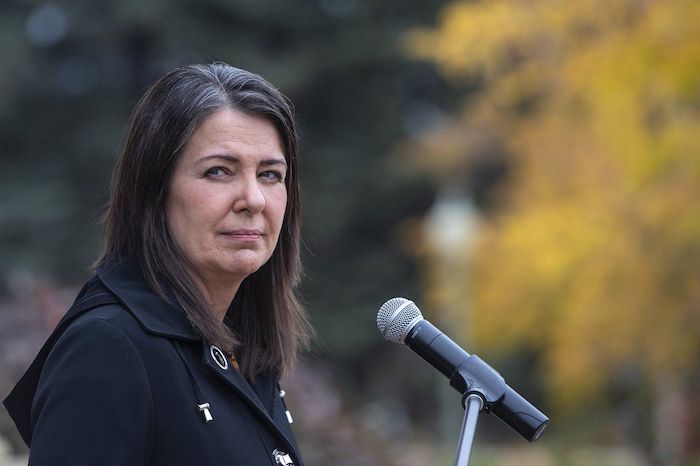 By Dean Bennett in Edmonton
The Alberta government has introduced a bill that would grant Premier Danielle Smith and her cabinet broad powers to rewrite provincial laws behind closed doors in an effort to push back against Ottawa.
The proposed legislation would also allow cabinet to direct "provincial entities" — Crown-controlled organizations, municipalities, school boards, post-secondary schools, municipal police forces, regional health authorities and any social agency receiving provincial money — to not use provincial resources to enforce federal rules deemed harmful to Alberta's interests.
"The Canadian Constitution is clear that the federal and provincial governments are equals, each with our own areas of exclusive jurisdiction," Smith said in a statement Tuesday after her government introduced the Alberta sovereignty within a united Canada act.
"The (act) will be used as a constitutional shield to protect Albertans from federal overreach that is costing Alberta's economy billions of dollars each year in lost investment and is costing Alberta families untold jobs and opportunities."
In the bill, the United Conservative Party government promises to follow court rulings and the Constitution, but says it would be up to the federal government to sue the province to resolve disputes instead of the other way around.
Smith said if the bill passes, her government would use it as early as this spring to fight the federal government on a slew of issues, including energy development, agriculture, health care, education, firearms, child care, property rights and social programs.
It was the cornerstone of her successful campaign to win the leadership of the United Conservative Party last month to take over from Jason Kenney as premier.
The bill has been criticized by Kenney and even some of Smith's leadership rivals — four of whom now sit in her cabinet — as a recipe for legal uncertainty, investment flight and the first step toward separation.
The bill was tabled after Lt.-Gov. Salma Lakhani read aloud in the chamber the speech from the throne, launching a new legislative session.
In the speech outlining government plans and priorities, Lakhani said the four-week fall sitting would focus on helping Albertans with inflation, health care and battling the federal government.
"Ottawa is not our ruler. Ottawa is our partner and it needs to begin acting like it," Lakhani told the assembled legislature members and dignitaries.
The sovereignty bill sets out the framework to launch fights with the feds.
Under the bill, cabinet ministers or Smith would decide whether federal rules are harmful to Alberta. The bill does not give a legal definition of what constitutes harm.
Cabinet would then craft a resolution laying out the nature of the harm and steps that need to be taken to fight back. The 87-member legislature would vote on the resolution and if it gets a majority, the resolution passes and cabinet goes to work implementing it.
Cabinet can implement the resolution by using existing powers in legislation or it can unilaterally amend any provincial laws it deems applicable. Those laws are normally debated and passed in the legislature.
The bill says while cabinet can then direct any "provincial entity" to not enforce those federal laws or policies, it cannot do so with individuals or private businesses.
It also stresses that the bill cannot infringe on First Nations rights, a concern Alberta treaty chiefs have raised.
Any resolution passed by the assembly would expire after two years, unless the legislature votes to end it earlier. However, cabinet can extend orders and rules made under any resolution for a maximum of two extra years.
The window to fight the act in court in a judicial review is reduced from the normal six-month time frame to 30 days.
The Saskatchewan government introduced legislation with a similar aim last month, focusing on reinforcing provincial rights over natural resources.
Earlier Tuesday, Smith was sworn in as the new member for Brooks-Medicine Hat after winning a byelection for the seat earlier this month.
It was her first time back on the floor the legislature chamber since the spring of 2015.
At that time, Smith was with the Progressive Conservatives, having led a mass floor crossing of her Wildrose Party months earlier. She failed to win a nomination for the PCs in 2015 and returned to journalism as a radio talk-show host for six years.
Kenney remains a backbench UCP legislature member. He was not in the chamber for the throne speech or the introduction of the bill.
This report by The Canadian Press was first published Nov. 29, 2022.
Regulator gives Imperial weeks to plan fix for months-old oilsands tailings leak
Alberta's energy regulator has given Imperial Oil until the end of the month to figure out a way to fix ongoing seepage at a tailings pond at its Kearl oilsands mine.
The Alberta Energy Regulator says a pond on the site north of Fort McMurray, Alta., has been seeping since May, releasing thousands of cubic metres of wastewater that contains toxins such as arsenic.
The seepage has been recorded both on- and off-site in areas near the tributaries of area rivers.
The regulator says there has also been overflow of tailings water from one of the system's holding ponds.
It says there have been no wildlife or human impacts from the releases.
Imperial says it is working with the regulator to try and resolve the problem.
This report by The Canadian Press was first published Feb. 8, 2023.
This is a corrected story; An earlier version said the seepage was considered to have got into tributaries to area rivers.
Warren Foegele scores twice, Oilers beat Red Wings 5-2
By Larry Lage in Detroit
DETROIT (AP) — Connor McDavid extended his point streak to 13 games and Warren Foegele scored twice in the second period, helping the Edmonton Oilers beat the Detroit Red Wings 5-2 on Tuesday night.
Foegele, a fourth-round winger, had his first two-goal game of the season one game after he was a healthy scratch.
"It's one of the best games I've seen from him, and he should feel real good about himself," Oilers coach Jay Woodcroft said. "There's nobody more happy for him than his teammates and his coaching staff."
Fourth-line center Ryan McLeod and Foegele had goals 36 seconds apart early in the second and Foegele scored again midway through the period to give the Oilers a 3-1 lead. Third-line center Ryan Nugent-Hopkins restored their two-goal lead late in the third period.
"We got some contributions from our entire lineup, which is great," said Edmonton's Evander Kane, who had an empty net goal. "We're going to need that as we go down the stretch here and obviously in the playoffs. That type of scoring wins or loses you series."
Edmonton's Jack Campbell stopped 30 shots, including some key ones in the third to keep a one-goal lead.
"They were big saves, but I would say Jack expects to make those days and we expect those saves," Woodcroft said. "He's starting to build a little personal momentum for himself."
The Oilers maintained the momentum they had going into the All-Star break with their eighth win in nine games.
"The boys have been playing great leading up to the break and definitely wanted to continue where we left off," Campbell said. "Great way to start the road trip and get all the juices flowing again."
Ville Husso made 22 saves for the Red Wings, who had won two of their previous three games.
"There are a lot of positives to take out of this game despite the score, but we just didn't finish," Detroit coach Derek Lalonde said.
Detroit's Tyler Bertuzzi broke a scoreless tie midway through the first period and Joe Veleno scored with 9 seconds left in the second to pull the home team within a goal.
Edmonton, the NHL's highest-scoring team and best on the power play, scored with an extra skater when Nugent-Hopkins had a goal with 4:22 left in the third.
"Their power play is on pace to be the best in the history of the game," Lalonde said. "We gave them a fourth one and it killed us."
The game had plenty of after-whistle scrums, leading to a parade into the penalty box with several penalties in the third period.
"It's today's NHL. A lot of guys think they can get in there, and the referees bail them out a lot," Kane said. "It was a bit of a chippy game, and it started in the second period. We got some guys on our team that don't mind answering the bell."
Red Wings captain Dylan Larkin said he and his teammates let the emotions get the best of them when a game-tying goal was needed.
"That's something we need to learn from," Larkin said.
NOTES: McDavid has nine goals and 12 assists during his 13-game point streak, giving him an NHL-high 41 goals and 93 points. … Bertuzzi, who has been limited to 18 games by injuries, scored his second goal of the season.
UP NEXT
Oilers: Play at Philadelphia on Thursday.
Red Wings: Host the Calgary Flames on Thursday.
___
AP NHL: www.apnews.com/hub/NHL and www.twitter.com/AP_Sports