O'Toole's Tories outliers in Canadian politics for keeping vaccination status secret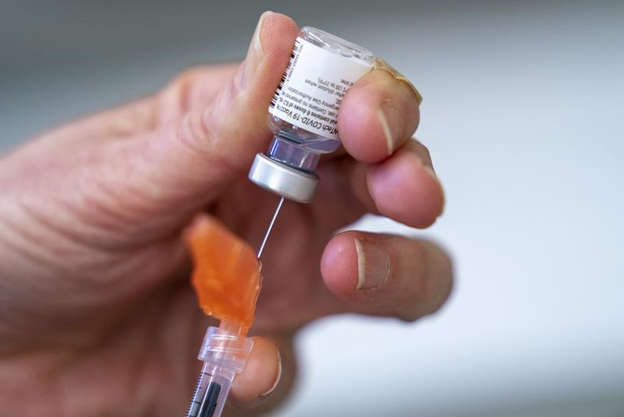 OTTAWA — The federal Conservatives' refusal to disclose how many of their elected members are fully vaccinated makes them something of an outlier in the Canadian political sphere.
Most federal and provincial parties are open about the immunization status of their members, even though not all legislatures have adopted a rule requiring that members be fully vaccinated.
All government and main opposition members in British Columbia, Saskatchewan, Quebec and Newfoundland and Labrador say they are fully vaccinated.
In Ontario, where Premier Doug Ford made vaccination a requirement to sit in his Progressive Conservative caucus, two of his MPPs say they are medically exempt. All opposition MPPs are fully vaccinated.
A spokeswoman for New Brunswick Premier Blaine Higgs says all members of the governing Progressive Conservative caucus are fully vaccinated, except for one who is undergoing cancer treatment and had to delay their second shot until later this month.
All but two MLAs in Manitoba's Progressive Conservative government say they're fully immunized. The two refuse to reveal their vaccination status.
Mandatory vaccination rules have also been announced for admittance to Nova Scotia's Province House and Quebec's National Assembly.
A similar policy was unveiled federally this week by the board of internal economy, the multi-party governing body of the House of Commons. It announced a double vaccination requirement for entering buildings in the Commons precinct, including the House of Commons chamber itself.
Nothing has yet been decided for the Senate, which sets its own rules.
The move appears to leave Conservative Leader Erin O'Toole in a predicament: He didn't make vaccination against COVID-19 a rule to run as a Conservative candidate in the recent federal election and he won't say now how many of his 118 MPs are fully vaccinated. At the same time, he wants to return to an in-person Parliament when it resumes Nov. 22.
O'Toole, who contracted COVID-19 and personally promotes the value of vaccinations, says he respects an individual's personal health choices.
The most recent analysis by The Canadian Press found at least 80 Conservative MPs are fully vaccinated, while two said they couldn't be immunized for medical reasons. Two others refused to disclose their status on principle and the others did not respond.
Some in O'Toole's caucus champion the need to keep their vaccination status private, like backbench Saskatchewan MP Jeremy Patzer. He wrote a recent op-ed saying he rejects "bully tactics" to cajole people into divulging private medical information, but then later confirmed he is himself vaccinated.
Similarly, Alberta MP Glen Motz posted on his website: "As strongly as I support the use of vaccines in our fight against COVID-19, I am as equally opposed to coerced vaccination."
Just as the Liberals drove mandatory vaccinations as a wedge during the election campaign, Prime Minister Justin Trudeau has continued criticizing the Conservatives. He suggested this week that his decision to wait another month to recall Parliament was to ensure all of O'Toole's team had time to get vaccinated.
Conservative spokesman Mathew Clancy said the official Opposition doesn't believe the nine-member board of internal economy "has the jurisdiction to infringe on a member's right to take their seat in the House of Commons," but didn't elaborate on whether it would challenge the decision.
Carleton University professor Philippe Lagassé, an expert on the Westminster parliamentary system, said the rules weren't designed to deal with public health, but it's up to MPs to lay down their own laws in their parliamentary house.
"The fundamental principle remains the same — this is a collective right and if as a collectivity the House determines that its safety and ability to perform its function needs to be protected against some external force — a disease, or a police officer, or a court — well, then that's the way it is," he said.
"The reality is we're not a pure democracy, we're a parliamentary democracy."
He said the issue some Conservative MPs may raise is whether the board of internal economy can speak for the entire House of Commons.
However, if they compel the Commons to vote on the issue, it's clear the mandatory vaccination policy would easily pass, with the support of Liberal, Bloc Quebecois and NDP members.
Federal parties must also decide whether the Commons should resume all normal in-person proceedings or continue with a virtual component, allowing MPs to participate by videoconference.
At B.C.'s legislature, there is a hybrid option for the assembly itself and a rule that all MLAs, staff and guests must show proof of vaccination to gain admittance to the building.
In Saskatchewan and Ontario, visitors must be double vaccinated or show a negative COVID-19 test result before entry.
In Manitoba, many continue to participate remotely. Speaker Myrna Driedger said in an email that the legislature hasn't yet dealt with the issue of vaccination requirements for its chambers.
In Alberta, Speaker Nathan Cooper said decisions around whether to exclude an MLA from the assembly must be made by the assembly alone.
"This has been a very complicated and fascinating time to see our democracies wrestle with this very foundational building block of our society in terms of our democracy, and the very real and active concerns around public health," he said.
The Alberta NDP, which says all of its MLAs are fully vaccinated, has pushed United Conservative Premier Jason Kenney to ensure the same of his caucus. Cooper said it's been "widely reported" all UCP members are vaccinated, except for one seeking a medical exemption.
Kenney has said he favours making sure all MLAs are either vaccinated, or show a negative result from a COVID-19 test to enter the assembly, which begins sitting Monday.
Lagassé said when it comes to introducing any new set of rules for Parliament, an important question is how long they will last, particularly when it impacts the abilities of the public and parliamentarians to access these spaces.
"We've got to be careful with it, but you almost have to deal with it on a case-by-case basis," he said.
— with files from Steve Lambert and Dirk Meissner
This report by The Canadian Press was first published Oct. 23, 2021
Stephanie Taylor, The Canadian Press
Quebec mosque disappointed with ruling allowing killer to seek parole after 25 years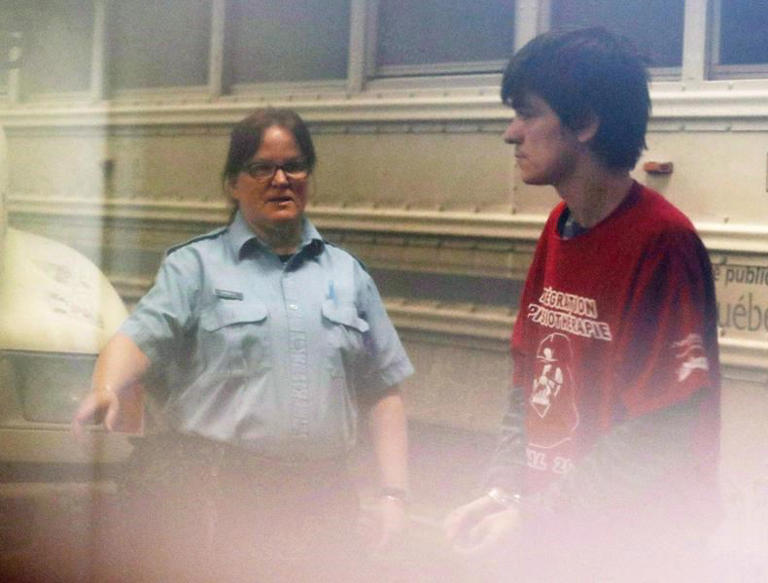 QUEBEC — Families of the victims of the Quebec City mosque shooter say they fear Friday's Supreme Court ruling means the 17 children who lost a father could one day meet the killer in the streets of Quebec's capital.
Canada's high court ruled that the killer who went on a deadly shooting spree at a Quebec City mosque in 2017 can apply for parole after 25 years behind bars. The court declared unconstitutional a 2011 Criminal Code provision that allowed a judge, in the event of multiple murders, to impose a life sentence and parole ineligibility periods of 25 years to be served consecutively for each murder.
Mohamed Labidi, president of the Islamic Cultural Centre of Quebec, where the killer shot dead six men on Jan. 29, 2017, said families of the victims expressed real concern the killer would be a free man within a relatively short period of time.
"Maybe parole (officials) will delay this release a bit (and) will take that into account, but that's our real fear," Labidi told a news conference.
The Islamic Cultural Centre of Quebec said in a statement Friday the high court decision did not give due consideration to "the atrocity and scourge of multiple murders" or to the hateful, Islamophobic, racist nature of the crime.
Members of the mosque said they were disappointed with the decision from the court, but they added it allows them to close the legal chapter and focus on the future.
"Philosophically, yes, we would like to turn the page and I, personally as an individual, want to turn the page," mosque co-founder Boufeldja Benabdallah told reporters. "I have been hurt enough and I have cried enough."
Benabdallah said the Supreme Court decision "breaks the balance" between a criminal's chance at reintegrating society and his or her victims' sense of justice.
"We take into account the rehabilitation of an individual … and to not give a punishment that is inadmissible, unusual or cruel," Benabdallah said. "But at the same time, the families who have been affected must also feel that they have won their case, that the killer is being punished for his crimes."
Alexandre Bissonnette pleaded guilty to six counts of first-degree murder and was sentenced to life in prison. Five others were seriously injured in the January 2017 attack, including one man who was left paraplegic and confined to a wheelchair. The six men who were shot dead left behind 17 children.
A trial judge found the 2011 parole ineligibility provision unconstitutional but did not declare it invalid, ultimately ruling Bissonnette must wait 40 years before applying for parole.
Quebec's Court of Appeal said the trial judge erred in making the ineligibility period 40 years and that the court must revert to the law as it stood before 2011, resulting in a total waiting period for Bissonnette of 25 years. The Crown appealed that decision.
The Supreme Court said the 2011 law violates the Charter of Rights and Freedoms and that in order to ensure respect for the inherent dignity of every individual, the Charter requires Parliament to leave a door open for rehabilitation, even in cases where this objective is of secondary importance.
One of Bissonnette's lawyers, Charles-Olivier Gosselin, said his client was relieved by the ruling.
"It's a second chance, a second life that Mr. Bissonnette can hope for to demonstrate to society that he can be an asset, that he can work on himself, move on and look forward," Gosselin said at the courthouse in Quebec City.
Daniel Bélanger, the chief prosecutor for Quebec City, said he would not comment on the decision out of deference to the high court, but he spoke of the victims and their families.
"This day marks for them the end of a long judicial process, but we are aware that it is not the end of their grieving and healing process," Bélanger said, reading from a prepared statement.
He said the Crown and police in Quebec City were diligent in their work all the way to the Supreme Court, demonstrating the capacity for the judicial system to conclude complex cases in the public's interest.
Bélanger reminded reporters in Quebec City that Bissonnette received a life sentence and it will be up to the parole board to decide whether he is released, which now won't come before 2042. The killer, he said, would be subject to strict conditions and surveillance by a parole officer for the rest of his life in the event he is freed from prison.
"Although this case has become a constitutional debate regarding the provisions of the Criminal Code, we need to remember, in closure, the six people murdered and the other victims of this attack on Jan. 29, 2017," Bélanger said.
"Our thoughts are now with the victims and their families and the community affected by this crime that has marked the collective consciousness. We praise their courage, their resilience and their dignity in this moment."
This report by The Canadian Press was first published May 27, 2022.
— By Sidhartha Banerjee in Montreal, with files from Caroline Plante in Quebec City.
The Canadian Press
A look at some recent convictions that have led to consecutive murder sentences
The Supreme Court of Canada struck down a Criminal Code provision Friday that meant multiple murderers might have to wait 50 years or more to apply for parole.
The unanimous high court decision came Friday in the case of Alexandre Bissonnette, allowing him to seek parole after serving 25 years behind bars for fatally shooting six people at a Quebec City mosque in 2017.
Here is a look at some other cases where the law has been applied.
December 2018
Dellen Millard of Toronto is sentenced to a third life sentence for murder in the death of his father, Wayne Millard.
He was previously convicted along with his friend, Mark Smich, in the murders of Laura Babcock and Tim Bosma. He must serve 75 years before he can apply for parole.
February 2018
Benjamin Hudon-Barbeau, who infamously escaped from a Quebec detention centre by helicopter, is sentenced to life with no chance of parole for 35 years for ordering two murders and two attempted murders at the hands of a hit man.
December 2017
Basil Borutski, convicted of killing three women during an hour-long rampage in the Ottawa Valley in 2015, is sentenced to life in prison with no chance of parole for 70 years.
Borutski was found guilty of first-degree murder in the slayings of Anastasia Kuzyk and Nathalie Warmerdam, and of second-degree murder in the slaying of Carol Culleton.
Derek Saretzky of Blairmore, Alta., is sentenced to life in prison with no chance of parole for 75 years.
A jury convicted him of three counts of first-degree murder in the 2015 deaths of Terry Blanchette, Blanchette's two-year-old daughter, Hailey Dunbar-Blanchette, and Hanne Meketech.
February 2017
Douglas Garland is sentenced to life in prison without parole for 75 years for killing Alvin and Kathy Liknes and their five-year-old grandson, Nathan O'Brien.
Court heard Garland attacked the three victims in a Calgary home, then took them to his nearby farm, where he killed and dismembered them and burned their remains.
June 2016
John Ostamas, a homeless Winnipeg man who brutally beat three other transient men to death in separate attacks, is sent to prison for life with no chance of parole for 75 years.
Ostamas pleaded guilty to three counts of second-degree murder for the 2015 killings that prompted police to warn the city's homeless population to be careful.
October 2014
A judge in Moncton, N.B., sentences Justin Bourque to serve at least 75 years before he can request parole.
Bourque shot and killed three RCMP officers and wounded two others in June 2014.
He pleaded guilty to three counts of first-degree murder and two counts of attempted murder.
September 2013
A judge in Edmonton sentences Travis Baumgartner, an armoured-car guard, to life in prison with no chance of parole for 40 years for killing three colleagues during a bank machine robbery at the University of Alberta in 2012.
A fourth guard was badly hurt but survived.
Baumgartner pleaded guilty to one count of first-degree murder, two counts of second-degree murder and attempted murder.
This report by The Canadian Press was first published May 27, 2022.
The Canadian Press