O'Toole says CSIS told him he was focus of Chinese misinformation, suppression effort
Conservative member of Parliament Erin O'Toole speaks in the House of Commons on Parliament Hill in Ottawa on Tuesday, May 30, 2023. O'Toole was speaking on an opposition motion regarding the public inquiry into allegations of foreign interference and being informed by CSIS that he is a target of China. THE CANADIAN PRESS/Sean Kilpatrick
Conservative MP Erin O'Toole says Canada's spy agency has told him he was the target of Chinese interference intended to discredit him and promote false narratives about his policies while party leader.
Rising in the House of Commons on a question of privilege Tuesday, O'Toole said the Canadian Security Intelligence Service briefing revealed a range of actions against him.
They included Chinese Communist Party funding to create misinformation, the use of groups and the WeChat social media platform to amplify the mistruths and a campaign of voter suppression against him during the 2021 general election, he said.
The former Conservative leader said the threats against him and members of his caucus were not flagged to him by the government or security agencies at the time.
They were also not communicated to the Conservatives through the federal task force intended to help safeguard the integrity of the 2021 election, he added.
O'Toole said the Liberal government's inaction amounted to a violation of his privileges as an MP and leader of the Opposition.
"The briefing from CSIS confirmed to me what I suspected for quite some time, that my parliamentary caucus and myself were the target of a sophisticated misinformation and voter suppression campaign orchestrated by the People's Republic of China before and during the 2021 general election."
On Monday, New Democrat MP Jenny Kwan said CSIS informed her last week she has been targeted by China since before the 2019 federal election over her advocacy for human rights in Hong Kong and for the Uyghur Muslim minority in China. She said she was not at liberty to discuss specifics of the targeting.
In addition, David Johnston, the federal government's special rapporteur on foreign interference, said in his recent interim report there was intelligence indicating Beijing was seeking information about Conservative MP Michael Chong and his relatives.
But Johnston's interim report found little evidence supporting O'Toole's claim specific candidates lost in the 2021 election because of foreign interference.
He said it was unclear whether information campaigns against Conservatives were tied to a state-sponsored source, and there was a legitimate possibility that Chinese-Canadians did not agree with the Conservative's hardline position on China.
In that case, it would not be foreign interference — it would be the "democratic process," the report said.
Under a federal protocol, there would be a public announcement if a panel of senior bureaucrats determined that an incident – or an accumulation of incidents – threatened Canada's ability to have a free and fair election.
There was no such announcement in 2021 or concerning the 2019 election. In both ballots, the Liberals were returned to government with minority mandates while the Conservatives formed the official Opposition.
Government House leader Mark Holland said Tuesday the federal Liberals still have faith in the man they appointed to investigate the issue of foreign interference in Canadian elections.
But Holland would not confirm whether the government could fire Johnston if an NDP motion calling for his ouster passes in the House of Commons this week.
The House debated a motion from NDP Leader Jagmeet Singh on Tuesday that calls for the government to remove Johnston as special rapporteur and to call a public inquiry.
Singh says he doesn't want to attack Johnston personally, but is concerned there is a clear apprehension of bias undermining the work he can do because of his ties to the prime minister.
Opposition party motions are not binding and the government already ignored an earlier NDP motion calling for a public inquiry that passed in March.
That motion came just a week after the Liberals appointed Johnston to look into allegations the Chinese government attempted to interfere in the last two federal elections.
Conservative Party Leader Pierre Poilievre repeated calls for a public inquiry Tuesday and discounted Johnston's role as a "fake job."
"We need to take back control of our democracy from foreign forces, we need to put Canadians back in control of their lives," he said.
Poilievre, who succeeded O'Toole as permanent party leader after the last election, said he would call a public inquiry if he becomes prime minister, reiterating his reluctance to view the classified section of Johnston's report offered to party leaders.
"The prime minister's plan is he wants to mark secret things that would otherwise be publicly debatable, but put things that would be in a grey area under the secrecy of the state, and then put them before me to prevent me from speaking publicly," he said.
Singh said he will continue to push for a public inquiry but won't end his confidence-and-supply agreement with the Liberal minority government and trigger an election.
"I don't see how it's logical if the goal is to protect our democracy to then trigger an election when we're worried about foreign interference."
This report by The Canadian Press was first published May 30, 2023.
Winnipeg man pleads guilty to manslaughter in the death of Saskatchewan RCMP officer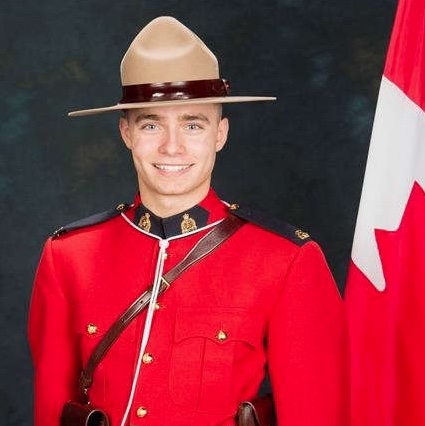 A man has pleaded guilty to manslaughter in the death of a Saskatchewan RCMP officer. RCMP Constable Shelby Patton is shown in this undated handout photo. Patton, of the Indian Head Detachment, was killed on June 12, 2021, after being hit by a pickup truck during a traffic stop. THE CANADIAN PRESS/HO, RCMP
By Jeremy Simes in Regina
The mother of a Saskatchewan RCMP officer who was killed two years ago says it was "hell" to watch a Winnipeg man plead guilty to manslaughter in her son's death.
Alphonse Stanley Traverse pleaded guilty on Wednesday to the charge in Regina Court of King's Bench for his role in Const. Shelby Patton's death. Traverse also pleaded guilty to a charge of stealing a motor vehicle.
"It's very traumatic," Melanie Patton, the mother of the 26-year-old Mountie, said in an interview.
"It's better than sitting through a trial, but at the same time there's so much trauma and we're not going to recover. It's like I'm living in hell."
Shelby Patton was killed more than two years ago when he attempted to stop a stolen truck, driven by Traverse, near the town of Wolseley, east of Regina.
According to an agreed statement of facts, Traverse had been driving from Winnipeg to Saskatchewan in June 2021 to play VLTs. He was with Marlene Pagee at the time, and they chose to go to Saskatchewan because bars were open in the province. COVID-19 measures meant bars were closed in Manitoba.
Traverse was on warrant status for various Criminal Code offences, the document said, and Pagee had been on bail with conditions. She also faces one count of accessory to murder after the fact in Patton's death.
Court heard Traverse and Pagee were driving a stolen green truck as they made their way to Saskatchewan. They were both using crystal meth.
However, the green truck wasn't working well, so Traverse and Pagee began looking for another vehicle. The document said they came across another truck near Pipestone, Man., and stole it. The truck was unlocked and had keys in the ignition.
The document said Traverse and Pagee made their way to Wolseley and stopped outside a hotel. Patton was then dispatched to investigate a suspected stolen truck in town.
When Patton arrived, court heard the couple noticed the Mountie's car, so they decided to drive away. However, Patton stopped them shortly thereafter and walked towards the driver's window, speaking with Traverse.
Court heard Patton had asked Traverse if he worked for the company that owned the truck. Traverse lied, saying he did. Patton then told him the truck had been reported stolen, asking him to step out of the vehicle until the issue could be sorted.
Traverse then turned to Pagee, saying "I can't," and started the truck.
Court heard Patton stepped up on the truck's running board and reached for the key's inside. The truck then accelerated rapidly and jerked.
The document said Patton fell off the running board. The rear driver-side tire ran over his body, killing him.
Melanie Patton said her son's death was no accident.
"He was a very good officer. He did not make a mistake," she said. "I'm sure any officer would have done the same. The job is very dangerous and getting more dangerous, unfortunately."
She said she hopes Traverse is given the maximum penalty.
Traverse is scheduled for sentencing on Jan. 17.
This report by The Canadian Press was first published Sept. 27, 2023.
Conditional sentence for woman who set fires at start of 2022 wildfire season
A 43-year-old Kamloops, B.C., woman has been sentenced for two arson fires she admitted to setting. A warning sign about fire risk is seen as smoke from wildfires fills the air, in Kelowna, B.C., Saturday, Aug. 19, 2023. THE CANADIAN PRESS/Darryl Dyck
Kamloops
A 43-year-old Kamloops, B.C., woman who admitted to setting two arson fires has been sentenced.
Angela Cornish was charged with four counts of arson, related to numerous fires set between April and May 2022, at the start of the wildfire season.
Cornish pleaded guilty to two arsons near the southern Interior community of Lac Le Jeune and records show she received a six month conditional sentence during an appearance in provincial court in Kamloops on Tuesday.
The court stayed three other charges related to alleged arsons near Monte Lake, Pinantan Lake and Lac Le Jeune.
An investigation by RCMP and the BC Wildfire Service began last spring after residents alerted officials to slash piles that had been set ablaze along remote logging roads south and east of Kamloops.
None of the fires spread into the nearby grass or bush.
This report by The Canadian Press was first published Sept. 27, 2023.