O'Toole breaks with election platform, pledges status quo on firearm bans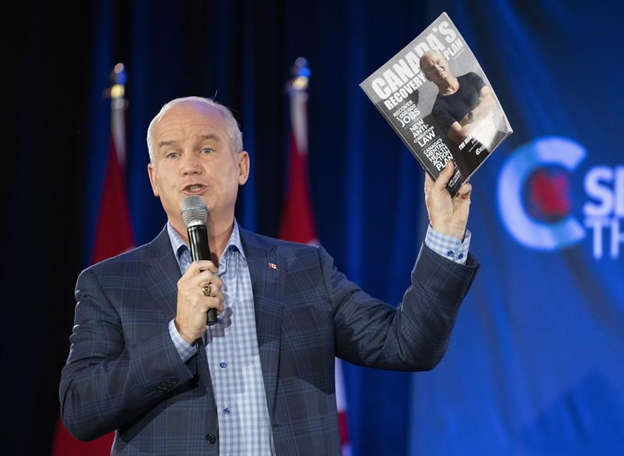 VANCOUVER — Conservative Leader Erin O'Toole said Sunday he would maintain a Liberal ban on "assault-style" firearms if he forms government, a change in course the Liberals say they don't believe will las
O'Toole has faced days of questions about his party's gun policy after repeatedly saying he would maintain a ban on "assault weapons," while remaining evasive about whether he was talking about a 1977 ban on fully automatic weapons or a more recent Liberal cabinet order.
On Sunday, he said a Conservative government would keep both.
"It's critically important for me to say to Canadians today that we're going to maintain the ban on assault weapons, we're going to maintain the restrictions that were put in place in 2020 by the order-in-council," O'Toole told reporters in Vancouver.
It was a change from the day before, when O'Toole said people who were confused on his position could look to the party's platform to "fill in the blanks."
That document promises to repeal the Liberal measures, which were introduced through a May 2020 order-in-council and banned some 1,500 firearm models, including the popular AR-15 rifle and the Ruger Mini-14 used to kill 14 women at Montreal's École polytechnique in 1989.
"We're maintaining the status quo that's in place right now," he said, however he would not say whether he would maintain the Liberal ban permanently.
O'Toole has also promised to conduct a "public, transparent" review of Canada's gun classification system, a step he said will depoliticize gun regulation.
"Our intention is to take the politics out of this, because Mr. Trudeau has divided rural versus urban, he has demonized, in some cases, farmers, hunters, sport shooters and actually ignored the real problem of rising smuggling and organized gang activity," he said.
At a rally in Toronto, Liberal Leader Justin Trudeau said he believes the O'Toole will use the review of the classification system to legalize currently banned guns.
"What he's says now is, and listen for it is, 'OK, we'll hold onto that order-in-council if we get re-elected, but we'll start a reclassification system for all the guns and work with the gun lobby to make sure that we get the right guns reclassified," Trudeau told supporters. "If he's going to reclassify them, it's his way of saying, 'maybe we can bring them back.'"
Some Conservative candidates appeared to not be aware the party's position would be changing.
Earlier Sunday, Battle River-Crowfoot candidate Damien C. Kurek posted on Facebook that "a Conservative government will stand with hunters, farmers and sport shooters — law-abiding firearms owners — and will repeal C-71 and the May 2020 Liberal Order in Council."
In March, Kurek wrote an opinion piece for the Bashaw Star in which he slammed the Liberals for not defining what "assault-style firearms are."
"Assault" or "assault-style" firearms are colloquial descriptions, and what falls into either category is debated among gun users.
The Conservative platform also promises to scrap Bill C-71, which expanded background checks for people seeking gun licences as well as record-keeping requirements for gun sellers.
Asked about whether repealing that bill remains a promise, O'Toole repeated that he would maintain the bans on assault and "assault-style" weapons.
PolySeSouvient, a group that pushes for more stringent gun control laws said it doesn't believe O'Toole's new stance is a dramatic change from his previous position.
"Yes, he said he would maintain those prohibitions, but he also promised a review of all firearms classification. It is not hard to predict how such a review would play out, as he has repeatedly stated that farmers, hunters and sport shooters 'have been unfairly caught up' in the Liberals' 2020 ban," Nathalie Provost, a spokeswoman for the group and a survivor of the 1989 Polytechnique massacre, said in an email.
She said O'Toole is now "offering a more convoluted stance that sounds good to the general public, but which can clearly be construed as a dog whistle to sports shooters and collectors of assault weapons."
Rod M. Giltaca, the CEO and Executive Director of the Canadian Coalition for Firearm Rights, said his group agrees with O'Toole's position "that the classification of firearms should not be a political process."
"This election is about the future of Canada. Our focus is replacing a failed Liberal government with one competent to lead whether on the pandemic, the economy or firearms," Giltaca wrote in an email.
The National Firearms Association, meanwhile, seemed convinced O'Toole's backpedal wouldn't change the policy laid out in the Conservative platform.
"Canada's National Firearms Association is confident a Conservative government will keep its commitment to protect the rights and property of Canadians," said Blair Hagen, the association's executive vice-president.
This report from The Canadian Press was first published Sept. 5, 2021.
———
This story was produced with the financial assistance of the Facebook and Canadian Press News Fellowship.
Jacob Serebrin, The Canadian Press
Mohawk Council of Kahnawake 'repulsed' by politicization of Habs' land acknowledgment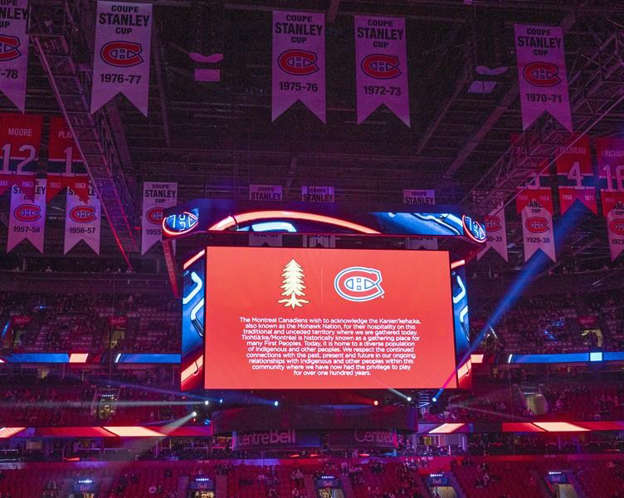 MONTREAL — The Mohawk Council of Kahnawake is blasting the Quebec government for questioning a land acknowledgment by the Montreal Canadiens that refers to the unceded territory of the Mohawk Nation.
The statement, which has been read before the NHL team's home games this season, acknowledges the hospitality of the Mohawk Nation "on this traditional and unceded territory where we are gathered today."
Quebec Indigenous Affairs Minister Ian Lafrenière told reporters on Wednesday the acknowledgment may be an error.
In a statement Thursday, the elected council for the First Nations reserve across the river from Montreal commended the hockey club's gesture as an example of true reconciliation and added it was "repulsed" by the province's attempt to politicize the effort, which it said undermines the Mohawk presence in the Montreal region.
On Wednesday, Lafrenière told reporters that referring to a specific nation may be a mistake as historians differ on which nation was the first to live in Montreal, while adding it was important to recognize that First Nations were the first occupants.
Grand Chief Kahsennenhawe Sky-Deer said in a statement that land is an essential part of Mohawk identity.
"It holds the knowledge of our ancestors, our history and our presence, now and for the future," Sky-Deer said. "Opinionated commentary that challenge and discredit our presence are not only insulting, they are taken as displaced attacks on our existence."
This report by The Canadian Press was first published Oct. 21, 2021.
The Canadian Press
Supreme Court of Canada sides with injured woman in snow-clearing squabble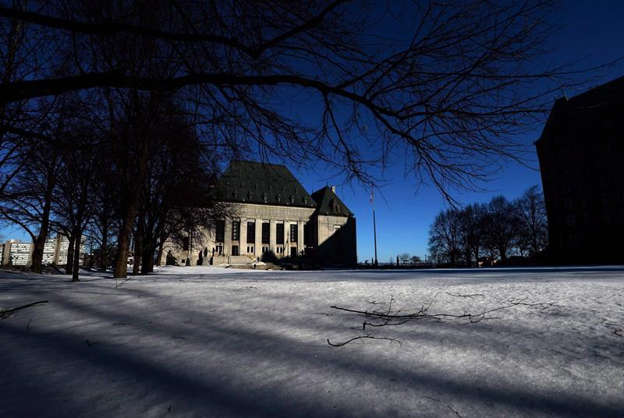 OTTAWA — A woman will get another chance to sue for damages over a leg injury she suffered while climbing through snow piled by a city's plow, the Supreme Court of Canada has ruled.
Taryn Joy Marchi alleged the City of Nelson, B.C., created a hazard when it cleared snow from downtown streets after a storm in early January 2015.
The removal effort left snow piles at the edge of the street along the sidewalk early in the morning of Jan. 5.
Late in the afternoon of Jan. 6, Marchi — then a 28-year-old nurse — parked in an angled spot on the street and, wearing running shoes with a good tread, tried to cross a snow pile to get on to the sidewalk.
Her right foot dropped through the snow and she fell forward, seriously injuring her leg.
Marchi contended the city should have left openings in the snowbank to allow safe passage to the sidewalk.
She pointed to the neighbouring municipalities of Castlegar, Rossland and Penticton in arguing there were preferable ways to clear the streets so as to ensure safe access for pedestrians.
However, the trial judge dismissed her case, saying the city was immune from liability because it made legitimate policy decisions about snow clearing based on the availability of personnel and resources.
In any event, the judge concluded, Marchi assumed the risk of crossing the snow pile and was "the author of her own misfortune."
The B.C. Court of Appeal overturned the decision and ordered a new trial, saying the judge erred in addressing the city's duty of care and the question of Marchi's negligence.
The ruling prompted the City of Nelson to seek a hearing in the Supreme Court.
In a written submission to the high court, the city said its actions amount to "a clear example of a core policy decision" that should be immune from liability.
In her filing with the court, Marchi said city employees made a number of operational decisions that fell below the expected standard of care of a municipality — decisions not required by the written policy.
In its 7-0 ruling Thursday, the Supreme Court said a fresh trial should take place because the city has not proved that its decision on how to clear the snow was "a core policy decision" immune from liability.
While there is no suggestion the city made an irrational or "bad faith decision," the city's core policy defence fails and it owed Ms. Marchi a duty of care, justices Sheilah Martin and Andromache Karakatsanis wrote on behalf of the court.
"The regular principles of negligence law apply in determining whether the City breached the duty of care and, if so, whether it should be liable for Ms. Marchi's damages."
This report by The Canadian Press was first published Oct. 21, 2021.
Jim Bronskill, The Canadian Press