OPEC+ boosts oil output by slower pace than previous months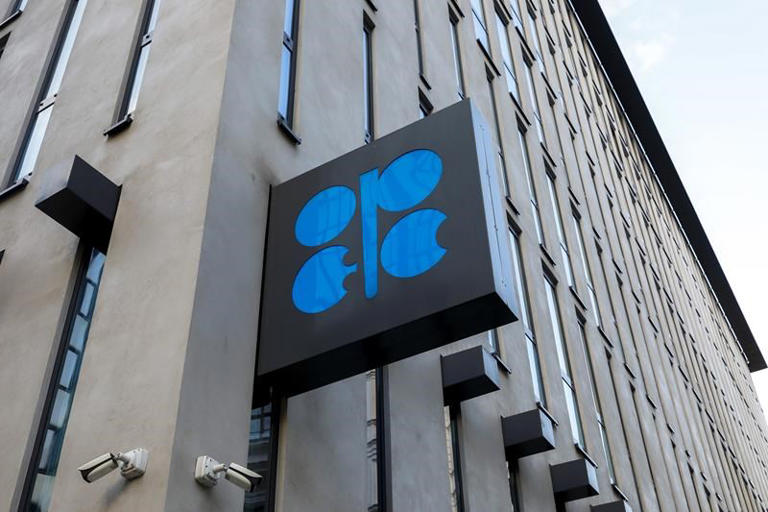 T
he OPEC oil cartel and its allies decided Wednesday to boost production in September by a much slower pace than in previous months at a time of high gasoline prices and unstable energy supplies exacerbated by the war Russia has waged on Ukraine.
It comes after U.S. President Joe Biden visited Saudi Arabia last month, aiming to improve relations and encourage more oil production from the cartel to draw down high prices at the pump. While gasoline prices have been falling, they are still high and posing a political problem for him as inflation surges.
There was no oil production agreement announced after the meeting, but Biden said he expected OPEC to take steps to increase production in the coming weeks. Those hopes didn't materialize.
As a result, "the U.S. may go looking for other sources of oil, whether it's Venezuela or Iran," said Jacques Rousseau, managing director at Clearview Energy Partners.
Biden's administration also is encouraging the U.S. oil and gas industry to increase production.
"You've just seen the second-quarter results from some of these companies. They are record profits," Amos Hochstein, a senior adviser for energy security at the State Department, said Wednesday on CNBC. "They should be investing those dollars right back into production increases."
The OPEC+ coalition had curtailed production during the pandemic as oil prices and demand plummeted, and those cuts are due to expire in September. The group has been gradually adding more oil and gas to the market as economies recovered.
Some OPEC nations, such as Angola and Nigeria, have been producing less than the agreed-upon amount. Saudi Arabia and United Arab Emirates, on the other hand, have the capacity to increase production.
OPEC's decision appears to be an attempt to appease those countries that can't produce more, Rousseau said.
"Any time you increase the target, there's countries that can't participate," he added. "If you only raise production by 100,000 barrels per day, that's just a small piece for everybody."
As a result, the amount of oil on the market might not keep up with demand, so high oil prices may persist for some time.
The price of oil rose sharply after Russia invaded Ukraine in February. It fell somewhat since OPEC last met but rose modestly Wednesday. A barrel of U.S. benchmark crude was selling for just over $94 Wednesday, compared with more than $105 per barrel a month ago. Brent crude, the international standard, was selling for just over $100 a barrel Wednesday, also down about $110 from a month ago.
Russia's oil and natural gas exports to the world have declined as many nations imposed sanctions or curtailed buying from the major supplier due to its invasion of Ukraine. Russia also has reduced or cut off natural gas to a dozen European countries, further driving up energy prices, squeezing people's spending power and threatening to cause a recession if nations can't stockpile enough gas to get through the winter.
It was the first official monthly meeting of the OPEC+ group since its leader, Mohammad Sanusi Barkindo, died at age 63 in his home country of Nigeria last month. Haitham al-Ghais, a veteran of the Kuwait Petroleum Corporation, took over as secretary general of OPEC this week.
In the U.S., a gallon of regular gasoline was selling for $4.16 on average Wednesday. That's substantially lower than in June, when the nationwide average surpassed $5 a gallon, but it's still painfully high for many frontline workers and families to afford and about 31% higher than what drivers were paying a year ago.
___
Associated Press writer Zeke Miller in Washington contributed to this report.
Cathy Bussewitz, The Associated Press
Indonesian leader calls for unity, braces for global crises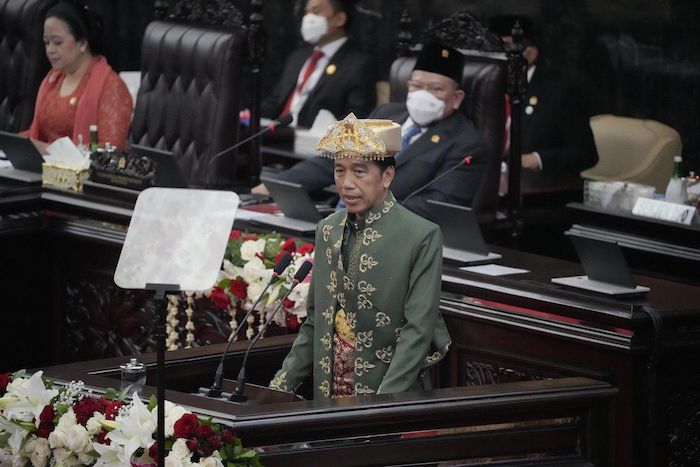 By Niniek Karmini in Jakarta
JAKARTA, Indonesia (AP) — Indonesia's president called on all citizens to remain united, vigilant and alert as they face crises fueled by the war in Ukraine and coronavirus pandemic in his State of the Nation address Tuesday.
After two years of remote meetings amid pandemic restrictions, more than half of Indonesia's Parliament was in attendance as President Joko Widodo told them and top officials on the eve of Independence Day that regional tensions are threatening security.
"We must always remain vigilant, cautious and alert," Widodo said. "Crisis after crisis still haunts the world."
He noted that when war broke out in Ukraine causing energy and food crises, the world was still grappling with the health and economic impacts of COVID-19. Some countries are predicted to go bankrupt, while over 550 million people face extreme poverty and 345 million others face food shortages and famine, Widodo said.
"The challenges are not easy for the world and for Indonesia. We must face those challenges with prudence and vigilance," he said.
Russia's war in Ukraine has exacerbated rising prices in Indonesia amid ongoing supply chain disruptions from the pandemic, causing cooking oil prices to soar while the interruptions in wheat, soybeans and corn have affected the cost of several foods.
In April, Indonesia banned all exports of crude palm oil, a key ingredient in cooking oils, for a month amid a series of student protests against skyrocketing food prices. Indonesia and Malaysia are the world's largest exporters of palm oil, accounting for 85% of global production.
As the host of the Group of 20 richest and biggest economies this year, Indonesia has sought to bridge divisions between members over Russia's invasion. Widodo has been guarded in his comments about the war in Ukraine in an attempt to remain neutral.
Widodo was the first Asian leader to visit the warring countries. Ukraine is not a G-20 member, but Widodo has invited Ukrainian President Volodymyr Zelenskyy to the November summit along with Russian President Vladimir Putin, hoping to appease all sides and limit any distractions from the forum's agenda. Zelenskyy has said he won't attend if the war is continuing then and has opted to follow the discussions by video link.
The inflation rate in Indonesia has been relatively modest with the shock being mostly absorbed through a budget bolstered by energy subsidies.
Widodo said the state budget recorded a surplus of 106 trillion rupiah ($7.2 billion), allowing the government to provide fuel, gas and electricity subsidies of 502 trillion rupiah ($34 billion) this year to cushion fuel prices.
However, he said the administration must recalculate its energy subsidies to reduce the burden on the budget.
Southeast Asia's largest economy served as a key exporter of coal, palm oil and minerals amid a global shortage in commodities after Russia's invasion of Ukraine. Coal exports increased to record levels in March after a brief ban on its shipments early this year to secure domestic supplies.
Inflation "slows" to 7.6 per cent in July, Statistics Canada says
Ottawa – Canada's year-over-year inflation rate slowed to 7.6 per cent in July, with the deceleration largely driven by a decline in gas prices.
The inflation rate hit a nearly 40-year-high of 8.1 per cent in June, but economists were widely expecting inflation to have since slowed.
In its latest consumer price index report, Statistics Canada said the rise in prices in July was the smallest monthly gains since December 2021.
It also marks the first decline in year-over-year inflation since June 2020.
The federal agency said gas prices rose 35.6 per cent year-over-year in July, compared with 54.6 per cent in June.
"Ongoing concerns related to a slowing global economy, as well as increased COVID-19 pandemic public health restrictions in China and slowing demand for gasoline in the United States led to lower worldwide demand for crude oil, putting downward pressure on prices at the pump," the report said.
But while gas prices declined, food prices at grocery stores rose at the fastest pace since August 1981, with prices up by 9.9 per cent on a year-over-year basis compared with 9.4 per cent the previous month.
Bakery goods are up 13.6 per cent since last year amid higher input costs as the Russian invasion of Ukraine continues to put upward pressure on wheat prices. The prices of other food products also rose faster, including eggs, which are up 15.8 per cent, and fresh fruit, up 11.7 per cent since last year.
As mortgage costs increase with higher interest rates, the report notes rent prices are accelerating, rising faster in July than the previous month.
With more Canadians travelling during the busy summer season, airfares rose by around 25 per cent in July compared with the previous month. Traveller accommodation prices rose by nearly 50 per cent since a year ago, with the largest price increases in Ontario.
As countries around the world struggle with skyrocketing prices, there are some signs inflation is beginning to ease, with the U.S. seeing its inflation rate decline in July as well.
Still, inflation is well above the Bank of Canada's two per cent target.
The central bank is watching the latest reading of inflation as it gears up to make its next key interest rate on Sept. 7, when it's expected to raise borrowing rates again.
This report by The Canadian Press was first published Aug. 16, 2022.