Ontario woman who was known as 'napalm girl' helping Ukrainians settle in Canada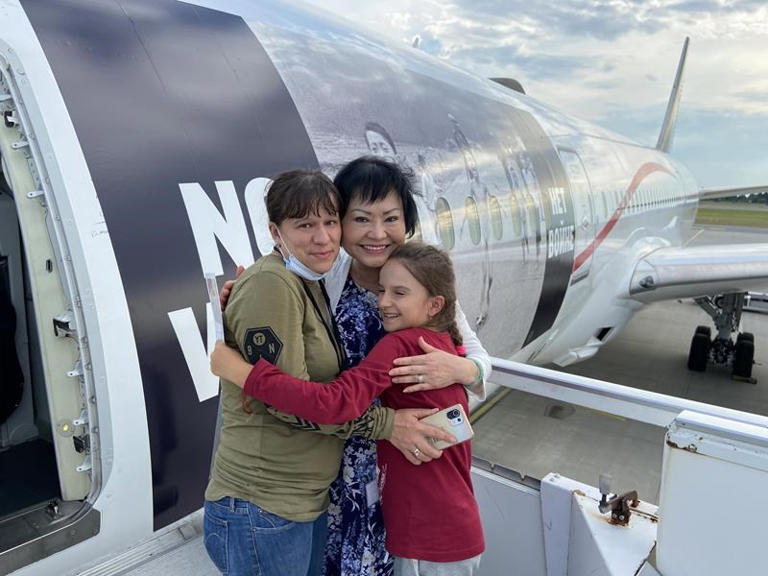 Tears streamed down Kim Phuc Phan Thi's face as she stood at the entrance to a plane set to carry Ukrainian newcomers from Poland to Canada last mont
The aircraft was emblazoned with a famous black and white photo of Phan Thi as a nine-year-old child – an image that made her known as the "napalm girl" – showing her naked, screaming and fleeing an attack during the Vietnam War.
Fifty years after that photograph was taken, Phan Thi found herself drawn to helping Ukrainians escape the war in their country for the safe haven of Canada, just as she had done decades ago.
"I just remembered what's happening to them now … I have been there. I understand what they need," she said in an interview from her home in Ajax, Ont.
"I'm so thankful to be alive and to be there for them, give them hope."
Phan Thi, who years ago founded an organization aimed at helping children affected by war, is currently working to support Ukrainian newcomers and hopes to go on more flights similar to the one she was on last month.
She first became involved with last month's effort after receiving an email from a social justice organization seeking permission to use the famous photograph of her as a child on the outside of their plane.
Enrique Pineyro, a pilot and founder of the organization, Solidaire, planned to fly that plane from Warsaw to Regina with more than 200 Ukrainians on board.
"I said, 'Wow, that is so wonderful. We can work together,'" said Phan Thi. "Because that is the impact of my picture, even 50 years (later), right?"
Phan Thi, 59, said she gave permission for her photograph to be used and asked if she could join the trip, a request Pineyro quickly agreed to.
The trip required some careful planning, however, to ensure Phan Thi would be able to travel.
She had been getting laser treatments in Miami to repair some of the skin damage she suffered from the napalm, a gel-like substance that easily explodes and ignites upon impact with a target. Her 12th laser round was scheduled for just days before she'd have to leave for Warsaw.
"I had to ask my doctor, 'Don't do (the treatment) so strong,'" said Phan Thi, who was eager to speed the healing time. "Because if she treated me very deep or strong, I'd have to be home for two months."
Phan Thi said altering the treatment was worth it for the experience of welcoming the 236 Ukrainians who boarded the flight.
"I just stayed right side by side with my picture in the big airplane. And they go up the stairs, and I was there at the door welcoming them," she recalled.
"I just thought in (that) moment, yes, 50 years ago, I was in the wrong place at the wrong time. But right now, I'm in the right time and the right place, to be there, to give those people hope."
Phan Thi, who still experiences pain from the burns she sustained on the day of the napalm attack in 1972, has vivid memories of what was captured in the famous photograph.
She was playing outside near a bomb shelter with other children after lunchtime when a soldier suddenly yelled for them to run.
"I saw the airplane, just was so fast, so close and so loud," she said.
"I just stayed right there. I was a child, I should run, right? But I didn't. I just stood right there. Then I turned my head, I saw the airplane. And then I saw four bombs, landing."
A series of booms thundered overhead and flames erupted, she recalled.
"The fire was everywhere around me. And of course my clothes burned all by fire. And I saw the fire over my arm," she said, recalling scorching her right hand after trying to wipe off the napalm from her left arm.
"Then when I (got) out of that fire, I saw my brothers, two of them older and younger. Then I saw my two cousins, then some south Vietnamese soldiers. Then we kept running and running and running."
At one point, she became tired and cried out, "Too hot! Too hot!" She remembers a soldier gave her some water to drink.
"He tried to help me, he poured the water over me," she said. "I lost consciousness. I didn't remember anything else."
Her relationship with the Pulitzer Prize-winning photo, taken by Associated Press photographer Nick Ut, has changed over the years. As a young child, Phan Thi said, she hated the image, and as a young woman she resented the publicity it was throwing her way.
But her opinion changed after she moved to Canada in 1992 and became a mother.
"I never (wanted) my baby to suffer like that little girl, like myself when I was a child," she said. "That picture is really a big impact in my life, and I consider that picture as a powerful gift for me to do something while I'm still alive."
Phan Thi is a UNESCO Goodwill Ambassador and has spent years travelling around the world giving lectures and sharing her story. She also founded the Kim Foundation International to support children affected by war.
Since the pandemic hit, she's divided her time between caring for her aging mother, who has dementia, and trying to help her brother in Vietnam get a visa to visit Canada to fulfil her mother's wish to see him.
With the arrival of Ukrainians in Canada, Phan Thi hopes to do more to support newcomers by sharing lessons she learned over the years.
"I learned how to live with love, with hope and forgiveness," she said. "We have to work towards peace."
This report by The Canadian Press was first published Aug. 3, 2022.
Jessica Smith, The Canadian Press
Putin accuses the West of sabotaging Baltic Sea pipelines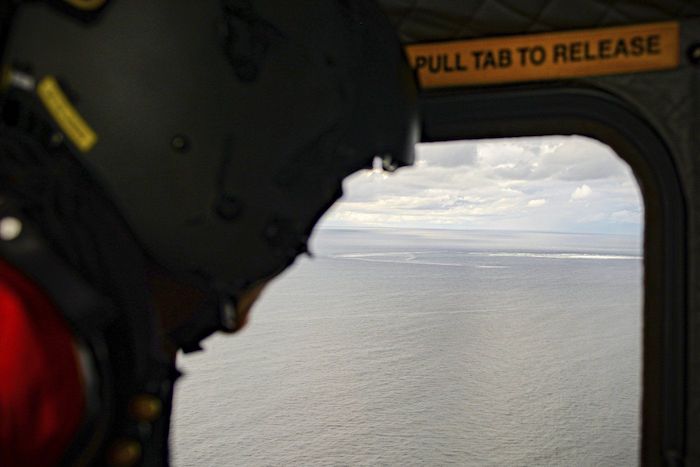 By Jan M. Olsen in Copenhagen
COPENHAGEN, Denmark (AP) — Russian President Vladimir Putin has accused the West of sabotaging the Russia-built gas pipelines under the Baltic Sea to Germany.
Speaking Friday in Moscow at a ceremony to annex four regions of Ukraine into Russia, Putin said the "Anglo-Saxons" in the West have turned from sanctions to "terror attacks," sabotaging the Nord Stream 1 and 2 pipelines in what he described as an attempt to "destroy the European energy infrastructure."
He added that "those who profit from it have done it," without naming a specific country.
European nations, which have been reeling under soaring energy prices caused by Russia's invasion of Ukraine, have noted that it is Russia, not Europe, that benefits from chaos in the energy markets and spiking prices for energy.
THIS IS A BREAKING NEWS UPDATE. AP's earlier story follows below.
COPENHAGEN, Denmark (AP) — The explosions that rocked natural gas pipelines under the Baltic Sea ahead of huge methane leaks "probably corresponded to an explosive load of several hundred kilos (pounds)," Denmark and Sweden wrote Friday in a letter to the United Nations.
Norwegian researchers published a map Friday projecting a huge plume of methane released by the damaged Nord Stream 1 and 2 pipelines will travel over large swaths of the Nordic region.
"We assume the wind on the leak area blew the methane emissions north until the Finnish archipelago, then bends toward Sweden and Norway," Stephen Platt, a professor with the Norwegian Institute for Air Research, said.
The independent institution is part of the Integrated Carbon Observation System, a European research alliance, which said was confirmed by ICOS ground-based observations from several stations in Sweden, Norway, and Finland." the "enormous amount of methane gas" emission
These methane levels aren't dangerous to public health but the gas is a potential source of global warming.
Moscow has requested an emergency meeting at the U.N. Security Council to discuss the pipelines and called for a thorough international probe to assess the damage to the pipelines, which carry natural gas from Russia to Europe. Russia says "it looks like a terror attack, probably conducted on a state level."
The suspected sabotage this week on the Nord Stream 1 and 2 pipelines have produced two methane leaks off Sweden, including a large one above North Stream 1 and a smaller one above North Stream 2, and two leaks off Denmark.
Following the suspected sabotage this week of the Nord Stream 1 and 2 pipelines that carry Russian natural gas to Europe, there were two leaks off Sweden, including a large one above North Stream 1, and a smaller one above North Stream 2, and two leaks off Denmark.
The North Stream 2 leak "has diminished, but is still on-going," the Swedish coast guard said. However, navigational warnings for ships were slightly increased to 7 nautical miles (13 kilometers or 8 miles) from 5 nautical miles from the incident areas, the coast guard said in a statement.
The Danish and Swedish governments have described the ruptures as the result of "deliberate actions."
Russia also has said the leaks resulted from deliberate acts, saying "it looks like a terror attack, probably conducted on a state level."
Moscow requested an emergency meeting at the U.N. Security Council to discuss the pipelines and called for a thorough international probe to assess the damage to the pipelines. Kremlin spokesman Dmitry Peskov said a study would only be possible once gas stops leaking from them.
Nordic seismologists recorded explosions preceding the leaks. A first explosion was recorded early Monday southeast of the Danish island of Bornholm. A second, stronger blast northeast of the island that night was equivalent to a magnitude-2.3 earthquake.
NATO warned Thursday it would retaliate for any attacks on the critical infrastructure of its 30 member countries and joined other Western officials in citing sabotage as the likely cause of damage to the natural gas pipelines. Denmark is a NATO member and Sweden is in the process of joining the military alliance.
The first leaks in the pipelines that extend from Russia to Germany were reported on Tuesday, prompting energy companies and European governments to beef up security.
Energy infrastructure security has increased across the Nordic region.
The fear of further damage to Europe's energy infrastructure has added pressure on natural gas prices, which had already been soaring. Russia, a major supplier to Europe, cut off deliveries earlier this year in retaliation for sanctions imposed after its invasion of Ukraine. That has caused widespread economic pain across the continent.
Authorities in Norway, a major oil and gas producer, have reported at least six incidents of drone sightings near offshore installations in the North Sea. It prompted the Petroleum Safety Authority Norway — the Scandinavian country's oil safety regulator — on Monday to "urge increased vigilance by all operators and vessel owners." On Wednesday, Norwegian Prime Minister Jonas Gahr Støre said that there was no concrete threat against Norwegian oil and gas off-shore installations.
Danish daily newspaper Ekstra Bladet said a drone was spotted Wednesday near a Danish offshore oil and gas installation in the North Sea.
Sweden stepped up security around its three nuclear power plants.
Sweden's public power transmission network operator Svenska kraftnat, said that it doesn't not yet know if an undersea power cable that runs between southern Sweden and Poland was damaged when the Nord Stream gas pipelines some 500 meters (547 yards) away ruptured from what Western and Russian officials both claimed was intentional tampering.
"Since the cable is not in service, it can't be determined if the cable is damaged in some way," Per Kvarnefalk, a spokesman for Svenska kraftnat, said late Thursday. "We will therefore perform tests on the cable using special measurement equipment early next week with the aim to determine if the cable is fully functional."
Svenska kraftnat partly owns the more than 250-kilometer-long high-voltage cable that transmits electricity through the Baltic Sea.
Russia's Putin opens signing event to annex parts of Ukraine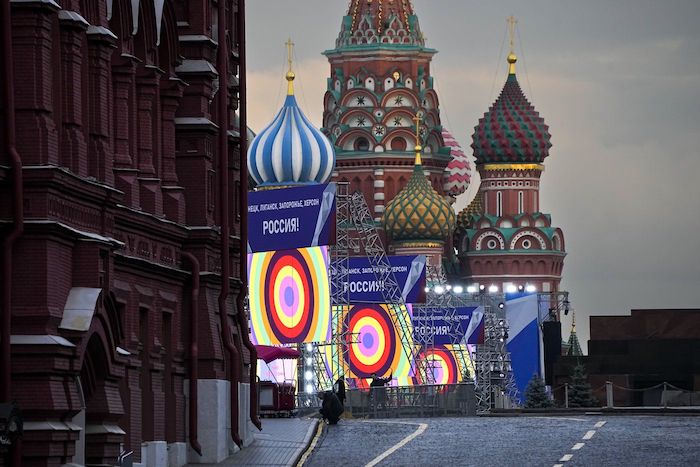 By Jon Gambrell And Hanna Arhirova in Kyiv
KYIV, Ukraine (AP) — Russian President Vladimir Putin opened a Kremlin ceremony Friday to start the process of absorbing parts of Ukraine into Russia by saying he would sign laws to annex them despite international condemnation and protect the newly incorporated regions using "all available means."
The annexation ceremony in the Kremlin's opulent white-and-gold St. George's Hall was organized for Putin and the heads of the four regions of Ukraine to sign treaties for the areas to join Russia, in a sharp escalation of the seven-month conflict.
At the beginning of the event, Putin urged Ukraine to sit down for talks but warned that Moscow would not give up the newly incorporated regions.
The ceremony comes three days after the completion of Kremlin-orchestrated "referendums" on joining Russia that were dismissed by Kyiv and the West as a bare-faced land grab, held at gunpoint and based on lies.
The separatist Donetsk and Luhansk regions in eastern Ukraine have been backed by Moscow since declaring independence in 2014, weeks after the annexation of Ukraine's Crimean Peninsula. The southern Kherson region and part of the neighboring Zaporizhzhia were captured by Russia soon after Putin sent troops into Ukraine on Feb. 24.
Both houses of the Kremlin-controlled Russian parliament will meet next week to rubber-stamp the treaties for the regions to join Russia, sending them to Putin for his approval.
Putin and his lieutenants have bluntly warned Ukraine against pressing an offensive to reclaim the regions, saying Russia would view it as an act of aggression against its sovereign territory and wouldn't hesitate to use "all means available" in retaliation, a reference to Russia's nuclear arsenal.
The Kremlin-organized votes in Ukraine and the nuclear warning are an attempt by Putin to avoid more defeats in Ukraine that could threaten his 22-year rule.
Russia controls most of the Luhansk and Kherson regions, about 60% of the Donetsk region and a large chunk of the Zaporizhzhia region where it took control of Europe's largest nuclear power plant.
Asked about Russia's plans, Kremlin spokesman Dmitry Peskov said that at the very least Moscow aims to "liberate" the entire Donetsk region.
As it prepared to celebrate the incorporation of the occupied Ukrainian regions, the Kremlin was on the verge of another stinging battlefield loss, with reports of the imminent Ukrainian encirclement of the eastern city of Lyman.
Retaking it could open the path for Ukraine to push deep into one of the regions Russia is absorbing, a move widely condemned as illegal that opens a dangerous new phase of the seven-month war.
Russia on Friday also pounded Ukrainian cities with missiles, rockets and suicide drones, with one strike reported to have killed 25 people. The salvos together amounted to the heaviest barrage that Russia has unleashed for weeks.
They followed analysts' warnings that Putin was likely to dip more heavily into his dwindling stocks of precision weapons and step up attacks as part of a strategy to escalate the war to an extent that would shatter Western support for Ukraine.
The Kremlin preceded its scheduled annexation ceremonies Friday with another warning to Ukraine that it shouldn't fight to take back the four regions. Kremlin spokesman Dmitry Peskov said Moscow would view a Ukrainian attack on the taken territory as an act of aggression against Russia itself.
The annexations are Russia's attempt to set its gains in stone, at least on paper, and scare Ukraine and its Western backers with the prospect of an increasingly escalatory conflict unless they back down — which they show no signs of doing. The Kremlin paved the way for the land-grabs with "referendums," sometimes at gunpoint, that Ukraine and Western powers universally dismissed as rigged shams.
"It looks quite pathetic. Ukrainians are doing something, taking steps in the real material world, while the Kremlin is building some kind of a virtual reality, incapable of responding in the real world," former Kremlin speechwriter turned political analyst Abbas Gallyamov said.
"People understand that the politics is now on the battlefield," he added. "What's important is who advances and who retreats. In that sense, the Kremlin cannot offer anything сomforting to the Russians."
A Ukrainian counter-offensive has deprived Moscow of mastery on the military fields of battle. Its hold of the Luhansk region appears increasingly shaky, as Ukrainian forces make inroads there, with the pincer assault on Lyman. Ukraine also still has a large foothold in the neighboring Donetsk region.
Luhansk and Donetsk – wracked by fighting since separatists there declared independence in 2014 – form the wider Donbas region of eastern Ukraine that Putin has long vowed, but so far failed, to make completely Russian. Peskov said that both Donetsk and Luhansk will be incorporated Friday into Russia in their entirety.
All of Kherson and parts of Zaporizhzhia, two other regions being prepared for annexation, were newly occupied in the invasion's opening phase. It's unclear whether the Kremlin will declare all, or just part, of that occupied territory as Russia's. Peskov wouldn't say in a call Friday with reporters.
In the Zaporizhzhia region's capital, anti-aircraft missiles that Russia has repurposed as ground-attack weapons rained down Friday on people who were waiting in cars to cross into Russian-occupied territory so they could bring family members back across front lines, the deputy head of Ukraine's presidential office, Kyrylo Tymoshenko, said.
The general prosecutor's office said 25 people were killed and 50 wounded. The strike left deep impact craters and sent shrapnel tearing through the humanitarian convoy's lined-up vehicles, killing their passengers. Nearby buildings were demolished. Trash bags, blankets and, for one victim, a blood-soaked towel, were used to cover bodies.
Russian-installed officials in Zaporizhzhia blamed Ukrainian forces for the strike, but provided no evidence.
Russian strikes were also reported in the city of Dnipro. The regional governor, Valentyn Reznichenko, said at least one person was killed and five others were wounded.
Ukraine's air force said the southern cities of Mykolaiv and Odesa were also targeted with Iranian-supplied suicide drones that Russia has increasingly deployed in recent weeks, seemingly to avoid losing more pilots who don't have control of Ukraine's skies.
Putin was expected to give a major speech at the ceremony to fold Luhansk, Donetsk, Kherson and Zaporizhzhia into Russia. The Kremlin planned for the region's pro-Moscow administrators to sign annexation treaties in the ornate St. George's Hall of the palace in Moscow that is Putin's seat of power.
Putin also issued decrees recognizing the supposed independence of the Kherson and Zaporizhzhia regions, steps he previously took in February for Luhansk and Donetsk and earlier for Crimea, seized from Ukraine in 2014.
Ukrainian President Volodymyr Zelenskyy, meanwhile, called an emergency meeting of his National Security and Defense Council and denounced the latest Russian strikes.
"The enemy rages and seeks revenge for our steadfastness and his failures," he posted on his Telegram channel. "You will definitely answer. For every lost Ukrainian life!"
The U.S. and its allies have promised even more sanctions on Russia and billions of dollars in extra support for Ukraine as the Kremlin duplicates the annexation playbook used for Crimea.
With Ukraine vowing to take back all occupied territory and Russia pledging to defend its gains, threatening nuclear-weapon use and mobilizing an additional 300,000 troops despite protests, the two nations are on an increasingly escalatory collision course.
That was underscored by the fighting for Lyman, a key node for Russian military operations in the Donbas and a sought-after prize in the Ukrainian counteroffensive launched in late August.
The Russian-backed separatist leader of Donetsk, Denis Pushilin, said the city is now "half-encircled" by Ukrainian forces. In comments reported by Russian state news agency RIA Novosti, he described the setback as "worrying news."
"Ukraine's armed formations," he said, "are trying very hard to spoil our celebration,"
___
Follow the AP's coverage of the war at https://apnews.com/hub/russia-ukraine