Ontario keeps stay-at-home order; Quebec pauses Oxford-AstraZeneca shots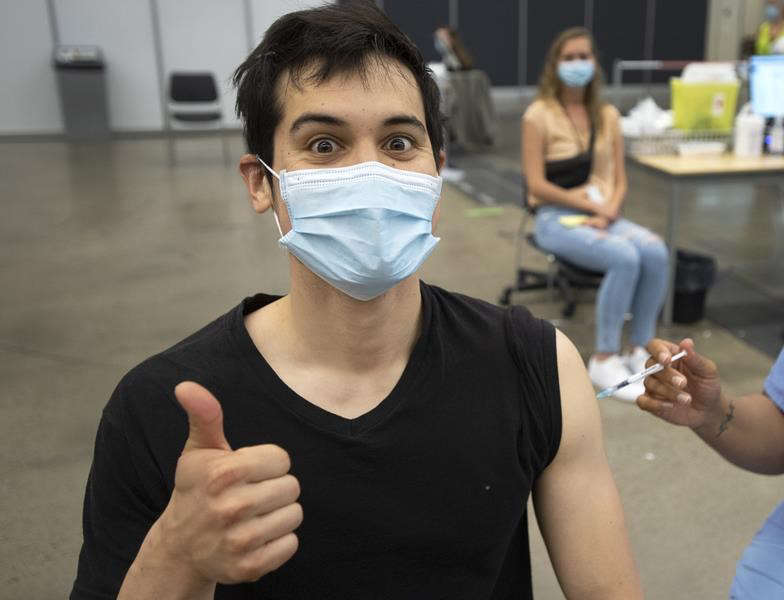 Ontario has announced it's keeping its stay-at-home order in place until at least June 2 and Quebec has become the latest province to stop giving Oxford-AstraZeneca's COVID-19 vaccine as a first dose.
Ontario Premier Doug Ford said Thursday that public health measures have been effective in driving down cases, but need to be continued for now.
The province reported 2,759 new infections in its latest update — well below the more than 4,000 a day it was seeing when it last extended the order and added sweeping restrictions about a month ago. The order was to have expired next Thursday.
"My goal is to have the most normal July and August possible. Obviously that won't mean large sporting events or concerts," Ford said.
"But if we manage the next few weeks properly, I believe that we can have things in a very good place this summer. To do so, we need to keep driving cases down and easing the pressure on our hospitals."
Ontario had 1,632 patients hospitalized with COVID-19 Thursday, including 776 in intensive care.
The province's chief medical officer, Dr. David Williams, has said he would like to see "well below" 1,000 daily cases before Ontario considers lifting the stay-at-home order.
"We're about where we were at the peak of the second wave, so we've come down but we have a ways to go yet," he said.
Meanwhile, Quebec cited concerns over a rare vaccine-induced blood-clotting condition as its reason for pausing the AstraZeneca shot. Ontario and other provinces have made similar moves as supplies of other vaccines, including Pfizer-BioNTech's product, are poised to pour into the country.
Quebec health officials said people who have already received one AstraZeneca shot will have the choice to get it as a second dose or to receive a different one.
That province reported 781 new COVID-19 infections and five more deaths Thursday.
Neighbouring New Brunswick announced that it had two more cases of the blood clots for a total of four. The two latest clots involved people who received AstraZeneca shots in mid-April. One remained in hospital, while the other has recovered.
The Atlantic province reported 16 new COVID-19 cases, along with 10 hospitalizations.
In the Prairies, Manitoba reported a record single-day 560 new infections as well as three deaths.
In the North, Nunavut had 12 new cases — all in the capital city of Iqaluit, which has a population of about 8,000 and remains under tight restrictions.
This report by The Canadian Press was first published May 13, 2021.
Lauren Krugel, The Canadian Press
Canadian Kylie Masse captures silver in 100-metre backstroke
TOKYO — Canadian Kylie Masse has captured silver in the women's 100-metre backstroke at the Tokyo Olympics. 
The two-time world champion in the event finished in 57.72 seconds, behind Australia's Kaylee McKeown (57.47), who set a new Olympic record. American Regan Smith (58.05) took bronze. 
Masse, a 25-year-old from LaSalle, Ont., was in the lead at the 50-metre turn before McKeown came on strong in the end. 
The women's swim team has generated three medals in the first three days of racing starting with a silver in the freestyle relay and followed by Maggie Mac Neil's victory in 100-metre butterfly.
Masse (pronounced Moss) tied for Olympic bronze with China's Fu Yuanhui in Rio in 2016. 
The only other women in the world to win multiple career medals in 100 backstroke are American Natalie Coughlin, Krisztina Egerszegi of Hungary and Kirsty Coventry of Zimbabwe. 
Canada's Mark Tewksbury won men's 100 backstroke gold in 1992. 
This report by The Canadian Press was first published July 26, 2021. 
The Canadian Press
Canada's Jessica Klimkait wins bronze in under-57 kg judo event
TOKYO — Canada's Jessica Klimkait has won bronze in the women's under-57 kilogram category at the Tokyo Olympics.
The reigning world champion from Whitby, Ont., defeated Kaja Kajzer of Slovenia by waza-ari in a bronze-medal match.
Klimkait missed a chance to add a gold medal to her world championship title when she lost to Sarah Leonie Cysique of France in the semifinals.
Klimkait was defeated by ippon when she was assessed a shido in the golden score period for a false attack. It was Klimkait's third penalty of the bout, giving Cysique a berth on the gold-medal match.
Klimkait was in fine form before her semifinal loss. She defeated Poland's Julia Kowalczyk in their quarterfinal bout at the Nippon Budokan.
The victory, her second straight via ippon, came after she beat Bulgaria's Ivelina Ilieva in the round of 16 earlier in the day
This report by The Canadian Press was first published July 26, 2021.
The Canadian Press