On Mexico's Caribbean coast, mountains of seaweed grow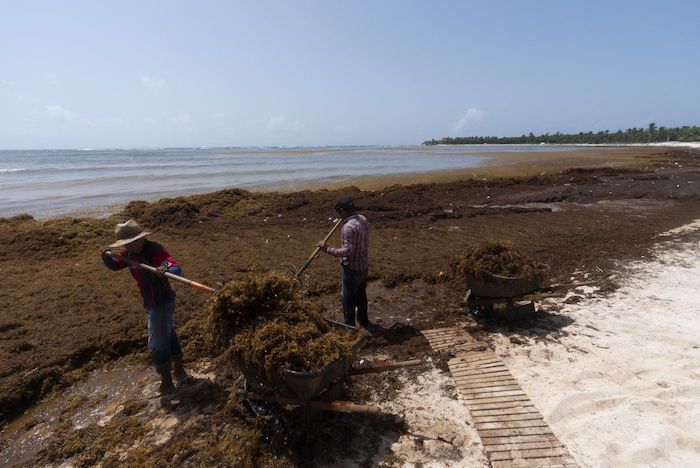 By Mark Stevenson in Tulum
TULUM, Mexico (AP) — Scraping the smelly sargassum seaweed off some beaches on Mexico's resort-studded Caribbean coast has become not only a nightmare, but possibly a health threat, for the workers doing it — with the quantities washing ashore this year seemingly mountains not mounds.
Decomposing sargassum, which is actually algae, generates hydrogen sulfide gas. In small amounts in open areas, it's not much more than an annoying odor: sulfurous, like rotting eggs.
But in the quantities seen in once-paradisical beach towns like Playa del Carmen, Tulum, and Xcalak, scientists say it can be dangerous to workers with respiratory problems as they rake up the seaweed maskless in the scorching heat. This year appears on track to be worse than even the peak sargassum year of 2018.
Ezequiel Martínez Lara is one of thousands of laborers who work six to eight hours per day heaving mounds of sargassum into wheelbarrows with pitchforks and then wheeling them off the beach to a growing pile on a neighboring street.
Martínez Lara used to earn as much as $50 per day guiding sports fishermen on catch-and-release outings, but now makes less than half that for collecting around 40 wheelbarrows of sargassum every day.
It is a Sisyphean task at a beach north of Tulum, where huge mats of seaweed float just offshore.
"If we clean it all off today, tomorrow more will have washed in," said another worker, Austin Valle.
But workers like Martínez and Valle are exposing themselves to more than just the burning sun, says Rosa Rodríguez Martínez, a biologist in the beachside town of Puerto Morelos who studies reefs and coastal ecosystems for Mexico's National Autonomous University.
"At the university we have started to measure the quantity of gases that sargassum produces when it is scraped up," Rodríguez Martínez said. "At one spot (in a decomposed pile of seaweed) it reached 56 parts per million. That's very high. Above two, that can be dangerous for people with respiratory problems."
"I took off running" from the spot, she said.
Martínez Lara doesn't have the luxury of avoiding the hydrogen sulfide gas. Like almost every other sargassum worker on the coast, he has no mask, gas sensor or medical care. He works at a day rate for the person who owns the house in front of the beach.
"When sargassum rots, it gives off a very strong odor like acid, and it is very bothersome when you breath it; it hurts a lot," Martínez Lara said. He said he takes more simple precautions.
"We try to clean it off (the beach) as quickly as possible … to get it off when it is as fresh as possible," he says.
A 2019 article in the Journal of Travel Medicine includes the disturbing warning, "More chronic exposure to these gasses can lead to conjunctival and neurocognitive symptoms such as memory loss and impaired balance, as well as non-specific symptoms such as headache, nausea and fatigue."
The Florida Health Department, on the other hand, says "hydrogen sulfide levels in an area like the beach, where large amounts of air flow can dilute levels, is not expected to harm health."
The sargassum problem isn't as bad for tourists as for workers. But neither is it pleasant.
Ligia Collado-Vides, a marine botanist at Florida International University who specializes in studying macroalgae like sargassum, said, "If you're swimming for a little bit, it shouldn't be a danger at all," but added that tiny jellyfish cousins known as hydrozoa often inhabit sargassum mats.
"If you're going to be there for a long time playing in the sargassum, you can get like many, many, many stings from hydrozoans and those are toxic," she noted, adding that long sleeves — something almost nobody wears at the beach — might help.
Sarah Callaway, a tourist from Denver, Colorado, was pretty much confined to playing with her kids in the pool in front of their rented beach house.
"The property is beautiful, but we were automatically struck … by the smell," Callaway said. "The smell is really pungent and very strong. And then, yeah, we were disappointed with how much seaweed sargasso there is here."
"The kids have tried to get in the ocean, but then they get kind of overwhelmed by it. So we really haven't gotten to do the beach part of it, which is why we came," she said.
It will also impact locals who depend on the tourist trade. Hundreds of thousands of people migrated to the coast in recent years for better paying jobs, but some may now be considering leaving.
Valle, the seaweed cleaner, said one of his friends in Tulum has been thinking of giving up her snack stand business because sales have dipped so much.
It's hard to measure the impact on tourism. The Caribbean coast suffered a drop in visits during the coronavirus pandemic, but because Mexico never declared travel restrictions, testing requirements or mandatory mask rules, Americans have continued to come.
International tourism to the country as a whole surpassed pre-pandemic levels in the first half of 2022, with 10.26 million visitors from January to June, 1.5% higher than the 10.11 million tourists who arrived in Mexico in the first half of 2019.
Mexico's strongest showing was with U.S. tourists. The number of Americans arriving by air in the first six months of 2022 was 6.66 million; that is 19.1% higher than in the same period of 2019.
But that boom may be slowing. Grupo Financiero Base noted in a research report that international tourist arrivals in June 2022 were down 13.8% from levels in June 2019. It's unclear what — sargassum, inflation, or the war in Ukraine — may have caused that dip.
And overall tourist spending remains below pre-pandemic levels.
The picture is mixed because some of the most-heavily developed resorts like Cancun have not suffered as much from sargassum as lower-key resorts further south, like Playa del Carmen and Tulum.
Ocean currents and islands like Isla Mujeres shield Cancun from much of the floating sargassum. Given the large number of big hotels in Cancun with huge cleaning staffs and money to deploy floating booms, what sargassum does arrive is cleaned up more quickly.
The jury is still out on the floating booms, meant to trap sargassum mats at sea before they reach the beach.
"When the sea is calm, all types of booms work," Rodríguez Martínez said. "When there are waves, none of them work."
Some tourists like the area so much they'll keep coming back.
"I will absolutely be back. We love it here," said Jeff Chambers, a tourist from Palm Desert, California, who was strolling down the main seaside street in Tulum. "We like things a little slower."
Some locals like Victor Reyes, who works in real estate in Tulum, are more sanguine about the seaweed, noting that it's not so bad in the winter months.
"In the winter it's better. In November, when the tourists want to come, the sargassum is gone," Reyes says.
As bad as sargassum is for people — and Collado-Vides stresses that much more study is needed — it's far worse for seagrass, fish and other marine life suffocated by seaweed that drops to the bottom, decomposes and creates oxygen-depleted or anoxic layers similar to dead zones.
"Sargassum stays there and goes down into the water column so nobody sees it, but on the bottom it is creating anoxic conditions," she said.
Recounting one recent monitoring expedition, Collado-Vides said: "It's really terrible … the amount of vertebrates, the amount of crabs, the amount of fish dead in just a 1-square meter quadrant."
Musk's plan to end Russian war infuriates Ukraine on Twitter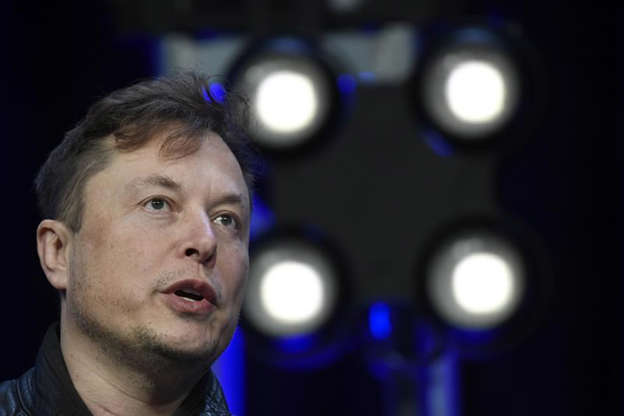 Elon Musk has gotten into a Twitter tussle with Ukrainian President Volodymyr Zelenskyy after the tech billionaire floated a divisive proposal to end Russia's invasion.
The Tesla CEO, soon facing a court fight over his attempt to abandon a $44 billion offer to buy Twitter, argued in a tweet Monday that to reach peace Russia should be allowed to keep the Crimea Peninsula that it seized in 2014. He also said Ukraine should adopt a neutral status, dropping a bid to join NATO following Russia's partial mobilization of reservists.
Musk also crossed red lines for Ukraine and its supporters by suggesting that four regions Russia is moving to annex following Kremlin-orchestrated "referendums" denounced by the West as a sham should hold repeat votes organized by the United Nations.
Musk noted Crimea was part of Russia until it was given to Ukraine under the Soviet Union in 1950s and said that a drawn-out war will likely not end in a resounding Ukrainian victory.
These positions are anathema for Zelenskyy, who considers them pro-Kremlin. The Ukrainian leader has pledged to recover all the terrain conquered in the war and considers Crimea as Ukraine's to reclaim as well.
Musk also launched a Twitter poll asking whether "the will of the people" should decide if seized regions remain part of Ukraine or become part of Russia.
In a sarcastic response, Zelenskyy posted a Twitter poll of his own asking "which Elon Musk do you like more?": "One who supports Ukraine" or "One who supports Russia."
Musk replied to Zelenskyy that "I still very much support Ukraine, but am convinced that massive escalation of the war will cause great harm to Ukraine and possibly the world."
Andrij Melnyk, the outgoing Ukrainian ambassador to Germany, responded to Musk's original tweet with an obscenity.
"Russia is doing partial mobilization. They go to full war mobilization if Crimea is at risk. Death on both sides will be devastating," Musk wrote in another tweet. "Russia has (over) 3 times population of Ukraine, so victory for Ukraine is unlikely in total war. If you care about the people of Ukraine, seek peace."
The Kremlin itself chimed in, praising Musk for his proposal but warning that Russia will not backtrack on its move to absorb the Ukrainian regions.
"It's very positive that such a person as Elon Musk is trying to look for a peaceful settlement," Kremlin spokesman Dmitry Peskov said Tuesday. But, "as for the referendums, people have voiced their opinion and there could be nothing else."
Ukraine and the West have said that the hastily organized votes in four occupied regions were clearly rigged to serve Putin's purpose to try to cement his loosening grip on Ukrainian terrain.
Musk's ideas seemed to get little support on Twitter, including from Russian chess great and anti-Putin political activist Garry Kasparov, who bashed the plan.
"This is moral idiocy, repetition of Kremlin propaganda, a betrayal of Ukrainian courage and sacrifice, and puts a few minutes browsing Crimea on Wikipedia over the current horrific reality of Putin's bloody war," Kasparov tweeted.
In the first weeks of the invasion in early March, Musk came to Ukraine's aid when his SpaceX company shared its Starlink satellite system that helps deliver internet access to areas that lack coverage. At the time, Zelenskyy thanked Musk for the equipment that he said would help maintain communications in cities under attack.
However, in April, Musk said that as a "free speech absolutist" Starlink would not block Russian state media outlets that spread propaganda and misinformation on the war in Ukraine.
___
Follow the AP's coverage of the war at https://apnews.com/hub/russia-ukraine.
Joseph Wilson, The Associated Press
Loretta Lynn, coal miner's daughter and country queen, dies
NASHVILLE, Tenn. (AP) — Loretta Lynn, the Kentucky coal miner's daughter whose frank songs about life and love as a woman in Appalachia pulled her out of poverty and made her a pillar of country music, has died. She was 90.
In a statement provided to The Associated Press, Lynn's family said she died Tuesday at her home in Hurricane Mills, Tennessee.
Lynn already had four children before launching her career in the early 1960s, and her songs reflected her pride in her rural Kentucky background.
As a songwriter, she crafted a persona of a defiantly tough woman, a contrast to the stereotypical image of most female country singers. The Country Music Hall of Famer wrote fearlessly about sex and love, cheating husbands, divorce and birth control and sometimes got in trouble with radio programmers for material from which even rock performers once shied away.
Her biggest hits came in the 1960s and '70s, including "Coal Miner's Daughter," "You Ain't Woman Enough," "The Pill," "Don't Come Home a Drinkin' (With Lovin' on Your Mind)," "Rated X" and "You're Looking at Country." She was known for appearing in floor-length, wide gowns with elaborate embroidery or rhinestones, many created by her longtime personal assistant and designer Tim Cobb.
Her honesty and unique place in country music was rewarded. She was the first woman ever named entertainer of the year at the genre's two major awards shows, first by the Country Music Association in 1972 and then by the Academy of Country Music three years later.
"It was what I wanted to hear and what I knew other women wanted to hear, too," Lynn told the AP in 2016. "I didn't write for the men; I wrote for us women. And the men loved it, too."
In 1969, she released her autobiographical "Coal Miner's Daughter," which helped her reach her widest audience yet.
"We were poor but we had love/That's the one thing Daddy made sure of/He shoveled coal to make a poor man's dollar," she sang.
"Coal Miner's Daughter," also the title of her 1976 book, was made into a 1980 movie of the same name. Sissy Spacek's portrayal of Lynn won her an Academy Award and the film was also nominated for best picture.
Long after her commercial peak, Lynn won two Grammys in 2005 for her album "Van Lear Rose," which featured 13 songs she wrote, including "Portland, Oregon" about a drunken one-night stand. "Van Lear Rose" was a collaboration with rocker Jack White, who produced the album and played the guitar parts.
Born Loretta Webb, the second of eight children, she claimed her birthplace was Butcher Holler, near the coal mining company town of Van Lear in the mountains of east Kentucky. There really wasn't a Butcher Holler, however. She later told a reporter that she made up the name for the purposes of the song based on the names of the families that lived there.
Her daddy played the banjo, her mama played the guitar and she grew up on the songs of the Carter Family.
"I was singing when I was born, I think," she told the AP in 2016. "Daddy used to come out on the porch where I would be singing and rocking the babies to sleep. He'd say, 'Loretta, shut that big mouth. People all over this holler can hear you.' And I said, 'Daddy, what difference does it make? They are all my cousins.'"
She wrote in her autobiography that she was 13 when she got married to Oliver "Mooney" Lynn, but the AP later discovered state records that showed she was 15. Tommy Lee Jones played Mooney Lynn in the biopic.
Her husband, whom she called "Doo" or "Doolittle," urged her to sing professionally and helped promote her early career. With his help, she earned a recording contract with Decca Records, later MCA, and performed on the Grand Ole Opry stage. Lynn wrote her first hit single, "I'm a Honky Tonk Girl," released in 1960.
She also teamed up with singer Conway Twitty to form one of the most popular duos in country music with hits such as "Louisiana Woman, Mississippi Man" and "After the Fire is Gone," which earned them a Grammy Award. Their duets, and her single records, were always mainstream country and not crossover or pop-tinged.
The Academy of Country Music chose her as the artist of the decade for the 1970s, and she was elected to the Country Music Hall of Fame in 1988.
In "Fist City," Lynn threatens a hair-pulling fistfight if another woman won't stay away from her man: "I'm here to tell you, gal, to lay off of my man/If you don't want to go to Fist City." That strong-willed but traditional country woman reappears in other Lynn songs. In "The Pill," a song about sex and birth control, Lynn writes about how she's sick of being trapped at home to take care of babies: "The feelin' good comes easy now/Since I've got the pill," she sang.
She moved to Hurricane Mills, Tennessee, outside of Nashville, in the 1990s, where she set up a ranch complete with a replica of her childhood home and a museum that is a popular roadside tourist stop. The dresses she was known for wearing are there, too.
Lynn knew that her songs were trailblazing, especially for country music, but she was just writing the truth that so many rural women like her experienced.
"I could see that other women was goin' through the same thing, 'cause I worked the clubs. I wasn't the only one that was livin' that life and I'm not the only one that's gonna be livin' today what I'm writin'," she told The AP in 1995.
Even into her later years, Lynn never seemed to stop writing, scoring a multi-album deal in 2014 with Legacy Records, a division of Sony Music Entertainment. In 2017, she suffered a stroke that forced her to postpone her shows.
She and her husband were married nearly 50 years before he died in 1996. They had six children: Betty, Jack, Ernest and Clara, and then twins Patsy and Peggy. She had 17 grandchildren and four step-grandchildren.
Kristin M. Hall, The Associated Press