Olympic curling champion Eve Muirhead retires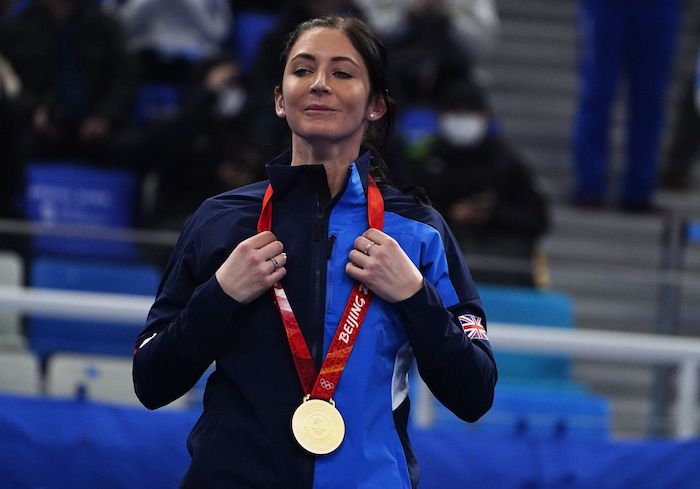 LONDON (AP) — Olympic curling champion Eve Muirhead is retiring from the sport.
The 32-year-old Muirhead secured Britain's only gold medal at this year's Winter Olympics in Beijing, having also won bronze in Sochi in 2014.
"After 15 years of international curling and 21 international titles I have made the hardest decision of my life to hang up my curling shoes and retire," Muirhead said in a post on social media on Thursday. "Throughout my career and like most athletes, I have experienced both the highest of the highs, (becoming an Olympic champion) and the lowest of lows and at times the future seemed very distant. It's been an emotional journey, but a journey that I am incredibly proud of."
Muirhead also teamed up with Bobby Lammie to win the mixed doubles world championship in April.
"Eve Muirhead will go down in history not only as one of the greatest-ever British curlers, but as one of the greatest sportswomen this country has produced," British Curling performance director Nigel Holl said.
___
More AP sports: https://apnews.com/hub/sports and https://twitter.com/AP_Sports
Blue Jays fan Frankie Lasagna just misses catching Aaron Judge's 61st home run ball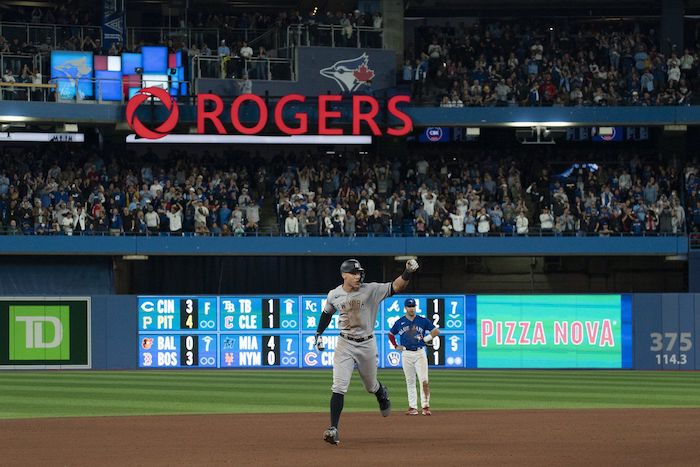 By Gregory Strong in Toronto
Blue Jays fan Frankie Lasagna grabbed a baseball glove from his garage before heading down to Rogers Centre for Wednesday's game against the New York Yankees.
With Aaron Judge on the verge of baseball history, Lasagna wanted to be prepared just in case the Yankees slugger hit his 61st homer of the season.
"I would never ever bring a glove other than this situation," Lasagna said. "I needed a bigger one."
The 37-year-old Toronto restaurant owner came agonizingly close to catching the historic ball when Judge went deep in the seventh inning.
Lasagna stretched over the railing but the ball hit the wall just a few feet below and bounced into the Toronto bullpen. A Yankees security official later came by to collect it.
The blast tied Judge with Roger Maris, who set the American League's single-season home run record in 1961.
Lasagna bought his ticket in the front row of the 100 level thinking it would improve his odds of catching the ball if Judge went deep.
"In the front row I felt like you've got the best chance," he said. "Lo and behold, I was just a few feet away."
Lasagna said the anticipation built during every Judge at-bat.
"It's like you're in the game, you're fielding and getting ready for the pitch," he said. "When he hit the ball, it was like 'Oh my God! Oh my God!' I think I hit my buddy in his neck (as I stretched out). I almost got it."
Lasagna could only look down into the bullpen as the ball — which could have been worth big bucks to a collector — bounced a couple times before it was picked up.
"The disbelief comes over you and just the shock and the amazement," he said. "I was like, 'Oh my God, I almost had it.'"
One fan seated near Lasagna, still clearly frustrated at just missing the ball, declined to be interviewed.
Lasagna, sporting a baby blue Vladimir Guerrero Jr., jersey, said he would have kept the ball if he had caught it.
"I would have held on to it for as long as I could (to) negotiate," he said. "Maybe get Judge to try to come to the restaurant."
This report by The Canadian Press was first published Sept. 28, 2022.
Follow @GregoryStrongCP on Twitter.
Judge ties Maris' AL single-season home run record in Yankees' 8-3 win over Blue Jays
By Tim Wharnsby in Toronto
Aaron Judge clobbered his historic 61st home run, a two-run line drive to left field in the seventh inning of an 8-3 New York Yankees win over the Toronto Blue Jays on Wednesday.
Judge matched Roger Maris' 61-year-old American League single-season record for home runs on a 3-2 pitch off Toronto reliever Tim Mayza (8-1) to break a 3-3 tie, with Aaron Hicks also scoring on the play.
As Judge rounded second base, he pointed to Roger Maris Jr., his mother Patty, father Wayne and wife Samantha, sitting in the first row behind the Yankees dugout. Hicks met his teammate with a hug after Judge touched home plate.
His home-run ball screamed over the Blue Jays bullpen, hitting the first deck facing and bounded to Toronto bullpen coach Matt Buschmann.
The Yankees (96-59) snatched the rubber match of the three-game set, in which they clinched the AL East over the Blue Jays (87-69) on Tuesday.
Toronto inched closer to a wild-card berth after the Baltimore Orioles lost 3-1 in Boston to the Red Sox. A Blue Jays win, or Orioles' loss clinches a playoff spot for Toronto.
Judge had gone seven games without a long ball since his 60th homer on Sept. 20. He walked in the first inning, flew to right in the second and grounded to third in the fourth in his previous at-bats before 37,008 at Rogers Centre.
He came to the plate again in the eighth, grounding into a force out with a hard smash to short.
Yankees pitcher Gerrit Cole (13-7) appeared determined to steal the spotlight. He had a perfect game through five innings with only two balls hit out of the infield. But he unravelled in the sixth inning, beginning with a leadoff homer from Danny Jansen.
Whit Merrifield followed with a single to centre, then moved to second after a Jackie Bradley Jr. walk. Merrifield advanced to third on George Springer's sacrifice fly and scored on Bo Bichette's infield hit.
Bradley and Bichette moved up a base when Cole balked, and Bradley scored on a sacrifice fly from Vladimir Guerrero Jr.
Cole went 6 1/3 innings, yielding three runs on three hits with a walk and four strikeouts.
Blue Jays starter Mitch White lasted only 3 2/3 innings. He gave up three runs on five hits with three walks and a strikeout and has yet to win any of his eight starts for Toronto.
The Yankees opened with three runs in the first inning, benefiting from a pair of successive walks to leadoff hitter Judge and Oswaldo Cabrera.
Former Blue Jays third baseman Josh Donaldson knocked in Judge with a single to centre field.
Oswald Peraza then singled home Cabrera and Donaldson scored on a sacrifice fly to right from Marwin Gonzalez.
INJURY UPDATE
Lourdes Gurriel Jr. (hamstring) and Santiago Espinal (oblique) still need time before they return to the Blue Jays lineup.
Gurriel, out since Sept. 7, hopes to test his leg with some base running on Friday. Espinal, who has missed seven games, worked on his stroke off a tee on Wednesday.
UP NEXT
The Blue Jays have Thursday off before embarking on their final three-game set at home with the Boston Red Sox in town for a weekend series.
This report by The Canadian Press was first published Sept. 28, 2022.