Oilsands execs say they can't invest in decarbonization any faster, despite profits
By Nojoud Al Mallees in Ottawa
Oilsands executives insist they are all in on cutting emissions and will make big investments in green technology, but they maintain there isn't a place to invest that money yet.
Many companies are coming off a year of windfall profits not because they pumped out more product, but because the war in Ukraine and global supply chain crunches pushed world oil prices way up.
Environment Minister Steven Guilbeault has said repeatedly over the last year that the companies need to prove their commitment by putting some of that cold hard cash into climate initiatives.
But in an interview with The Canadian Press, Cenovus CEO Alex Pourbaix said the companies are moving "as aggressively as (they) can."
"We're not yet at the point where we can invest billions in these projects," Pourbaix said.
Cenovus is one of six oilsands companies in the Pathways Alliance, a consortium created to work together to decarbonize their production entirely by 2050. The companies are looking to spend $24 billion by 2030 on emissions cutting, including two-thirds of that on carbon capture and storage systems.
However, who will pay for those investments is a point of contention.
So far, the consortium has spent half a billion dollars on Phase 1 of these projects, according to the alliance's president Kendall Dilling.
The industry is hoping to see the federal government do more to match the funding being offered by the U.S. government to incentivize the development of clean energy in that country.
The Liberal government has argued it has already created incentives for the industry, including an investment tax credit for carbon capture and storage projects, and that it's now time for the industry to step up.
"If they don't make those investments while they're making record-level profits, then when would it be a good time for them to make those investments?" Guilbeault said in an interview last September.
"If not now, then I don't know when."
Oil and gas companies have enjoyed record profits in the last couple of years thanks to skyrocketing energy prices. At a time when inflation is at decades-high levels, the growth of corporate profits has come under intense scrutiny, with some calling for windfall taxes to capture the excess profits.
In a new report from the Canadian Centre for Policy Alternatives, senior economist David Macdonald found that for every dollar Canadians spent on rising prices over the last two years, 25 cents went toward oil and gas sector profits.
However, Pourbaix rejected the notion that the industry needs to contribute more to government coffers.
"I think we are already contributing significantly," he said, estimating the industry will pay somewhere between $10 billion and $12 billion in federal taxes this year.
Pourbaix said countries that have opted for windfall taxes on the oil and gas sector have far less progressive tax systems than Canada.
However, Andrew Leach, an economics professor at the University of Calgary, said it's difficult to make comparisons across countries because in Canada the industry pays both royalties and taxes.
And while there is much debate about the appropriateness of windfall taxes, the federal government and some experts are concerned about the industry choosing not to invest these profits in carbon capture projects that would help decarbonize the oilsands.
"I would worry that their strategy here is, 'We can get Canadians excited about this and that will push the federal government to put more dollars in to defray some of the investment costs,'" said Leach.
He warned that strategy could backfire as Canadians watch the industry rake record profits and send cash to shareholders.
"If Canadian started asking, 'Well, if the owners of the oilsands companies aren't willing to make this bet, why should we?' then I think that becomes problematic for them."
Pourbaix said the spending will come in later phases of these projects and that in the meantime, shareholders need to be rewarded.
Many of the Canadian oil and gas giants have opted to do that through corporate share buybacks.
That prompted the federal government to introduce a two per cent corporate stock buyback tax to incentivize companies to reinvest profits rather than reward shareholders.
But some advocates want to see the federal government go further.
Keith Stewart, senior energy strategist with Greenpeace Canada, said the fact that the industry won't actually put money behind their rhetoric on climate change is a good reason to implement a windfall tax.
"They're still waiting for the government to come and pay for them," he said.
This report by The Canadian Press was first published Jan. 25, 2023.
Saudi Aramco to invest billions in Chinese petrochemicals
Saudi Aramco engineers escort reporters on a tour of the Hawiyah Natural Gas Liquids Recovery Plant, which is designed to process 4.0 billion standard cubic feet per day of sweet gas, a natural gas that does not contain significant amounts of hydrogen sulfide, in Hawiyah, in the Eastern Province of Saudi Arabia, on June 28, 2021. Saudi Arabia's state-owned oil giant Aramco will invest billions of dollars in China's downstream petrochemicals industry, including the construction of a new refinery, the company said in deals announced Sunday and Monday.(AP Photo/Amr Nabil, File)
RIYADH, Saudi Arabia (AP) — Saudi Arabia's state-owned oil giant Aramco will invest billions of dollars in China's downstream petrochemicals industry, including the construction of a new refinery, the company said in deals announced Sunday and Monday.
The announcements came as the company posted a record profitof more than $160 billion in 2022 and as Saudi Arabia, a longtime U.S. ally, has developed closer ties with Beijing in recent years.
Aramco will acquire a 10% interest in China's Rongsheng Petrochemical Co. Ltd,, a purchase valued at $3.6 billion. Under a long-term sales agreement, Aramco will supply 480,000 barrels per day to Rongsheng affiliate Zhejiang Pettroleum and Chemical Co. Ltd., which owns and operates China's largest refining and chemicals complex.
"This announcement demonstrates Aramco's long-term commitment to China and belief in the fundamentals of the Chinese petrochemicals sector," Aramco executive vice president Mohammed Al Qahtani said in a statement. "It also promises to secure a reliable supply of essential crude to one of China's most important refiners."
On Sunday, Aramco announced plans to construct a new refinery and petrochemical complex in northeastern China through a joint venture. Aramco, which holds a 30% stake in the Huajin Aramco Petrochemical Company, would supply 210,000 barrels per day of crude to the complex.
Saudi Arabia has cultivated closer ties with both Russia and China in recent years. Earlier this month, Saudi Arabia and Iran agreed to restore diplomatic ties for the first time since 2016 in a deal brokered by Beijing even as Riyadh announced a massive contract to buy commercial planes from U.S. manufacturer Boeing.
Premier Smith urges PM Trudeau to talk Ethical Energy Security in meeting with US President Biden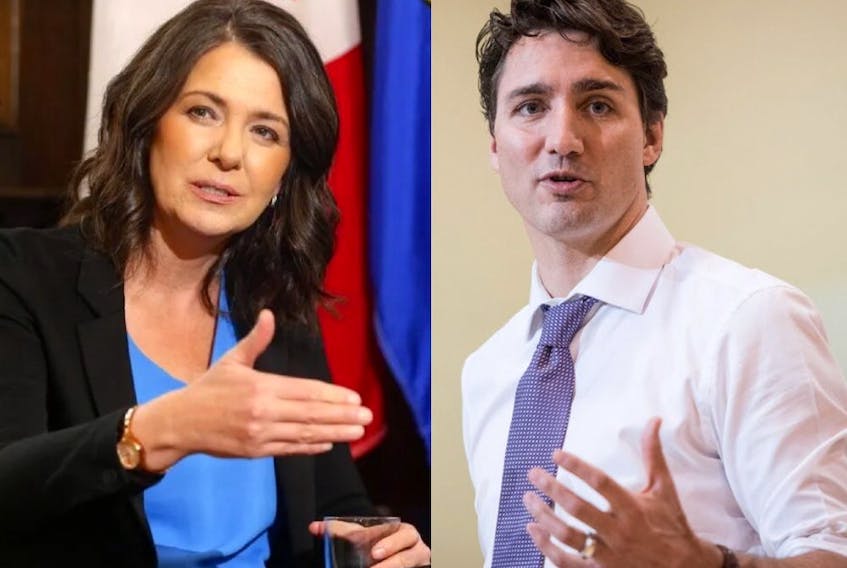 Dear Prime Minister Trudeau:
The arrival of President Joe Biden presents our nation with an opportunity of great significance. It is my request that the federal government uses its platform to focus on collaboration between the U.S. and Canada, highlighting the critical need for North American energy security.
We have a deep, long-standing relationship with the U.S. at both the federal and state levels, which is only growing in importance. In 2022, Alberta surpassed Ontario and Quebec as the largest provincial exporter of goods to the U.S. at $182.5 billion, with energy making up 85 per cent of exports to the United States. Alberta, by far, remains the single largest source of U.S. energy imports.
This economic reality, along with Russia's invasion of Ukraine, has highlighted that North American energy security must be a top priority for the Government of Canada. I urge you to raise the need for better collaboration between Canada and the U.S. to ensure the continued and enhanced supply of sustainable, affordable, and reliable energy to the U.S.
I recommend that the two governments work to fast-track energy projects in the name of economic security for our democratic partners, as committed to by Deputy Prime Minister Chrystia Freeland. A similar effort is needed in critical minerals as the world shifts to lower emitting sources of energy.
Alberta, through both government policy and industry action, is leading the way on reducing emissions and driving the transition to new sources of energy. New investments in the province are global flagships in clean energy and emissions reductions technology. For example, Pennsylvania's Air Products will create a world-scale net-zero hydrogen energy complex in Alberta, and Dow is advancing the world's first net-zero carbon emission integrated polyethylene complex at its existing site near Edmonton. It is also worth noting that Canada's oil sands operators have announced plans to spend $24 billion on emission-reduction projects by 2030 as part of their commitment to reach net zero by 2050. All of this amounts to a herculean effort undertaken by industry partners, and Alberta's government, to position ourselves as the foremost leader in emissions reduction and responsible energy production.
As you know, management of oil and gas methane emissions is one of this country's greatest climate success stories. Collaboration with the U.S. on methane emissions would both advance climate action, and address regulatory inconsistencies between the two countries. As of 2020, methane emissions from the upstream oil and gas sector in Western Canada have decreased by around 44 per cent from the 2014 baseline – ahead of our schedule of 45 percent by 2025. More evidence of Canada, and Alberta, leading the way.
Alberta is home to vast geological potential, an experienced, skilled, workforce, and has the necessary processing and transportation infrastructure in place to support a growing critical minerals sector. For example, technological advances to extract minerals from underground brine solutions are found throughout Alberta. These extraction technologies could result in a low emission, sustainable source of lithium to meet the demand of our emerging battery value-chain. We would encourage your government to work with the provinces, especially Alberta, on critical minerals and seize the opportunity to collaborate with the U.S. on enhancing North American supply chains.
As the owners and stewards of our world-class natural resources, any discussions involving energy security, natural resources, and trade must fully involve the provinces. I would be pleased to help assist you, and the federal government in advancing the work on North American energy security as well as developing the business cases to increase exports of clean Alberta energy, critical minerals and technologies to the U.S. As is only appropriate when discussing natural resources, and areas of exclusive provincial jurisdiction, I would also request that Premiers be invited to participate in a meeting with the President and his delegation.
I look forward to your response and welcome an opportunity to collaborate. We both agree that the world needs more Canada. It's imperative that in a time of such uncertainty, and unaffordability, that Alberta, and Canada profile ourselves as the preferred supplier of responsibly produced, ethical energy to the U.S., North America, and the world.