Oilers escape McDavid scare, win 3-2 to snap Bruins' streak
Boston Bruins right wing David Pastrnak (88) and Edmonton Oilers center Connor McDavid (97) work for position during the first period of an NHL hockey game Thursday, March 9, 2023, in Boston. McDavid, the NHL scoring leader, limped off the ice late in the third period. (AP Photo/Steven Senne)
By Jimmy Golen in Boston
BOSTON (AP) — The Boston Bruins shut down NHL scoring leader Connor McDavid. They kept Leon Draisaitl off the scoresheet, too. It still wasn't enough to beat the Edmonton Oilers on Thursday night.
The Oilers escaped a scare when McDavid limped off the ice late in their 3-2 win over the Bruins — minutes after Darnell Nurse scored the tiebreaking goal with 4:49 remaining.
McDavid returned, but was held without a point for just the seventh time all season. It was the first time since New Year's Eve, when McDavid was scoreless and Draisaitl didn't play, that neither registered a point.
"I can't believe they didn't get a point. I mean, they should get a point every night, right?" said goalie Stuart Skinner, who made 26 saves to snap Boston's 10-game winning streak and deprive the Bruins of a chance to become the first team in the league to clinch a playoff berth this season.
"Our top dogs here, I think they did a unbelievable job defensively," Skinner said. "They've been doing such a good job in our end lately and, obviously they're still a massive threat offensively."
McDavid struggled to the bench after a knee-on-knee collision with teammate Derek Ryan. But the two-time league MVP returned to help the Oilers hold on when Boston pulled goalie Jeremy Swayman for an extra skater in the final minutes.
Oilers coach Jay Woodcroft said he didn't see the collision, but was glad McDavid was able to return.
"My mind was on the play," he said. "But he felt good enough to finish the game, so I felt good about that."
Boston led 2-0 after one, but Evan Bouchard scored in the second and Ryan McLeod tied it six minutes into the third. Nurse scored the game-winner on a wrist shot past a screened Swayman to give the Oilers their fourth win in five tries.
"I just said to myself, 'I've got to lock it down for the next 40 (minutes). And if I do that, it will at least give the guys a chance to win,'" Skinner said. "If I'm going to be honest, I was very excited after the game. … This one, this one feels really good."
Brad Marchand and David Pastrnak scored, and Swayman stopped 19 shots for the Bruins (49-9-5), who could have set an NHL record as the fastest-ever to 50 wins.
McDavid leads the NHL with 54 goals — nine more than Pastrnak, who is second — as well as 70 assists and 124 points. Draisaitl is fifth in the league with 41 goals and second with 96 points.
It was the first time all season the Oilers won a game without either of them recording a point.
"It felt like a playoff game," Woodcroft said. "In playoff games sometimes there's a 'saw-off' between the best players on both teams and other people have to find ways to to contribute. If you look up and down our roster, we have numerous people that can find the back of the net and that's what you need as you come down the stretch here."
UP NEXT
Oilers: Visit Toronto on Saturday.
Bruins: Host Detroit on Saturday. ___
Police looking for these 3 suspects after Super 8 Motel in Innisfail robbed early Monday morning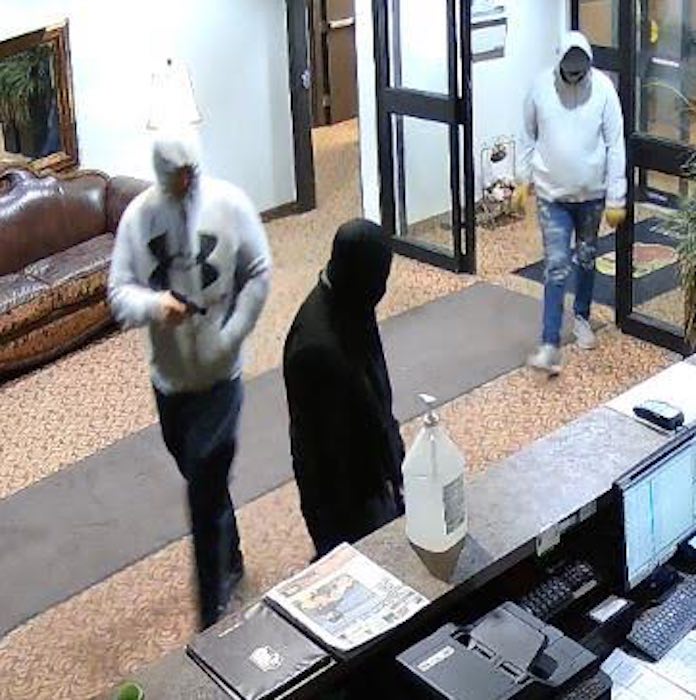 Innisfail RCMP investigate robbery
Innisfail Ala. – On May 29, 2023, at approximately 4:10 a.m., the Super 8 motel in Innisfail was the victim of an armed robbery. Three male suspects entered the hotel, two of which had firearms. Money was demanded from the manager. All three left the motel in a vehicle which is described as:
Chevrolet Dura Max truck
Sliver
Lifted
The suspects are described as:
Suspect #1: Caucasian male, tall and muscular. Wearing jeans and a grey Under Armour hoody. He was carrying a pistol.
Suspect #2: Caucasian male, short. Wearing all black. He was carrying a sawed off shotgun
Suspect #3: Caucasian male tall with a chubby belly. He was wearing a grey hoody, jeans and a black ball hat.
If you have information about this incident, please call the Innisfail RCMP at 403-227-3341 or call your local police. If you want to remain anonymous, you can contact Crime Stoppers by phone at 1-800-222-8477 (TIPS), by internet atwww.tipsubmit.com, or by SMS (check your local Crime Stoppers www.crimestoppers.ab.ca for instructions).
'Tragic accident' blamed for recent death of giraffe at Calgary Zoo
The Wilder Institute/Calgary Zoo says a "tragic accident" led to the recent death of an adult Masai giraffe. A statement from the zoo says the female giraffe named Emara died May 19 after tangling one of her horns on a cable surrounding her enclosure. THE CANADIAN PRESS/HO-Wilder Institute/Calgary Zoo-Sergei Belskey
Calgary
The Calgary Zoo says a "tragic accident" led to the recent death of one of its adult Masai giraffes.
A statement from the zoo says a female giraffe named Emara died May 19 after tangling one of her horns in a cable surrounding her enclosure.
The statement says a necropsy revealed Emara fell against the enclosure fence and died almost instantly of a broken neck.
Emara, who had just turned 12, came to Calgary from the San Diego Zoo in 2016.
The statement says she was a treasured member at the zoo and was known for her cautious yet curious personality and gentle nature.
The zoo says it is checking fencing within its African Savannah Yard enclosure to see if changes are needed to better protect the other giraffes and animals that share the space.
Doug Whiteside, interim associate director of animal care and welfare at the zoo, said Emara was in her prime and was in excellent health when she died.
"Major life changes such as this not only affect our people but can affect our animal residents as well," Whiteside said in the statement Monday.
He said the zoo's remaining giraffes, Nabo and Moshi, are doing well.
Grief counsellors are being made available to Emara's caregivers and other zoo staff.
This report by The Canadian Press was first published May 29, 2023.