Officials close Calgary church, citing disregard of COVID-19 rules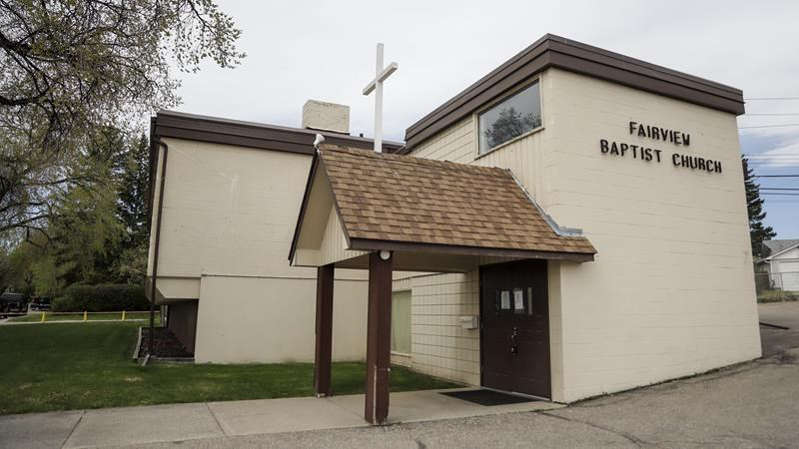 Alberta's health services delivery agency says it has "physically closed" a Calgary church whose lead pastor was arrested last month for allegedly violating COVID-19 laws.
The contempt of court charge against Tim Stephens of Fairview Baptist Church was later withdrawn, but Alberta Health Services announced Saturday that it has now "prevented access to the building."
In a news release, AHS says the action was necessary because it alleges the pastor has continued to disregard public health measures.
It says a closure order will remain in effect until he can demonstrate the ability to comply with the restrictions.
A Facebook post from the church says the locks have been changed, adding the government "will only demonstrate the folly of their actions and bring glory to Christ."
AHS says in its release that it has tried to work with the pastor since December, but it alleges the church has continued to hold services each Sunday that exceed maximum capacity, with minimal to no masking or physical distancing.
The release notes that AHS has received 57 public complaints regarding the church.
"AHS recognizes that the vast majority of places of worship are compliant with required public health measures for the protection of not only those who attend services, but for the protection of their families, friends and communities," the agency said in Saturday's release.
Stephens was arrested on May 9 for allegedly organizing a church service that was held earlier in the day at Fairview Baptist Church, which police said did not comply with public health orders.
AHS said at the end of May that it withdrew its application against Stephens due to an issue of mistaken identity when the injunction was served.
The church, in its Facebook post Saturday, accused the government of hypocrisy in light of photos this week that showed Premier Jason Kenney having drinks and dinner on a rooftop patio with members of his inner circle.
Critics say the dinner broke COVID-19 restrictions, but Kenney has said it was below the 10-person limit on public gatherings. He has not addressed apparent violations of masking and distancing rules.
"In the same week where our most senior government officials were photographed flouting health orders, AHS continues to try and force us to comply to orders that violate the commands of our Lord and undermine the fundamental freedoms afforded to all Canadians," the church's Facebook post said.
"They can take the building but they cannot take the church."
This report by The Canadian Press was first published June 5, 2021.
The Canadian Press
Canada's Jessica Klimkait wins bronze in under-57 kg judo event
TOKYO — Canada's Jessica Klimkait has won bronze in the women's under-57 kilogram category at the Tokyo Olympics.
The reigning world champion from Whitby, Ont., defeated Kaja Kajzer of Slovenia by waza-ari in a bronze-medal match.
Klimkait missed a chance to add a gold medal to her world championship title when she lost to Sarah Leonie Cysique of France in the semifinals.
Klimkait was defeated by ippon when she was assessed a shido in the golden score period for a false attack. It was Klimkait's third penalty of the bout, giving Cysique a berth on the gold-medal match.
Klimkait was in fine form before her semifinal loss. She defeated Poland's Julia Kowalczyk in their quarterfinal bout at the Nippon Budokan.
The victory, her second straight via ippon, came after she beat Bulgaria's Ivelina Ilieva in the round of 16 earlier in the day
This report by The Canadian Press was first published July 26, 2021.
The Canadian Press
Mac Neil finishes first in women's 100 butterfly to capture Canada's first gold medal
TOKYO — Swimmer Margaret Mac Neil has won Canada's first gold medal of the 2020 Tokyo Olympics.
Mac Neil was seventh at the halfway point of the women's 100-metre butterfly, but swam a strong second length to win in a time of 55.59 seconds.
Zhang Yufei of China was second and Emma McKeon of Australia finished third.
Mac Neil became Canada's first multi-medallist in Tokyo following a silver medal in the women's 4×100 freestyle relay in the first day of finals.
The 21-year-old from London, Ont., was a surprise winner of the 100-metre butterfly at the 2019 world championship in Gwangju, South Korea, where she bested reigning Olympic champion Sarah Sjoestroem of Sweden.
Mac Neil, a senior at the University of Michigan, is also a two-time NCAA champion in freestyle and butterfly. 
She'd posted the sixth-fastest semifinal time in the 100-metre butterfly an hour before swimming the second leg of the relay in Tokyo.
This report by The Canadian Press was first published July 25, 2021.
The Canadian Press