Nova Scotia legislature passes presumed consent law for organ donation
HALIFAX — The Nova Scotia legislature has unanimously passed legislation that presumes consent for organ donation, becoming the first jurisdiction in North America to pass such legislation.
The Human Organ and Tissue Donation Act was passed as legislators wrapped up their spring sitting on Friday.
However, the act is not expected to be proclaimed as law for a period of 12 to 18 months to allow time for planning, public education and training for health-care workers.
Under the act, all adults in Nova Scotia would be considered potential organ donors unless they opt out.
Families will continue to be consulted about their loved ones' wishes, while those under 19 and people without decision-making capacity will only be considered as donors if a parent, guardian or alternate decision-maker opts them in.
Premier Stephen McNeil says the goal is to ensure there are more potential organ donors in order to save lives.
"I am grateful for the support our government has received from Nova Scotians as together, we become leaders in North America on the issue of presumed consent for organ and tissue donation," McNeil said in a statement.
"We are committed to doing better for our fellow citizens awaiting life-saving transplants, and I look forward to collaborating with Nova Scotians as we work toward proclaiming the legislation next year."
Earlier this week, Dr. Stephen Beed, who heads the province's transplant program, told a legislature committee that within five years of the legislation's implementation he expects Nova Scotia would see a 30 per cent increase in organ donations. Beed added that he wouldn't be surprised if that number increased by as much as 50 per cent.
He said steps will be put in place to ensure the opt-out provisions are clear.
According to the province, 21 Nova Scotians became organ donors in 2018, while 110 people donated tissues such as corneas and heart valves.
The Canadian Press
Nurses vs. MLAs: A Real Solution

Open Letter to Alberta MLAs
Red Deer – Mountain View, AB
The Alberta government is calling for a 3% wage cut for nurses ($70,500 (average salary per ALIS) x 3% x 36,200 nurses = $76.56 million). Don Braid of the Calgary Herald is calling for Alberta MLAs to take a $22,000 wage cut (87 MLAs x $22,000 = $1.91 million). Unfortunately, neither of these options address the elephant in the room. Alberta will spend $23 billion on healthcare this fiscal year per Budget 2021.
Over the past year and a half, Albertans were forced to suspend their lives and lose their livelihoods under the guise of the common good and to protect our seemingly fragile healthcare system. If $23 billion dollars in annual spending does not secure our healthcare system against potential future threats, maybe it is time to stop accepting mediocrity and make some changes to the system.
Suggestions for your consideration:
Immediately schedule a First Ministers conference (meeting between the premiers and the Prime Minister).

Agree to repeal the Canada Health Act. According to the Canadian Constitution, healthcare is within the jurisdiction of the provinces.

Funds needed to support provincial healthcare decisions would then be collected within each respective province instead of being received through the Canada Health Transfer.

End the prohibition on private clinics and service providers which would generate competition, reduce wait times, decrease costs and ultimately provide better care for everyone.
Canadians have long triumphed our "free" healthcare system as being the best in the world. In reality, it is neither free nor the best. Embracing new ideas and private market solutions is the best way to improve our healthcare system for all Albertans. I for one, believe that Albertans deserve the best for their hard earned tax dollars. It's time for a change, don't you agree?
Libertarian Party Candidate for Red Deer – Mountain View, AB
Grant's story: Amazing Improvement with Hard Work & Support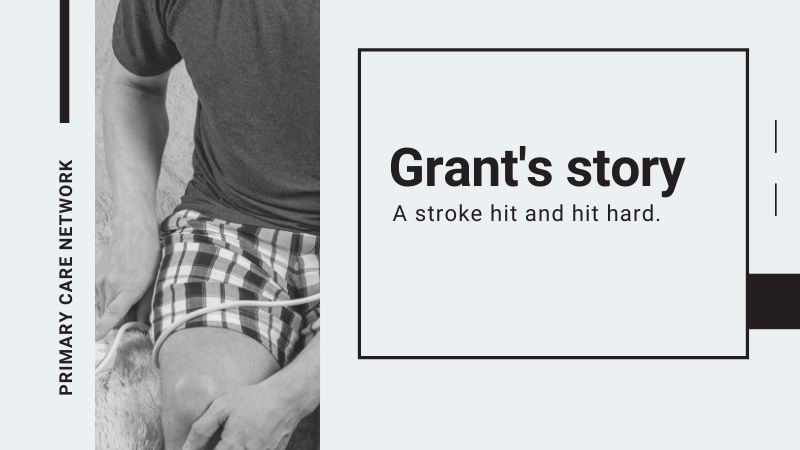 Grant was in his mid-fifties – maybe a bit overweight but with no other cardiovascular risk factors. However, a stroke hit and hit hard. His right side was very compromised, he had little use of his hands, he was unable to walk or lift his right arm. He was hospitalized in Red Deer for 4 months and then went to the Centennial Centre in Ponoka for rehab for 6 months. His doctor had told him that he would be bound to a wheelchair for the rest of his life and would never walk again or be able to recover from this stroke. This made Grant angry as he didn't want this prognosis.
Since that time, he has put a lot of work and effort into getting better. The physios and rehab team helped him make progress, but he kept asking them how he could get more training. They were able to refer him to Recreation Therapy at RDPCN. His therapist arranged to work with him at the Gary W Harris Canada Games Centre three times per week. He is doing a lot better now. He can walk with a cane and he can lift 30 pounds on the machines at the gym. He can now clap hands. He has gained strength and control, his gait has improved along with his endurance, and he has an increased range of motion and strength in his upper extremities. He can now do many more tasks of daily living such as carry groceries, cook and barbeque.
Grant states that his doctor can't believe his progress. Other people he knows have said very similar things. Working with the Rec Therapist has been very encouraging and supportive. The Rec Therapist has really helped me to stay motivated. Having a plan for myself also helps the attendants at the Gary Harris Centre to work with me to move forward. I have highly recommended this program to others I know who have had a stroke.
My work is not done but I am proud of the progress I have made and thankful for everything I can do for myself.
To learn more about the RDPCN programs, visit www.reddeerpcn.com