Nova Scotia legislature passes presumed consent law for organ donation
HALIFAX — The Nova Scotia legislature has unanimously passed legislation that presumes consent for organ donation, becoming the first jurisdiction in North America to pass such legislation.
The Human Organ and Tissue Donation Act was passed as legislators wrapped up their spring sitting on Friday.
However, the act is not expected to be proclaimed as law for a period of 12 to 18 months to allow time for planning, public education and training for health-care workers.
Under the act, all adults in Nova Scotia would be considered potential organ donors unless they opt out.
Families will continue to be consulted about their loved ones' wishes, while those under 19 and people without decision-making capacity will only be considered as donors if a parent, guardian or alternate decision-maker opts them in.
Premier Stephen McNeil says the goal is to ensure there are more potential organ donors in order to save lives.
"I am grateful for the support our government has received from Nova Scotians as together, we become leaders in North America on the issue of presumed consent for organ and tissue donation," McNeil said in a statement.
"We are committed to doing better for our fellow citizens awaiting life-saving transplants, and I look forward to collaborating with Nova Scotians as we work toward proclaiming the legislation next year."
Earlier this week, Dr. Stephen Beed, who heads the province's transplant program, told a legislature committee that within five years of the legislation's implementation he expects Nova Scotia would see a 30 per cent increase in organ donations. Beed added that he wouldn't be surprised if that number increased by as much as 50 per cent.
He said steps will be put in place to ensure the opt-out provisions are clear.
According to the province, 21 Nova Scotians became organ donors in 2018, while 110 people donated tissues such as corneas and heart valves.
The Canadian Press
Laura's story: I Feel So Much Better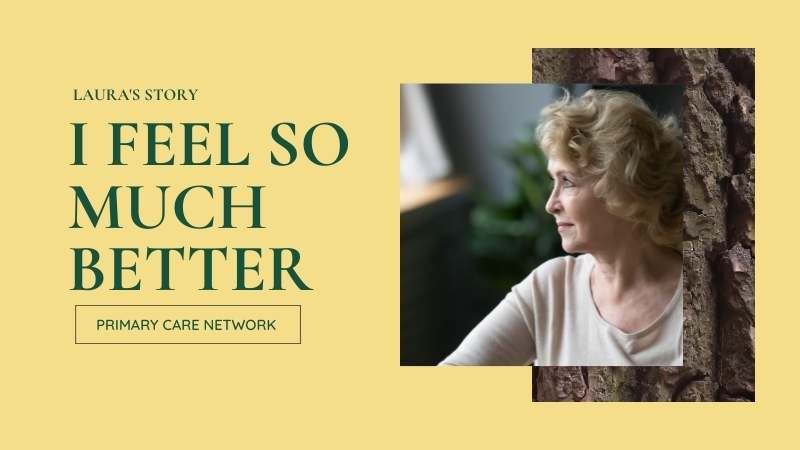 Health issues surfaced in the summer of 2020 for Laura. She had chest pain often and ended up in emergency a few times. She did have a small cardiac event in July. Her blood sugars were very high and all over the map during this time. Her blood pressure was also way too high.  She knew her weight was an issue to her health.  She had been diagnosed with Type 2 Diabetes a few years before this but had not tested her sugars for most of that time. All in all, this was a scary time for her.
Her doctor sent a referral to the Family Nurse in the clinic. He helped her to change her medication to less but more focused to her present condition. She found the nurse very positive, encouraging and available to meet her needs. Talking to the nurse regularly kept her accountable. She now enjoys smaller portions or healthier foods. Although it took some extra encouragement from the nurse, she now exercises on her treadmill regularly and is actually enjoying it. She no longer feels winded when she walks. She has lost 34 pounds; her blood pressure and blood sugars are both the normal range.  Laura says she used to feel like she could just drop but now actually feels energetic and less irritable. The other positive benefit of living healthier is that her self-esteem is way up! Laura still has weight to lose but feeling so much better is great motivation to continue this healthy journey.
To learn more about the RDPCN programs, visit www.reddeerpcn.com
Covid no longer means special measures. Province brings treatment in line with flu and other viruses
Adapting COVID-19 measures to support Albertans
With strong vaccine uptake, Alberta will gradually bring COVID-19 measures in line with other respiratory viruses to ensure health system capacity for the fall.
Nearly 75.6 per cent of eligible Albertans have now received at least one dose of COVID-19 vaccine, and 64.3 per cent are fully immunized. Vaccines dramatically reduce the risk of severe outcomes and the risk of infection. While COVID-19 cases may rise in the coming months, a surge of hospitalizations and other severe outcomes is much less likely thanks to vaccines.
In the coming weeks, Alberta's health system will take steps to make sure that it is ready to support all patients, including those with COVID-19 and other respiratory viruses, like influenza, which health officials expect to increase this year.
As a part of this, Alberta will bring COVID-19 quarantine, isolation, and other measures in line with those used for influenza and other viruses.
Testing for severe cases, provincial monitoring, outbreak management in high-risk settings, and other key measures will remain in place. Health officials will be able to adapt as needed if hospitalizations due to COVID-19 spike in the future.
"Our health system will keep protecting Albertans who are exposed to COVID-19 while also ensuring that we are able to handle all other viruses and illnesses. As the majority of us are vaccinated against COVID-19, we are adapting to make sure that the health system is ready to care for all Albertans, whatever their illness. Please get vaccinated to help protect your health and the health of those around you."
"Our top priority is supporting the health of Albertans. COVID-19 is still with us but we are now in a place where we need to manage it through vaccinations and the proven public health measures used for other communicable viruses. We expect to see increased influenza and other viruses this year, and these changes will make sure the health system is ready and able to support all Albertans in the months ahead."
A two-phase transition will be used to safely monitor the impact of the initial changes, adapt as needed over the next few weeks, and give more time to vaccinate Albertans.
The following changes will be effective July 29:
Quarantine for close contacts will shift from mandatory to recommended. Isolation for anyone with COVID-19 symptoms and for confirmed positive cases is still required.

Unimmunized individuals who know they have been exposed to COVID-19 should monitor for symptoms and seek testing if they become symptomatic.
Anyone who is not fully immunized should avoid high-risk locations such as continuing care facilities and crowded indoor spaces if they have been in contact with a case in the past 14 days.

All positive cases will continue to be notified. Contact tracers will no longer notify close contacts of exposure. Individuals are asked to inform their close contacts when informed of their positive result.
Contact tracers will continue to investigate cases that are in high-risk settings such as acute and continuing care facilities.
Outbreak management and identification will focus on high-risk locations, including continuing and acute care facilities and high-risk workplaces. Community outbreaks with a surge in cases leading to severe outcomes will also be addressed as needed.
Asymptomatic testing is no longer recommended. Testing will continue to be available for individuals who are symptomatic.
Mandatory masking remains in acute and continuing care facilities, publicly accessible transit, taxis and ride-share.
The following changes will take effect on Aug. 16:
Provincial mandatory masking orders will be lifted. Some masking in acute care or continuing care facilities may still be required.
Isolation following a positive COVID-19 test result will no longer be required, but strongly recommended.

Individuals with symptoms of any respiratory infection should still remain at home until symptoms have resolved.
Staying home when sick remains an important way to care for those around us by not passing on any infection.

Isolation hotels and quarantine support will no longer be available.
Testing will be available for Albertans with symptoms when it is needed to help direct patient care decisions.

This testing will be available through assessment centres until Aug. 31 and, after that, will be in primary care settings including physicians' offices. For those with severe illness requiring urgent or emergency care, testing will be available in acute care and hospital settings.
COVID-19 testing will also be offered as needed in high-risk outbreaks such as in continuing care facilities.

Public health will focus on investigating severe cases that require hospitalization and any deaths due to COVID-19.
Outbreak management and preventative measures will continue focusing on outbreaks in high-risk settings, such as continuing and acute care facilities.

Community outbreaks will continue to be addressed as needed.
Daycares and schools will be supported with measures that would be effective for any respiratory virus if outbreaks are identified.
Health officials will continue to closely monitor hospitalizations and other severe outcomes due to COVID-19 in the province. Additional measures will be taken, as needed, in specific facilities or areas where an outbreak is occurring leading to severe outcomes.
Universal masking will not be required in schools once students return. However, it is recommended as a temporary outbreak intervention in response to respiratory outbreaks. A guidance document to support return to schools is being finalized and will be released in mid-August.
A wastewater baseline testing program will also be launched to provide area trend information and monitor variants of concern. More details will be released in the coming weeks.