Nobel sold for Ukrainian kids shatters record at $103.5M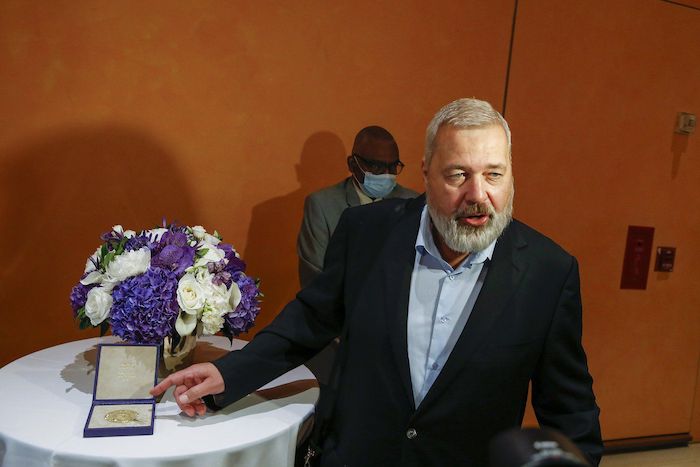 NEW YORK (AP) — The Nobel Peace Prize auctioned off by Russian journalist Dmitry Muratov to raise money for Ukrainian child refugees sold Monday night for $103.5 million, shattering the old record for a Nobel.
A spokesperson for Heritage Auctions, which handled the sale, could not confirm the identity of the buyer but said the winning bid was made by proxy. The $103.5 million sale translates to $100 million Swiss francs, hinting that the buyer is from overseas.
"I was hoping that there was going to be an enormous amount of solidarity, but I was not expecting this to be such a huge amount," Muratov said in an interview after bidding in the nearly 3-week auction ended on World Refugee Day.
Previously, the most ever paid for a Nobel Prize medal was $4.76 million in 2014, when James Watson, whose co-discovery of the structure of DNA earned him a Nobel Prize in 1962, sold his. In 2013, the family of his co-recipient, Francis Crick, received $2.27 million in bidding also run by Heritage Auctions.
Muratov, who was awarded the gold medal in October 2021, helped found the independent Russian newspaper Novaya Gazeta and was the publication's editor-in-chief when it shut down in March amid the Kremlin's clampdown on journalists and public dissent in the wake of Russia's invasion of Ukraine.
It was Muratov's idea to auction off his prize, having already announced he was donating the accompanying $500,000 cash award to charity.
Muratov has said the proceeds will go directly to UNICEF in its efforts to help children displaced by the war in Ukraine. Just minutes after bidding ended, UNICEF told the auction house it had already received the funds.
Online bids had begun June 1 to coincide with the International Children's Day observance. Many bids came by telephone or online. The winning bid, tendered by telephone, catapulted the bidding from the low millions to astronomical levels.
Muratov had left Russia on Thursday to begin his trip to New York City, where live bidding began Monday evening.
Early Monday, the high bid was only $550,000. The purchase price had been expected to spiral upward — but not over $100 million.
"I can't believe it. I'm awestruck. Personally, I'm flabbergasted. I'm stunned. I don't really know what happened in there," said Joshua Benesh, the chief strategy officer for Heritage Auctions.
"We knew that there was a tremendous groundswell of interest in the last couple of days by people who were moved by Dimitry's story, by Dimitry's act of generosity, that the global audience was listening tonight," he said.
Muratov and Heritage officials said even those out of the bidding can still help by donating directly to UNICEF.
Muratov shared the Nobel Peace Prize last year with journalist Maria Ressa of the Philippines.
The two journalists, who each received their own medals, were honored for their battles to preserve free speech in their respective countries, despite coming under attack by harassment, their governments and even death threats.
Melted down, the 175 grams of 23-karat gold contained in Muratov's medal would be worth about $10,000.
Muratov has been highly critical of Russia's 2014 annexation of Crimea and the war launched in February that has caused nearly 5 million Ukrainians to flee to other countries for safety, creating the largest humanitarian crisis in Europe since World War II.
Independent journalists in Russia have come under scrutiny by the Kremlin, if not outright targets of the government. Since Putin came into power more than two decades ago, nearly two dozen journalists have been killed, including at least four who had worked for Muratov's newspaper.
In April, Muratov said he was attacked with red paint while aboard a Russian train.
Since its inception in 1901, there have been nearly 1,000 recipients of the Nobel Prizes honoring achievements in physics, chemistry, physiology or medicine, literature and the advancement of peace.
___
In a story published June 20, 2022, about the auction of a NobelPeace Prize, The Associated Press erroneously reported that the medal won by Francis Crick was sold in 2017. It was sold in 2013.
___
Associated Press writer Andrew Katell contributed to this report.
Canadian swimmer says she was drugged at world championships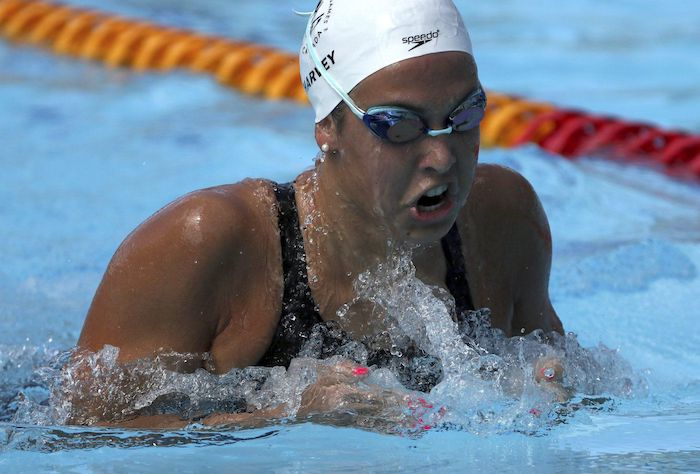 Canadian swimmer Mary-Sophie Harvey says she was drugged on the final day of the world aquatics championships and suffered a rib sprain and a concussion.
Harvey said in an Instagram post that there is a four-to-six hour window where she has no recollection of what happened, and that she remembers waking up with the Canadian team manager and doctor by her bedside.
She also posted photos of bruises on her body.
Montreal's Harvey competed in the women's 200-metre individual medley at the world championships in Budapest, Hungary, finishing eighth. She also earned a bronze medal in the women 4×200-metre freestyle relay after swimming in the preliminaries.
"We are aware there was an incident the night before departure from Budapest," Swimming Canada spokesman Nathan White said in an email to The Canadian Press. "As soon as team staff became aware, Mary received excellent medical treatment from our team physician on site, and was cleared to travel home.
"Staff have been in contact with Mary since her return and we are offering her support. We continue to gather information on the situation, and the file has been forwarded to our independent Safe Sport officer."
Harvey said she debated on whether to write her post, but said "these situations sadly happen too many times for me to stay silent."
"I'm still scared to think about the unknowns of that night," she wrote. "I'm still in a way, ashamed of what happened, and I think I always will be. … But I won't let this event define me."
The 22-year-old Harvey competed for Canada in last year's Tokyo Olympics. She's scheduled to swim in this summer's Commonwealth Games in Birmingham, England.
This report by The Canadian Press was first published July 6, 2022.
New report details missed chances to stop Uvalde shooting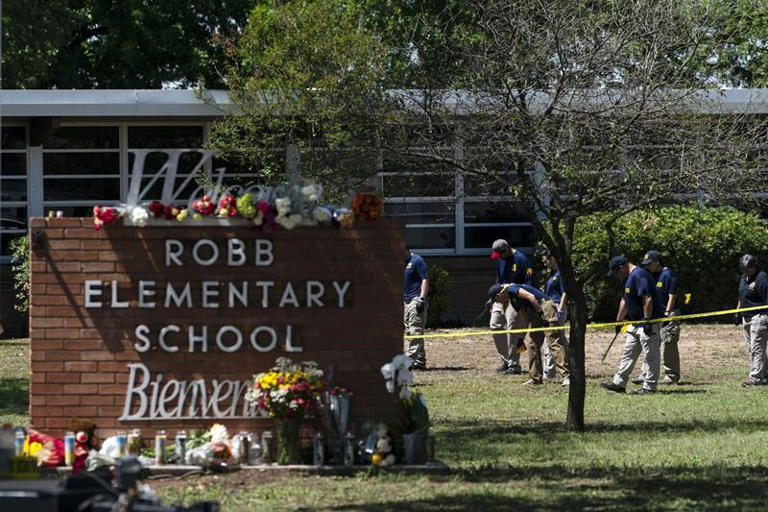 AUSTIN, Texas (AP) — A police officer armed with a rifle watched the gunman in the Uvalde elementary school massacre walk toward the campus but did not fire while waiting for permission from a supervisor to shoot, according to a sweeping critique released Wednesday on the tactical response to the May tragedy.
Some of the 21 victims at Robb Elementary School, including 19 children, possibly "could have been saved" on May 24 had they received medical attention sooner while police waited more than an hour before breaching the fourth-grade classroom, a review by a training center at Texas State University for active shooter situations found.
The report is yet another damning assessment of how police failed to act on opportunities that might have saved lives in what became the deadliest school shooting in the U.S. since the slaughter at Sandy Hook Elementary School in 2012.
"A reasonable officer would have considered this an active situation and devised a plan to address the suspect," read the report published by the university's Advanced Law Enforcement Rapid Response Training program.
Authors of the 26-page report said their findings were based off video taken from the school, police body cameras, testimony from officers on the scene and statements from investigators. Among their findings:
— It appeared that no officer waiting in the hallway during the shooting ever tested to see if the door to the classroom was locked. The head of Texas' state police agency has also faulted officers on the scene for not checking the doors.
— The officers had "weapons (including rifles), body armor (which may or may not have been rated to stop rifle rounds), training, and backup. The victims in the classrooms had none of these things."
— When officers finally entered the classroom at 12:50 p.m. — more than an hour after the shooting began — they were no better equipped to confront the gunman than they had been up to that point.
—"Effective incident command" never appears to have been established among the multiple law enforcement agencies that responded to the shooting.
The gunman, an 18-year-old with an AR-15-style semi-automatic rifle, entered the building at 11:33 a.m. Before that a Uvalde police officer, who the report did not identify, saw the gunman carrying a rife toward the west hall entrance. The officer asked a supervisor for permission to open fire, but the supervisor "either did not hear or responded too late," the report said.
When the officer turned back toward the gunman, he already gone inside "unabated," according to the report.
The report is one of multiple fact-finding reviews launched in the aftermath of the worst school shooting in Texas history. A committee formed by Texas legislators has also interviewed more than 20 people, including officers who were on the scene, behind closed doors for several weeks. It is unclear when they will release their findings.
It follows testimony last month in which Col. Steven McCraw, director of the Texas Department of Public Safety, told the state Senate that the police response was an "abject failure." He pinned particular blame on Chief Pete Arredondo, saying that as on-scene commander the Uvalde schools police chief made "terrible decisions" and stopped officers from confronting the gunman earlier.
Arredondo has tried to defend his actions, telling the Texas Tribune that he didn't consider himself the commander in charge of operations and that he assumed someone else had taken control of the law enforcement response. He said he didn't have his police and campus radios but that he used his cellphone to call for tactical gear, a sniper and the classroom keys.
According to he report released Wednesday, Arredondo and another Uvalde police officer spent 13 minutes in the school hallway during the shooting discussing tactical options, whether to use snipers and how to get into the classroom windows.
"They also discussed who has the keys, testing keys, the probability of the door being locked, and if kids and teachers are dying or dead," the report read.
McCraw said police had enough officers and firepower on the scene of the Uvalde school massacre to have stopped the gunman three minutes after he entered the building, and they would have found the door to the classroom where he was holed up unlocked if they had bothered to check it.
A lawyer for Arredondo and a spokeswoman for the Uvalde city police department did not immediately respond to requests for comment. Arredondo is on leave from his job with the Uvalde Consolidated Independent School District and resigned from his position as a city councilor last week.
Public leaders, including Texas Gov. Greg Abbott, initially praised the police response in Uvalde. Abbott said officers reacted quickly and ran toward the gunfire with "amazing courage" to take out the killer, thereby saving lives. He later said he was misled. In the days and weeks after the shooting, authorities gave conflicting and incorrect accounts of what happened. The fallout has driven recriminations and rifts between local at state authorities. On Tuesday, Uvalde Mayor Don McLaughlin and state Sen. Roland Gutierrez released a letter asking Abbott to move administration of a victims relief fund from the local prosecutor's office to the Texas Department of Emergency Management. They wrote that they've received numerous complaints about District Attorney Christina Mitchell Busbee, "including the failure to timely deliver victim's compensation resources to those in need.″
Busbee's office declined to comment Wednesday.
___
Bleiberg reported from Dallas.
___
Find more AP coverage of the Uvalde school shooting: https://apnews.com/hub/uvalde-school-shooting
Paul J. Weber And Jake Bleiberg, The Associated Press