No national security issue in Chinese takeover of Canadian lithium company: Liberals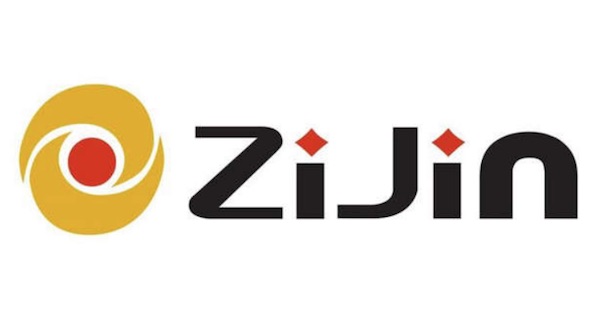 OTTAWA — The pending takeover of a Canadian lithium mining company by a Chinese state-owned company raises no national security concerns, federal Liberals argued Thursday.
Liberal MP Andy Fillmore, parliamentary secretary to Industry Minister François-Philippe Champagne, told a House of Commons committee that the Industry Department reviewed last fall the proposed takeover of Neo Lithium Corp. by China's Zijin Mining Group Ltd.
That review concluded that Neo Lithium is "really not a Canadian company," he told the industry committee, describing it as an Argentine company with directors in the United Kingdom and only three Canadian employees "on paper."
He said the only reason Neo Lithium "had any Canadian toehold whatsoever," was to get on the Toronto Stock Exchange in a bid to raise money for what Fillmore called an "increasingly dubious appearing" mine development project in Argentina.
Moreover, he said that project involves lithium carbonate, not the lithium hydroxide used to manufacture batteries that are critical for electric vehicles.
For those reasons, Fillmore said a formal national security review of the takeover was deemed unnecessary.
"These are the things they found, right? That in fact it's not a relevant lithium to Canada's national security interests and it's not really a Canadian company."
However, Conservative MP Ed Fast, who had called for the emergency committee meeting to find out why no formal security review was done, said it's "just false" to say Neo Lithium is not a Canadian company.
And he noted that the company's own website touts the mine as "the pre-eminent lithium brine asset in the world" to meet surging global demand for electric vehicle batteries.
"It goes without saying but bears restating that critical minerals such as lithium are a strategic asset, not only for Canada but for the world, and will play a critical role in driving our future prosperity and in meeting our environmental objectives," Fast said.
While the mine in question is in Argentina, Fast argued that it is incumbent on Canada and other "free-trading, rules-following allies" to ensure the global critical minerals industry is not monopolized by one country, especially one whose interests "are sometimes hostile toward ours."
China currently dominates the world's supply of lithium and batteries.
Conservative MP Tracy Gray further argued that lithium carbonate can be converted into lithium hydroxide for use in batteries.
But Fillmore countered that the conversion process involves additional costs and "significant environmental implications," which is why lithium hydroxide is preferred.
"I could probably make a passable hat using my socks but I'd much rather wear a hat," he said.
Thursday's meeting was called to consider a motion by Fast, calling for the committee to hold six meetings to explore the Neo Lithium takeover and whether a formal national security review should have been conducted.
In the end, committee members unanimously agreed to a Bloc Quebecois compromise to hold two meetings on the subject next week. The steering subcommittee, which is also to meet next week to set the committee's agenda for the coming months, could decide to schedule more meetings on Neo Lithium.
This report by The Canadian Press was first published Jan. 20, 2022.
Joan Bryden, The Canadian Press
'Revolutionary' high court term on abortion, guns and more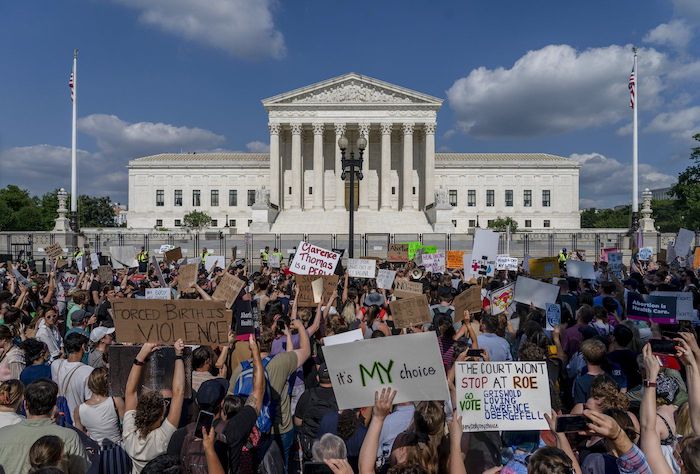 By Mark Sherman in Washington
WASHINGTON (AP) — Abortion, guns and religion — a major change in the law in any one of these areas would have made for a fateful Supreme Court term. In its first full term together, the court's conservative majority ruled in all three and issued other significant decisions limiting the government's regulatory powers.
And it has signaled no plans to slow down.
With three appointees of former President Donald Trump in their 50s, the six-justice conservative majority seems poised to keep control of the court for years to come, if not decades.
"This has been a revolutionary term in so many respects," said Tara Leigh Grove, a law professor at the University of Texas. "The court has massively changed constitutional law in really big ways."
Its remaining opinions issued, the court began its summer recess Thursday, and the justices will next return to the courtroom in October.
Overturning Roe v. Wade and ending a nearly half-century guarantee of abortion rights had the most immediate impact, shutting down or severely restricting abortions in roughly a dozen states within days of the decision.
In expanding gun rights and finding religious discrimination in two cases, the justices also made it harder to sustain gun control laws and lowered barriers to religion in public life.
Setting important new limits on regulatory authority, they reined in the government's ability to fight climate change and blocked a Biden administration effort to get workers at large companies vaccinated against COVID-19.
The remarkable week at the end of June in which the guns, abortion, religion and environmental cases were decided at least partially obscured other notable events, some of them troubling.
New Justice Ketanji Brown Jackson was sworn in Thursday as the first Black woman on the court. She replaced the retiring Justice Stephen Breyer, who served nearly 28 years, a switch that won't change the balance between liberals and conservatives on the court.
In early May, the court had to deal with the unprecedented leak of a draft opinion in the abortion case. Chief Justice John Roberts almost immediately ordered an investigation, about which the court has been mum ever since. Soon after, workers encircled the court with 8-foot-high fencing in response to security concerns. In June, police made a late-night arrest of an armed man near Justice Brett Kavanaugh's Maryland home, and charged him with attempted murder of the justice.
Kavanaugh is one of three Trump appointees along with Justices Neil Gorsuch and Amy Coney Barrett who fortified the right side of the court. Greg Garre, who served as former President George W. Bush's top Supreme Court lawyer, said when the court began its term in October "the biggest question was not so much which direction the court was headed in, but how fast it was going. The term answers that question pretty resoundingly, which is fast."
The speed also revealed that the chief justice no longer has the control over the court he held when he was one of five, not six, conservatives, Garre said.
Roberts, who favors a more incremental approach that might bolster perceptions of the court as a nonpolitical institution, broke most notably with the other conservatives in the abortion case, writing that it was unnecessary to overturn Roe, which he called a "serious jolt" to the legal system. On the other hand, he was part of every other ideologically divided majority.
If the past year revealed limits on the chief justice's influence, it also showcased the sway of Justice Clarence Thomas, the longest-serving member of the court. He wrote the decision expanding gun rights and the abortion case marked the culmination of his 30-year effort on the Supreme Court to get rid of Roe, which had stood since 1973.
Abortion is just one of several areas in which Thomas is prepared to jettison court precedents. The justices interred a second of their decisions, Lemon v. Kurtzman, in ruling for a high school football coach's right pray on the 50-yard line following games. It's not clear, though, that other justices are as comfortable as Thomas in overturning past decisions.
The abortion and guns cases also seemed contradictory to some critics in that the court handed states authority over the most personal decisions, but limited state power in regulating guns. One distinction the majorities in those cases drew, though, is that the Constitution explicitly mentions guns, but not abortion.
Those decisions do not seem especially popular with the public, according to opinion polls. Polls show a sharp drop in the court's approval rating and in people's confidence in the court as an institution.
Justices on courts past have acknowledged a concern about public perception. As recently as last September, Justice Amy Coney Barrett said, "My goal today is to convince you that this court is not comprised of a bunch of partisan hacks." Barrett spoke in at a center named for Senate Republican leader Mitch McConnell of Kentucky, who engineered her rapid confirmation in 2020 and was sitting on the stage near the justice.
But the conservatives, minus Roberts, rejected any concern about perception in the abortion case, said Grove, the University of Texas professor.
Justice Samuel Alito wrote in his majority opinion that "not only are we not going to focus on that, we should not focus on that," she said. "I'm sympathetic as an academic, but I was surprised to see that coming from that many real-world justices."
The liberal justices, though, wrote repeatedly that the court's aggressiveness in this epic term was doing damage to the institution. Justice Sonia Sotomayor described her fellow justices as "a restless and newly constituted Court." Justice Elena Kagan, in her abortion dissent, wrote: "The Court reverses course today for one reason and one reason only: because the composition of this Court has changed."
In 18 decisions, at least five conservative justices joined to form a majority and all three liberals were in dissent, roughly 30% of all the cases the court heard in its term that began last October.
Among these, the court also:
— Made it harder for people to sue state and federal authorities for violations of constitutional rights.
— Raised the bar for defendants asserting their rights were violated, ruling against a Michigan man who was shackled at trial.
— Limited how some death row inmates and others sentenced to lengthy prison terms can pursue claims that their lawyers did a poor job representing them.
In emergency appeals, also called the court's "shadow" docket because the justices often provide little or no explanation for their actions, the conservatives ordered the use of congressional districts for this year's elections in Alabama and Louisiana even though lower federal courts have found they likely violated the federal Voting Rights Act by diluting the power of Black voters.
The justices will hear arguments in the Alabama case in October, among several high-profile cases involving race or elections, or both.
Also when the justices resume hearing arguments the use of race as a factor in college admissions is on the table, just six years after the court reaffirmed its permissibility. And the court will consider a controversial Republican-led appeal that would vastly increase the power of state lawmakers over federal elections, at the expense of state courts.
These and cases on the intersection of LGBTQ and religious rights and another major environmental case involving development and water pollution also are likely to result in ideologically split decisions.
Khiara Bridges, a professor at the University of California, Berkeley, law school, drew a link between the voting rights and abortion cases. In the latter, Alito wrote in Dobbs v. Jackson Women's Health Organization that abortion should be decided by elected officials, not judges.
"I find it to be incredibly disingenuous for Alito to suggest that all that Dobbs is doing is returning this question to the states and that people can battle in the state about whether to protect fetal life or the interest of the pregnant person," Bridges said. "But that same court is actively involved in insuring that states can disenfranchise people."
Bridges also said the outcomes aligned almost perfectly with the political aims of Republicans. "Whatever the Republican party wants, the Republican party is going to get out of the currently constituted court," she said.
Defenders of the court's decisions said the criticism misses the mark because it confuses policy with law. "Supreme Court decisions are often not about what the policy should be, but rather about who (or which level of government, or which institution) should make the policy," Princeton University political scientist Robert George wrote on Twitter.
For now, there is no sign that either the justices or Republican and conservative interests that have brought so many of the high-profile cases to the court intend to trim their sails, Grove said.
That's in part because there's no realistic prospect of court reforms that would limit the cases the justices could hear, impose term limits or increase the size of the Supreme Court, said Grove, who served on President Joe Biden's bipartisan Supreme Court commission on court reforms.
___
Associated Press writer Jessica Gresko contributed to this report.
Biden offshore drilling proposal would allow up to 11 sales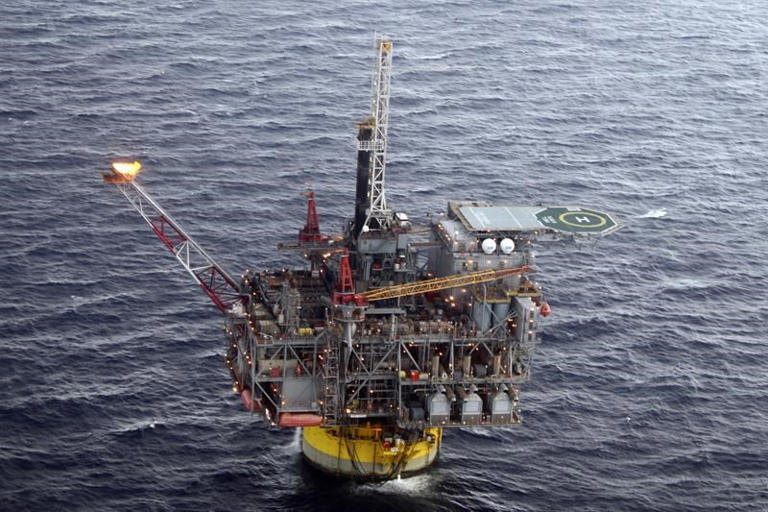 NEW ORLEANS (AP) — President Joe Biden's administration on Friday proposed up to 10 oil and gas lease sales in the Gulf of Mexico and one off the Alaska coast over the next five years — going against the Democrat's climate promises but scaling back a Trump-era plan that called for dozens of offshore drilling opportunities including in undeveloped areas.
Interior Secretary Deb Haaland said fewer than 11 lease sales — or even no lease sales at all — could occur, with a final decision not due for months. New drilling off the Atlantic and Pacific coasts would be blocked, after being considered under Trump.
"President Biden and I have made clear our commitment to transition to a clean energy economy. Today, we put forward an opportunity for the American people to … provide input on the future of offshore oil and gas leasing,″ said Haaland, whose agency oversees drilling on federal lands and waters.
The proposal brought immediate backlash from both environmentalists — who accused Biden of betraying the climate cause — and oil industry officials and allies, who said it would do little to help counter high energy prices. Gasoline prices averaged $4.84 a gallon on Friday, a strain on commuters and a political albatross for Biden's fellow Democrats going into the midterm elections. That has left the White House scrambling for solutions, including Biden's call last week for suspension of the 18.4 cents a gallon federal gas tax.
The Interior Department had suspended lease sales in late January because of climate concerns but was forced to resume them by a U.S. district judge in Louisiana.
The Biden administration cited conflicting court rulings about that decision when it canceled the last scheduled lease sales in the Gulf and Alaska during the previous offshore leasing cycle. That prior five-year cycle, a program adopted under former President Barack Obama, expired on Thursday.
There will be a months-long gap before a new plan can be put in place. The oil industry and its allies say the delay could cause problems in planning new drilling and potentially lead to decreased oil production.
There's unlikely to be an offshore lease sale until well into next year, said Frank Macchiarola, senior vice president of the American Petroleum Institute, the industry's top lobbying group.
And, he said, administration officials "went out of their way to say" there might not be any lease sales at all.
"It's very important for the administration to send a signal to the global oil markets that the United States is serious about increasing supply … for the long term," he said, repeating a longtime claim by industry officials and Republicans that ties uncertainty over oil supply to high prices.
Biden in recent weeks has criticized oil producers and refiners for maximizing profits and making "more money than God," rather than increasing production in response to higher prices as the economy recovers from the pandemic and feels the effects of Russia's invasion of Ukraine.
The leasing announcement was a bitter disappointment to environmentalists and some Democrats who rallied around then-candidate Biden when he promised to end new drilling in federal lands and waters.
The proposal comes a day after the administration held its first onshore lease sales, drawing $22 million in an auction that gives energy companies drilling rights on about 110 square miles (285 square kilometers) in seven western states. The sales came despite the administration's own findings that burning oil and gas from the parcels could cause billions of dollars in potential future climate damages.
"Our public lands and waters are already responsible for nearly a quarter of the country's carbon pollution each year. Adding any new lease sales to that equation while the climate crisis is unfolding all around us is nonsensical," said House Natural Resources Committee Chairman Raul Grijalva, D-Arizona.
Cynthia Sartou, executive director of the environmental nonprofit Healthy Gulf, called the lease-sale plan "a huge loss for Gulf residents, American energy policy and the global climate."
Moderate Democrat Joe Manchin, who chairs the Senate energy committee, welcomed the proposal as a chance "to get our leasing program back on track."
"While Americans everywhere are suffering from record high gas prices and disruptions in the global oil market caused by (Russian leader Vladimir) Putin's senseless war in Ukraine, the Department of the Interior hasn't held any successful offshore lease sales since November 2020," the West Virginia lawmaker said.
Under the Trump administration, Interior officials had proposed 47 sales, including 12 in the Gulf of Mexico, 19 in Alaska and nine off the Atlantic coast that were later withdrawn. Trump lost the 2020 election before the proposal was finalized.
The current format of holding Gulf-wide sales was put in place under Obama because of dwindling interest in offshore leases. Prior to that there had been decades of regional sales.
Friday's announcement opens a 90-day public comment period, then a final plan must be submitted 60 days before it goes into effect.
The government held an offshore lease auction in the Gulf of Mexico in November that brought $192 million in bids. A court canceled that sale before the leases were issued.
Haaland has said previously that the industry is "set" with the amount of drilling permits stockpiled and at its disposal. She testified during a House hearing in April that the industry has about 9,000 permits that have been approved but are not being used.
Oil production has increased as the economy recovers from the coronavirus slowdown, but it's still below pre-pandemic levels. Energy companies have been reluctant to ramp up production further, citing a shortage of workers and restraints from investors wary that today's high prices won't last.
Major oil companies reported surging profits in the first quarter and sent tens of billions of dollars in dividends to shareholders.
Athan Manuel of the Sierra Club said delaying offshore sales until next year "is an important step toward protecting communities and climate, and we urge the administration to finalize a plan that commits to no new offshore drilling leases, period."
__
Brown reported from Billings, Mont. Associated Press writer Matthew Daly in Washington contributed to this story.
Janet Mcconnaughey And Matthew Brown, The Associated Press