No longer fringe, small-town voters fear democracy's demise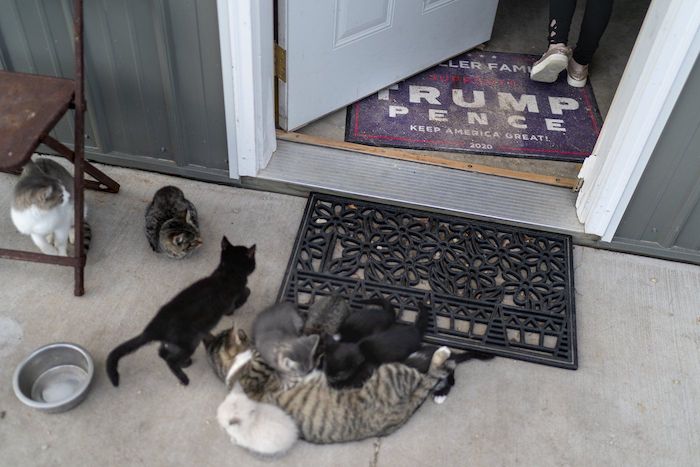 By Tim Sullivan in Hudson
HUDSON, Wis. (AP) — A word — "Hope" — is stitched onto a throw pillow in the little hilltop farmhouse. Photographs of children and grandchildren speckle the walls. In the kitchen, an envelope is decorated with a hand-drawn heart. "Happy Birthday, My Love," it reads.
Out front, past a pair of century-old cottonwoods, the neighbors' cornfields reach into the distance.
John Kraft loves this place. He loves the quiet and the space. He loves that you can drive for miles without passing another car.
But out there? Out beyond the cornfields, to the little western Wisconsin towns turning into commuter suburbs, and to the cities growing ever larger?
Out there, he says, is a country that many Americans wouldn't recognize.
It's a dark place, dangerous, where freedom is under attack by a tyrannical government, few officials can be trusted and clans of neighbors might someday have to band together to protect one another. It's a country where the most basic beliefs — in faith, family, liberty — are threatened.
And it's not just about politics anymore.
"It's no longer left versus right, Democrat versus Republican," says Kraft, a software architect and data analyst. "It's straight up good versus evil."
He knows how he sounds. He's felt the contempt of people who see him as a fanatic, a conspiracy theorist.
But he's a hero in a growing right-wing conservative movement that has rocketed to prominence here in St. Croix County.
Just a couple years ago, their talk of Marxism, government crackdowns and secret plans to destroy family values would have put them at the far fringes of the Republican party.
But not anymore. Today, despite midterm elections that failed see the sweeping Republican victories that many had predicted, they remain a cornerstone of the conservative electoral base. Across the country, victories went to candidates who believe in QAnon and candidates who believe the separation of church and state is a fallacy. In Wisconsin, a U.S. senator who dabbles in conspiracy theories and pseudoscience was re-elected – crushing his opponent in St. Croix County.
They are farmers and business analysts. They are stay-at-home mothers, graphic designers and insurance salesmen.
They live in communities where crime is almost nonexistent and Cub Scouts hold $5 spaghetti-lunch fundraisers at American Legion halls.
And they live with something else.
Sometimes it's anger. Sometimes sadness. Every once in a while it's fear.
All of this can be hard to see, hidden behind the throw pillows and the gently rolling hills. But spend some time in this corner of Wisconsin. Have a drink or two in the small-town bars. Sit with parents cheering kids at the county rodeo. Attend Sunday services.
Try to see America through their eyes.
___
There's a joke people sometimes tell around here: Democrats take Exit 1 off I-94; Republicans go at least three exits farther.
The first exit off the freeway leads to Hudson, a onetime ragged-at-the-edges riverside town that has become a place of carefully tended 19th-century homes and tourists wandering main street boutiques. With 14,000 people, it's the largest town in St. Croix County. It's also replete with Democrats.
The Republicans start at Exit 4, the joke says, beyond a neutral zone of generic sprawl: a Target, a Home Depot, a thicket of chain restaurants.
"For some people out here, Hudson might be (as far away as) South Dakota or California," says Mark Carlson, who lives off exit 16 in an old log cabin now covered in light blue siding. He doesn't go into Hudson often. "I don't meet many liberals."
Carlson is a friendly man who exudes gentleness, loves to cook, rarely leaves home without a pistol and believes despotism looms over America.
"There's a plan to lead us from within toward socialism, Marxism, communism-type of government," says Carlson, a St. Croix County supervisor who recently retired after 20 years working at a juvenile detention facility and is now a part-time Uber driver.
He was swept into office earlier this year when insurgent right-wing conservatives created a powerful local voting bloc, energized by fury over COVID lockdowns, vaccination mandates and the unrest that shook the country after George Floyd was murdered by a policeman in Minneapolis, just 45 minutes away.
In early 2020 they took control of the county Republican party, driving away leaders they deride as pawns of a weak-kneed establishment, and helped put well over a dozen people in elected positions across the county.
In their America, the U.S. government orchestrated COVID fears to cement its power, the IRS is buying up huge stocks of ammunition and former President Barack Obama may be the country's most powerful person.
But they are not caricatures. Not even Carlson, a bearded, gun-owning white guy who voted for former President Donald Trump.
"I'm just a normal person," he says, sitting on a sofa, next to a picture window overlooking the large garden that he and his wife tend. "They don't realize that we mean well."
He's a complicated man. While even he admits he might accurately be called a right-wing extremist, he calls peaceful Black protesters "righteous" for taking to the streets after Floyd's murder. He doubts there was fraud in the midterm elections. He drives a Tesla. He loves AC/DC and makes his own organic yogurt. In an area where Islam is sometimes viewed with open hostility, he's a conservative Christian who says he'd back the area's small Muslim community if they wanted to open a mosque here.
"Build your mosque, of course! That's the American way!"
He believes, deeply, that America doesn't need to be bitterly divided.
"Liberalism and conservatism aren't that far apart. You can be pro-American, pro-constitutional. You just want bigger government programs. I want less."
"We can work together," he says. "We don't have to, like, hate each other."
Repeatedly, he and the county's other right-wing conservatives insist they don't want violence.
But violence often seems to be looming as they talk, hazy images of government thugs or Antifa rioters or health officers seizing children from parents.
And weapons are a big part of their self-proclaimed "patriot" movement. The Second Amendment and the belief that Americans have a right to overthrow tyrannical governments are foundational principles.
"I'm not a big gun guy," says Carlson, whose weapons include pistols, a shotgun, an AR-15 rifle, 10 loaded magazines and about 1,000 additional rounds. "For a lot of people that's just a start."
That cocktail of weaponry and politics concerns plenty of people outside of their circles.
Liberal voters, along with many establishment Republicans, worry that men in tactical clothing can now occasionally be seen at public gatherings. They worry that some people are now too afraid to be campaign volunteers. They worry that many locals think twice about wearing Democratic T-shirts in public, even in Hudson.
Paul Hambleton, who lives in Hudson and works with the county Democratic party, found comfort in the midterm election results, which even some Republicans say could signal a repudiation of Trump and his most extreme supporters.
"I don't feel the menace like I was feeling it before" the vote, Hambleton says. "I think this election showed that people can be brave, that they can stick their necks out."
He spent years teaching in small-town St. Croix County, where the population has grown from 43,000 in 1980 to about 95,000 today. He watched over the years as the student body shifted. Farmers' children gave way to the children of people who commute to work in the Twin Cities. Racial minorities became a small but growing presence.
He understands why the changes might make some people nervous.
"There is a rural way of life that people feel is being threatened here, a small town way of life," he says.
But he's also a hunter who saw how hard it was to buy ammunition after the 2020 protests, when firearm sales soared across America. For nearly two years, the shelves were almost bare.
"I found that menacing," says Hambleton. "Because no way is that deer hunters buying up so much ammunition."
____
When the newly empowered conservatives get together it's often at an Irish bar in a freeway strip mall. Next door is the little county GOP office where you can pick up Republican yard signs and $15 travel mugs that proclaim "Normal Is Not Coming Back — Jesus Is."
Paddy Ryan's is the closest thing they have to a clubhouse. One afternoon in late summer, Matt Rust was there talking about the media.
"I think they're an arm of a much larger global effort by very rich powerful people to control as much of the world as possible," says Rust, a designer and product developer who can quote large parts of the U.S. Constitution from memory. "And I don't think that's anything new. It's always been that way," from ancient Persian rulers to Adolf Hitler.
"Is that a conspiracy or is that just human nature?" he asks. "I think it's just human nature."
Today, polls indicate that well over 60% of Republicans don't believe President Joe Biden was legitimately elected. Around a third refuse to get the COVID vaccine.
Rep. Marjorie Taylor Greene, the Georgia Republican known for her conspiratorial accusations and violent rhetoric, is a political star. Trump has embraced QAnon and its universe of conspiracies. In Wisconsin, Sen. Ron Johnson, a fierce denier of the 2020 election who has suggested the dangers of COVID are overblown, won his third term on Nov. 8.
This seems impossible to many Americans. How can you dismiss the avalanche of evidence that voter fraud was nearly non-existent in 2020? How do you ignore thousands of scientists insisting vaccines are safe? How do you believe QAnon, a movement born from anonymous internet posts?
But news in this world doesn't come from the Associated Press or CNN. It only rarely comes from major conservative media, like Fox News.
Where does it come from?
"The internet," Scott Miller, a 40-year-old sales analyst and a prominent local gun-rights activist. "That's where everybody gets their news these days."
Very often that means right-wing podcasts and videos that bounce around in social media feeds or on the encrypted messaging service Telegram.
It's a media microcosm with its own vocabulary — Event 201, the Regime, democide, the Parallel Economy — that invites blank stares from outsiders.
While many reports are little more than angry recitations of right-wing talking points, some are sophisticated and believable.
Take "Selection Code," a highly produced hour-long attack on the 2020 election underwritten by Trump ally Mike Lindell, the MyPillow CEO. It has the look of a "60 Minutes" piece, tells a complex story and uses unexpected sources to make some of its main points.
Like Hillary Clinton.
"As we look at our election system, I think it's fair to say there are many legitimate questions about its accuracy, about its integrity," the then-senator is shown saying in a 2005 Senate speech, questioning the re-election of former President George W. Bush.
Miller laughs.
"I'll give the Democrats credit. At least they had the courage to stand up and point it out."
___
Cornfields come right up to the country church, deep in rural St. Croix County and just down the road from a truck stop Denny's. The closest town, Wilson, is little more than a half-dozen streets, a post office and the Wingin' It Bar and Grill.
From the pulpit of Calvary Assembly of God, Pastor Rick Mannon preaches a Christianity that resonates deeply among the insurgent conservatives, with strict lines of good and evil and little hesitation to wade into cultural and political issues. He pushed back hard against COVID restrictions.
It's an outpost in the culture wars tearing at America, and a haven for people who feel shoved aside by a changing nation.
"If Christians don't get involved in politics, then we shouldn't have a say," Mannon says in an interview. "We can't just let evil win."
Religion, once one of America's tightest social bonds, has changed dramatically over the past few decades, with the overall number of people who identify as Christian plunging from the early 1970s, even as membership in conservative Christian denominations surged.
From churches like Calvary Assembly, they've watched as gay marriage was legalized, as trans rights became a national issue, as Christianity, at least in their eyes, came under attack by pronoun-proclaiming liberals.
It's hard to overstate how much cultural changes have shaped the right wing of American conservatism.
Beliefs about family and sexuality that were commonplace when Kraft was growing up in a Milwaukee suburb in the late 1970s and early 1980s, tinkering with electronics with his father, now can mark people like him as outcasts in the wider world.
"If you say anything negative about trans people, or if you say 'I feel sorry for you. This is a clinical diagnosis' … Well, you are a bigot," says Kraft, 58, a member of Mannon's congregation. "People with normal, mainstream family values- – churchgoing, believing in God — suddenly it's something they should be ostracized for."
But in today's world, words like "normal" don't mean what they once did.
That infuriates Kraft, who energized the Republican Party of St. Croix County as its leader but stepped down last year after a quote on the party's website – "If you want peace, prepare for war" – set off a public firestorm. He moved to a neighboring county earlier this year.
He ticks off the accusations leveled at people like him: sexist, homophobic, racist.
But such talk, he says, has lost its power.
"Now it's just noise. It's lost all its meaning."
___
The plans, if they are mentioned at all, are spoken of quietly.
But sit in enough small-town bars, drive enough small-town roads, and you'll occasionally hear people talk about what they intend to do if things go really bad for America.
There are the solar panels if the electricity grid fails. There's extra gasoline for cars and diesel for generators. There are shelves of non-perishable food, sometimes enough to last for months.
There are the guns, though that is almost never discussed with outsiders.
"I've got enough," says one man, sitting in a Hudson coffee shop.
"I would rather not get into that with a reporter," says Kraft.
The fears here are mostly about crime and civil unrest. People still talk about the 2020 protests, when they say you could stand in Hudson and see the distant glow of fires in Minneapolis. That frightened many people, and not just conservative Republicans.
But there are other fears, too. About government crackdowns. About firearm seizures. About the possibility that people might have to take up arms against their own government.
Those prospects seem distant, murky, including to the self-declared patriots. The most dire possibilities are spoken about only theoretically.
Still, they are spoken about.
"I pray it will always be that the overthrow is at the ballot box," says Carlson, who seems genuinely pained at the idea of violence.
"We don't want to use guns," he continues. "That would be just horrible."
A real zoodunit: Monkeys found but mystery deepens in Dallas
By Jamie Stengle in Dallas
DALLAS (AP) — Two monkeys taken from the Dallas Zoo were found Tuesday in an abandoned home after going missing the day before from their enclosure, which had been cut. But no arrests have been made, deepening the mystery at the zoo that has included other cut fences, the escape of a small leopard and the suspicious death of an endangered vulture.
Dallas police said they found the two emperor tamarin monkeys after getting a tip that they could be in an abandoned home in Lancaster, located just south of the zoo. The animals were located, safe, in a closet, and then returned to zoo for veterinary evaluation.
Police said earlier Tuesday that they were still working to determine whether or not the incidents over the last few weeks are related.
Meanwhile, in Louisiana, officials were investigating after 12 squirrel monkeys were taken from a zoo there on Sunday and considering whether there could be a connection.
Here's what is known so far about the incidents:
WHAT HAS HAPPENED AT THE DALLAS ZOO?
The zoo closed Jan. 13 after workers arriving that morning found that the clouded leopard, named Nova, was missing. After a search that included police, the leopard weighing 20-25 pounds (9-11 kilograms) was found later that day near her habitat.
Police said a cutting tool was intentionally used to make the opening in her enclosure. A similar gash also was found in an enclosure for langur monkeys, though none got out or appeared harmed, police said.
On Jan. 21, an endangered lappet-faced vulture named Pin was found dead by arriving workers. Gregg Hudson, the zoo's president and CEO, called the death "very suspicious" and said the vulture had "a wound," but declined to give further details.
Hudson said in a news conference following Pin's death that the vulture enclosure didn't appear to be tampered with.
On Monday police said the two emperor tamarin monkeys — which have long whiskers that look like a mustache — were believed to have been taken after someone cut an opening in their enclosure.
The following day police released a photo and video of a man they said they wanted to talk to about the monkeys. The photo shows a man eating Doritos chips while walking, and in the video clip he is seen walking down a path.
WHAT COULD BE THE MOTIVE IN TAKING THE MONKEYS?
Lynn Cuny, founder and president of Wildlife Rescue & Rehabilitation in Kendalia, Texas, said she wouldn't be surprised if it turns out the monkeys were taken to be sold. Depending on the buyer, she said, a monkey like those could be sold for "several thousands" of dollars.
"Primates are high-dollar animals in the wildlife pet trade in this country," Cuny said. "Everybody that wants one wants one for all the wrong reasons — there's never any good reason to have any wild animal as a pet."
She said there were a variety of ways the taken monkeys could have been in danger, from an improper diet to exposure to cold. Temperatures in Dallas dipped into the 20s on Tuesday during a winter storm.
WHAT IS KNOWN ABOUT THE VULTURE?
Pin's death has been hard on the staff, a zoo official said.
The vulture was "a beloved member of the bird department," according to Harrison Edell, the zoo's executive vice president for animal care and conservation.
Speaking at a news conference, Edell said Pin was at least 35 years old and had been at the zoo for 33 years. "A lot of our teams have worked closely with him for all of that time," Edell said.
Pin, one of four lappet-faced vultures at the zoo, was said to have sired 11 offspring, and his first grandchild hatched in early 2020.
Edell said Pin's death was not only a personal loss but also a loss for the species, which "could potentially go extinct in our lifetime."
WHAT IS KNOWN ABOUT SECURITY?
Hudson, the zoo's CEO, said in a news conference following Pin's death that normal operating procedures included over 100 cameras to monitor public, staff and exhibit areas, and that number had been increased. Overnight presence of security and staff was also raised.
Where possible, he said, zoo officials limited the ability of animals to go outside overnight.
After Nova went missing, officials said they had reviewed surveillance video but not what it showed.
The zoo was closed Tuesday and Wednesday due to the storm.
WHAT HAPPENED IN LOUISIANA?
The 12 squirrel monkeys were discovered missing Sunday from their enclosure at a zoo in the state's southeast.
Their habitat at Zoosiana in Broussard, about 60 miles (96 kilometers) west of Baton Rouge, had been "compromised" and some damage was done to get in, city Police Chief Vance Olivier said Tuesday. He declined to provide further details on the damage, citing the ongoing investigation.
He said police did not have any suspects yet but were still searching through video files.
Zoosiana said in a Facebook post that the remaining monkeys have been assessed and appear unharmed.
HAVE THERE BEEN OTHER INCIDENTS BEFORE AT THE DALLAS ZOO?
In 2004, a 340-pound (154-kilogram) gorilla named Jabari jumped over a wall and went on a 40-minute rampage that injured three people before police shot and killed the animal.
___
Associated Press writer Paul J. Weber contributed to this report from Austin, Texas.
'Hands off Africa!': Pope blasts foreign plundering of Congo
By Nicole Winfield, Jean-yves Kamale And Christina Malkia in Kinshasa
KINSHASA, Congo (AP) — Pope Francis demanded Tuesday that foreign powers stop plundering Africa's natural resources for the "poison of their own greed" as he arrived in Congo to a raucous welcome by Congolese grateful he was focusing the world's attention on their forgotten plight.
Tens of thousands of people lined the main road into the capital, Kinshasa, to welcome Francis after he landed at the airport, some standing three or four deep, with children in school uniforms taking the front row.
"The pope is 86 years old but he came anyway. It is a sacrifice and the Congolese people will not forget it," said Sultan Ntambwe, a bank agent in his 30s, as he waited for Francis' arrival in a scene reminiscent of some of Francis' earlier trips to similarly heavily Catholic countries.
Francis plunged headfirst into his agenda upon arrival, denouncing the centuries-long exploitation of Africa by colonial powers, today's multinational extraction industries and the neighboring countries interfering in Congo's affairs that has led to a surge in fighting in the east.
"Hands off the Democratic Republic of the Congo! Hands off Africa!" Francis said to applause in his opening speech to Congolese government authorities and the diplomatic corps in the garden of Kinshasa's national palace.
Calling Congo's vast mineral and natural wealth a "diamond of creation," Francis demanded that foreign interests stop carving up the country for their own interests and acknowledge their role in the economic "enslavement" of the Congolese people.
"Stop choking Africa: It is not a mine to be stripped or a terrain to be plundered," said history's first Latin American pope, who has long railed at how wealthy countries have exploited the resources of poorer ones for their own profit.
The six-day trip, which also includes a stop in South Sudan, was originally scheduled for July, but was postponed because of Francis' knee problems, which were still so serious on Tuesday that he couldn't stand to greet journalists in the plane heading to Kinshasa and forced him to use a wheelchair on the ground.
It was also supposed to have included a stop in Goma, in eastern Congo, but the surrounding North Kivu region has been plagued by intense fighting between government troops and the M23 rebel group, as well as attacks by militants linked to the Islamic State group.
The fighting has displaced some 5.7 million people, a fifth of them last year alone, according to the World Food Program.
Instead of travelling there, Francis will meet with a delegation of people from the east who will travel to Kinshasa for a private encounter at the Vatican embassy on Wednesday. The plan calls for them to participate in a ceremony jointly committing to forgive their assailants.
Sylvie Mvita, a student in economics in Kinshasa, said the pope's arrival would focus the world's attention and television cameras on Congo and the fighting in the east to show how its suffering has been forgotten by the rest of the world.
"This will allow the world to discover the atrocities of which our brothers in the east of the country are victims. And maybe for once, the little humanity that remains in some people will cause an awakening and the international community will not only be interested in what is happening in Ukraine but also in what is happening in this country," she said.
President Felix Tshisekedi voiced a similar line in his speech to the pope, accusing the international community of forgetting about Congo and of its complicit "inaction and silence" about the atrocities occurring in the east.
"In addition to armed groups, foreign powers eager for the minerals in our subsoil commit cruel atrocities with the direct and cowardly support of our neighbor Rwanda, making security the first and greatest challenge for the government," he said.
Rwanda has been accused of — and has repeatedly denied — backing the M23 rebels operating in Congo.
Francis' tough words at the start set the tone for the trip, in which the pontiff is aiming to bring a message of peace, a warning to the international community to not look the other way and a recognition that Africa is the future of the Catholic Church.
The continent is one of the only places on Earth where the Catholic flock is growing, both in terms of practicing faithful and fresh vocations to the priesthood and religious life.
And Congo stands out as the African country with most Catholics hands down: Half of its 105 million people are Catholic, the country counts more than 6,000 priests, 10,000 nuns and more than 4,000 seminarians — 3.6% of the global total of young men studying for the priesthood.
That makes Francis' trip, his fifth to the African continent in his 10-year pontificate, all the more important as the Jesuit pope seeks to reshape the church as a "field hospital for wounded souls," where all are welcome, poor people have a special pride of place and rivals are urged to make peace.
Aid groups had hoped Francis' six-day visit would shine a spotlight on the forgotten conflicts of Congo and South Sudan and their soaring humanitarian costs, and rekindle international attention amid donor fatigue that has set in due to new aid priorities in Ukraine.
Francis answered their call, pointing the finger at the role colonial powers such as Belgium played in the exploitation of Congo until the country, which is 80 times the size of Belgium, gained its independence in 1960, and neighboring countries are playing today.
Francis didn't identify Belgium or any neighboring country by name, but he spared no word of condemnation, quoting Tshisekedi as saying there was a "forgotten genocide" under way.
"The poison of greed has smeared its diamonds with blood," Francis said. "May the world acknowledge the catastrophic things that were done over the centuries to the detriment of the local peoples, and not forget this country and this continent."
"We cannot grow accustomed to the bloodshed that has marked this country for decades, causing millions of deaths that remain mostly unknown elsewhere," he said.
At the same time, he urged Congolese authorities to work for the common good and not tribal, ethnic or personal interests; and put an end to child labor and invest in education so that "the most precious diamonds" of Congo can shine brightly.
Congolese faithful were flocking to Kinshasa for Francis' main event, a Mass on Wednesday at Ndolo airport that is expected to draw as many as 2 million people in one of the biggest gatherings of its kind in Congo and one of Francis' biggest Masses ever.
Banners emblazoned with the pope's image carried messages including "Pope Francis, the city of Kinshasa welcomes you with joy."
Some women wore colorful dresses and skirts made of pagne, a wax print fabric featuring images of Francis, the Virgin Mary or the Vatican keys, in a celebratory sign of welcome.
Jean-Louis Mopina, 47, said he walked about 45 minutes to Kinshasa's airport before the pope's arrival on Tuesday.
"He has come like a pilgrim sent by God," Mopina said. "His blessing will give us peace in our hearts."
___
Christina Malkia in Kinshasa, and Krista Larson in Dakar, Senegal, contributed to this report.