No evidence Liberals knew appeal over residential school payments was dropped: Miller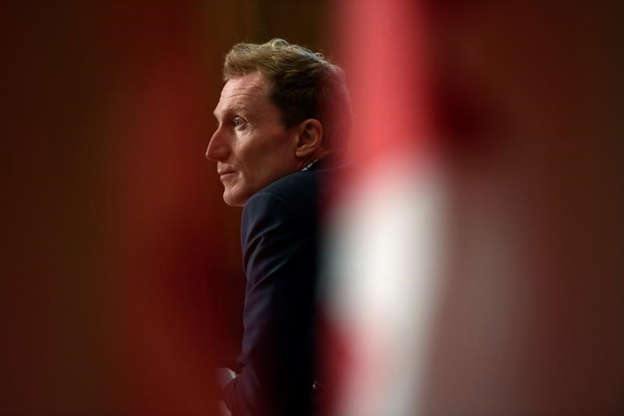 OTTAWA — Canada's Crown-Indigenous Relations Minister says the federal government will soon release some of the residential school records it's been criticized for withholding to a national archives centre.
Marc Miller also says there's no evidence the Liberal cabinet, including former justice minister Jody Wilson-Raybould, was told of a 2015 decision to drop a court case that freed the Catholic Church from compensating survivors.
"Knowing what we know today — it doesn't seem right," he told The Canadian Press in a recent interview.
In October, the National Centre for Truth and Reconciliation said Ottawa had yet to provide key documents detailing the specific histories of each government-funded, church-run institution that made up the residential school system.
The statement came in response to Prime Minister Justin Trudeau telling Indigenous leaders in Kamloops, B.C., that the federal government had turned over all of the records in its possession, a claim the Winnipeg-based centre said wasn't accurate.
Among the missing records, it said, were what's known as school narratives — reports compiled by Ottawa outlining an individual institution's history, including its administration, statistics on the number of Indigenous children forced to attend, as well as key events such as reports of abuse.
There are eight such timelines for schools that operated in British Columbia and Alberta that Miller says the government has so far refused to disclose based on third-party legal obligations it had with entities of the Catholic Church. The government has now decided to release them, he said.
"It's our obligation towards survivors first and foremost to take precedence over that obligation," said Miller.
The minister says the reports will be provided to the centre within 30 days, and the Canadian Conference of Catholic Bishops has been notified.
Both the centre and residential school survivors have long said Ottawa is withholding other outstanding records, such as supporting documents used during the assessment process for compensating Indigenous children who experienced abuse at the institutions.
Miller said the government will review what other residential school records it has withheld based on what the minister says were legal principles of privilege applied too broadly, which may in fact be able to be released.
"It's created a whirlwind of rightful suspicion towards the federal government."
One document he says he recently reviewed was a 2015 agreement to release the Catholic Church from its remaining $79-million worth of payments and in-kind services owed to survivors under the historic Indian Residential Schools Settlement Agreement. Included in that was a commitment to embark on a "best efforts" fundraising campaign to raise $25 million, which ultimately netted only about $3 million.
That years-old deal has been called into question after First Nations confirmed the discoveries of unmarked graves at former school sites, which led survivors, Indigenous leaders and non-Indigenous Canadians to renew calls for the Catholic Church to provide reparations.
At the time of the deal, the federal government then led by former Conservative prime minister Stephen Harper went to court against a corporation of Catholic entities named in the 2006 settlement to resolve a dispute between lawyers over the scope of a deal to let the church groups walk away from its remaining obligations.
A Saskatchewan judge ruled in July 2015 that an agreement had been struck, freeing the Catholic entities of their outstanding responsibilities to compensate survivors in exchange for $1.2 million.
One month later, Ottawa gave notice it would appeal. But when that appeal was filed, the country was gripped by a federal election campaign, which ended that October with Trudeau's Liberals ousting Harper in a majority win.
Trudeau's first cabinet was sworn in Nov. 4, 2015. He named Wilson-Raybould, then elected as a Liberal in B.C., as the country's first Indigenous justice minister.
Six days later, a government lawyer told the court it would abandon its appeal.
After reviewing the matter, Miller said what was filed was known as a protective appeal, which was withdrawn after the deputy justice minister approved a release agreement on Oct. 30, 2015.
He says it was the Harper government that decided to release the Catholic entities from their obligations, and officials went to work on securing an agreement.
Miller says there's no evidence Wilson-Raybould or anyone in cabinet was made aware of the decision. Given the relatively small amount of money in question, and considering the possibility that the matter wasn't seen as political, he says, "I can see how it happened."
"It shouldn't have happened. And so you get into a situation where you want to ascribe blame … I don't want to be in that position."
"It represents a moral failure for both sides. That includes the Catholic Church's decision to limit its compensation … but also on behalf of Canada — we should have appealed."
This report by The Canadian Press was first published Dec. 6, 2021.
Stephanie Taylor, The Canadian Press
Opposition leader to meet with freedom convoy leaders in Ottawa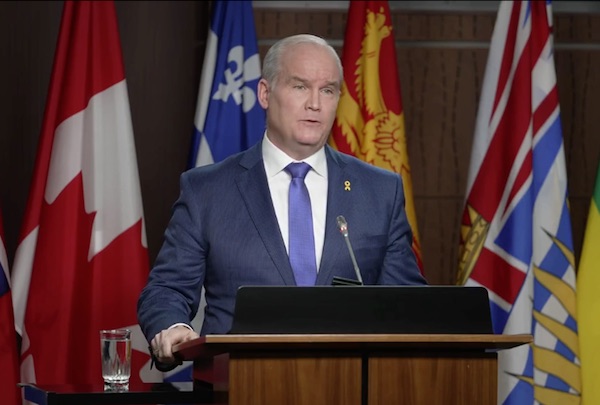 With a healthy Prime Minister Trudeau isolating due to covid protocol, Canada's Opposition leader Erin O'Toole says he's only too happy to meet with representatives of the Freedom Convoy. Thursday as O'Toole emerged from a caucus meeting about the results of the last election, he swept aside all questions from the media and made a statement about the Freedom Convoy headed to the nation's capital.
Saying he's never seen the county so divided, O'Toole blamed the Prime Minister for stoking the division by refusing to even speak to the Truckers. He went on to say the Conservatives have always opposed mandates, and that no Canadian should be losing their livelihood over their health decisions.
Crowd gathers north of Toronto to cheer on trucker convoy heading to Ottawa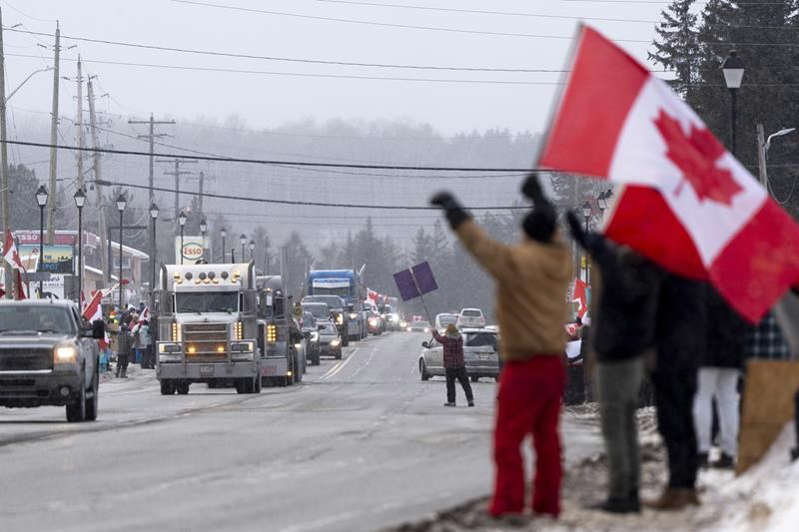 TORONTO — A large crowd gathered outside a mall north of Toronto on Thursday as a group of local truckers prepared to join a convoy to Ottawa in protest of the federal government's COVID-19 vaccine mandate for cross-border drivers.
Some in the crowd threw cash and food up to truckers in their vehicles at the Vaughan Mills mall while others hoisted Canadian flags and signs protesting the government as the truckers gradually rolled out.
Mike Fabinski, a truck driver from Barrie, Ont., said the vaccine mandate means he won't be able to work cross-border routes any more.
"You want to be vaccinated, go ahead, your choice. I don't want to be vaccinated, that's my choice," he said.
Fabinski said he's been a truck driver for 20 years but has not been able to travel to the U.S. since the federal mandate came to effect on Jan 15.
"I was going non-stop until they started last Saturday," he said. "Now I cannot go. I cannot work no more."
The federal government ended truckers' exemption to the vaccine mandate two weeks ago meaning Canadian truck drivers need to be fully vaccinated if they want to avoid a two-week quarantine when they cross into Canada from the U.S.
Some with extreme, far-right views have latched onto the protest against the mandate. One online video includes a man expressing hope the rally will turn into the Canadian equivalent of the Jan. 6, 2021, riot at the U.S. Capitol by supporters of former president Donald Trump.
On Thursday, some in the crowd that came out to support the truckers said they planned to join the convoy and make the trek to Ottawa as well.
Dean Brown said he supported peaceful protest intended by the convoy and rejected suggestions that it could lead to violence.
"The people who are in charge of this (convoy) are blocking people who are insisting or suggesting violence," the 57-year-old Toronto man said.
"It's all about peace. It's all about freedom. It's all about getting the Canadian way of life back. We are not here to turn it to violence."
Ontario Provincial Police were urging drivers to be patient as several groups of truckers planned to drive across the province to Ottawa before a so-called "freedom rally" on Parliament Hill planned for Saturday.
Police spokesman Sgt. Kerry Schmidt said drivers should prepare for delays on Toronto-area highways, including Highway 401, Highway 400 and the Queen Elizabeth Way.
Police in Ottawa have said they are planning for as many as 2,000 demonstrators, and while protest leaders have been co-operative, there are concerns that far-right extremist groups that have attached themselves to the convoy could spark violence.
The Canadian Trucking Alliance, which has denounced the convoy protest, estimates that roughly 15 per cent of truckers — up to 16,000 — are not fully vaccinated against COVID-19.
This report by The Canadian Press was first published Jan. 27, 2022.
Maan Alhmidi, The Canadian Press