NHLers weigh in on league's vaccine policy: 'I've gotta be careful with this one'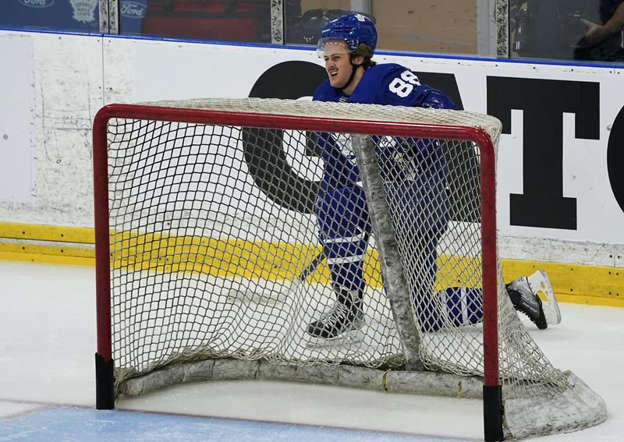 Thatcher Demko took a long pause before answering.
Not because he didn't know what to say — the Vancouver Canucks goalie just wanted to be sure he chose his words carefully when the topic pivoted.
"I've gotta be careful with this one … there's so much tension about it," Demko said of the NHL and COVID-19 vaccinations. "I'll just speak for myself: it's part of the job. You've got to do it if you want to fully participate in the season this year. Getting the vaccine isn't something that I'm passionate enough (about) to inhibit my ability to play.
"I had no problem getting it."
The NHL and NHL Players' Association haven't mandated vaccines for players with training camps starting this week, but there's little doubt tough restrictions — including not being able to cross the border from the U.S. into Canada without a two-week quarantine — provided an incentive for many on the fence.
NHL deputy commissioner Bill Daly said last week he estimates 98 per cent of players will be vaccinated by the start of the season, leaving between 10 and 15 players without the jab among roughly 700 competitors on 32 teams.
"The league's trying to operate as safe as possible and trying to encourage the safest possible environment," Toronto Maple Leafs captain John Tavares said. "They've encouraged that and tried to minimize risks to keep everybody safe, and to make sure that everything functions.
"But it's anyone's choice to determine what they feel is best for them … I think you can make an argument on both sides. That's what the pandemic's really been all about. It's been a very difficult situation all the way through, and even up until now."
Clubs will have the right to suspend unvaccinated players without pay this season if they're unable to participate in hockey activities as part of coronavirus protocols, including games in Canada.
Sporting a mask, Leafs winger William Nylander opened his press conference at the start of Toronto's camp by informing reporters he's not yet fully vaccinated.
"Had couple medical things to take care of," he said. "I'll be fully vaccinated by the beginning of the season."
Vaccinated players that test positive in 2021-22 for COVID-19 will be treated as having hockey injuries and still get paid, while their unvaccinated counterparts are set to have their movements restricted on the road.
Regular testing for the coronavirus will continue for vaccinated players.
Canucks forward Jason Dickinson said the decision to role up his sleeve was an easy one.
"The vaccine works — it works," he said. "There's a lot of people that want to argue it. And I guess that's their right, but there's a lot of people that are losing their rights right now by having to wait (the unvaccinated) out.
"It's slowing down everybody else's life."
But Winnipeg Jets goalie Connor Hellebuyck, whose team is fully vaccinated, said he felt pressured into getting the shot.
"I'm not anti-vaxx by any means, but I'd like to have that decision for myself," he said. "I had just gotten COVID and gotten over it, and then I had to get the (vaccine), which made me feel like I had COVID all over again. If I could have had at least some time to choose, maybe I would have got it (when) they recommend — three months later.
"I would have liked (the NHLPA) to have helped us a little more … I just feel it could have been worked out a little bit better."
Unlike last season's playoffs when the Vegas Golden Knights and Tampa Bay Lightning were permitted to cross the border to play the Montreal Canadiens, there's no quarantine exemption from the Canadian government for the 2021-22 campaign.
NHL coaches and staff are required by the league to be vaccinated, which cost Columbus assistant Sylvain Lefebvre his job after he declined to adhere to the policy.
"You're teetering the line between your own personal choice and what we want to do, and then how it affects others," Edmonton Oilers winger Zach Hyman said when asked about the NHL's policy for players. "If someone doesn't feel comfortable getting vaccinated, then that's his right and I guess he'll have to abide by the rules of the league."
As camps opened this week, news started to filter out regarding players that are yet to be vaccinated. Detroit Red Wings forward Tyler Bertuzzi has declined to get his shots, meaning he will miss all nine of Detroit's games in Canada this season — and lose out on a considerable chunk of his US$4.25-million salary.
"Just personal choice, freedom of choice," Bertuzzi said. "It was a life decision."
Oilers winger Josh Archibald is also unvaccinated, which GM Ken Holland said could see him sit out up to 30 games in the U.S. because of the quarantine required upon returning to Canada.
"To get vaccinated has been a personal decision," said Holland, who added veteran defenceman and vaccine holdout Duncan Keith got jabbed and will join his new team soon. "It's been an easy decision for some, and it's been a difficult decision for some."
The Canucks suffered through a devastating COVID-19 outbreak last season, and will be fully vaccinated in 2021-22.
"A lot of these guys have young kids and they all ended up getting sick," Vancouver GM Jim Benning said. "As a group, they knew the importance of getting vaccinated to give ourselves the best chance to get back to normal. So there wasn't too many guys that didn't want to get vaccinated."
Canucks forward J.T. Miller said the protocols are out of his hands.
"I just try to worry about what I can control," he said. "They're set in place for a reason and I'm just here to do my part. I got vaccinated, I did what I had to do to come here and do my job.
"You've got to do what the rules are."
Dickinson said a vaccinated league is the quickest way back to some semblance of normal.
"We want to play games," he said. "We want fans in the building."
"We want to get back to life."
-With files from Gemma Karstens-Smith in Vancouver.
This report by The Canadian Press was first published Sept. 23, 2021.
___
Follow @JClipperton_CP on Twitter
Joshua Clipperton, The Canadian Press
Blackhawks GM Bowman resigns after sexual assault probe
Chicago Blackhawks general manager and president of Hockey Operations Stan Bowman resigned Tuesday after an investigation commissioned by the team found he was among a group of leaders who failed to respond promptly to allegations that an assistant coach sexually assaulted a player in 2010.
The results of the independent review by Jenner & Block were handed over to the Blackhawks on Monday, and team CEO Danny Wirtz said the report "is both disturbing and difficult to read."
Former federal prosecutor Reid Schar, who ran the investigation, said Tuesday that Bowman, former team president John McDonough, hockey operations executive Al MacIsaac, former executive vice president Jay Blunk and then-assistant general manager Kevin Cheveldayoff met with then-coach Joel Quenneville and mental skills coach Jim Gary to discuss allegations that then assistant coach Brad Aldrich had assaulted a player.
Schar said accounts of the meeting "vary significantly."
"What is clear is that after being informed of Aldrich's alleged sexual harassment and misconduct with a player no action was taken for three weeks," Schar said.
The investigation was commissioned by the team after two lawsuits were filed against the Blackhawks: one alleging sexual assault by assistant coach Aldrich during the team's Stanley Cup run and another filed by a former student whom Aldrich was convicted of assaulting in Michigan. Aldrich left the Blackhawks after the 2009-10 season.
A former player said Aldrich assaulted him, and that the team did nothing after he informed an employee. The lawsuit, filed May 7 in Cook County Circuit Court, alleges Aldrich also assaulted another unidentified Blackhawks player. The former player who sued and is seeking more than $150,000 in damages is referred in the document as "John Doe."
The eight-page lawsuit says Aldrich, then a video coach for the Blackhawks, "turned on porn and began to masturbate in front of" the player without his consent. It says Aldrich also threatened to "physically, financially and emotionally" hurt the player if he "did not engage in sexual activity" with him.
___
More AP sports: https://apnews.com/hub/apf-sports and https://twitter.com/AP_Sports
Jay Cohen And Stephen Whyno, The Associated Press
Albertans vote in favour of removing equalization from Constitution
EDMONTON — The final results from Alberta's equalization referendum show almost 62 per cent of those who voted want to see the principle of equalization removed from the Constitution.
A second referendum question to keep daylight time year-round failed by a whisker: 50.1 per cent to 49.9 per cent.
The votes were held on Oct. 18 in conjunction with municipal and school board elections across the province.
All but a small fraction of districts voted to remove equalization.
Calgary voted 58 per cent in favour of removing it, but Edmonton voted 52 per cent in favour of leaving equalization alone.
Premier Jason Kenney was scheduled to address the results later Tuesday.
The path forward on equalization is not clear.
Kenney has said while the vote was about removing equalization, he actually wants to use it as leverage to address all federal transfers that he feels are unfair to Alberta.
Prime Minister Justin Trudeau said last week that Kenney knows the federal government can't unilaterally change the Constitution.
Trudeau said it can only be done with "significant consensus" involving Ottawa working with seven provinces or territories representing more than 50 per cent of the population.
He also questioned why Kenney was campaigning against an equalization program that was last tweaked by a federal Conservative cabinet that included Kenney.
Equalization sees some tax money collected by the federal government redistributed from wealthier provinces to lower-income ones to ensure a basic level of service for all.
Kenney has said Alberta has concerns over billions of dollars its residents pay, while provinces such as British Columbia and Quebec obstruct oil and pipeline projects that underpin that wealth.
Alberta estimates it pays in $20 billion a year to the equalization program. It has rarely been a net beneficiary of equalization since the program was created in 1957.
This report by The Canadian Press was first published Oct. 26, 2021.
Dean Bennett, The Canadian Press