NHL set to resume after 6-day break, eyes new CDC guidance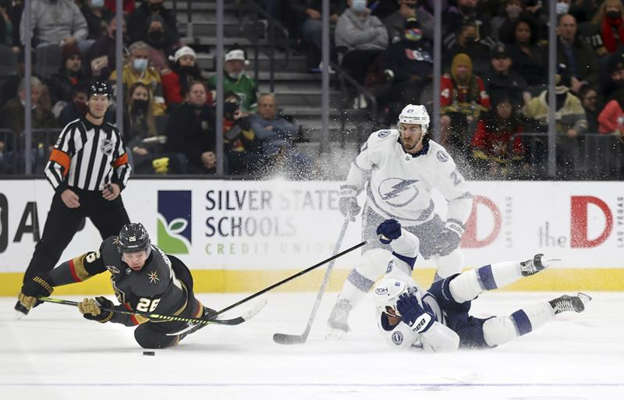 Tampa Bay Lightning officials pulled a player out of a meeting because he tested positive for the coronavirus and no one in the room flinched.
As Anthony Cirelli went into the now-familiar COVID-19 protocol, the two-time defending champions practiced with their goaltending coach and an emergency backup in net and prepared to play Montreal on Tuesday night in a Stanley Cup Final rematch without either of their NHL goalies or their coach on hand.
"It's just the norm," assistant Derek Lalonde said Monday. "Not trying to downplay it, but I just think it's a reality of today's world and today's NHL."
Hockey will return Tuesday after the league took an extended holiday break in the hope that virus cases will not continue to disrupt the season. While three more games this week were postponed — bringing the total to 70 this season — the NHL like other leagues will try to power through the latest twist in the pandemic with a possible boost on the way in the form of shorter absences for players and coaches who test positive.
The U.S. Centers for Disease Control and Prevention on Monday cut the recommended isolation period from 10 days to five, and other North American professional sports leagues have already moved in that direction. NHL Deputy Commissioner Bill Daly said, "Obviously it will spur a review of the protocol" currently in place, which includes 10 days away for those who contract the virus and experience symptoms.
While many of the cases across hockey have been asymptomatic or mild, the spread of the highly contagious omicron variant has led to a rash of positive COVID-19 test results across the league's 32 teams. Dozens more players entered virus protocol Monday, with minor leaguers taking their place and taxi squads added to keep the NHL season going amid concerns about the quality of the on-ice product.
"Unfortunate what's going on around the league with a lot of teams having to deal with COVID issues right now, including ourselves, but I don't think a lot is going to change moving forward here for the next couple weeks," Lightning captain Steven Stamkos said. "We do have to get some games in if we can do it safely, and we can do it where teams have adequate players in the lineup."
Stamkos and his teammates were preparing to play without reigning playoff MVP goaltender Andrei Vasilevskiy, five other players and coach Jon Cooper. Montreal will also be without several players for the start of a three-game U.S. trip; back home, Quebec has banned fans and all eyes are on virus restrictions in Canada that could further upend the season for a league with seven teams based north of the border.
The virus continues to play a role on either side of it. Pittsburgh and Washington each added six players to the COVID-19 protocol list, and the Vegas Golden Knights found out they won't have coach Peter DeBoer behind the bench for their game Tuesday night at Los Angeles.
Washington is set to play again Wednesday against the Nashville Predators, who are dealing with their own virus absences, but the game is scheduled to go on as planned.
"It's not about who's out," said coach John Hynes, whose Predators put captain Roman Josi and two other players on the COVID-19 protocol list. "It's about the players that are in and making sure we're physically ready to play and mentally ready to play."
Not every game will be played on time. Chicago's game at Winnipeg scheduled for Wednesday and a home-and-home series Wednesday and Friday between Dallas and Colorado are the latest to be postponed because of coronavirus concerns.
The province of Manitoba capped ticketed crowds at 250, so any Winnipeg home games for at least the next two weeks would be played with no fans in attendance. Along with needing to find new dates for the games postponed and more sure to come, the league also could shift games in Canada to later in the season with the goal of making sure there's a crowd in the stands.
As of now, the Winter Classic between St. Louis and Minnesota is still scheduled to be played in front of a crowd of almost 40,000 at Target Field in Minneapolis on Saturday night in keeping with the league's New Year's Day tradition.
"We're just happy to be playing hockey," Blues defenseman Justin Faulk said. "I don't want to be sitting at home doing nothing during this time. I think we should be playing."
In an effort to do just that, the league brought back "taxi squads," a feature from the pandemic-shortened 2020 season. Each team will be able to keep up to six players on the taxi squad and can make more emergency recalls from the minors to make sure there are 18 skaters and two goaltenders available for every game.
"It's what needed to happen," Carolina coach Rod Brind'Amour said. "You're going to have a lot of these issues, so that's one way to take care of it, have enough players around that you can keep playing. I think at the end of the day that's what we're trying to do: have a system in place that you can get guys into the lineup quickly."
The league shut down for the annual Christmas break two days earlier than usual and extended it through Monday given the rapidly growing number COVID-19 cases. Several teams have reported asymptomatic or very mild cases, including 63-year-old Buffalo Sabres coach Don Granato, who was diagnosed with Hodgkin lymphoma in 2015.
"Everybody's asymptomatic, which is great, and, obviously, they're testing every day, so if they get a negative test, they come back in," Buffalo general manager Kevyn Adams said, referring to Granato and forwards Zemgus Girgensons, Dylan Cozens and Mark Jankowski, who are in the virus protocol. "It it is hard when even if you're asymptomatic and you come back and you've been back for a while, you need a little time to get yourself back. But, yeah, so far with the way our staff and players have been asymptomatic across the board."
___
AP Hockey Writer John Wawrow and AP Sports Writer Teresa M. Walker contributed.
___
More AP NHL: https://apnews.com/hub/NHL and https://twitter.com/AP_Sports
Stephen Whyno, The Associated Press
Hundreds of thousands march in Poland anti-government protests to show support for democracy
WARSAW, Poland (AP) — Hundreds of thousands of people marched in an anti-government protest in Poland's capital on Sunday, with citizens traveling from across the country to voice their anger at officials who they say have eroded democratic norms and created fears that the nation is following Hungary and Turkey down the path to autocracy.
Warsaw Mayor Rafal Trzaskowski, who belongs to the opposition party that led the march, estimated that 500,000 people took part. The Onet news portal estimated there there were at least 300,000 at the march's culmination.
Large crowds also gathered in Krakow and other cities across the nation of 38 million people, showing frustration with a government that critics accuse of violating the constitution and eroding fundamental rights in Poland.
Former President Lech Walesa, the leader of the Solidarity movement that played a historic role in toppling communism in Poland, marched alongside the leader of the opposition Civic Platform party, ex-Prime Minister Donald Tusk.
Walesa and Tusk are reviled by the ruling Law and Justice party led by Jaroslaw Kaczynski, and the Warsaw crowd chanted "Democracy!" and "Constitution!"
The rally started at Prime Minister Mateusz Morawiecki's office and ended up at the Royal Castle, where Tusk hailed the turnout and pledged to fight to win an autumn election.
"We are going to these elections to win and to right human wrongs. I promise you victory, a settlement of evil, compensation for human wrongs and reconciliation among Poles," Tusk told the crowd.
The government spokesman, Piotr Mueller, accused Tusk and Walesa of "trying to overthrow the government."
Tusk had called on Poles to march with him for the sake of the nation's future — a message that resonated for Radek Tusinski, 49, who arrived with his wife and two children. A handmade sign reading "I cannot give up freedom" was attached to their baby stroller.
Tuskinski said that he worries about the creeping return of an authoritarian system similar to what he remembers from his childhood.
"We want a free country for our children," he said.
Supporters of the march have warned that the election might be the nation's last chance to stop the erosion of democracy under Law and Justice amid growing fears that the fall election might not be fair.
In power since 2015, Law and Justice has found a popular formula, combining higher social spending with socially conservative policies and support for the church in the mostly Catholic nation.
However, critics have warned for years that the party is reversing many of the achievements made since Poland emerged from communist rule in 1989.
The U.S. government has intervened at times when it felt the government was eroding media liberties and academic freedom in the area of Holocaust research.
Critics point mainly to the party's step-by-step takeover of the judiciary and media, and fear that Law and Justice could eventually force Poland to leave the 27-member European Union.
A clampdown on abortion rights has triggered mass protests. Some also voiced anger at double-digit inflation in the country. Poland's government blames Russia's war in Ukraine and the COVID-19 pandemic, but economists say its spending policies have accelerated spiraling prices.
Barbara Dec, 26, and her grandmother left their hometown of Zielona Gora at 4:30 a.m. and traveled seven hours on a bus organized by Civic Platform to protest.
Dec held up a cardboard sign that read, "I am afraid to have children in Poland."
"Women have lost the right to have an abortion even when the fetus is terminally ill, and some women have died," she explained. "And I am also afraid I couldn't manage financially."
The march was held on the 34th anniversary of Poland's first partly-free election. The protest was seen as a test for Tusk's Civic Platform, a centrist and pro-European party which has trailed behind Law and Justice in polls.
However, the passage of a contentious law last month seems to have mobilized greater support for Tusk. Poland is expected to hold a general election in October, though a date hasn't been set.
The law allows for the creation of a commission to investigate Russian influence in Poland. Critics argue that it would have unconstitutional powers, including the capacity to exclude officials from public life for a decade. They fear it will be used by the ruling party to remove Tusk and other opponents from public life.
President Andrzej Duda, who signed the law on May 29, proposed amendments to it on Friday. In the meantime, the law will take effect with no guarantees that lawmakers in parliament will weaken the commission's powers.
Some Poles say it could come to resemble the investigations of Joseph McCarthy, the U.S. senator whose anti-communist campaign in the early 1950s led to hysteria and political persecution.
That fear was underlined last weekend when Kaczynski was asked by a reporter if he still had trust in the defense minister in connection with a Russian missile that fell in Poland in December.
"I am forced … to view you as a representative of the Kremlin," he replied. "Because only the Kremlin wants this man to stop being the minister of national defense."
The media freedom group Reporters Without Borders expressed concerns that the commission "could serve as a new weapon for this type of attack, in which doubt is cast on journalists' probity in an attempt to smear their reputation."
Tusk, who once served as European Council president, had called for the march weeks ago, urging people to demonstrate "against high prices, theft and lies, for free elections and a democratic, European Poland."
Law and Justice sought to discourage participation in the rally with a video spot using Auschwitz as a theme — drawing criticism from the state museum that preserves the site of the Nazi German death camp.
DeSantis hits Trump from the right while the ex-president looks ahead to the general election
NEW YORK (AP) — In his first week on the campaign trail as a presidential candidate, Florida Gov. Ron DeSantis repeatedly hit his chief rival, Donald Trump, from the right.
"This is a different guy than 2015, 2016," DeSantis told a conservative radio host before slamming the bipartisan criminal justice reform legislation Trump championed as "basically a jailbreak bill" that allowed dangerous people out of prison.
He also accused Trump of "turning the reins over" to Dr. Anthony Fauci during the COVID-19 pandemic, said Trump had " endorsed and tried to ram" an "amnesty" bill through Congress and vowed that — unlike the former president — he would finish building the U.S.-Mexico border wall.
In Iowa on Saturday, he hit back at Trump for saying he didn't like the term "woke" because people have a hard time defining it. "Woke is an existential threat to our society," DeSantis said. "To say it's not a big deal, that just shows you don't understand what a lot of these issues are right now."
Trump, meanwhile, has repeatedly attacked DeSantis from the left. He has suggested that even anti-abortion activists consider Florida's new six-week abortion ban "too harsh" and argued that DeSantis has made himself unelectable on a national level with his votes as a congressman to cut Social Security and Medicare — even though Trump's proposed budgets also repeatedly called for major entitlement cuts.
The attacks underscore the underlying early dynamic of the race: As DeSantis tries to win over GOP primary voters and chip away at Trump's commanding early lead, Trump is already pivoting to a general election matchup against President Joe Biden. In the meantime, Trump has been pushing back against DeSantis' argument that the Florida governor, not the former president, is the more viable general election candidate.
"Don't forget, we have to win elections," Trump stressed during a Fox News Channel town hall on Thursday as he discussed abortion politics.
To be clear, Trump has also leaned in on other right-wing causes. This week, he revived his pledge to end birthright citizenship, saying he would sign an executive order on the first day of his second term to change the long-settled interpretation of the 14th Amendment. He also renewed his pledge to use the U.S. military to attack foreign drug cartels and has pushed the death penalty for drug dealers.
But DeSantis' efforts to out-Trump Trump have raised eyebrows among some observers who question his tactics.
"I do not think it's a smart strategy," said Sarah Longwell, an anti-Trump Republican political strategist whose firm has been leading weekly focus groups with GOP voters where DeSantis' appeal has been fading.
Longwell said she had expected DeSantis to tailor his pitch to the slice of the Republican electorate that wants to move on from Trump.
"You can't out-MAGA Trump," she said, referring to Trump's "Make America Great Again" political movement. DeSantis, she argued, should be working to "consolidate the 'Move on from Trump'-ers and move into the 'Maybe Trump'-ers, and instead he's tried to wrestle Trump for the 'Always Trump'-ers."
DeSantis allies argue the governor has been responding to what they see as Trump's attacks from the left and highlighting his stances on issues they believe will resonate with Republican primary voters, particularly abortion and DeSantis' PR war with Disney.
An official from Never Back Down, a pro-DeSantis super PAC handling much of his political operation, said DeSantis' strategy is being informed by what the group's canvassers have been picking up from voters in recent weeks. The official, who spoke on the condition of anonymity to discuss messaging strategy, said voters have voiced confusion about Trump's attacks and have responded especially well to portrayals of DeSantis as a fighter who refuses to back down.
The group ran a digital ad this week highlighting Trump's comment on abortion that was geotargeted to areas Trump was visiting in Iowa. It is also exploring messaging that will accuse Trump of being too cozy with major corporations during his time in the White House.
Trump spokesperson Steven Cheung slammed DeSantis' insinuations and accused him of ripping off Trump's ideas.
"Ron DeSantis has tried to steal every single one of President Trump's Agenda47 policy platforms. He is a fraudster and masquerading as someone who knows what he's talking about," he said.
DeSantis, in his early campaign stops, has also tried to paint himself as a disciplined executive who will make good on his promises, implying Trump had not.
"When I tell you I'm going to do something, I don't just say that because I think that may be what you want to hear, then get into office and forget all the promises I made," he said in Lexington, South Carolina.
Longwell said her research had consistently found that on-the-fence voters are willing to put aside concerns about Trump's temperament because they feel he was so effective in office, raising questions about DeSantis' strategy.
"They don't like his mouth, they don't like his tweets, they don't like his character. But they like what he did as president," she said.
Trump, meanwhile, has made clear he is looking toward next year's general election.
In Grimes, Iowa, on Thursday, Trump received a pointed question from a woman who claimed that "we have lost people because you supported the jab," a reference to conspiracies about mRNA vaccines, which have been credited with saving millions of lives.
While Trump did not dismiss her suggestion — and stressed that he was never in favor of mandates — he explained that "there's a big portion of the country that thinks that was a great thing, you understand that. Not a lot of the people in this room, but there is a big portion."
During the Fox News town hall later that day, Trump said "only stupid people" could suggest they had done more than him on abortion given that he picked some of the conservative Supreme Court justices who overturned Roe v. Wade. But he also continued to criticize conservative Republican midterm candidates who did not support exceptions, including when the life of the mother is at risk, a position in line with the majority of voters.
A recent memo to donors from Trump super PAC pollster Tony Fabrizio, first reported by Axios, made the case that DeSantis is vulnerable among swing state voters in a general election on issues including cuts to Social Security and Medicare, book bans in schools, Florida's ban on abortions at six weeks — before most women know they are pregnant — and his fight with Disney.
Voters, meanwhile, have mixed views about the escalating feud.
Heidi Lillibridge, a 51-year-old farmer and Republican activist from Vinton, Iowa, worries that Democrats will benefit from the two leading GOP candidates criticizing each other. She is particularly frustrated by DeSantis' early attacks.
"Criticizing President Trump's conservative credentials, when we all know how he acted as president and what he got accomplished, I don't really know why he would do that," she said.
Darcy Cowart, who saw DeSantis speak outside a bar and restaurant in Bluffton, South Carolina, said that while she had previously backed Trump, she was glad to see a large field with other options.
"He's not going to change, and he just has this bully mentality. He just won't give in on it," she said. "I know he fights for us, and I know that he does some good things, but at the same time, it's like having this obnoxious relative that's always got to be at the dinner table, that you dread being around."
___
Associated Press writers Thomas Beaumont in Des Moines, Iowa, and Meg Kinnard in Bluffton, S.C., contributed this report.
___