NHL postpones three more games in Canadian cities due to attendance restrictions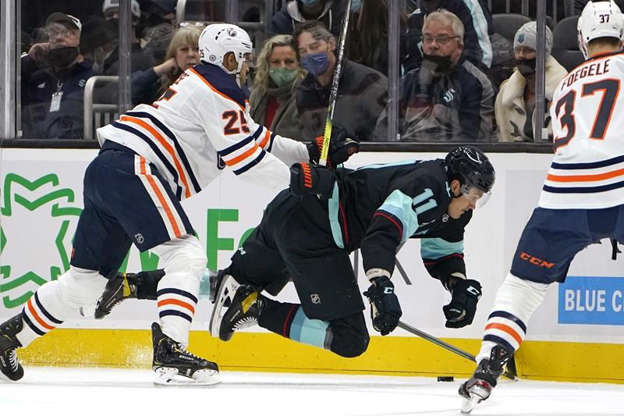 NEW YORK — The NHL postponed three more games in Canadian cities Wednesday due to current attendance restrictions in certain provinces.
The league said the contests will be rescheduled for later in the season when such restrictions may be eased or lifted.
The affected games include the New Jersey Devils at Montreal Canadiens on Jan. 15, the Devils visiting the Toronto Maple Leafs on Jan. 17 and Chicago Blackhawks at Edmonton Oilers on Jan. 18.
There have been 98 NHL games postponed this season; four have been rescheduled to date.
This report by The Canadian Press was first published Jan. 5, 2022.
The Canadian Press
THE HALFTIME REPORT News from the Alberta Sports Hall of Fame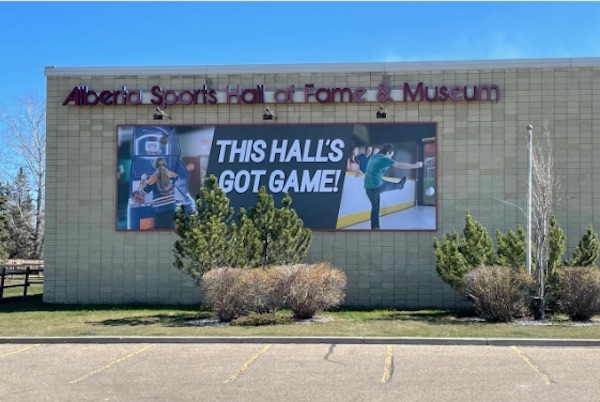 ASHFM Staff Supporting Their Favourite Alberta Teams
The Battle of Alberta was fantastic. Let's do this again soon! This is the first time the Edmonton Oilers and the Calgary Flames have met during the NHL Playoffs since 1991. The Alberta Sports Hall of Fame had a ton of fun creating a number of different ways for Albertans to learn about and participate in the rivalry.
We created a poll where visitors to the museum placed a sticker on our board to indicate which Albertan NHL team they cheer for. Those unable to stop in were encouraged to comment on our social media posts, telling us their team, so we could place the sticker for them. Both teams had over 200 votes, with the total climbing higher each day.
We also highlighted some of our honoured members who have played for, or been associated with either of these teams, such as Wayne Gretzky, Michael Vernon, Glen Sather, and Peter Maher.
Other initiatives include Jersey Day, where visitors who come in on a Battle of Alberta game day wearing a Flames or Oilers jersey get 50% off of their admission into the museum, highlighting iconic BoA moments through Youtube, and more!
This newsletter is sponsored by the RBC Foundation.
Honoured Member in Focus: Wayne Bowes and Bob Daku
Wayne Bowes and Bob Daku began playing racquetball together in 1969, after meeting at the Lethbridge YMCA. They dominated the Canadian Open Men's Doubles in racquetball from 1974 to 1982. Together, they won nine consecutive national titles.
Besides their national titles, this team won numerous Alberta crowns and competed at the 1974 World Amateur Racquetball Championships. They won two more titles, in 1984 and 1985, and then retired from competitive racquetball with eleven of thirteen national titles.
For more information about this team, please see their Honoured Member Profile, linked below.
Provincial Sport Organization: Alberta Racquetball Association
The Alberta Racquetball Association's vision is to make racquetball accessible to all Albertans and to be a national leader in programming, athlete development, and good governance.Its mission is to facilitate the participation and enjoyment of racquetball through the delivery of programs, access to resources, the development of coaches and officials, and support to clubs and affiliates.
They strive to build a strong future and legacy for racquetball by supporting competitive athletes, fostering lifelong participants and aim to increase involvement and accessibility at all levels through promotion, advocacy, and funding.
Artifact in Focus!

The artifact that we are highlighting is a racquetball racquet. The cover is made of faux, brown, leather.
Next time you're driving down the QEII you will notice the new billboard on our building! Our new billboard reads "This Hall's Got Game," and is visible from Highway 2.
Honoured Member Theo Fleury Visits ASHFM
Honoured Member Theo Fleury stopped by the Alberta Sports Hall of Fame recently to film a promotional video.
To learn more about Theo Fleury, please click on the link to his profile below.
Leave a legacy​
The Alberta Sports Hall of Fame needs your support to continue the ongoing preservation of Alberta's sports history and the development of museum exhibits. We are grateful and appreciative of the generosity of our supporters and friends. We would be happy to assist you in choosing how your personal legacy will be fulfilled and the many options available. Here is some information on donating shares to ASHFM and the benefits to you as a donor.
Copyright © 2021 The Alberta Sports Hall of Fame, All rights reserved.
Our mailing address is:
Alberta Sports Hall of Fame
#102 – 4200 Highway 2
Red Deer, AB T4N 1E3
(403) 341- 8614
[email protected]
Moose is Loose: Canada's Mitch (Moose) Hooper reaches World's Strongest Man final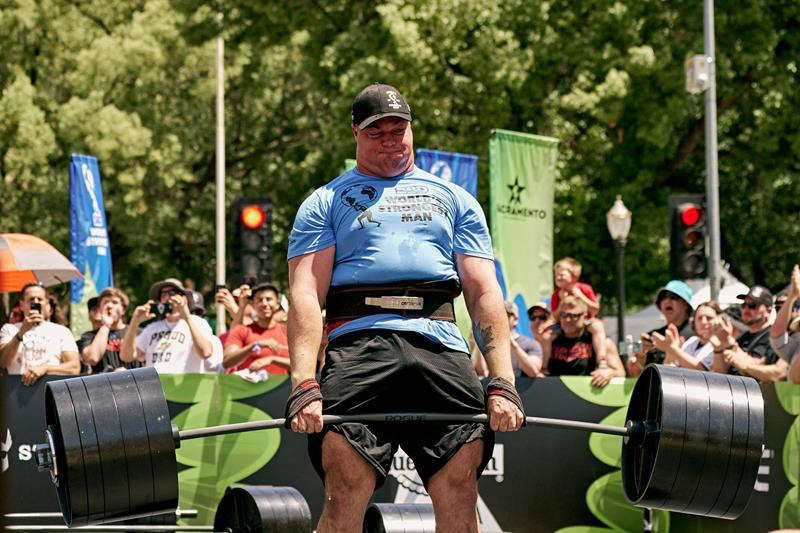 Not lacking for confidence, Canada's Mitchell (Moose) Hooper made some bold predictions ahead of his first appearance at the World's Strongest Man competition.
So far he's been calling his shots.
In a recent YouTube video, the six-foot-three 315-pounder described his potential for the event and felt first- or second-place qualification results were realistic.
He backed up his talk this week at the Capitol Mall in Sacramento, Calif., by securing a berth in the weekend finals. Not bad for someone who entered the event as a relative unknown.
"I'm pretty in tune with what I'm capable of and what I'm not capable of," Hooper said. "To put it simply, I knew that if I was one of the favourites I wouldn't want me to be in that group."
Strong showings in the loading race, deadlift ladder, car walk and log lift gave Hooper a healthy lead in his six-man group.
He only needed a single point in the wrecking ball hold Thursday to secure first place and one of two group berths in the two-day final starting Saturday.
"I was pretty spot on," Hooper said of his predictions. "So yeah, I have a pretty good feel for what I can do."
Hooper, 26, has a varied sporting background. He's the director and founder of an exercise physiology business in Barrie, Ont., which helps people with injuries and chronic conditions.
Hooper played hockey as a youth, has run marathons and had varsity golf opportunities in the United States.
He played football at the University of Guelph and completed his undergraduate degree in human kinetics before becoming head strength and conditioning coach for the National Basketball League of Canada's KW Titans.
"I have some family with chronic health conditions," Hooper said. "I wanted to seek out something a little bit more meaningful. So I found exercise physiology.
"I looked up the No. 1 school in the world and that happened to be the University of Sydney. Off I went."
Hooper completed his master's degree in 2019 and "happened to stumble upon" strength sports while Down Under. He entered a few powerlifting competitions and got some attention by winning the Australia's Strongest Man event.
A video of a Hooper deadlift in competition recently gained steam on social media and it wasn't long before World's Strongest Man organizers tracked him down and invited him into the 30-man field.
He hopes a top-three standing after Saturday's competition would leave him in good shape for a Sunday showdown.
"I wouldn't be surprised with first, I wouldn't be surprised with seventh," Hooper said. "I imagine I'll land somewhere in between there."
On a regular day, Hooper said he usually gets up at about six in the morning and eats five or six meals a day. He aims for about 2 1/2 hours of daily training.
"I try to hit 6,000 calories (daily) and about 330 grams of protein," Hooper said.
"A couple of cartons of egg whites — one in the morning and one at night — that usually gets me covered," he added.
Deadlift competition and the Flintstone barbell are among the events on tap Saturday ahead of the bus pull, Atlas stones and power stairs disciplines on Sunday.
This is the 45th edition of the World's Strongest Man. Maxime Boudreault, a native of Kapuskasing, Ont., also advanced along with reigning champion Tom Stoltman of Britain and his brother, Luke Stoltman, the reigning European champion.
Hooper, meanwhile, is showing no signs of rookie jitters against such veteran competitors.
"It's a psychological thing as much as it is a physical thing," he said. "Consistency really trumps everything."
This report by The Canadian Press was first published May 27, 2022.
Follow @GregoryStrongCP on Twitter.
Gregory Strong, The Canadian Press