New year, old issues: Enbridge, state of Michigan renew Line 5 hostilities in court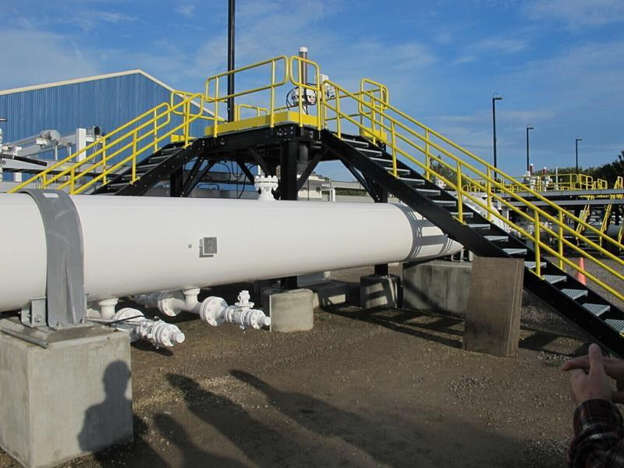 WASHINGTON — Enbridge Inc. and the state of Michigan are renewing their legal hostilities over the future of the controversial Line 5 pipeline — and their latest court battle looks an awful lot like the last one.
Attorney General Dana Nessel and Gov. Gretchen Whitmer were dealt a setback last November when District Court Judge Janet Neff granted Enbridge's request that the case be removed to federal court, a decision that prompted Michigan to abandon that particular challenge.
Instead, the state is focusing its efforts on a separate but similar circuit court action filed in 2019 that spent last year in a state of suspended animation, and which Enbridge is once again arguing should be heard by a federal judge because it comprises an important foreign policy question.
Too late, Nessel argues in her latest tract of court documents, filed Friday with the very same judge who heard the original arguments.
"The present action was pending in state court for nearly two and a half years before (Enbridge) removed it to this court," she says. Federal law makes it clear that cases can only be removed to federal jurisdiction within 30 days of a complaint being filed, the documents note.
"It is more than two years too late, and federal courts do not condone this type of gamesmanship and abuse of the removal statutes."
By Nessel's logic, Enbridge knew perfectly well it could have petitioned to have the case removed when it was originally filed but opted not to do so until now — a "remarkably dilatory" act based on an argument that "defies the facts, the law and basic common sense."
Enbridge has yet to file a response to Nessel's latest brief. However, the company has repeatedly indicated it has no plans to shut down Line 5 voluntarily and will continue to fight in court to keep it running.
The overarching question — whether a dispute over the lawful operation of an international, cross-border pipeline should be heard by a federal judge or at the state court level — is a carbon copy of the battle the two sides fought in front of Neff for the better part of last year.
The clash first erupted in November 2020, when Whitmer abruptly revoked the 68-year-old easement that had long allowed Calgary-based Enbridge to operate the line. She cited the risk of environmental catastrophe in the Straits of Mackinac, where Line 5 crosses the Great Lakes.
The pipeline ferries upwards of 540,000 barrels per day of crude oil and natural gas liquids across the Canada-U.S. border and the Great Lakes by way of a twin line that runs along the lake bed beneath the straits linking Lake Michigan and Lake Huron.
Proponents call Line 5 a vital and indispensable source of energy, especially propane, for several Midwestern states, including Michigan and Ohio. It is also a key source of feedstock for critical refineries on the northern side of the border, including those that supply jet fuel to some of Canada's busiest airports.
Enbridge and its allies, including the federal Liberal government, insist that the pipeline is too vital an energy artery to both countries for it to be suddenly shut down, and the question of its continued safe operation is one to be settled between Ottawa and the White House.
Central to that argument is a 1977 bilateral treaty that was conceived to avoid disruptions to the cross-border flow of energy, one that proved to be a key element in Enbridge's strategy to convince Neff that the controversy should be adjucated by a federal judge.
Canada said late last year that planning was "well underway" for bilateral treaty talks between Canada and the United States in the dispute over the pipeline, although the timeline for formal negotiations has never been publicly disclosed.
Last year, lawyers for the federal government also filed a statement in court expressing support for Enbridge's argument, known in legal parlance as an amicus brief. It was not immediately clear Tuesday whether Ottawa expects to do so again.
The White House has acknowledged that the U.S. Army Corps of Engineers is conducting an environmental assessment on Enbridge's plans to encase the underwater portion of the twin pipeline in a deep, fortified underground tunnel. But they have so far resisted pressure to get involved in the dispute itself.
Critics want the line shut down, arguing it's only a matter of time before an anchor strike or technical failure triggers a catastrophic environmental disaster in one of the area's most important watersheds. Michigan has every right to take whatever steps are necessary to protect it, the National Wildlife Federation said in a statement.
"This motion is critical because if successful, it will allow the state courts to consider for the first time whether the risks of a rupture of Line 5 in the Great Lakes justify the continued operation of the pipeline," said federation attorney Andy Buchsbaum.
"If Enbridge's gamesmanship is successful, it would allow Enbridge to circumvent Michigan's ability to protect the Great Lakes and to tie the case up in federal court by months, if not years, leaving the Great Lakes in great danger."
This report by The Canadian Press was first published Jan. 18,2022.
James McCarten, The Canadian Press
Edmonton Oilers, Calgary Flames weigh in on NHL playoff Battle of Alberta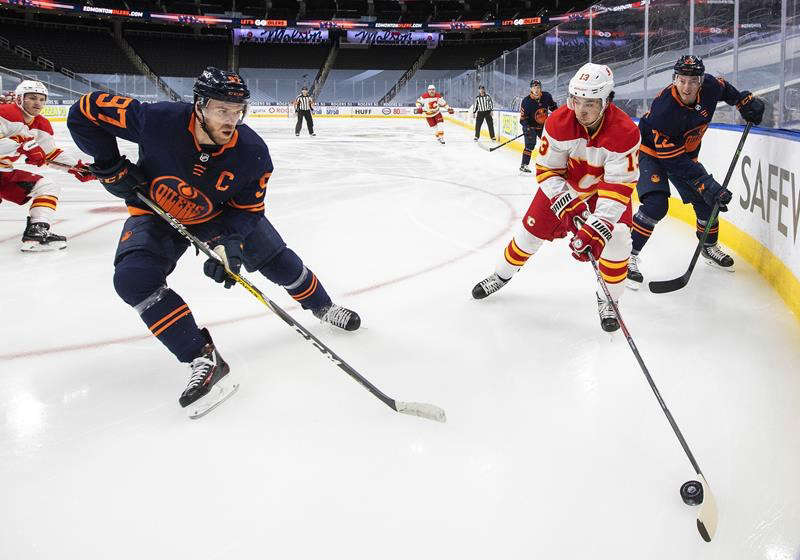 CALGARY — The Calgary Flames and Edmonton Oilers meet in the playoffs for the first time since 1991 in a best-of-seven Western Conference semifinal starting Wednesday. Here are some key quotes from both teams:
"We became a province in 1905 I believe, so that's 116 years ago. How many people are in Alberta? Four and a half million maybe? What brings our province together, always? No. 1 sports, No. 2 church, No. 3 music.
"What's this doing to Alberta right now? It's bringing people together. They might cheer for the Oilers, they might cheer for the Flames. Big deal. It's sport. That's what it's about.
"Is it important? Damn right it's important. It's great for the league. It's great for Alberta, especially with what's gone on. COVID, oil and gas, livestock, agriculture, we've all got smoked here the last two years, right? It's good to see that energy, all that's positive and it's awesome." — Flames head coach Darryl Sutter
—
"It's huge. The Battle of Alberta is another level in the regular season, and now for us — as players, fans and the cities — to have that rivalry exist in the playoffs is something special. I think we are all going to try and take it in, do our best and live in the moment." — Oilers forward Derek Ryan.
—
"Honestly, I think (the media) hypes it up more than the players do. Being close distance-wise makes it a little more interesting, but to us, we are not getting caught up in the hype. It is just another series for us." — Oilers goaltender Mike Smith.
—
"I haven't been to the second round since my first year in the league, so this is real exciting for me, especially being the Battle of Alberta. I've been in the city long enough to know what that means." — Flames defenceman Michael Stone.
—
"It's not so often you get traded from a rival team to another that's in the same province, and then you end up playing them in a playoff series. And not just the playoff series, it's the second round of the playoffs. Add it to the list of things I've been very fortunate enough to experience in my hockey career." — Flames forward Milan Lucic.
—
"I know everyone is looking forward to it. Two really good teams that just got out of two hard-fought series. It's not only big for the teams. It's big for the province. This is, personally, probably the biggest series I've ever played in." — Oilers forward Zack Kassian.
—
"Being part of a series that has history is special. It's moments that fans will relish and look back on. To have the chance to go to the conference final and have the chance to be Canada's team, that's an opportunity that both sides are eager to be (have)." — Oilers forward Zach Hyman.
—
"It's big for the province and all that, but I think our focus is Game 1. It's a really important game. Get ready and all the noise and media and that stuff, you've got to block it out. It's going to be fun, it's going to be wild in the crowd, but on the ice, we've got to be composed and play our game. — Flames goaltender Jacob Markstrom.
This report by The Canadian Press was first published May 17, 2022.
The Canadian Press
Loaded handgun seized in Red Deer traffic stop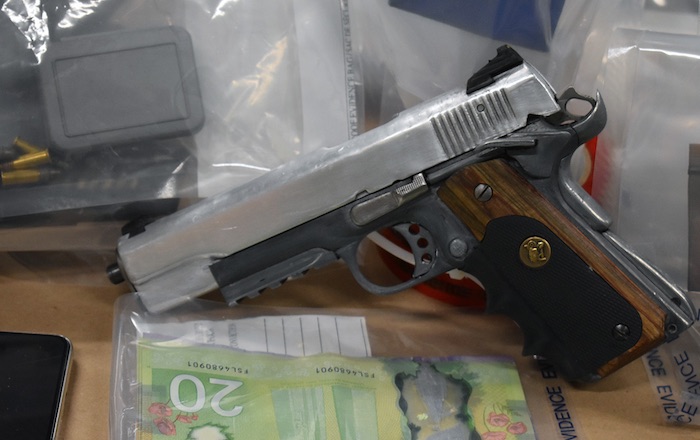 News release submitted by the Alberta Law Enforcement Response Team (ALERT)
A variety of drugs and a loaded handgun were seized from a suspected Red Deer drug dealer by ALERT. The handgun, which had its serial number defaced, was located following a traffic stop.
ALERT Red Deer's organized crime and gang team made the seizure on May 4, 2022 after conducting a planned vehicle stop near Gasoline Alley in Red Deer County. A 41-year-old suspect was arrested, but has yet to be formally charged.
"Taking a handgun out of the hands of a drug dealer is a measure of success towards reinforcing community safety. ALERT continues to work with our partners at Red Deer RCMP, and neighbouring detachments, to disrupt and dismantle drug trafficking activity," said Staff Sgt. Jason Gibson, ALERT Regional teams.
Along with the handgun ALERT located a variety of drugs inside the vehicle, including:
40 grams of fentanyl;
28 grams of methamphetamine;
6 grams of cocaine;
30 milliliters of GHB;
16 assorted illicit prescription pills; and
$360 cash.
The handgun will be submitted for ballistic testing and firearms analysis.
The investigation remains ongoing as investigators are preparing reports and disclosure for Crown Counsel.
Members of the public who suspect drug or gang activity in their community can call local police, or contact Crime Stoppers at 1-800-222-TIPS (8477). Crime Stoppers is always anonymous.
ALERT was established and is funded by the Alberta Government and is a compilation of the province's most sophisticated law enforcement resources committed to tackling serious and organized crime.