New life in Canada for family that helped Edward Snowden flee to Hong Kong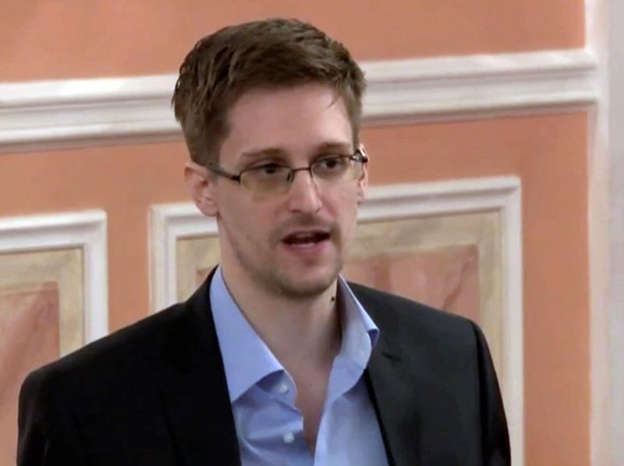 MONTREAL — A family that helped shelter whistleblower Edward Snowden in Hong Kong in 2013 has landed in Canada and is looking forward to beginning an "extraordinarily normal life" in Montreal, says a refugee advocacy group.
Marc-André Séguin with For the Refugees said Supun Thilina Kellapatha, Nadeeka Dilrukshi Nonis and their children, Sethumdi and Dinath, are settling into their new apartment in the city after arriving Tuesday night from Toronto.
Séguin, who is also a lawyer, said the family is jet-lagged and exhausted but thrilled to have been granted asylum.
"After years and years of waiting, to finally see the light at the end of the tunnel, to finally have the expectation of a better life, of safety and of having their stateless children recognized and acknowledged by a state was a tremendous moment for them," Séguin said Wednesday in an interview.
The family's arrival in Canada is the culmination of a long saga going back to 2013.
The family members are among the seven people dubbed "guardian angels" who offered help and shelter to Snowden when he fled to Hong Kong after leaking classified documents from the U.S. National Security Agency, which exposed the scope of massive government surveillance operations.
Séguin said the helpers were all asylum seekers from Sri Lanka and the Philippines. While their involvement was originally kept quiet, he said the 2016 film "Snowden," directed by Oliver Stone, brought them notoriety and made the process of claiming official refugee status — which is already extremely difficult in Hong Kong — nearly impossible.
The aid group ultimately decided on Quebec as a destination, Séguin said, because it's safe and because the province has a program that accepts privately sponsored refugees without requiring they get official designation from the United Nations refugee agency, UNHCR.
Two of the other "Snowden refugees" — Vanessa Rodel and her daughter Keana — landed in Montreal in 2019, and the last remaining member of the group remains in Hong Kong awaiting approval to come to Canada.
Snowden said on Twitter Tuesday the family's arrival is "the best news I've heard in a long, long time," and he thanked those that helped the family.
"We need to bring one more home before we can say we're done, but I cannot thank you enough for bringing us this far," he wrote. Séguin would not confirm whether Snowden has direct contact with any of the families.
Séguin said the new arrivals are looking forward to an "extraordinarily normal life" that includes being able to work and go to school, and the children, aged five and almost 10, getting their first photo IDs.
"They'll get to open bank accounts, they'll get to work," he said. "The children are acknowledged by a state for the first time in their life. They'll have their first photo IDs.
"All these day-to-day mundane things we all take for granted but for them are really extraordinary right now."
The lawyer said the good news of the family's arrival is overshadowed by the fact the final member of the group, Ajith Pushpakumara, remains in Hong Kong in a situation he described as "fragile."
Séguin said the group doesn't understand why it has taken the Canadian government so long to approve the claims, which were filed in early 2017, nor why some members of the group have been approved more quickly than others.
"Canada did an extraordinary thing in admitting six of the seven Snowden refugees," he said. "It's time to do one more thing and let the seventh one in as soon as possible."
This report by The Canadian Press was first published Sept. 29, 2021.
Morgan Lowrie, The Canadian Press
People planning to attend AIDS conference in Montreal still struggling to get visas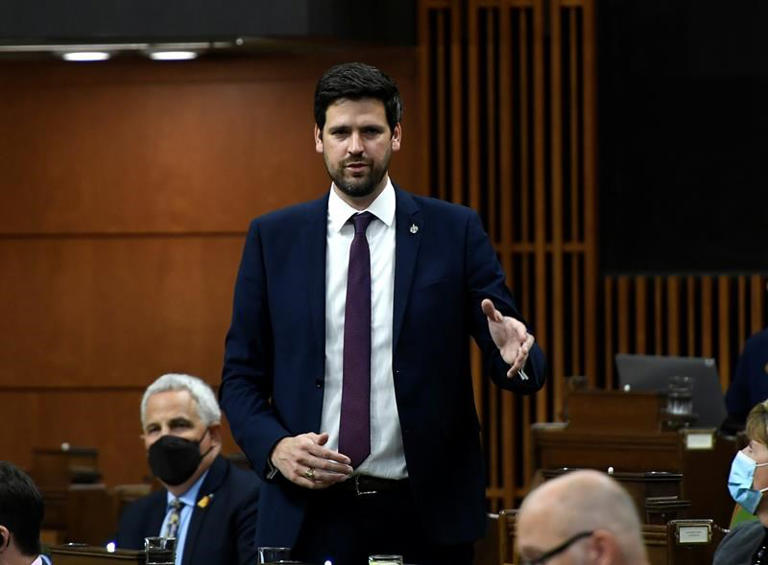 MONTREAL — International AIDS organizations say people from Africa, South America and Asia who are planning to attend a major AIDS conference in Montreal are still struggling to get visas from the Canadian government.
The groups say a growing number of activists — including some who were scheduled to speak at the conference which begins at the end of the month — are having their visa applications denied, often on the grounds that the Canadian government doesn't believe they'll return home after the event.
Tinashe Rufurwadzo, the director of programs, management and governance at Y+ Global, an international organization of HIV+ youth, said the chair of his organization's board and another of its employees, who are based in Malawi and Kenya, are among the young activists who have been denied visas to attend the conference.
He said both have travelled extensively to speak at AIDS-related events.
"Personally, I'm sick and tired of seeing young people from Africa mostly portrayed on PowerPoint slides as pictures, as photos on banners, as footnotes on case studies. Why can we not have them at conferences to share their lived experiences of what exactly is happening?" he said in an interview Friday.
Rufurwadzo said representatives of populations most at risk of HIV — such as people who inject drugs, transgender women, sex workers and gay men — need to be able to participate, as do adolescent girls, who are increasingly affected by HIV.
If people from the most affected countries aren't able to attend, he said he doesn't know how realistic the learning at the conference will be.
While those whose applications are denied will be able to attend the conference virtually, Rufurwadzo said that won't allow the same level of participation. He also said young people, especially those from rural areas, may not have consistent access to the internet.
Last week, almost 250 organizations from around the world sent a joint letter to Immigration Minister Sean Fraser calling on him to take action to ensure participants can attend the International AIDS conference.
Aidan Strickland, a spokesman for Fraser, said in response to earlier questions from The Canadian Press that the department has been working closely with event organizers and that applications "have been assessed in a timely manner."
"While we cannot comment on the admissibility of any particular individual, we can say that, in general, all visitors to Canada must meet the requirements for temporary residence in Canada, as set out in Canada's Immigration and Refugee Protection Act," Strickland said in an email. "All applications from around the world are assessed equally against the same criteria."
Javier Bellocq, an Argentine who runs a community journalism project called the Key Correspondent Team which focuses on people living with HIV and high-risk groups, said from the stories he's heard, it seems like each Canadian consulate is applying different rules.
In some places, he said, applicants have been required to pay for medical examinations as part of the visa process.
"The conference, in theory, arranged with the Canadian government that there will not be medical examinations, but there are, there are many medical examinations."
Of a group of 40 Argentines, including Bellocq, who are planning to participate in pre-conference activities, only two have received visas so far, he said.
Tumie Komanyane, who runs programs for international NGO Frontline AIDS in South Africa, said groups she works with were planning to help more than a dozen young people attend the conference, but decided not to even bother applying for 10 visas after the first four applications were rejected.
Komanyane said she's aware of other young people from the region, including some who had scholarships to attend the conference funded by the Canadian government, who have had their visa applications denied.
"It's incoherent," she said in an interview Saturday. "With the strides that Africa is making in the HIV field, all the lessons and evidence that could be coming from the beneficiaries directly is going to be lost."
While she works with young people, she said, she doesn't want to speak for them.
"They have agency, they have voice, and they shouldn't be represented by people like me. They should be able to go and share what this work means for them," she said.
Bellocq said he's not worried about himself, noting the Argentine passport is relatively powerful and he's a professional who has been travelling internationally form more than 30 years. But he worries about people from countries with less passport privilege and members of marginalized groups who are at high risk of HIV.
With pre-conference events starting in just over three weeks, he said, "time is not on our side."
This report by The Canadian Press was first published July 2, 2022.
Jacob Serebrin, The Canadian Press
Blue Jays deal with 2 losses to Rays, off-field personal matters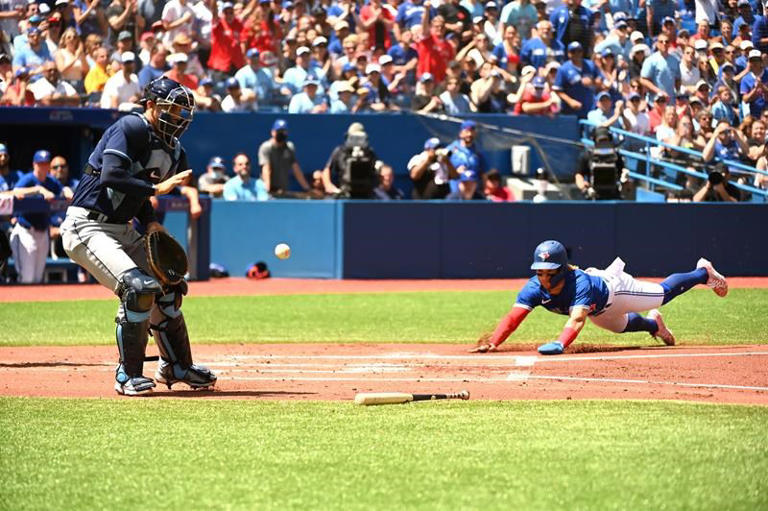 TORONTO — Back-to-back losses in a doubleheader paled in comparison to off-field concerns for the Toronto Blue Jays on Saturday.
Francisco Mejia had a two-run homer in the second inning and a solo shot in the fifth to lead Tampa Bay to an 11-5 rout of the Blue Jays hours after Isaac Paredes and Wander Franco each had a solo home run as the Rays won the first game 6-2.
Toronto first base coach Mark Budzinski left the second game early, with manager Charlie Montoyo repeatedly leaving the dugout for the clubhouse during the game. Bench coach John Schneider filled in as manager during Montoyo's brief absences.
The Blue Jays closed their clubhouse after the game and cancelled their post-game media availabilities.
"As many of you are aware, Mark Budzinski left early in the game tonight," read a statement from the team. "He is dealing with a personal matter and Charlie and our coaches are with him.
"Out of consideration for Bud, we ask that you please respect his privacy at this time. Thank you."
The Blue Jays also had a scary moment in the second inning of the first game when starting pitcher Kevin Gausman took a sharply hit ball off of his right ankle.
He lay prone on the turf in front of the mound as catcher Gabriel Moreno completed the play. After the out trainers came to examine Gausman on the field before helping him to the clubhouse.
His X-rays came back negative and Montoyo said between the games that the pitcher had a contusion.
"Just like everybody else, I was hoping that it wasn't anything worse than a contusion and that's what had happened and that's good news," said Montoyo, who said Gausman would be considered day-to-day.
Paredes added a three-run homer and an RBI double in the late game as Tampa (42-36) earned back-to-back wins.
Starter Drew Rasmussen allowed two runs — one earned — on five hits and two walks over 4 2/3 innings. Reliever Dusten Knight allowed three runs over 2 1/3 innings and Ralph Garza Jr. earned the win, pitching scoreless ball the rest of the way.
Bradley Zimmer had a two-run homer for Toronto (44-35) and Vladimir Guerrero Jr. added a solo bomb.
Thomas Hatch (0-1) coughed up 10 runs on 12 hits and two walks in 4 2/3 innings. Matt Gage, Sergio Romo, Tim Mayza and Adam Cimber came on in relief, with Gage allowing a run.
Tampa had lost four straight heading into Saturday's doubleheader, including losses in Toronto on Thursday and Friday.
"That was an exciting day. We had to find a way to bounce back, we did," said Rays manager Kevin Cash. "It kind of all came together for us through the course of a long day.
"It's tough to win both games of a doubleheader, so really proud and impressed with the guys."
EXTRA HELP — Casey Lawrence was recalled from triple-A as the 27th man for both games of the doubleheader. He pitched 5 2/3 innings of relief in Saturday's first game, allowing six runs to take the loss. Relief pitcher Max Castillo was sent down to triple-A between games to make space for Hatch on Toronto's roster.
PIRATES TRADE — The Blue Jays announced a trade with the Pittsburgh Pirates for left-handed pitcher Anthony Banda during the first game of the doubleheader. Toronto sent cash considerations to Pittsburgh in return. Righty Julian Merryweather was transferred to the 60-day injured list.
UP NEXT — Ross Stripling (4-2) will start for Toronto in the finale of the rare five-game series against Tampa Bay. Shane Baz (0-1) will take the mound for the Rays.
This report by The Canadian Press was first published July 2, 2022.
John Chidley-Hill, The Canadian Press