New eastbound bridge for southeast Stoney Trail awarded to PCL Construction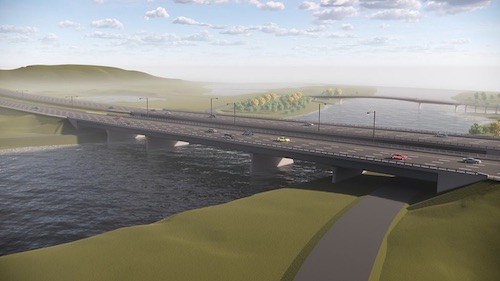 From the Province of Alberta
PCL Construction has won the contract to replace the eastbound bridge over the Bow River on southeast Stoney Trail in Calgary.
The contract was awarded for about $48 million and offers significant savings for taxpayers. The total project cost, which includes engineering and utility relocations, is estimated at $60 million – significantly less than the anticipated cost of $70 million.
"With the next step in this strategic project complete, we are creating hundreds of jobs to drive Alberta's recovery and saving taxpayer dollars at a time of fiscal restraint. Calgarians can look forward to safer and faster rides on an even more complete Calgary Ring Road."
"New and widened bridges are great news for south Calgary residents who have been waiting for safer ways to get to work and play. Alberta's government is focused on strategic projects that deliver value and jobs when they're needed most."
"PCL is excited to work with Alberta Transportation on this component of the Stoney Trail Calgary Ring Road, a key project to connect Calgarians. Once complete, this segment will be safer for vehicles, cyclists and pedestrians."
The South Bow River Bridge project also includes widening the westbound bridge and building a new, stand-alone pedestrian bridge.
Construction on the new bridge is anticipated to get underway in spring 2021 and be completed in late 2023.
Alberta's Recovery Plan is a bold, ambitious long-term strategy to build, diversify, and create tens of thousands of jobs now. By building schools, roads and other core infrastructure we are benefiting our communities. By diversifying our economy and attracting investment with Canada's most competitive tax environment, we are putting Alberta on a path for a generation of growth. Alberta came together to save lives by flattening the curve and now we must do the same to save livelihoods, grow and thrive.
Quick facts
More than 53,000 vehicles travel over the bridge daily.
This number is expected to increase when the Calgary Ring Road is completed.
The South Bow Bridge project will support about 244 jobs.
The project includes:

Widening the existing westbound bridge to add a fourth lane.
Replacing the existing eastbound Stoney Trail bridge with a new, wider bridge over the Bow River.
A new pedestrian bridge south of the existing bridge that will connect to the existing pathway networks.
Improvements to interchanges between Sun Valley Boulevard/Chaparral Boulevard and Cranston Boulevard /Mckenzie Lake Boulevard.

This project is part of the more than $10 billion infrastructure spending announced as part of Alberta's Recovery Plan. This spending includes:

$6.9 billion Budget 2020 capital spending
$900 million accelerated for Capital Maintenance and Renewal
$200 million for Strategic Transportation Infrastructure Program and water infrastructure projects
$700 million in strategic infrastructure projects, $500 million in municipal infrastructure,
$1.5 billion for Keystone XL
Calgary Flames start afresh with head coach Darryl Sutter, new leadership
CALGARY — A significant change in leadership under new-ish head coach Darryl Sutter make the Calgary Flames a team in transition heading into the 2021-22 season.
"Honest, hardworking" is the identity Sutter wants for a club that either missed the playoffs or exited in the first round all but one season since Sutter coached the Flames to the Stanley Cup final 17 years ago.
A second-round appearance in 2015 is Calgary's deepest post-season run since losing the Cup final in seven games to the Tampa Bay Lightning in 2004.
Sutter returned to Calgary's bench 26 games into a 2020-21 season shortened by COVID-19. Geoff Ward was fired when the Flames were 11-11-2.
Calgary went 15-16-1 under Sutter to finish fifth in the North Division and four points out of a playoff spot. He's the team's third coach since 2019 following Ward and Bill Peters.
The Flames went 6-3 against the eventual Stanley Cup finalist Montreal Canadiens last season, but "we struggled against all the other teams," goaltender Jacob Markstrom said.
Calgary opens this season Saturday in Edmonton against the Oilers before Monday's home-opener with the Anaheim Ducks.
The Seattle Kraken plucking captain and top defenceman Mark Giordano in the summer's expansion draft left a void in both leadership and quality back-end minutes.
For the first time in almost a quarter-century, the Flames opened training camp without a captain. Sutter wasn't in a hurry to name Giordano's replacement.
Mikael Backlund, now the longest-serving Flame, Matthew Tkachuk and Sean Monahan are potential candidates.
This edition of the Flames got a training camp in with the 63-year-old Sutter from Viking, Alta., who doesn't filter his public comments when he's displeased with a player or the team.
"As you guys know, he's very black-and-white when it comes to what he wants out of you, which I think is great. It makes everything clear," forward Milan Lucic said.
"If we just come together as a team and follow his lead and follow his message, that's when we'll have the most success."
Sutter's blunt assessment of the Flames to conclude last season was the team couldn't execute at a pace the league demands.
A training camp of hard skates rectified that.
"Better-conditioned and a faster-paced team," Sutter said.
Tkachuk, Monahan, Johnny Gaudreau and Elias Lindholm producing seasons of 70-plus points, as they all did when the Flames topped the Western Conference in 2018-19, would help return Calgary to the NHL's top tier of teams.
A healthy Monahan, who was plagued by hip problems most of last season and underwent off-season surgery, bodes well for Calgary's offensive depth.
"We're a group that can rely on different guys in different moments," Lucic said. "We're not always relying on one or two guys to do everything for us."
Giordano's departure spreads more responsibility among returning defencemen Rasmus Andersson, who will quarterback the top power-play unit, Noah Hanifin, Chris Tanev, and Juuso Valimaki.
JOHNNY GAUDREAU
Contract talk will swirl around Calgary's top points producer for five of his seven NHL seasons. The 28-year-old left-winger is in the final season of six-year contract paying him an average of US$6.75 million annually. Gaudreau wished aloud during training camp for a more regular right-winger for himself and Monahan instead of a revolving door, although it's likely Gaudreau will spend some time on a line with Lindholm and Tkachuk.
ANDREW MANGIAPANE
The 25-year-old winger from Bolton, Ont., had a breakout performance leading Canada to gold at the men's world hockey championship in June. Canada was 0-3 when he joined the roster, but Mangiapane galvanized the Canadians with seven goals and four assists in seven games en route to earning tournament MVP honours.
INCOMING
Winger Blake Coleman is fresh off back-to-back Stanley Cup wins with the Tampa Bay Lightning. Veteran forwards Trevor Lewis (2012, 2014) and Brad Richardson (2014) won Cups under Sutter with the Los Angeles Kings. Defencemen Nikita Zadarov and Erik Gudbranson were brought on board to backfill the loss of Giordano's minutes. Backup goalie Dan Vladar, a 24-year-old Czech, owns a career five NHL starts. Kirk Muller and Cail MacLean joined Ryan Huska as Sutter's assistants.
JACOB MARKSTROM
The 31-year-old goaltender posted decent numbers in his first (shortened) season in Calgary with a 22-19-2 record, a 2.68 goals-against average, a .904 save percentage and three shutouts. The Flames will need more than decent from the $6-million-a-year Swede for a long post-season run. If he stays healthy, Markstrom could surpass his previous season-high 60 starts. Add games he could play for Sweden at the Winter Olympics to his season workload too.
SCHEDULE WATCH
The expansion Kraken and their first captain Giordano are in town Dec. 23. After 10 meetings with the Edmonton Oilers in the North Division last season, the Flames face their provincial rival just four times in 2021-22.
This report by The Canadian Press was first published Oct. 13, 2021.
Donna Spencer, The Canadian Press
Calgary Beer is Back! Calgary Craft Brewer reimagines one of Alberta's most iconic brands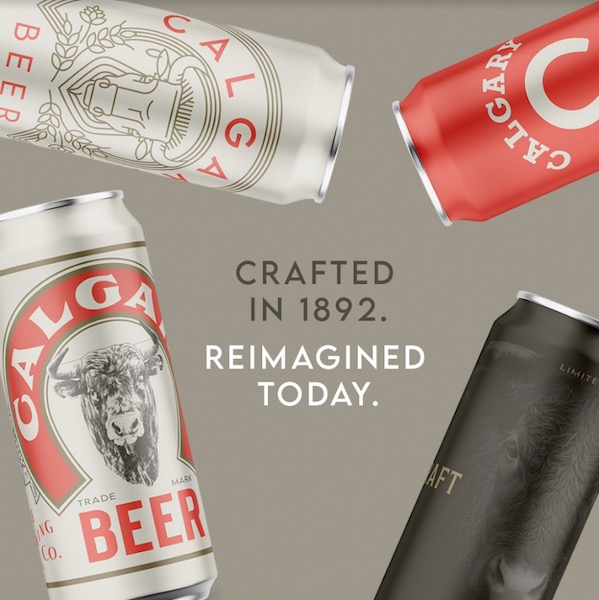 From technology, to communication, all the way to beer, our world is changing more rapidly every day.  Who could have imagined how the brewing industry would be turned upside down by craftsmen and entreupreneurs who risk it all for their passion to create a better product right in their community?
In a world that used to be very predictable, everyday another new craft beer hits the market.  It's hard to keep up, though many of us are doing our best.  Despite all the excitement around the new tastes and all the clever marketing needed to get those beers into our hands, we all know a few people who are 'holding out'.  Maybe they don't like change.  Maybe they don't know where to start.  Maybe they're perfectly fine with the same safe brew they've been tasting for their entire adult lives.  Maybe they should know one of Alberta's finest craft brewers is bringing back a familiar brand, offering a ton of comfort and enjoyment, one sip at a time.
The renowned brand "Calgary Beer" is back!  And of all the craft brewers in Southern Alberta, Village Brewery is the natural choice to have taken on this "reimagined" project.  Village Brewery was established by seven veterans of the brewing business, all with an equal passion for beer, and for their community.  It made perfect sense for this group to recognize their roots by recreating some local history in the town they love so much.  Just in case you didn't know, Village Brewery turns 10% of their profits, back to the Calgary community.
When Village Brewery Re-launched Calgary Beer they were nice enough to make their Head Brewer Jeremy McLaughlin available for a few questions.
Here's Jeremy McLaughlin.
1) Why are you bringing "Calgary" back?
The Calgary Beer brand is an important part of beer history in Calgary. It dates back to 1892 and the brand imagery is iconic and represents the origins of beer in Calgary. At Village Brewery, we have always been about supporting the community and bringing people together around beer. The idea of being able to produce something under this brand just fits so well with what we stand for at Village. It's special to us because we were given an awesome opportunity to modernize both the label and the recipe for today's craft beer fans.
2) Is this the exact same "Calgary" I drank many years ago?
Since the core ideology of this was to modernize the brand, we were not going to be using the same Export Lager style or name and decided to go with "Craft Lager". We felt this would reach the audience that Village reaches already. The main distinction, in terms of ingredients, is a significant hop character (from Ella, Sabro and Enigma), which make up the flavour profiles of a lot of craft beer.
3) Talk about the "craft" version. The can looks fantastic by the way. Curious about that and the beer itself.
The beer is really something that we as a brewery were looking to explore, a Craft Lager or dry-hopped lager is very much in the realm of beer profiles that can be interesting to new craft drinkers but something that experienced craft connoisseur would find interesting as well. A breakdown on ingredients and vital stats should get the conversation started here:
-ABV is 5.00%
-IBU: 15
-Colour: Light Gold
-Clarity: Light/Moderate Haze -Malt: Rahr 2-Row
-Yeast: Escarpment's Krispy Kveik
-Hops: Ella, Sabro and Enigma (all mainly used as a dry-hop). These are symbolic to the ideology of the project (modernization and reimagining, while paying respect). These hops are developed through breeding programs, which modernized historical varieties of hops.
The can design was by Jackson and includes 4 versions
-A vintage throw-back to the original design
-A modernized vintage design featuring design concepts that are popular in craft breweries today (line art)
-A more high design variation that is black with the bull image wrapping the can
-A minimalistic version featuring a red backdrop and a white horseshoe, focusing on clean and crisp presentation
All Alberta residents can purchase this limited edition lager by clicking this link.