NCAA playoff race heats up for Red Deer defenceman
by Rob Gilgan

It's all on the line Saturday for Abagael Thiessen as the 18 year-old guards the blue line to start the second round of the NCAA playoff drive. Her team, the University of North Dakota Fighting Hawks (UND), won the best-of-three first round, taking out the Ohio State Buckeyes, but now face a much tougher foe, the top-seeded University of Wisconsin Badgers in a must-win WCHA semi-final.
When the Fighting Hawks faced the Badgers last month, they held them to the fewest shots on goal all season, but bowed out by a single goal. Both January meetings, on the road for the Fighting Hawks, were one-goal games, upping the ante for Saturday's matchup.
If the Fighting Hawks (16-15-6) get past the Badgers, (29-2-4), they'll suit up Sunday against the winner of the University of Minnesota Golden Gophers and Minnesota Duluth Bulldogs, who ride 26-6-5 and 24-5-5 records, respectively, into the playoffs. Two wins this weekend and the Fighting Hawks punch their ticket into the NCAA quarterfinals, where they'd compete to make the 2017 Final Four and a national championship.
Abagael believes UND saw her as a steady defenseman who could come in and play right away, and she's done that, playing in 34 of the team's 37 games. "They saw a lot of potential, I think. They knew some of my goals, and it wasn't 'Come here and you'll play', it was 'Come here and you'll get better'. They knew that I could be a better player than I was, coming out of Midget."
The journey to Abagael's first NCAA playoff started in Red Deer, when, as a Bantam player, she switched to girls' hockey. "I became aware that there was an opportunity for me afterward. Some of the girls, like Amanda Young or Kendice Ogilvie went to Cornell, which is another NCAA division one school. Seeing that they could do it, I started making that a goal of mine," she explained. "I would say my hockey is kind of driving my education, just because I picked my college based on it being a professional career, I guess I chose (UND) for hockey first, for education second."
She played four years of Midget in Red Deer, culminating with a silver medal in the Esso Cup, hosted by her Sutterfund Midget AAA Female Chiefs. She's also been part of the U18 Team Alberta and has competed with the Canadian national team. "There are lots of national team players in our conference so playing against them game in and game out makes a huge difference. It forces you to be better. I've gotten a lot more confident, making plays that maybe I wouldn't have made in Midget, getting stronger and just getting better, in general. As a young kid, you can't come in and expect to be on the top line, especially at such a competitive school. The coaches were pretty honest and said I'd be coming in and competing for spot, that I wouldn't have a spot given to me, I'd have to come in and work for it."
Abagael is in her freshman year, studying business with a Pre-investment major, with a double minor in economics and sport business. She travelled to North Dakota in May of 2016, moving into an apartment and taking classes through the summer. Having 3 months to get used to the change before hockey started in September eased her into her new home and team. She and eight other girls got together over the summer, to skate and stay in condition.
Arriving in North Dakota, she was one of the younger players and needed to get used to that role and not get discouraged, plus make the adjustment to living away from home for the first time. "The girls really help with that," she says," adding, "They welcome you, they help you out, same with the coaches, they did a really good job of taking care of us right from the start, making sure we were ready."
Statistically, she's had a good year so far, picking up 4 assists in 34 games and getting 21 shots on goal. On December 20, she was named Rookie of the Week, having recorded a career-high two-point outing in a 5-0 win at Lindenwood four days earlier. On paper, Saturday's game is a bit of a mismatch, but that doesn't dampen Abagael's aspirations. The Fighting Hawks might be guilty of a little complacency with a weaker opponent, but come to play when the competition picks up. "We've struggled a bit against the lower-end teams, but we always give the higher-end teams a run for their money."
Half way through the season, Abagael was confident the team could go deep in the playoffs. "I think we should go pretty far, hopefully. We're a pretty good team, we have a tough conference, it's always a team from our conference that wins the national championship."
Abagael is on a full-ride scholarship at UND and maintains that with five courses per semester, which translates into about 10 hours per week of classes. Add out of class study time and 15 hours per week of practice and conditioning and a pair of games pretty much every weekend and it's a busy, involved schedule. "The big difference is how much time you spend on the ice. I was never on the ice every day in high school; we're on the ice every day and we work out two times a week, depending on when we play. It made me realize how much work goes into being a high level athlete."
She plans to spend three more years at UND, completing her degree, but also moving ahead as a player. Her current role, as a freshman, is to play the game simply and maximizing her impact defensively. "Hopefully, in the next couple of years, I can transition into a more involved role, but for now it's stay at home, steady, consistent." She doesn't have a specific academic game plan, but knows she will have plenty of options, potentially going on to law, or the financial side of sports. The four-time honour roll Notre Dame High School graduate continues her academic performance at UND, on the Athletic Director's Honor Roll for Fall 2016.
The WCHA (Western Collegiate Hockey Association) includes teams from North Dakota, Wisconsin, Minnesota and Ohio and is the perennial NCAA women's hockey champion. The team has also travelled out of conference for games and hosted other out of conference teams at Grand Forks. The Fighting Hawks play in an impressive arena and attract 500-1000 fans to games, depending on the opponent. "I think some of us younger girls realized how privileged we are to play at the rink we're at and the town we're at; we get good crowds and we have a spectacular rink, we go to some other places and really appreciate what we have at home."
Check out Abagael's game Saturday: CLICK HERE
Visit the Fighting Hawks on the web: CLICK HERE
Photos courtesy UND Sports
#UNDPROUD
Red Deer Minor Hockey is proud to announce our new General Manager Lane Moore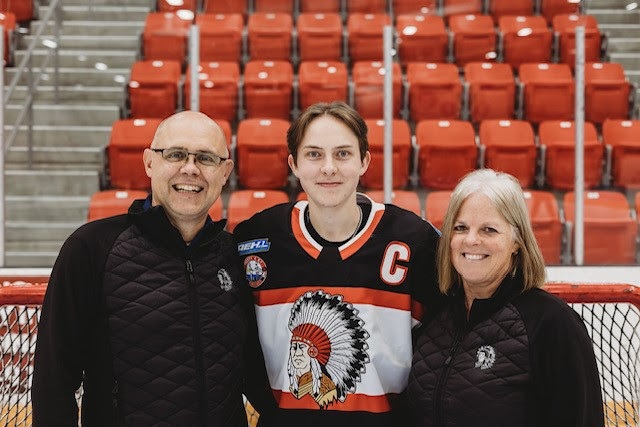 From Red Deer Minor Hockey
The Red Deer Minor Hockey Board of Directors is pleased & honored to announce, after an extensive search, that Lane Moore has accepted the position of General Manager of Red Deer Minor Hockey. Lane will start his new role early in the new year & is very excited about leading our organization into the future as we aim to provide a positive learning and maturing experience for all of our young athletes & coaches in a minor hockey setting.
Lane comes into the role of General Manager with an extensive resume, in both hockey and administration. Lane has led the Bentley school as principal for the last 17 years & was an educator prior to that. On the hockey side, Lane's passion for coaching & engaging with young athletes, dates back to 2002. His most recent involvement as a coach with Red Deer Minor Hockey saw Lane lead the U17AAA North Star Chiefs for 2 seasons (21-22, 22-23). Prior to his work with Red Deer Minor Hockey Lane served as President of Rimbey Minor Hockey for several seasons.
One of Lane's biggest strengths is his ability to create highly effective teams by building a common mission & vision & then executing on those through visionary leadership. These attributes shone through during this General Manager search and we are thrilled for Lane to lead this organization now & into the future as we aim to be one of the premier Minor Hockey Associations in the province.
Lane, his wife Kathleen & their three children Easton, Cooper & Lexi call Red Deer home. His son Cooper is the captain of Red Deer U18AAA Optimist Chiefs & his older son Easton is pursuing his hockey career and post-secondary studies in Massachusetts. Please join us in congratulating Lane Moore as the new General Manager of the Red Deer Minor Hockey Commission, welcome Lane!
Today: Come meet Red Deer's Silver Medalist Rebecca Smith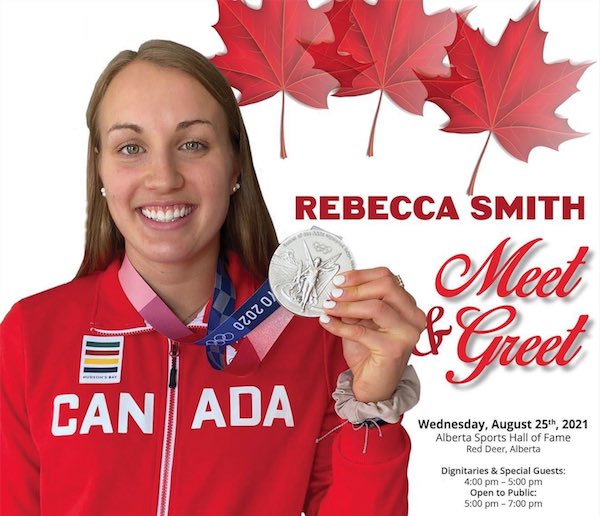 Submitted by Tourism Red Deer
Come celebrate with us and congratulate Red Deer's own Rebecca Smith.
Alberta Sports Hall of Fame and Tourism Red Deer invite you to meet Red Deer's Summer Olympic Silver Medalist Rebecca Smith!
Rebecca was a part of Team Canada's 4 x 100-meter freestyle relay swim team at the 2021 Tokyo Olympics. She'll be here to meet, greet, and show off her hardware.
Where: Alberta Sports Hall of Fame, 102-4200 Highway 2, Red Deer
When: Wednesday, August 25, 5:00 pm – 7:00 pm