NASA satellite breaks from orbit around Earth, heads to moon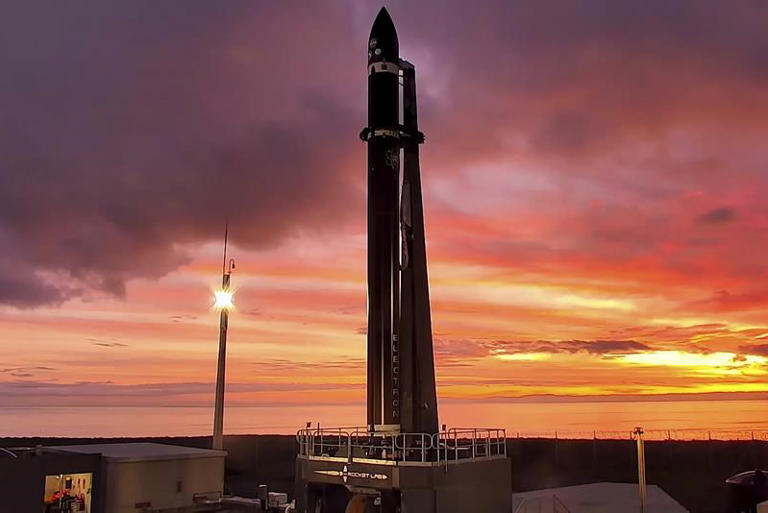 WELLINGTON, New Zealand (AP) — A satellite the size of a microwave oven successfully broke free from its orbit around Earth on Monday and is headed toward the moon, the latest step in NASA's plan to land astronauts on the lunar surface again.
It's been an unusual journey already for the Capstone satellite. It was launched six days ago from New Zealand's Mahia Peninsula by the company Rocket Lab in one of their small Electron rockets. It will take another four months for the satellite to reach the moon, as it cruises along using minimal energy.
Rocket Lab founder Peter Beck told The Associated Press it was hard to put his excitement into words.
"It's probably going to take a while to sink in. It's been a project that has taken us two, two-and-a-half years and is just incredibly, incredibly difficult to execute," he said. "So to see it all come together tonight and see that spacecraft on its way to the moon, it's just absolutely epic."
Beck said the relatively low cost of the mission — NASA put it at $32.7 million — marked the beginning of a new era for space exploration.
"For some tens of millions of dollars, there is now a rocket and a spacecraft that can take you to the moon, to asteroids, to Venus, to Mars," Beck said. "It's an insane capability that's never existed before."
If the rest of the mission is successful, the Capstone satellite will send back vital information for months as the first to take a new orbit around the moon called a near-rectilinear halo orbit: a stretched-out egg shape with one end of the orbit passing close to the moon and the other far from it.
Eventually, NASA plans to put a space station called Gateway into the orbital path, from which astronauts can descend to the moon's surface as part of its Artemis program.
Beck said the advantage of the new orbit is that it minimizes fuel use and allows the satellite — or a space station — to stay in constant contact with Earth.
The Electron rocket that launched June 28 from New Zealand was carrying a second spacecraft called Photon, which separated after nine minutes. The satellite was carried for six days in Photon, with the spacecraft's engines firing periodically to raise its orbit farther and farther from Earth.
A final engine burst Monday allowed Photon to break from Earth's gravitational pull and send the satellite on its way. The plan now is for the 25-kilogram (55-pound) satellite to far overshoot the moon before falling back into the new lunar orbit Nov. 13. The satellite will use tiny amounts of fuel to make a few planned trajectory course corrections along the way.
Beck said they would decide over the coming days what to do with Photon, which had completed its tasks and still had a bit of fuel left in the tank.
"There's a number of really cool missions that we can actually do with it," Beck said.
For the mission, NASA teamed up with two commercial companies: California-based Rocket Lab and Colorado-based Advanced Space, which owns and operates the Capstone satellite.
___
Find more AP Science coverage at https://apnews.com/hub/science
Nick Perry, The Associated Press
Miners say baby woolly mammoth find in Yukon is biggest event in life so far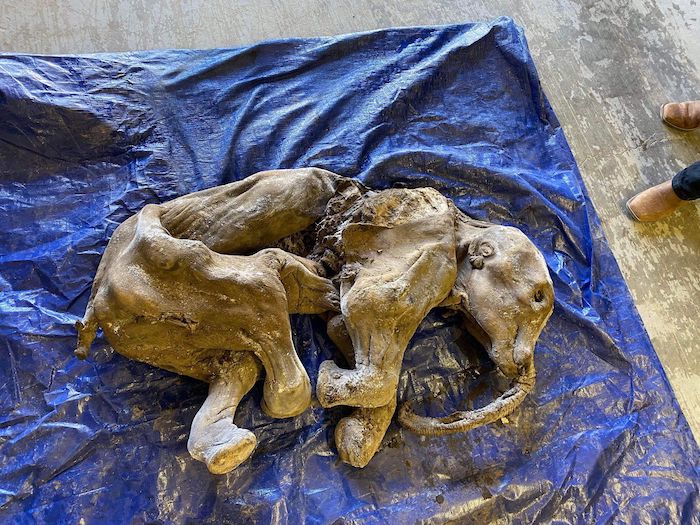 WHITEHORSE – Travis Delawski went out looking for gold but found something even more precious.
The miner for Treadstone Gold got in his excavator on June 21 just before lunch and set out for the river in Yukon's Klondike fields where he began scratching the black earth.
"I put the ripper into the wall and popped it out and looked down," he said during a briefing on Wednesday. "And there, something was looking at me."
He hopped out of his machine for a closer look while calling his supervisor, Brian McCaughan, on the radio to report that he had "found a body," he said.
At first, Delawski said he thought it was a buffalo.
"But then I got down and I looked kind of closer at it and it had a trunk. And then soon as that happened, I was like 'Brian, it's a baby woolly mammoth.'"
The Yukon government said the animal was found in the Tr'ondek Hwech'in traditional territory and is the most complete and best-preserved mammoth found in North America.
Tr'ondek Hwech'in elders named the mammoth Nun cho ga, which means "big baby animal" in the nation's Han language.
Georgette McLeod, the Han language administrator for the nation, said elders had to find a way to note the animal's significance, not just as a living being but also as a baby.
"The history of the Han language goes quite far back in the span of time, but there is no name for a mammoth because it doesn't exist in the Han language," she said.
"We wanted to ensure that it had a name related to baby, but it also signifies that this is a very large animal that has walked these lands for a number of years."
Brian Groves, senior heritage manager for Yukon, said preliminary examinations show Nun cho ga was female and between 30 and 35 days old when she died.
She was frozen in the permafrost about 30,000 years ago.
The animal is about 140 centimetres long and has well-preserved hair, trunk and tiny toenails that haven't been hardened.
McCaughan, owner of Treadstone Gold, said when he went to look at the animal, he expected to see "broken-up bones," which are usually found in the area.
"I walked over to look at the bones and it had fresh skin on it and hair and looked like it died a week ago," he said with a laugh.
The significance of the discovery for him sinks in a little bit every day even nearly a month after she was found, he said.
"What a crazy unbelievable find," he said, shaking his head.
There was a storm at the end of the day with bolts of lightning "dropping around us" and "rain poured sideways," he recalled.
"It was an experience that just grows on you and every day you get emotional about it because you get connected."
There is something in everyone's life that stands out, and McCaughan said the day he saw Nun cho ga was his.
"This is absolutely my No. 1 in the rest of my life," he said.
Jeff Bond, a manager at Yukon Geological Survey, said Nun cho ga likely died near a small stream coming off the side hill into Eureka Creek.
"It was subsequently buried likely by a mud flow that came down in a storm event," he said. "Probably not unlike the storm event that we experienced on June 21 when we recovered it. That in itself is quite significant in my mind."
The men put Nun cho ga in an excavator bucket after she was found and covered her with tarps and blankets to keep the body cold.
Woolly mammoths travelled across the Northern Hemisphere but disappeared about 10,000 years ago because of warming temperatures and excessive hunting.
Ross McPhee, senior curator at the department of mammalogy for the American Museum of Natural History, said the animal can offer insight into the rate of development of infant mammoths since the only information they have comes from elephants, their distant relatives.
Because the mammoths were living at a high latitude, life would have been much more dangerous than to be in the tropics, he said.
"So, what kinds of adaptations did woolly mammals have for their babies, so that they were able to mature perhaps more quickly than elephants do today."
Until a plan can be drawn on next steps, Groves said Nun cho ga will remain in a freezer, many miles from where she was found.
"At this point, Nun cho ga has been frozen for over 30,000 years and is being stored in stable conditions," he said. "And really, we're in no rush to determine what the next steps are regarding research or conservation activities."
— By Hina Alam in Vancouver
This report by The Canadian Press was first published June 13, 2022.
Elon Musk visits Brazil's Bolsonaro to discuss Amazon plans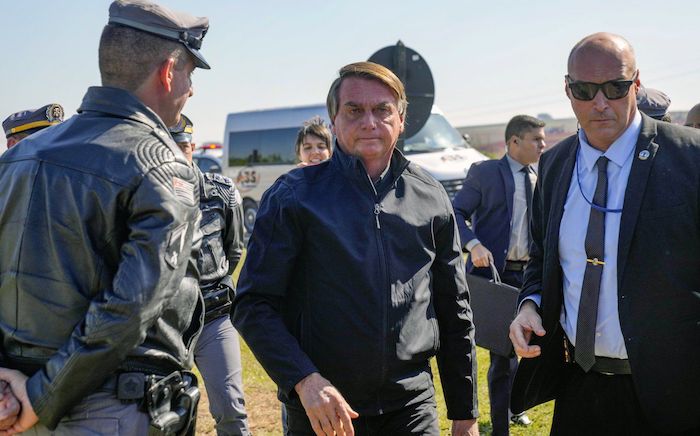 By Diane Jeantet in Rio De Janeiro
RIO DE JANEIRO (AP) — Tesla and SpaceX chief executive officer Elon Musk met with Brazil's President Jair Bolsonaro on Friday to discuss connectivity and other projects in the Amazon rainforest.
The meeting, held in a luxurious resort in Sao Paulo state, was organized by Communications Minister Fábio Faria, who has said he is seeking partnerships with the world's richest man to bring or improve internet in schools and health facilities in rural areas using technology developed by SpaceX and Starlink, and also to preserve the rainforest.
"Super excited to be in Brazil for launch of Starlink for 19,000 unconnected schools in rural areas & environmental monitoring of Amazon," Musk tweeted Friday morning.
Illegal activities in the vast Amazon rainforest are monitored by several institutions, such as the national space agency, federal police and environmental regulator Ibama.
But deforestation in the Brazilian Amazon has surged under Bolsonaro, reaching its highest annual rate in more than a decade, according to official data from the national space agency. Bolsonaro's critics say he is largely to blame, having emboldened loggers and land grabbers with his fervent support for development of the region.
During the event, Bolsonaro said the region was "really important" to Brazil.
"We count on Elon Musk so that the Amazon is known by everyone in Brazil and in the world, to show the exuberance of this region, how we are preserving it, and how much harm those who spread lies about this region are doing to us," he said.
Bolsonaro and Musk appeared in a video transmitted live on the president's Facebook account, standing together on a stage and answering questions from a group of students.
"A lot can be done to improve quality of life through technology," Musk told the crowd.
Although none of the students asked about Musk's prospective purchase of Twitter, Bolsonaro said that it represented a "breath of hope."
"Freedom is the cement for the future," he said, calling the billionaire a "legend of freedom."
Musk has offered to buy Twitter for $44 billion, but said this week the deal can't go forward until the company provides information about how many accounts on the platform are spam or bots.
Like Musk, Bolsonaro has sought to position himself as a champion of free speech and opposed the deplatforming of individuals including his ally, former U.S. President Donald Trump.
The meeting with Bolsonaro occurs just five months before the far-right leader will seek a second term in a hotly anticipated election.