N.W.T. man among finalists in international astronomy photographer contest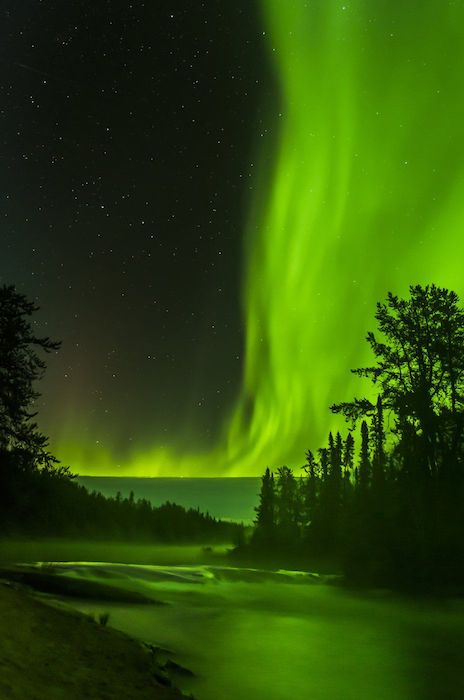 By Emily Blake in Yellowknife
A man from Yellowknife is gaining international recognition for a photo capturing a stunning display of dancing green aurora lights over the Cameron River.
Frank Bailey was the only Canadian among the finalists in the Royal Observatory Greenwich's 2022 Astronomy Photographer of the Year competition. His time-lapse photo taken outside the Northwest Territories capital landed him the runner-up spot in the Aurorae category.
"I was of course thrilled, but also humbled at the news given the quality of the entries this year," he said. "Once the overall standings were made fully public, it sunk in really quickly that this was a significant achievement and shows that I am heading in the right direction with my photography."
The annual competition is the largest of its kind and showcases space and sky photography from astrophotographers around the world. More than 100 winning and shortlisted images from this year's entries are currently on display at the National Maritime Museum in London, featuring planets, galaxies, skyscapes and other celestial bodies.
Gerald Rhemann from Austria was named the overall winner for his photo of Comet C/2021 A1, commonly known as Comet Leonard.
The top spot in the Aurorae category went to Filip Hrebenda for his photo titled "In the Embrace of a Green Lady," showing the lights reflected in a frozen lake above Eystrahorn mountain in Hvalnes, Iceland.
Bailey's photo, titled "Misty Green River," was taken last September using a 15-second exposure. He said the photo was taken looking up the river toward the riffle as mist rose off the water.
Bailey, who has lived in Yellowknife for 18 years, said he first photographed the aurora when he and his wife, Karen, lived in Yukon in the early 1980s.
He said he likes to enter competitions to get feedback on his photography.
"As for future goals, I have always said it would be a good retirement job," he said, noting he and his wife have dabbled with making sellable products such as calendars and producing prints for friends and family.
Another photo Bailey took of the aurora over the Cameron River, which he submitted to the National Wildlife Federation's photo contest in 2020, was selected for use in a holiday card collection.
He said three of his aurora photos received a bronze award from the Epson International Pano Awards in 2021.
This report by The Canadian Press was first published Sept. 24, 2022.
Canada-Morocco: Canada fans look forward to next World Cup after loss in final match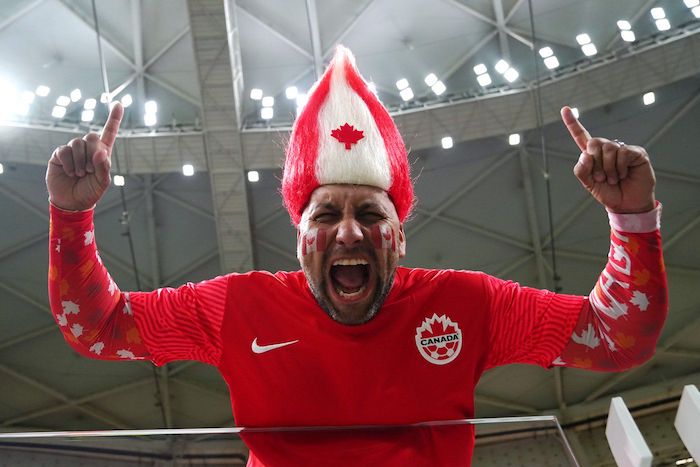 By Jacob Serebrin in Montreal
Fans of the Canadian men's soccer team were left disappointed by their 2-1 loss to Morocco on Thursday, but there was also optimism about the country's chances in World Cup 2026, which Canada will co-host.
With no chance of moving on to the knockout round in its first World Cup appearance since 1986, Canada was playing for pride. Fans said the team showed it belonged on soccer's biggest stage, and they expect the country to be stronger for the next tournament, which will include 10 games on Canadian soil.
"It's great to see Canada in the World Cup," said Nick Whalen, a former member of Parliament and an avid soccer player. He was one of about two dozen people who watched the game at the Duke of Duckworth pub, in St. John's, N.L.
"A lot of these young players are going to be around when Canada hosts in 2026. And they'll be even better then."
Fans at the darkened bar groaned as Morocco scored its second goal, expanding an early lead. But 20 minutes later, there were booming cheers as Canada scored its first goal of the game — and its second goal in men's World Cup history.
After Canada's Atiba Hutchinson headed the ball toward the net around the 71-minute mark, there were screams of anguish as the ball hit the crossbar and bounced on the goal line but didn't cross it.
In the final moments, fans erupted in cheers and applause when Canada's goalkeeper Milan Borjan ran out onto the field in a bid to add an extra player to the effort to score a tying goal. But the cheers dampened quickly as the game ended and Moroccan players jumped and waved in victory.
"You really can't fault the Canadians," Whalen said. "They really showed their hearts out there, and they made us all proud."
Sarah Dominic, who has played soccer since she was five years old, said she is also looking forward to the next World Cup.
"They're a great team," Dominic said. "They played an amazing game against Belgium. I think they've had some unfortunate results at this tournament, but I do think that we can certainly play at this level and show the world in 2026 how great we are."
Melanie Bradley, general manager at Brams United Girls Soccer Club in Brampton, Ont., said she was proud that Team Canada was playing at the World Cup, even if the team didn't make it to the knockout stage.
"We are really proud, especially here in Brampton, to have seven players that have grown up playing at our fields across the city, competing at this level and representing the country. It is a very proud moment for us," Bradley said before the game. "I think we are really starting to show the world that we are a soccer nation."
Canada did not win any of its three games. The team lost 1-0 to Belgium and 4-1 to Croatia. But despite Canada's losses, Shayne Grimmer, a lifelong soccer fan in Vancouver, said Canada "showed that we can play against the best in the world and we deserve to be on that stage."
"We're the only team other than Qatar to not get a point, but I don't think that really represents what we did in this tournament," Grimmer said shortly after the end of Canada's final match.
Grimmer, vice-president of the Vancouver Southsiders — a group of supporters for Major League Soccer's Vancouver Whitecaps — said he has high hopes for the Canadian men moving forward, noting Alphonso Davies and other top players are still in their early 20s.
"I think we're going to surprise a lot of people when we're hosting," he said.
Mexico and the United States are co-hosting the 2026 tournament with Canada; most games — including the quarterfinals, semifinals and final — will be played in the U.S.
In Montreal's Little Maghreb neighbourhood — home to a large Moroccan population — a euphoric crowd took to the streets after Thursday's win, singing and dancing amid fireworks and the sound of honking car horns.
"I came here in 2019. I am so happy for this win and for this victory," said Ali Araqi, 26. "I am very proud for all Moroccans in Montreal and for my team. They are the best in the world, and we are going to win this World Cup if we play well."
Morocco advances to the knockout stage as the winner of the tournament's Group F — the team's best performance since 1986.
Even with the loss, Canada will continue to be represented at the tournament, said Abderrahman El Fouladi, 70, who moved to Canada from Morocco 31 years ago. Morocco's goalie, Yassine Bounou, was born in Montreal and is Canadian-Moroccan, he said.
This report by The Canadian Press was first published Dec. 1, 2022.
— With files from Marisela Amador in Montreal, Sarah Smellie in St. John's, N.L., Sharif Hassan in Brampton, Ont., and Brenna Owen in Vancouver.
Man accused of killing woman in Winnipeg charged in three other homicides
WINNIPEG — A Winnipeg man charged earlier this year with the murder of a woman is facing charges in the deaths of three more women.
Jeremy Skibicki was charged in May after the remains of Rebecca Contois, who was 24, were found in a garbage bin near an apartment building.
Police at the time said they were not ruling out more victims and Skibicki is now charged with first-degree murder in three other deaths in the spring.
Police say Morgan Beatrice Harris, who was 39, and Marcedes Myran, who was 26, were killed in the first week of May.
Police say the three women were Indigenous.
The fourth victim has not been identified but police say it's believed she was also Indigenous.
This report by The Canadian Press was first published Dec. 1, 2022.
The Canadian Press