N.S. woman plans constitutional challenge of roadside cannabis test
HALIFAX — A lawyer for a Nova Scotia motorist whose licence was suspended after her saliva tested positive for cannabis says his firm will use the case to launch a constitutional challenge of Canada's revamped impaired driving laws.
Jack Lloyd says Michelle Gray's case shows the law is too broad and too vague, mainly because she was penalized even though police testing later determined she was not impaired.
"The argument is that you're going to be having people lose their liberty — Michelle was arrested and her personal liberty was taken away from her — and it turned out that she was not guilty of anything," Lloyd said in an interview Thursday.
"The government's concern (about cannabis) is overzealous and that's resulting in harms and loss of liberty for people like Michelle, who are law-abiding and would never dream of driving while impaired."
Gray uses medically approved cannabis to treat symptoms of multiple sclerosis.
"It's alarming that these people have so much power, so much leeway to use it at their own discretion," she said, referring to the RCMP.
Gray said she told police conducting a roadside check in January she had one alcoholic drink over a two-hour period before she got in her car to drive from downtown Halifax to her home in suburban Middle Sackville.
The officer then said he could detect the smell of cannabis coming from her car. That's when Gray told him she used medical cannabis to treat her MS.
Though Gray passed a roadside alcohol test, a subsequent saliva test showed trace amounts of tetrahydrocannabinol, or THC, the psychoactive ingredient in cannabis.
She was arrested and taken to police headquarters, where she was subjected to a 12-step Drug Recognition Expert Evaluation, which includes balance and memory tests.
"Balance is an issue with my MS … (and) I do have a lot of cognitive issues with short-term memory," said Gray, adding that she repeatedly reminded the officers about her medical condition.
"During this whole time, my life is flashing before my eyes. I was worried about getting charged and fined."
But that didn't happen.
Police told her she had passed the tests, which proved she was not impaired.
However, the results from the initial saliva test prompted police to suspend her licence for a week and impound her car — leaving her with a $400 bill. She also missed four days of work.
On Thursday, the RCMP admitted to making a error, confirming that Gray's licence should have been suspended for only 24 hours instead of a week.
Gray said the Mounties told her all RCMP officers in the province would now be warned against making similar errors. She said she appreciated the Mounties' review of her case, but it's not the police she's challenging.
"I'm upset with our government for putting me in this position … The police don't write bills and pass them. The government does," she said.
Tom Singleton, who has practised criminal law for 25 years in Halifax, said the problem is that the tests police use are too subjective. As well, traces of THC can remain in the body for up to a week after someone uses it.
"Cannabis is legal in Canada, and a lot of people take cannabis … for medical and other health reasons," he said in an interview.
"Yet, the mere presence of cannabis in your body would allow the police to suspend your licence … There's way too much authority given to police officers … People don't realize how draconian some of this stuff is."
The roadside saliva tests, which require a machine called the Drager DrugTest 5000, were introduced by the federal government in August.
Guidelines on low-risk cannabis use endorsed by the Canadian Medical Association and other health organizations say people should not drive for at least six hours after using cannabis. But the wait time can be longer, depending on the user and the way the THC is consumed.
As well, those who use cannabis regularly are known to develop a tolerance to the drug, which means their impairment would be difficult to gauge through drug testing.
Lloyd, a Toronto-based lawyer with an expertise in cannabis, said his firm plans to file a legal challenge under Section 7 of the Charter of Rights and Freedoms, which deals with life, liberty and the security of the person.
He said lawyers across the country are contemplating similar cases.
"The situation Michelle was in may happen more frequently in some provinces, but it's possible everywhere," he said.
Under the new law, a driver's licence can be suspended and their car impounded in some provinces if tests show at least 0.2 nanograms of THC in a saliva sample.
"That limit has no rational connection to actual impairment," Lloyd said.
"Nevertheless, people are being accused of this and their vehicles are being taken away … And in the end, they'll have a police officer tell them they're not guilty rather than a court of law."
— Follow @NovaMac on Twitter
Michael MacDonald, The Canadian Press
In a "Staggering Precedent" Trudeau government dodging parliament with massive "inflation tax" on Canadians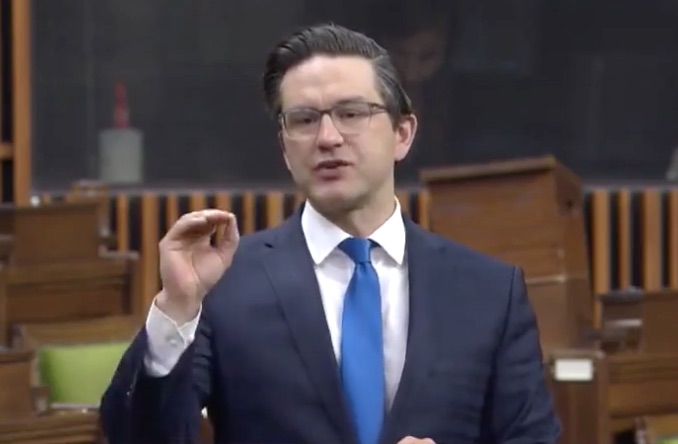 Federal Conservative Pierre Poilievre has released video from a recent Question of Privilege in the House of Commons where he explains how the Federal Liberal government has been dodging parliament to significantly raise taxes.
Instead of going further into debt or raising taxes to pay for a massive increase in government spending, the Trudeau government worked out a deal with the Central Bank.  Every week the Central Bank prints billions of dollars that go directly to government coffers.  Without a single vote and without consulting Parliament, the federal government is effectively raking in the largest tax increase in Canadian history.
By printing money at this unprecedented rate, the federal government is responsible for driving up Canada's inflation rate resulting in price hikes for virtually all goods and services.  Poilievre calls it an "inflation tax".
In this short video, Poilievre describes how the inflation tax hurts low and middle income Canadians, while increasing the value of assets owned by the richest Canadians.
New opinion surveys reveal overwhelming majority of Canadians support our Oil and Gas industry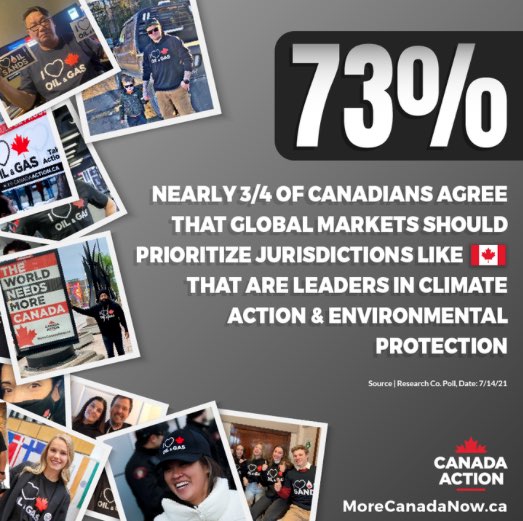 News Release from Canada Action
We are very excited to share some recent and encouraging polling results today. According to a July 2021 public opinion survey conducted by Research Co, new data shows that Canada's public perception of our responsible energy industry is very positive.
Here are some of the key findings:
Almost three in four (73 percent) Canadians polled agree Canada should be a preferred global supplier of energy because of its climate and environmental record.
Nearly seven in ten (69 percent) say they have personally benefited from the oil and gas sector.
70 percent agree that resource development could help alleviate systemic poverty within Indigenous communities.
Two thirds of Canadians (66 percent) support Canada's role as a global oil and gas supplier.
Almost three in four Canadians (73 percent) acknowledge Canada's prosperity is supported by the oil and gas sector and that Canadian oil and gas production helps fund important social programs like health care and education.
Referring to the fact 73 percent of Canadians polled also agreed it's essential First Nations be included in project development to establish long-term revenue sources for their communities, JP Gladu, acting Executive Director of Indigenous Resource Network, noted the following:
Taken collectively, this is all exceptional news for all of Canada's natural resource industries. Your support for our positive, fact based message about why the world needs more Canadian energy and resources is helping make a difference.
A Majority of Canadians 'Agree' that Canada Should be a Preferred Global Supplier of Energy: POLL