N.S. 'family that could' perished at rural getaway they had created this summer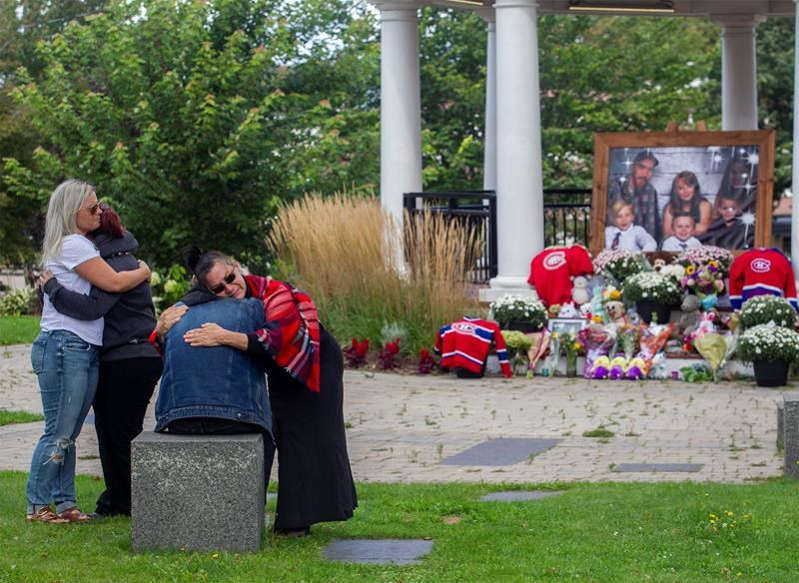 AMHERST, N.S. — What was to have been a Nova Scotia family's final wilderness outing of the summer to celebrate the third birthday of the youngest child ended in tragedy on the weekend when a fire in their travel trailer killed all six members.
On Tuesday in the centre of Amherst, N.S., where a memorial was set up to remember the local family, loved ones gathered to grieve and residents came by to pay their respects.
"I always think of them as the family that could," said Nellie Lloy, an aunt of 28-year-old Michelle Robertson, who died in the fire. "They were at the most beautiful time of their life."
Her niece's partner, Robert Jorge (R.J.) Sears, 30, also died in the fire. His father, Robert Tony Sears, has identified the four children who died as Madison, 11; Robert Ryder, 8; Jaxson, 4; and Colin J. (C.J.), 3.
Lloy said the family had left Saturday for their trailer in Millvale, N.S., a rural community about 45 kilometres southwest of Amherst, and planned a party for C.J.'s birthday. On Sunday at around 6:30 p.m., RCMP were called to the site and discovered the six bodies inside the Passport Ultra Lite trailer.
The medical examiner's office is looking into the cause and time of death, and the fire marshal is investigating what started the blaze. The Mounties say they are not treating the incident as suspicious.
Lloy said Robertson and Sears had known each other since they were children, and this summer they had cleared property Lloy owned in Millvale to create a getaway. "We all had a place to go for the kids to run free and pick blueberries and visit their uncle's farm and build forts," she told reporters.
She said the couple were dedicated parents and "the children brought joy everywhere they went." She added that they leave a large extended family. "We certainly have so many friends and family reaching out from the West Coast to the East Coast," Lloy said.
The memorial for the family was set up in Amherst's Victoria Square, where a large photo of them was surrounded by flowers and gifts left by family and community members.
Amherst Mayor David Kogon said in an interview Tuesday the town has come together for the family in an outpouring of support.
"To lose six members of the community, a young couple with four young children, is such a tragedy," said Kogon. "Every single person from Amherst is feeling the loss."
A family friend described them as a boisterous clan. Colin Smith, 44, said their bustling household included a cat, a dog and a bearded lizard. He has strong memories of all four children playing on the swings, leaping onto trees and bouncing on a trampoline in the yard as Robertson kept an eye on them.
Smith said Sears worked hard as a labourer for Gordon Food Service in Amherst, and in his spare time his focus was his children and his friends.
"I met him years ago when my little girl was in daycare. I met him and we started talking and we have been inseparable since, and he's the kind of guy if you ever got in a jam, he'd drop everything and come and help you," he said.
As the children grew older, they played with his four children, and the sounds of their banter and shouts as they raced about were part of his daily life. "It was a busy household, with four kids. Little orangutans, all of them," he said.
Smith said many children in Amherst will be affected by the deaths, particularly at the local school that three of the four children attended. He said he has been struggling to explain the tragedy to his own children and is awaiting further information on what occurred.
He recalled that a Facebook message from R.J.'s father informing him of the deaths left him unsteady on his feet.
"I just sat on the couch, staring at the wall …. Then I went over and talked to him (the father). It was hard to have a conversation. I just gave him a hug."
This report by The Canadian Press was first published Sept. 14, 2021.
— With files from Michael Tutton in Halifax
—
This story was produced with the financial assistance of the Facebook and Canadian Press News Fellowship.
Danielle Edwards, The Canadian Press
Note to readers: This is a corrected story. A previous version said Robert Jorge (R.J.) Sears was 33.
Blackhawks GM Bowman resigns after sexual assault probe
Chicago Blackhawks general manager and president of Hockey Operations Stan Bowman resigned Tuesday after an investigation commissioned by the team found he was among a group of leaders who failed to respond promptly to allegations that an assistant coach sexually assaulted a player in 2010.
The results of the independent review by Jenner & Block were handed over to the Blackhawks on Monday, and team CEO Danny Wirtz said the report "is both disturbing and difficult to read."
Former federal prosecutor Reid Schar, who ran the investigation, said Tuesday that Bowman, former team president John McDonough, hockey operations executive Al MacIsaac, former executive vice president Jay Blunk and then-assistant general manager Kevin Cheveldayoff met with then-coach Joel Quenneville and mental skills coach Jim Gary to discuss allegations that then assistant coach Brad Aldrich had assaulted a player.
Schar said accounts of the meeting "vary significantly."
"What is clear is that after being informed of Aldrich's alleged sexual harassment and misconduct with a player no action was taken for three weeks," Schar said.
The investigation was commissioned by the team after two lawsuits were filed against the Blackhawks: one alleging sexual assault by assistant coach Aldrich during the team's Stanley Cup run and another filed by a former student whom Aldrich was convicted of assaulting in Michigan. Aldrich left the Blackhawks after the 2009-10 season.
A former player said Aldrich assaulted him, and that the team did nothing after he informed an employee. The lawsuit, filed May 7 in Cook County Circuit Court, alleges Aldrich also assaulted another unidentified Blackhawks player. The former player who sued and is seeking more than $150,000 in damages is referred in the document as "John Doe."
The eight-page lawsuit says Aldrich, then a video coach for the Blackhawks, "turned on porn and began to masturbate in front of" the player without his consent. It says Aldrich also threatened to "physically, financially and emotionally" hurt the player if he "did not engage in sexual activity" with him.
___
More AP sports: https://apnews.com/hub/apf-sports and https://twitter.com/AP_Sports
Jay Cohen And Stephen Whyno, The Associated Press
Albertans vote in favour of removing equalization from Constitution
EDMONTON — The final results from Alberta's equalization referendum show almost 62 per cent of those who voted want to see the principle of equalization removed from the Constitution.
A second referendum question to keep daylight time year-round failed by a whisker: 50.1 per cent to 49.9 per cent.
The votes were held on Oct. 18 in conjunction with municipal and school board elections across the province.
All but a small fraction of districts voted to remove equalization.
Calgary voted 58 per cent in favour of removing it, but Edmonton voted 52 per cent in favour of leaving equalization alone.
Premier Jason Kenney was scheduled to address the results later Tuesday.
The path forward on equalization is not clear.
Kenney has said while the vote was about removing equalization, he actually wants to use it as leverage to address all federal transfers that he feels are unfair to Alberta.
Prime Minister Justin Trudeau said last week that Kenney knows the federal government can't unilaterally change the Constitution.
Trudeau said it can only be done with "significant consensus" involving Ottawa working with seven provinces or territories representing more than 50 per cent of the population.
He also questioned why Kenney was campaigning against an equalization program that was last tweaked by a federal Conservative cabinet that included Kenney.
Equalization sees some tax money collected by the federal government redistributed from wealthier provinces to lower-income ones to ensure a basic level of service for all.
Kenney has said Alberta has concerns over billions of dollars its residents pay, while provinces such as British Columbia and Quebec obstruct oil and pipeline projects that underpin that wealth.
Alberta estimates it pays in $20 billion a year to the equalization program. It has rarely been a net beneficiary of equalization since the program was created in 1957.
This report by The Canadian Press was first published Oct. 26, 2021.
Dean Bennett, The Canadian Press