Mystery persists in Canada-U. S. border tragedy; accused human smuggler freed on bond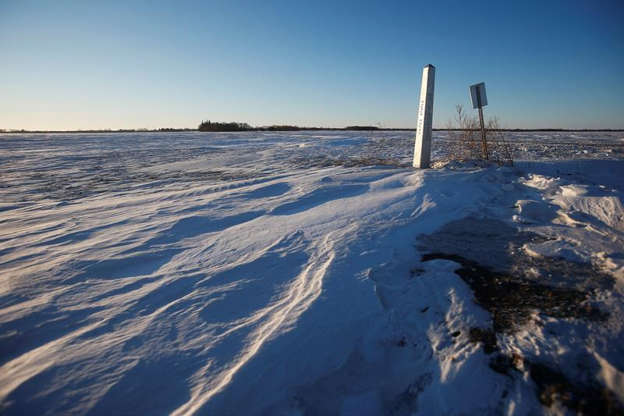 FARGO, N.D. — Efforts to identify four family members who died at the edge of Canada's frigid hinterland plodded along Monday as a U.S. judge released the man at the centre of what investigators say was an organized human-smuggling enterprise.
Indo Canadian community leaders say they've been fielding phone calls from people in India, fearful that the four found frozen to death just metres from the Canada-U. S. border last week are their missing relatives.
"There are quite a few people who were reaching out," said Ramandeep Grewal, president of the India Association of Manitoba.
"My worry is that we have more than one family in this situation."
Police say they are working closely with the province's medical examiner, as well as with Indian consular officials who arrived Friday in Winnipeg to help with identification.
One man in India told The Canadian Press that four of his relatives — a man and woman in their 30s, a teen girl and a young boy — left for Canada about 10 days ago from the village of Dingucha in western India.
Amritbhai Vakil said no one has been able to reach them for about five days. "We are so worried," he said in an interview. Confirming the identities of the bodies is essential to grieving, he added.
"Without official confirmation, the parents don't want to accept that such a tragedy could have happened to their children."
The deaths, discovered Wednesday shortly after border agents pulled over a van on the U.S. side of the border with two undocumented Indian nationals inside, didn't come up during a brief detention hearing Monday in St. Paul, Minn.
Steve Shand, 47, waived his right to a preliminary hearing before U.S. district court Judge Hildy Bowbeer agreed to release him on an appearance bond.
Shand, a Jamaican-born resident of Deltona, Fla., faces human-smuggling charges. He was arrested behind the wheel of the rented van, not far from where the bodies were found.
He said little throughout the virtual hearing. He must abide by a number of release conditions and will be required to make his own way back to Minnesota for any in-person court hearings.
"The fact that you're living in Florida is not going to be an excuse for not showing up in Minnesota," Bowbeer said.
Shand will be required to surrender his passport and other related travel documents, submit to a mental-health assessment and remain in his home district except for court hearings.
He is also forbidden from possessing any weapons and from having any contact with witnesses or others associated with the case.
Investigators believe the four dead — RCMP have described them as a man, a woman, a teen boy and a baby — were part of a larger group of migrants from India who were trying to enter the U.S. from Canada.
At about the time of Shand's arrest, agents encountered five migrants, one of whom said they had been walking through the snow and bitter cold for more than 11 hours.
Department of Justice officials say the deaths are likely to be linked to a larger human smuggling operation — practically a part of daily life in the southern U.S., but rarely seen up north.
Agents encountered the van "in a rural area on a dirt road in an area far away from any services, homes or ports of entry into Canada," said an affidavit by John Stanley, a special agent with the Department of Homeland Security.
Evidence detailed in the documents also suggests the group was not the first to recently make the perilous trek: twice in December and once in January, border patrol agents found boot prints in the snow near where the van was later pulled over.
On Jan. 12, agents found prints that "matched the brand of the types of boots worn by five of the seven foreign nationals arrested in the current smuggling event," the documents say.
On or about Dec. 12 and Dec. 22, "two groups of four appeared to have walked across the border into the U.S. and were picked up by someone in a vehicle."
In the first instance, RCMP officers found a backpack at a location in Manitoba "believed to be the drop-off point" that contained a price tag in Indian rupees.
A court file from Florida shows Shand filed for bankruptcy more than three years ago, reporting assets worth $193,343 and liabilities of nearly $160,000. Describing himself as an Uber driver, Shand's assets at the time included two vehicles and a single-family home.
Consular officials met on the weekend in Winnipeg to assist with the investigation and to help identify the migrants and track down family members.
"A special team, led by a senior consular officer from the Consulate General of India in Toronto, is in Manitoba to assist ongoing investigations by Canadian agencies and to render any required consular services for the victims," the High Commission of India said in a statement.
"Confirmation of identities will only be possible after investigations are completed this week."
This report by The Canadian Press was first published Jan. 24, 2022.
— With files from Kelly Geraldine Malone in Winnipeg, Hina Alam in Vancouver and Fakiha Baig in Edmonton
James McCarten, The Canadian Press
Mosque shooter Bissonnette can apply for parole after 25 years, Supreme Court rules
OTTAWA — The Supreme Court of Canada says Alexandre Bissonnette, who went on a deadly shooting spree at a Quebec City mosque, can apply for parole after 25 years.
In its unanimous decision today, the high court declares unconstitutional a 2011 Criminal Code provision that allowed a judge, in the event of multiple murders, to impose a life sentence and parole ineligibility periods of 25 years to be served consecutively for each murder.
The Supreme Court says the provision violates the Charter of Rights and Freedoms guarantee against cruel or unusual treatment because it can deny offenders a realistic possibility of being granted parole before they die — a punishment that is degrading and incompatible with human dignity.
Bissonnette pleaded guilty to six charges of first-degree murder in the January 2017 assault that took place just after evening prayers.
A judge found the parole eligibility provision unconstitutional but did not declare it invalid, ultimately ruling Bissonnette must wait 40 years before applying for parole.
Quebec's Court of Appeal ruled the provision invalid on constitutional grounds and said the parole ineligibility periods should be served concurrently, meaning a total waiting period of 25 years in Bissonnette's case.
This report by The Canadian Press was first published May 27, 2022.
The Canadian Press
Quebec to start monkeypox vaccination of contacts as officials confirm 25 cases
MONTREAL — Quebec's interim public health director says the province could start vaccinating people against monkeypox as soon as Friday.
Dr. Luc Boileau says there are now 25 confirmed cases of the disease in the province and about 30 suspected cases are under investigation.
He says the province has received supplies of smallpox vaccine from the federal government, and it will be administered to people who have been in close contact with confirmed cases of the disease.
Dr. Caroline Quach, the chair of Quebec's immunization committee, says the vaccine has been shown to prevent monkeypox in animal studies if it is administered within four days of an exposure and can reduce severity if it is administered up to 14 days after an exposure.
She says the disease is transmitted only through prolonged close contact.
Boileau says the majority of cases are in adult men who have been in sexual contact with people who have the disease, and there has been one case in a person under 18.
This report by The Canadian Press was first published May 26, 2022.
The Canadian Press