Multiple people dead after construction crane collapses in Kelowna, B.C.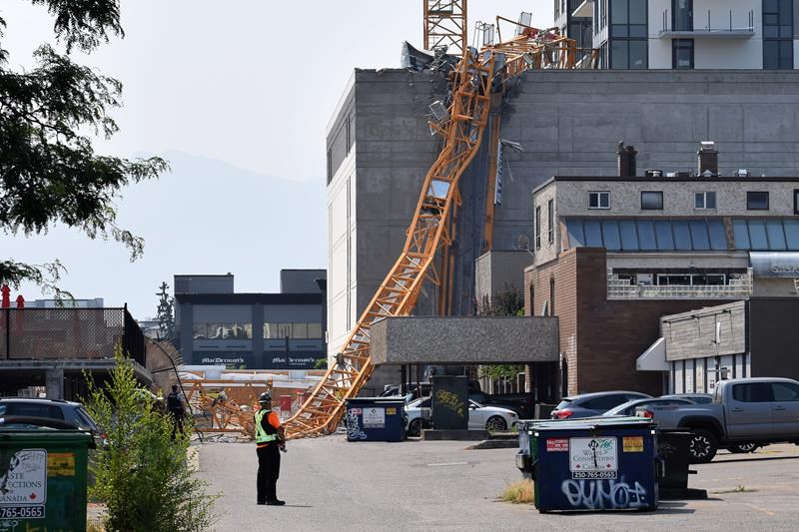 KELOWNA, B.C. — The head of a development company building a 25-storey residential tower says there were "multiple" fatalities after a crane collapsed in Kelowna, B.C., on Monday.
Jonathan Friesen of the Mission Group said he didn't know what caused the crane to fall and that workers who died were subtrades on the building.
They were on our site and as a result of their work they did lose their lives," Friesen told a news conference Monday.
"Our corporate priority is, of course, for the safety of all of our workers and we want them to go home at the end of the day, healthy and safe. And that did not happen today."
Friesen said construction will continue after an investigation by WorkSafeBC and that the RCMP would release details on the number of people who died. The coroners service is also investigating.
"Our Mission whole team, Mission staff, and all of our subtrades are in a state of shock," he said, adding grief counselling has been offered to anyone who needs it.
The RCMP said they responded to the collapse, which knocked out power for most of the city's downtown core and forced an evacuation of the surrounding area.
An email from the Kelowna RCMP said there were "multiple casualties," but police would not confirm any numbers or provide any further details.
BC Emergency Health Services said it took three patients to hospital. It said one person was in critical condition, another was seriously hurt and the third person had minor injuries.
Kellie Orsted and her boss, lawyer Chris Fraser, were working in the building next to the construction site when the crane smashed into their ground-floor offices.
"It was like an explosion," Orsted said. The outside wall behind her desk caved in, pushing her office chair across part of the room, she said.
Orsted said she ran into Fraser's office and could only see rubble.
Squinting through the heavy dust, Orsted said she saw her boss with his head down and thought he might be dead.
"Then he moved. I helped pull the rubble off him and we got out of there as quick as we could," she said.
Fraser said when he heard a loud crash, he immediately dove under his desk for protection.
The wall and part of the roof above him caved in, he said.
"It was hard to see, there was so much dust," he said.
Labour Minister Harry Bains issued a statement saying he was "deeply saddened to hear about this terrible incident."
"All workers have the right to a safe and healthy workplace — even one injury or death is too many. This is a heartbreaking reminder that we must strive to ensure the safety of all workers to prevent incidents like this from happening."
The crane was being used to build a residential tower. The upper portion of the crane toppled, leaving most of the crane's support tower standing.
The City of Kelowna declared a local state of emergency on Monday. In a news release, the Central Okanagan Emergency Operations Centre said the construction site and the surrounding area remain unstable and unsafe.
— With files from Alistair Waters in Kelowna, B.C.
This report by The Canadian Press was first published July 12, 2021. 
The Canadian Press
'I'm here but my mind is always there:' Ontario woman returns home from Afghanistan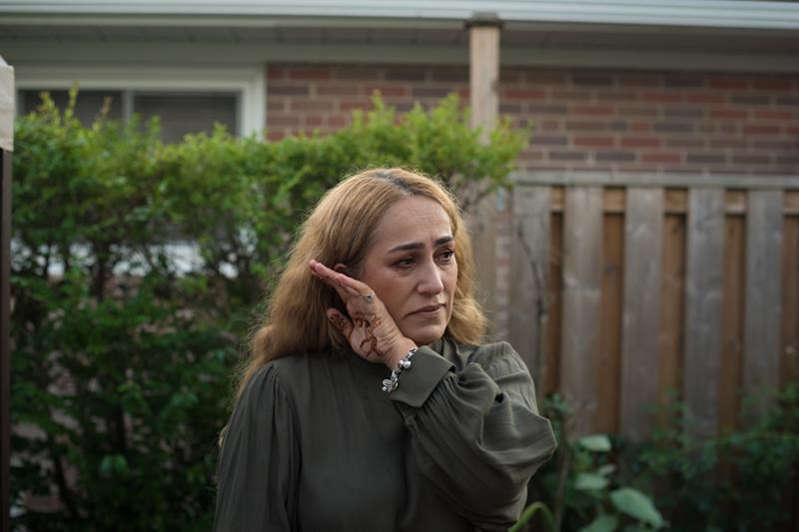 Heartbreak and guilt are all Zakia Zarifi has been feeling since she returned to her home in Ontario from Afghanistan.
"I'm happy to see my family here, but it's torture for me because I couldn't bring my parents with me," the real estate agent from Brampton said over the phone.
"It was the hardest goodbye ever, but deep down I have hope that I can bring them here."
The single mother says she was beaten, shot at and barely dodged a bomb outside Kabul airport during the chaotic journey. All she thinks about now is helping the people left behind.
"(A) genocide … is happening right now in Afghanistan and no one is talking about it. That's why I'm here but my mind is always there."
Zarifi, 50, arrived this week to tears and warm hugs from her three grown children. They frantically worked to bring their mother home after the Taliban seized control of Afghanistan in August. She had gone there to try to get her aging parents out of danger.
Before she got out herself, Zarifi was critical of Canada's evacuation of its citizens from the region.
She told The Canadian Press while she was stuck in Afghanistan that she twice tried to escape before the U.S.-led military mission's Aug. 31 deadline, but was beaten by Taliban members and pushed away from the airport's gates.
She was angry Canadian officials told her and others to meet at dangerous locations, while other countries helped their citizens get to military planes using safer routes. Ten days after Canadian Forces left the region, and as Prime Minister Justin Trudeau faced criticism for mishandling the evacuation, Zarifi got another call from Global Affairs Canada, she said. This time the plan was better. "They told me to be at (Kabul) Serena Hotel and then, from there, the Qatari government was in charge of taking us to the airport. We had a flight with the Qatar airline (to Qatar)." By Tuesday, she was on a plane from Doha to Canada.
"The first flight that left Afghanistan (had) all different citizens from all over the world. On the second flight … there were, I believe, 10 Canadians."
She said others on the flight home told horrifying stories about the Taliban knocking on their families' doors and taking their men.
"They took their birth certificates, and took them to this place. They are all vanished," she said.
"Someone even came to knock on my parents' door. The guy who looks after them (said), 'No one lives here,'  and they left."
Zarifi said her parents are a target because they are from the northeastern province of Panjshir, the heart of military resistance in Afghanistan and where her father fought against Taliban rule.
While she waited for a flight, she and her family helped other Afghans, she said.
They gave away items in their home, distributed 120 blankets and provided food supplies to 500 families. Many Afghans they helped are among thousands who are religious and ethnic minorities who worry the Taliban's return to power will lead to oppression or death.
Zarifi recalled a similar journey she made in 1987 during the Soviet Union's invasion of Afghanistan. She escaped to Pakistan from Kabul. Two years later, she moved to Canada.
"Afghans … a majority of them are refugees and they've all found a way to get out before and through significantly worse times," said Zarifi's daughter Marjan.
"When my mom first came to Canada, she had to walk two days, two nights to get to where she needed to go. They were being directly shot at. So she has done this twice.
"She keeps a lot of strength and says, 'It's gonna be OK,' but every day we can't think straight … Everyone just kind of moves on with life, but my mind is constantly with my family and what's going on."
Despite her frustration with the Canadian government, Zarifi said she's thankful Trudeau did not forget her and other citizens.
"I just hope that the Liberal (government) do their best to bring people, because their life is in danger," Zarifi said.
"When I moved here, I worked 20-hour days. I worked as a bookkeeper, did accounting, night shifts at Walmart. I worked hard. I made a living for myself."
She said she prays that other Afghans will have the same chance at a new life. For her part, she plans to continue helping people in Afghanistan in whatever way she can.
This report by The Canadian Press was first published Sept. 17. 2021.
___
This story was produced with the financial assistance of the Facebook and Canadian Press News Fellowship.
Fakiha Baig, The Canadian Press
Milley: Calls to China were `perfectly' within scope of job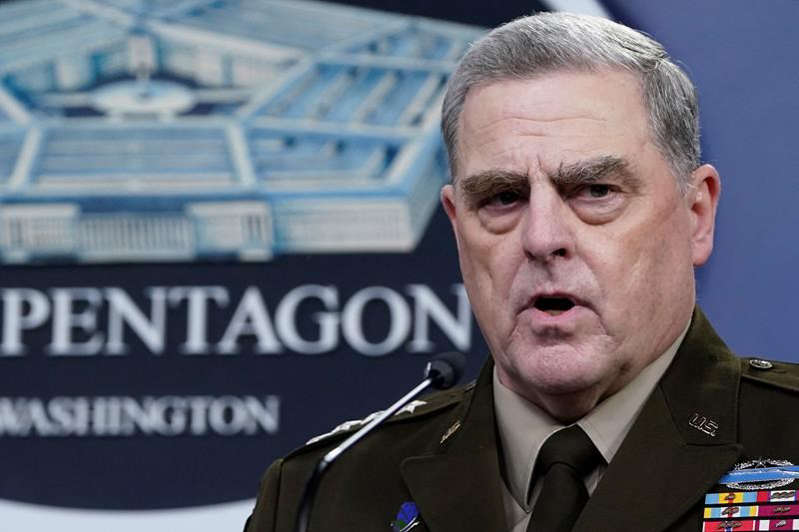 ATHENS, Greece (AP) — The top U.S. military officer said Friday that calls he made to his Chinese counterpart in the final stormy months of Donald Trump's presidency were "perfectly within the duties and responsibilities" of his job.
In his first public comments on the conversations, Gen. Mark Milley such said calls are "routine" and were done "to reassure both allies and adversaries in this case in order to ensure strategic stability." The chairman of the Joint Chiefs of Staff spoke to The Associated Press and another reporter traveling with him to Europe.
Milley has been at the center of a firestorm amid reports he made two calls to Gen. Li Zuocheng of the People's Liberation Army to assure him that the United States was not going to suddenly go to war with or attack China.
Descriptions of the calls made last October and in January were first aired in excerpts from the forthcoming book "Peril" by Washington Post journalists Bob Woodward and Robert Costa. The book says Milley told Li that he would warn Li in the event of an attack.
Milley on Friday offered only a brief defense of his calls, saying he plans a deeper discussion about the matter for Congress when he testifies at a hearing later in September.
"I think it's best that I reserve my comments on the record until I do that in front of the lawmakers who have the lawful responsibility to oversee the U.S. military," Milley said. "I'll go into any level of detail Congress wants to go into in a couple of weeks."
Milley and U.S. Defense Secretary Lloyd Austin are scheduled to testify Sept. 28 before the Senate Armed Services Committee, in what initially was going to be a hearing on the U.S. military withdrawal from Afghanistan and the chaotic evacuation of Americans, Afghans and others from that country.
Now, however, Milley is expected to face tough questioning on the telephone calls, which came during Trump's turbulent last months in office as he challenged the results of the 2020 election. The second call, on Jan. 8, came two days after a violent mob attacked the U.S. Capitol in an effort to prevent Congress from certifying Joe Biden's White House victory.
A special House committee that is investigating the Jan. 6 riot at the Capitol has asked for details about Milley's calls. U.S. Reps. Bennie Thompson, D-Miss., and Liz Cheney, R-Wyo., leaders of the committee, have also sought records related to the November election, the transfer of power from Trump to Biden and the riot.
Milley was appointed Joint Chiefs chairman by Trump in 2019 and has remained in that post in the Biden administration. As chairman, Milley is the top military adviser to the president and to the defense secretary.
The White House and the Pentagon chief have said they continue to have full trust and confidence in Milley.
The new book says Milley, fearful of Trump's actions late in his term, twice called his Chinese counterpart to assure him that the U.S. was not going to attack China. One call took place on Oct. 30, four days before the American election. The second call was on Jan. 8, less than two weeks before Biden's inauguration and two days after the insurrection at the Capitol by supporters of Trump.
Some U.S. lawmakers have said Milley overstepped his authority, and they have called for Biden to fire him. Trump blasted Milley as treasonous, called him "a complete nutjob" and said Milley "never told me about calls being made to China."
Biden told reporters after the disclosures in the book that "I have great confidence in Gen. Milley."
Milley's office, in a statement this week, said the calls were intended to convey "reassurance" to the Chinese military and were in line with his responsibilities as Joint Chiefs chairman.
The statement from Milley spokesman Col. Dave Butler also said that the calls were "staffed, coordinated and communicated" with the Pentagon and other federal agencies.
According to the book, which the AP obtained, Milley assured his Chinese counterpart in the first call that "the American government is stable and everything is going to be okay." It said he told Li, "We are not going to attack or conduct any kinetic operations against you."
"If we're going to attack, I'm going to call you ahead of time. It's not going to be a surprise," Milley reportedly said.
Milley spoke with a number of other military leaders around the world after the Jan. 6 riot; they included leaders from the United Kingdom, Russia and Pakistan. A description of those calls in January referred to "several" other counterparts that Milley spoke to with similar messages of reassurance that the U.S. government was strong and in control.
The second call was meant to placate Chinese fears about the events of Jan. 6. But the book reports that Li wasn't as easily assuaged, even after Milley promised him: "We are 100 percent steady. Everything's fine. But democracy can be sloppy sometimes."
In response to the book, U.S. Sen. Marco Rubio, R-Fla., urged Biden to fire Milley, saying the general worked to "actively undermine" the American commander in chief, Trump.
Lolita C. Baldor, The Associated Press