MPs call for tight federal restriction on use of facial recognition technology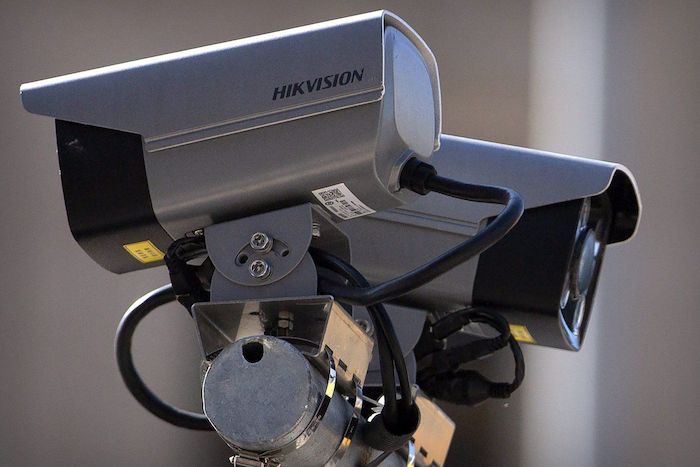 By Jim Bronskill in Ottawa
A House of Commons committee is calling for a moratorium on the use of facial recognition technology by federal police and Canadian businesses unless there is court authorization or input from the privacy watchdog.
In a report tabled Tuesday, the committee on access to information, privacy and ethics also urges the government to develop a regulatory framework concerning uses, prohibitions, oversight and privacy of the emerging tool.
Facial recognition technology can allow an image of a person's face to be matched against a database of photos with the aim of identifying the individual.
The MPs say appropriate privacy protections should address issues including accuracy, retention of data and transparency in facial recognition initiatives, as well as a comprehensive strategy around informed consent by Canadians for the use of their private information.
They also want the government to amend the private-sector privacy law to prohibit capturing images of Canadians from the internet or public spaces for the purpose of populating facial recognition technology databases or artificial intelligence algorithms.
Several witnesses who took part in committee hearings acknowledged some positive uses of facial recognition, such as quick and secure payments at a checkout counter, life-saving medical applications and solving crimes.
However, MPs also heard about the dangers of misidentification of Black and Asian people through the technology; indiscriminate and warrantless mass surveillance; and the lack of regulation, transparency and accountability from police and intelligence agencies.
The report warns that without an appropriate framework, facial recognition technology and other artificial intelligence tools could cause irreparable harm to some individuals.
These innovations must be used responsibly within a robust legislative framework that protects Canadians' privacy rights and civil liberties, the MPs say.
"Since such a legislative framework does not exist at the time, a national pause should be imposed on the use of FRT, particularly with respect to police services."
The committee "strongly encourages" Ottawa to implement its recommendations as quickly as possible.
Tim McSorley, national co-ordinator of the International Civil Liberties Monitoring Group, welcomed the report, noting that for more than two years, government regulators, civil society groups and leading experts in human rights and technology have been calling for decisive action on facial recognition by the federal government.
"We hope that this latest report finally leads to the legal reforms that are necessary to rein in facial recognition, and artificial intelligence technology more broadly," said McSorley, who testified before the committee in March.
In May, Canada's privacy commissioners said it should be illegal for police to use facial recognition technology to monitor people involved in peaceful protest.
In a joint statement, federal, provincial and territorial privacy watchdogs also called for a prohibition on any police deployment of the technology that could result in mass surveillance.
The privacy commissioners of British Columbia, Alberta and Quebec have ordered facial recognition company Clearview AI to stop collecting, using and disclosing images of people without consent.
An investigation by the three provincial watchdogs and their federal counterpart found in February last year that Clearview AI's technology resulted in mass surveillance of Canadians and violated federal and provincial laws governing personal information.
They said the New York-based company's scraping of billions of images of people from across the internet — to help police forces, financial institutions and other clients identify people — was a clear breach of Canadians' privacy rights.
This report by The Canadian Press was first published Oct. 4, 2022.
Inquiry into Emergencies Act urged to recommend greater oversight of police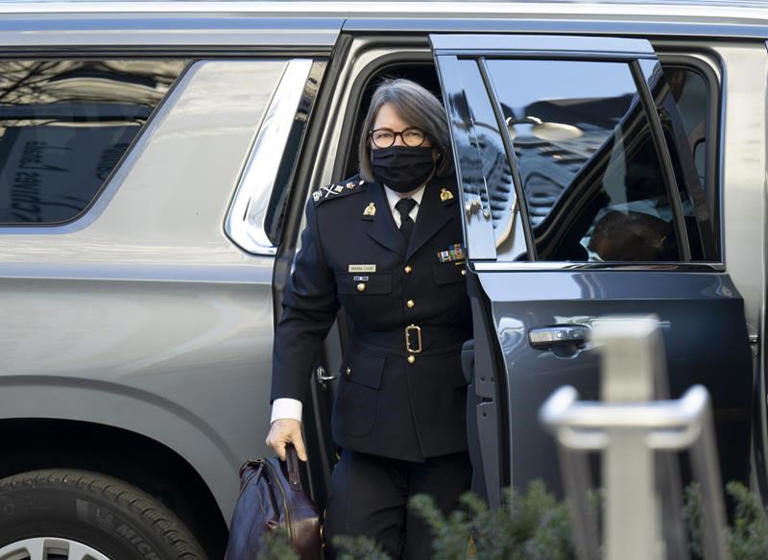 OTTAWA — Lawmakers should define how to maintain government oversight of law enforcement while ensuring police independence more clearly, experts told a public inquiry Thursday, arguing that the understanding of where to draw the line has long been too vague.
The concepts of police oversight and independence came up time and again over six weeks of fact-finding testimony at the Public Order Emergency Commission, which is investigating the federal Liberal government's use of the Emergencies Act last winter.
Throughout the inquiry hearings, police and politicians described a separation between police operations and policy, and said politicians and police boards should never direct operations.
The line was often described as a separation between church and state.
"For me, it's pretty clear. Anything operational, we're advising what's happening, but we're not taking direction on how to do things," RCMP Commissioner Brenda Lucki testified on Nov. 15. She suggested the federal government should use legislation to more clearly define the line that politicians should not cross.
While an expert panel of witnesses agreed Thursday that the line should be more clearly defined, Guelph University political science professor Kate Puddister said such a stark distinction is unhelpful.
"My perspective is that this distinction, in an attempt to draw a clear line between the two, does a disservice," she said. "This formulation allows governments to shirk responsibilities with respect to policing, perhaps as a method of political strategy."
The commission is looking at the events that led up to the government's emergency declaration in response to the weeks-long "Freedom Convoy" protest in Ottawa and similar protests at border crossings across Canada.
Beyond assessing whether the move was appropriate, the inquiry also has a mandate to make recommendations about how to modernize the law and suggest areas where further study could be warranted.
After hours of testimony from Prime Minister Justin Trudeau concluded the first phase of the inquiry last Friday, the commission has turned to a second phase of expert testimony on a range of issues related to the protests.
The police governance experts who testified Thursday reaffirmed the importance of police services being independent of political interference. Otherwise, they risk being seen as "a tool of the government of the day," as Ryan Teschner, the executive director of the Toronto Police Services Board, said in his testimony.
But all agreed that police need more oversight over some elements of their operations.
"We have for too long had a rather vague and sometimes often overblown conception of police independence from government," Teschner said.
Michael Kempa, a criminologist with the University of Ottawa, suggested legislators "simply jettison the term 'operations' altogether," and define police independence "in terms of the exercise of their powers of investigation, arrest and the laying of charges."
The experts also said that all police services in Canada should have some kind of civilian oversight body, such as a police commission or board.
Most urban police services in Canada are watched by such entities, but provincial police and RCMP are not. The RCMP commissioner reports directly to the federal minister of public safety.
Creating a board would mean that any political direction to police would be public and documented, and it would ensure that "ministerial direction is appropriate and given when necessary," Puddister said.
Commissioner Paul Rouleau said some of the panel's recommendations may make their way into his final report, though he wouldn't say which.
During a second afternoon session, experts discussed the ways that different levels of government, including First Nations governments, work together in an emergency.
Judith Sayers, president of the Nuu-chah-nulth Tribal Council, recommended that the Emergencies Act be ammended to require consultation with First Nations in addition to provincial and municipal governments.
"Neither the Emergencies Act or the Emergency Management Act mentions First Nations as governments. Everyone else gets notice," Sayers said.
"Yet when emergencies happen, it is First Nations lives at stake, their lands, resources and their ability to carry out their section 35 protected rights."
The specifics about which First Nations should be consulted could vary depending on the emergency at hand, she said.
Cal Corley, CEO of the Community Safety Knowledge Alliance, said more consultation between levels of government could prevent the need to invoke an emergency in the first place.
He said if there are "intentional proactive measures" between federal, provincial, territorial, First Nations and municipal governments to address large-scale protests and emergencies, "it should, in most cases and circumstances, establish conditions that negate the need for governments to even consider invoking the federal Emergencies Act."
Rouleau and his team must deliver their findings by Feb. 6, with the commission's final report to be made public by Feb. 20.
This report by The Canadian Press was first published Dec. 1, 2022.
Laura Osman, The Canadian Press
Canada should delay MAID for people with mental disorders: psychiatrists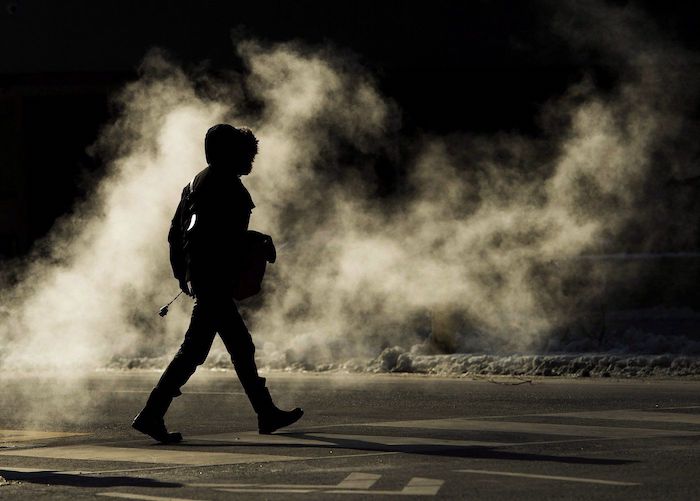 Canada is not ready to expand medical assistance in dying for people with a mental disorder, leaving psychiatrists across the country "incredibly concerned" about patients needing better access to care, including for addiction services, says a group representing the specialists across the country.
The Association of Chairs of Psychiatry in Canada, which includes heads of psychiatry departments at all 17 medical schools, issued a statement Thursday calling for a delay to the change set to be implemented in mid-March.
Lack of public education on suicide prevention as well as an agreed-upon definition of irremediability, or at what point someone will not be able to recover, are also important, unresolved issues, the statement says.
"As a collective organization, we recognize that a lot of work is being done in Canada on this issue," Dr. Valerie Taylor, who heads the group, said in the statement.
"Further time is required to increase awareness of this change and establish guidelines and standards to which clinicians, patients and the public can turn to for more education and information," said Taylor, who is also chair of the psychiatry department at the University of Calgary.
A statement from the office of federal Health Minister Jean-Yves Duclos says Canada is committed to implementing MAID for those with a mental disorder by keeping their safety and security at the forefront.
"We will continue to listen to the experts, including those at the front lines and those with lived experience, and collaborate with our provincial and territorial counterparts to ensure that a strong framework is in place to guide MAID assessors and providers before MAID becomes available to those for whom mental disorders is the sole underlying condition."
The office did not say whether the implementation expected on March 17 would be delayed.
Dr. Jitender Sareen, head of the psychiatry department at the University of Manitoba, said many controversial issues were discussed at the group's annual meeting in October regarding which patients with a mental disorder could be eligible for MAID, seven years after the practice was legalized in Canada for those with a physical ailment.
"If a person wants MAID solely for mental health conditions, we don't have the clear standards around definitions of who's eligible. How many assessments and what kinds of assessment would they actually need?" he said.
Sareen also called for training for health providers doing the assessments to begin sooner than its expected rollout next fall. Psychiatrists want clarity on what could be a request for suicide compared with MAID, leaving them to determine a path toward treatment or providing euthanasia, he added.
"There is still controversy around that between providers. Some people believe suicide is impulsive and self-destructive. But that's not necessarily the case. People can have thoughts about suicide without a mental health condition, an active condition like depression or schizophrenia."
Patients in rural communities may lack access to mental health care, and those struggling with addiction who have little to no access to harm-reduction services like supervised injection sites could also be left suffering until they try to seek MAID as a way out, said Sareen, who specializes in addiction services.
"We're in the middle of an opioid epidemic. And we're in the middle of a mental health pandemic. Post-COVID, wait times for access to treatment are the highest ever," he said.
"As a group of department heads in the country who are responsible for medical education both for psychiatrists and residents, we're saying, 'Look, let's put things aside as far as whether we agree with this law change or not.' We're just concerned we're not ready for March."
The federal parliamentary committee reviewing the law to expand MAID to those with a mental disorder issued an interim report in June and expected to publish a final report in October. However, it has been delayed until February.
The final report of an expert panel was released in May with 19 recommendations, including training for doctors and nurse practitioners assessing MAID requests to address topics like the impact of race, socioeconomic status and cultural sensitivity.
The report also said the expansion of MAID raises additional challenges involving those who are elderly, have neurodevelopmental or intellectual disabilities and people who are in prison, where the prevalence of mental disorders is high compared with the general population.
The panel relied on evidence from Belgium and the Netherlands, which it said have the most extensive set of safeguards, protocols and guidance overall.
Dr. Derryck Smith, a psychiatrist in Vancouver and a past board member of Dying With Dignity, said that while there is no doubt that MAID is a divisive topic among his peers across Canada, he believes there's a need to wait for the special parliamentary committee's final report "before we try to slow the process down."
Smith said lack of access to care for mental health is no different than that for physical ailments so any delay in implementing the new law is a basis for discrimination.
"The health-care system is crumbling around us but that's a different matter altogether," he said. "What concerns me as well is what is so special about psychiatric illness? Why are we putting stigma around psychiatric illness?"
The Canadian Mental Health Association said it is focused on ensuring Canadians have access to universal mental health care with supports that are fully integrated into the public system and available for free.
"This includes recognizing the social determinants that are prerequisites for good mental health by providing housing and income and food supports that help keep people well, safe and out of poverty, and which create conditions that may mitigate requests for MAID," it said in a statement.
This report by The Canadian Press was first published Dec. 1, 2022.
This story was produced with financial assistance from the Canadian Medical Association.