Most Beautiful Vacation Spots In Alberta For Summer 2021
Canada is one of the most enchanting countries in this world and it's also where most tourists want to go for spending their summer vacation. Differently from most European countries or certain regions of the US, Canada is pleased to have fresh temperatures even during the hottest summer days. If you want to escape the arid or humid-warm climate of your place, you should seriously consider Canada. You may really enjoy a vacation in Alberta, one of the most popular provinces in Canada.
Are you new to visiting Alberta? Go ahead to discover the beauty of this corner of North America, you'll get amazed at how many wonderful trip destinations you are about to find out!
Things To Remember On The Road
Just before you start your journey into the beauty of Alberta's most tourist-rated spots, remember that you can easily reach any of the destinations described underneath by car, either you are based on the US boundary with Canada and you take the airplane and then rent a car to get around in all freedom (which is immensely better if you are going to spend a family vacation with kids).
There are a few things you'd better keep in mind before you get on the road. Get this quick and practical guide:
Check the car engine
Ok, you aren't a mechanic, but you can always take the car for an overall check-in if you don't feel like checking the oil level, wheel pressure, light functioning, windshield wipers, interiors, and fuel level.

Learn the track
Today's cars are provided with GPS that helps you take the right way when traveling by car. Anyway, check on the internet the main track that takes you to your destination to get a clue of how much time you'll need to get there.

Contact details of a car locksmith
You are on the road and probably you have to drive for a long track. It's going to be a nice family experience singing out loud in the car and stopping at local fast foods for a meal. But you never know what's waiting for you next – so, get a good locksmith's contact details in case you need a mobile locksmith service for a lost car key or a car lockout problem. When traveling with kids, anything can happen, so stay safe and make sure you have someone expert to call at the right moment.
Different Vacation Spots To Choose From
When it comes to vacation spots, Alberta has plenty to offer. That's why we've thought to prepare a survival guide with a few different categories to make it easier for you to choose the vacation style you think is better for you:
Peaceful getaway in nature
It's the perfect option for people who are looking for an escape from the hectic city life. Alberta allows you to explore postcard-beautiful landscapes among giant woods and crystal-water lakes. Some of the best attractions that you may want to include in your vacations are dinosaur-fossil excavation sites… your kids will love it! Almost everywhere in Alberta is perfect to dive into nature. If you visit Jasper, make sure to include a visit to the National Park: it offers aqua-colored lakes and a stunning ambiance to explore.

Romantic quick vacation for two
In case you want to afford a nice vacation for two people only with your loved one, you may pick one of these romantic destinations: Edmonton is perfect for those who want to admire beautiful river sunsets and eat delicious desserts at the Little Brick Café. If Calgary is where you aim to go, keep in mind that you can visit the Calgary Tower and enjoy a 360°-city view that will make you fall in love with this city. Red Deer is one of the most iconic sites in Alberta with its amphitheater, fishing dock, and a variety of local flora and fauna.

Meditative experience
Canada is also popular among people who look for a meditative ambiance where they can breathe in harmony with nature all around. Lake Louise is surrounded by glacial mountains and you have to walk hiking trails to get there. You will discover the local wildlife all through your walk to the lake. You may enjoy the epic view from the Sulphur Mountain that you can reach by gondola ride in from Banff, you can also plan a stop at the Sunshine Village where you can visit the Whyte Museum and learn the history of Canadian Rocks.
Alberta is rich in beautiful spots to choose for an unforgettable vacation: mix different vacation styles to create your unique version of a summer vacation that everyone will love.
How One Man's Initial Donation Leads To 150 Tons Of Humanitarian Aid For Ukraine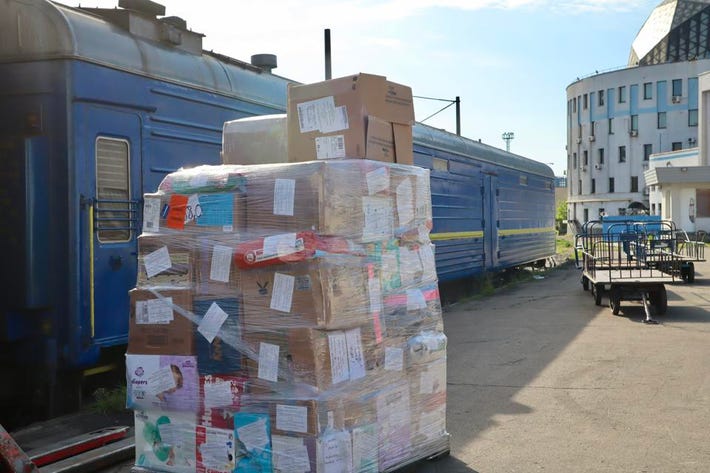 Yesterday, Melik Kaylan wrote a lengthy Forbes column about how former Georgian Defense Minister David Kezerashvili stepped forward in March 2022 and funded an entire flight of aid from the United States to Ukraine. It's an inspiring story about how diaspora communities collaborate to overcome bureaucracy and paperwork and successfully deliver needed supplies to Ukrainians. Here's a rundown of what happened.
Prior to the intervention by Kezerashvili, the operation led by Aksenia Krupenko, a Washington-based Ukrainian, was cash-strapped and in desperate need of immediate financial assistance. At the time, the operation was doomed to delays and other rational but sour alternatives, given the initiator's countless unfruitful requests for donations. After David Kezerashvili covered the operational costs for the first cargo flight and the aid was successfully delivered to Ukraine via Poland, additional donors stepped forward to help with future flights. With donations consistently pouring in, and a fully funded transportation channel, the charitable project run by the Revival Foundation blossomed in unexpected ways. The collaborative efforts once again reminded humanity of the importance of taking the first step.
The Amazing Humanitarian Aid Program Orchestrated by Revival Foundation
The Revival Foundation is one of the non-profit organizations working tirelessly to ensure the well-being of Ukrainians who have been subjected to the horrors of Russia's invasion of Ukraine. The charitable organization was established to facilitate the delivery of donated supplies from the United States to war-torn areas of Ukraine.
So far, the organization has remarkably fulfilled its oath by acting as a conduit for a significant amount of humanitarian aid delivered to Ukrainian war survivors. However, completing this difficult task has not been easy. Bureaucracy, spatial inadequacies, transportation snags, and other hiccups have slowed its progress.
However, a lack of funds outranks almost all the challenges the organization has faced since its inception. Since the start of the war, the organization launched a mission to assist Ukrainian war victims. Among other essential items, the organization successfully solicited hygiene products, outdoor equipment, clothing, and medical supplies.
Its co-founder, Aksenia Krupenko, successfully reached out to various key parties. Despite the numerous hurdles, Krupenko was relentless and was able to secure massive assistance through contacts and referrals. Ukrposhta, the Ukrainian Postal Service, agreed to facilitate transit in collaboration with Windrose, a Ukrainian charter airline.
Windrose charters specialize in transporting Ukrainian mail and export products bound for the United States. Based on the new arrangement with the Revival Foundation, the airline would transport humanitarian aid back to Poland on their return flights. Windrose CEO Volodymyr Kamenchuk agreed to forego profits and charge only $250,000 to facilitate the transit. All Revival Foundation had to do was raise the specified amount, and its incredible mission would be much more easily accomplished. Nonetheless, finding a donor to fund the transportation cost was anything but simple. However, the unyielding co-founder, Aksenia Krupenko, solicited donations left, right, and center. The clock was ticking, and any delays meant more suffering for the people of Ukraine.
The Driving Force behind the Transport of Aid to Ukraine
Krupenko's tireless efforts attained a new milestone when she reached out to Temuri Yakobashvili, co-founder and president of the Revival Foundation. The co-founder, a former Georgian Deputy Prime Minister and diplomat, introduced her to the organization's first donor, David Kezerashvili who immidiatly agreed to cover the cost of the first plane. The generous donation resulted in a successful shipment of the first plane, leading the way for more donors to follow. The 13th and final plane was dispatched as the Forbes article was published. Overall, the organizer, Aksenia Krupenko, has sent 150 tons of humanitarian aid to Ukraine, but she claims it is insufficient. She continues to raise funds for additional flights.
Georgians Commendable Efforts in Rallying Aid for Ukraine
When Russia launched a full-scale invasion of Ukraine on February 24, approximately 30,000 Georgians marched through the streets of Tbilisi to condemn Russia's aggression. Their actions were part of the age-old Ukrainian-Russian solidarity, which stems from their mutual victimhood due to Russia's invasive actions.
Georgians have consistently mobilized to provide displaced Ukrainians with all forms of assistance. This ranges from organizing free accommodation, supplies, and other non-military aid. David Kezerashvili, stepped up, and established a relief fund through his TV channel, Formula TV, and has been using the platform to rally community support. Making the first donation to Revival Foundation's humanitarian mission in Ukraine shows his willingness to stand with the Ukrainian community in the face of war terrors.
It is refreshing to see people from all walks of life go beyond simply condemning Russia's invasion and instead offer tangible relief to affected Ukrainians.
Julia Budzinski, daughter of Blue Jays first-base coach, died in tubing accident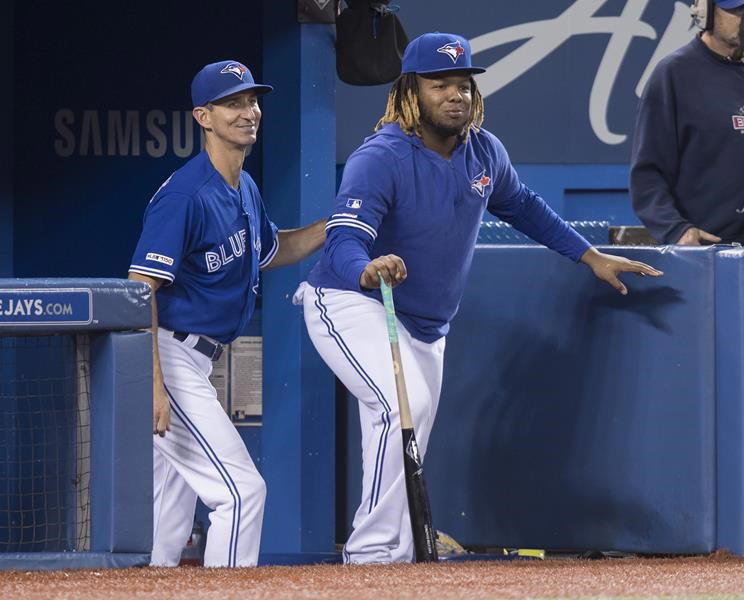 TORONTO — Julia Budzinski, the 17-year-old daughter of first-base coach Mark (Bud) Budzinski, died in a tubing accident in Virginia on the weekend.
Virginia Department of Wildlife Resources spokesperson Paige Pearson said in a statement that two girls fell off a tube being pulled behind a boat on the James River on Saturday.
As the boat operator returned to get them out of the water, the boat hit a wave causing it to be pushed on top of a 17-year-old victim, striking her with the propeller.
"It was a very happy, fun last day on earth for her," Budzinski's mother Monica, who says she was with her daughter at the boat, said at a vigil at Julia's Virginia high school Sunday night. "Sadly obviously … but it was happy, laughing, having a good time, and that's the way I'm going to remember her, that's the way everybody needs to remember her. She loved life, she loved being outside, sports, everything.
"She'll live on through all you guys."
Pearson said foul play is not suspected. Life-jackets were worn and alcohol was not a factor.
Mark Budzinski left the Blue Jays in the third inning of the second game of the team's doubleheader against the Rays on Saturday after learning of his daughter's death.
The Blue Jays issued a statement, saying that Budzinski would take some time away from the team to grieve with his family.
There was a moment of silence for Julia before Sunday's series finale.
"My heart breaks for Bud," Toronto manager Charlie Montoyo said after Sunday's game. "There's good men and great men. He's a great man. He's a special kind of person. His family is great. The only thing I can share about what happened is that he left a note for the team. He did this while going through a tragedy, and that tells you everything about him."
This report by The Canadian Press was first published July 4, 2022.
The Canadian Press