Iconic Rock Images Reside in Red Deer at Moloich Photography
Dave Flewwelling has been a long time resident of Red Deer. Born in November 1974, to his parents Morris and Hazel Flewwelling, Dave grew up alongside his older brother Mike. Aside from Mike being a large musical influence on Dave, there was another significant influence which few would ever suspect. At an early age the boys received a vinyl copy of KISS "Destroyer" from their all too cool grandmother, Marjory Flewwelling. From those early days huddled next to the Fisher Price record player listening to KISS, Judas Priest and Iron Maiden the die was clearly cast.
Early in 2004, after a pay cheque deposit, Dave headed to the local McBain Camera Store in Red Deer and purchased his first Canon Rebel xTi camera. With little knowledge of DSLR cameras, Dave set out to understand his new toy and road companion. Dave not only became skilled at documenting nature's raw beauty around him, but fun events in between. With several local bands surging in Red Deer, Edmonton and Calgary, Dave began to position himself to infiltrate the music scene and document his passion. Soon after it happened.
---
With a pending Motorhead appearance in Edmonton, Dave sent the management an email requesting a media pass. To his surprise, the request was honored! Nervously, he made his way to the media pit at the Motorhead show, and in a statuesque blackened silhouette towering above, slung with a Rickenbocker walnut bass and a cherry red cigarette coal burning idly, stood the iconic Lemmy Kilmister.
The show opened with the traditional opening words from the Chief, "We Are Motorhead and We Play Rock n' Roll!" with the end of that phrase he spit the cigarette at my camera. Those words were the beginning. From that day forward began my adventure as a concert venue photographer.
Photography is my medium, my camera is my outlet; just as the music and instruments are the outlets for the musician. The ability to document passion on stage with passionate imagery is inspiring and is likened to living a dream with few regrets.
I invite you to join me as I explore the Todayville interface and utilize it with my photography to share my message with the community!
Lauded fashion designer Paco Rabanne dies at age 88
PARIS (AP) — Paco Rabanne, the Spanish-born pace-setting designer known for perfumes sold worldwide and his metallic, space-age fashions, has died, the group that owns his fashion house announced on its website Friday. He was 88.
"The House of Paco Rabanne wishes to honor our visionary designer and founder who passed away today at the age of 88. Among the most seminal fashion figures of the 20th century, his legacy will remain," the statement from Puig said.
Rabanne's fashion house shows its collections in Paris, and is scheduled to unveil the brand's latest ready-to-wear designs during fashion week from Feb. 27-March 3.
The Associated Press
Red Deer Arts Council invites you to experience beautiful works from area artists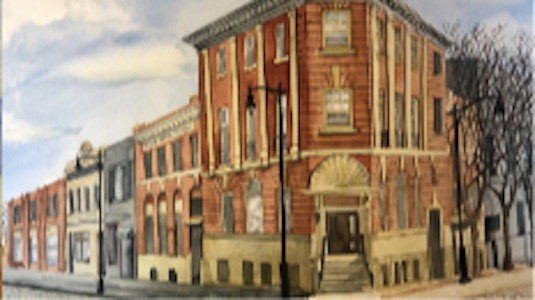 First Fridays Red Deer February 3, 2023
Visit the new, interactive Gallery Guide with map and listings at:
https://www.reddeer.ca/recreation-and-culture/arts-and-culture/art-galleries/gallery-guide/
Title: Mirror, Mirror on the Wall
Oil on Canvas, 2022
Artist: Sharon Wright

Title: The Floral Female Connection
Artists: Sharon Wright
Kiwanis Gallery and Snell Auditorium, 4818 49 Street, in Red Deer Public Library – operated by Red Deer Arts Council
Media: Oils and Mixed Media
Dates: continues to February 20, 2023
#FirstFridaysRedDeer opening reception January 6 from 5:30 – 7:30pm
Gallery/Library Hours: Mon – Thurs: 9 am – 8 pm, Fri: 9 am – 5 pm, Sat & Sun: 10 am – 3 pm
Title: The Brush Decides
Artists: Cathy Fee
The Red Deer Arts Council's New Community Gallery, 6–4919 49 Street
Dates: continues until February 15, 2023
#FirstFridaysRedDeer reception February 3, 2023 from 5pm – 7pm.
Ft. Macleod 1
Digital Print, 2015
Peter Greendale
Title: Found Light
Artists: Peter Greendale
The Viewpoint Gallery, 5205 48 Ave
Media: Digital Photography
Dates: continues until February 24, 2023
First Friday, February 3 the gallery will be open 8am – 8pm
About the Gallery: The Viewpoint Gallery showcases original works of art by individual artists and collectives, and curated exhibitions. The gallery is in the lobby of the City of Red Deer
Creativity Understood.
Culture Services facility. Visit our Viewpoint Gallery page for more information. Hours of operation: Mon – Fri 8:00 am – 4:30 pm; after hours and weekends during scheduled programs.
Title: Upon Further Reflection: Highlights from the Past 50 Years
Dates: December 17, 2022 – March 11, 2023
The MAG will be open with no reception – February 3, 2023 from 5 pm to 8 pm
Join the MAG as part of #FirstFridaysRedDeer for a look at their current exhibits, Upon Further Reflection: Highlights from the Past 50 Years and Landmarks:
A Sense of Place.
Title: A Sense of Place (Detail)
Artist: Carol Lynn Gilchrist
Lacombe's Flat Iron Building (Detail)
Artist: Wendy Meeres

Watercolour, 2016 Watercolour, 2022
Title: At Ease
Artist: Susan Delaney

Riverlands Studio and Gallery, 5123 48 Street
Media: Acrylic, Collage, Mixed Media Paintings
Dates of Exhibition: February 1 – March 15, 2023
Opening Reception: February 3 from 5:30 – 8:30 pm
DESCRIPTION – Gesture, landscape, collage, abstraction, memory, home and history – some of Susan Delaney's long-standing studio interests – are learning to
play well together in her current practice.
http://Facebook.com/RiverlandsStudioandGallery
http://Instagram.com/@clgilchrist_artist
http://Instagram.com/@susandelaneyart
http://Facebook.com/delaneyart
Creativity Understood.
**********
Galleries & Exhibitions with no planned Opening Events
Title: Culmination of Inspiration
Artists: Trenton Thomas Leach
Media: Metal, Glass, Wood, Stone
Lacombe Performing Arts Centre, 5227 C & E Trail, Lacombe
Dates: until February 21, 2023
LPAC hours: Monday – Thursday, 9 AM – 3 PM, and Friday 10 AM – 2 PM.
Description – Inspiration can come through so many sources – from environment, experience, people, and more.
For Trenton, his exhibit,
"Culmination of Inspiration," showcases varied concepts.
Working with musicians, visiting a museum, garnering inspiration through other artists – this exhibit shows a variety of sculptures and wall art that is combines
all sources of inspiration. Trenton creates the art with metal, glass, wood, and stone; always on the lookout for different ways to incorporate different mediums into his art and anticipating the moments that become new sources of inspiration.
Trenton is a Central Alberta Artist that creates public and private sculptures using stained glass and metal. He teaches metal sculpture at the summer art "Series" program at Red Deer Polytechnic and stained-glass classes at Lacombe Performing Arts Centre. Trenton's inspiration for art often comes from nature, travel, painters, and musicians. He has actively been an artist for over 22 years and works in his studio, Rogue Art and Design, here in Lacombe.
Title: Urban Nature
Artists: Members of Contextural Fibre Arts Cooperative
Media: Fibre Arts
Marjorie Wood Gallery in the Kerry Wood Nature Centre, 6300 45 Avenue
Dates: December 18, 2022 – February 17, 2023
No #FirstFridaysRedDeer opening reception for February.
Title: An Exploration of Expression
Artist: Brad Olstad
Velvet Olive Lounge, 4928C 50 Street, Red Deer
Media: Mixed
Creativity Understood.
No reception for February.
Untitled
Mixed Media
Brad Olstad
Artist: Audrey Rits
Corridor Community Gallery, 4501 47A Avenue, Red Deer (lower level at Recreation Centre)
Dates: November 4 – February 2, 2022
Media: Mixed
Open until 5pm on #FirstFridaysRedDeer
About the Gallery: Located adjacent to The City's ceramics studio and recreation studios in the lower level of the Recreation Centre, this space provides a public venue for local artists and allows us to share in the talents and interests of fellow community members. Visit our Corridor Community Gallery page for more information.
Hours of operation: Mon – Fri 5:30am – 10pm, Sat 8am – 10pm, Sun/Holidays: 12 – 5pm.
Artribute Art School, 212 – 4836 50 Street, in the Old Courthouse. Treaty 6 & 7
Art in the Hallway, YMCA Northside Community Centre, 6391 76 Street, Red Deer
Curiosity Art & Framing, Bay 4 – 4676 61 Street, Riverside Industrial
First Fridays Red Deer is the monthly event where downtown art galleries hold exhibit openings and special events.