MLB tests pitch clock, anti-shift, bigger bases in minors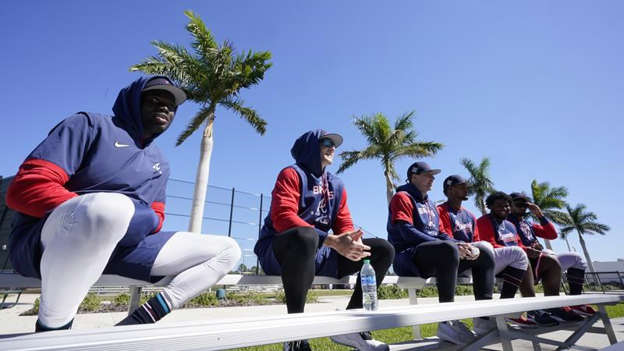 VENICE, Fla. (AP) — Pitchers, catchers and batters will be able to appeal calls from human umpires to "robo umps" in the Low-A Southeast League this season, while pitch clocks, anti-shift rules and larger bases will be tried in the minors ahead of possible big league use in 2023.
MLB announced a slate of rules trials Monday, including updates to the Automated Ball-Strike System (ABS) and a ban on infield shifts, that will expand on several experiments from 2021. Some could be introduced to the majors as soon as 2023. The changes were first reported by Yahoo! Sports.
ABS will be used at Triple-A for the first time, as well as in Low-A Southeast for the second straight year. ABS will call balls and strikes in Triple-A West after May 17 and at Triple-A East games played in Charlotte throughout the season, with an aim to "approximate the strike zone called by high-level umpires."
The Low-A Southeast challenge rule is new. In select games, human umpires will call balls and strikes, and each team will have three appeals that must be made by the pitcher, catcher or batter. Successful challenges will be retained by the team.
The pitch clock is being expanded to all levels after a trial in Low-A West and the Arizona Fall League. Pitchers will have 14 seconds with the bases empty and 19 with runners on at Triple-A, the same timing MLB negotiators mentioned to the players' association. At lower levels, pitchers will get 18 second with men aboard.
Additionally, pitchers will only be allowed two pickoff throws or step-offs per plate appearance. A third pickoff attempt that does not lead to an out will result in automatic advancement for the runners. MLB claims the tandem use of the pitch clock and the pickoff rule shortened games by more than 20 minutes on average last season.
Larger bases are also being adopted at all levels from 15 inches square to 18, which MLB hopes will limit injuries and encourage more action on the basepaths.
The infield shift will be banned at Double-A, High-A and Low-A. Teams will be mandated to have four players on the infield, two on each side of second base.
As part of the sport's labor contract agreed to by owners and players last week, the sides agreed to the creation of a competition committee that will consider the pitch clock, defensive positioning limits and larger bases for use as soon as 2023. The committee includes six management officials, four union representatives and one umpire, and it can with 45 days notice adopt rules changes. Previously, management was allowed to change rules with union consent or unilaterally with one year notice.
___
Follow Jake Seiner: https://twitter.com/Jake_Seiner
___
More AP MLB: https://apnews.com/hub/MLB and https://twitter.com/AP_Sports
Jake Seiner, The Associated Press
Canada handles Honduras with ease, advances to CONCACAF Nations League final four
Honduras defender Denil Maldonado (15) and Canada forward Cyle Larin (17) battle for the ball during first half CONCACAF Nations League soccer action in Toronto on Tuesday, March 28, 2023. THE CANADIAN PRESS/Nathan Denette
By Neil Davidson in Toronto
Canada is headed to Las Vegas, in search of the CONCACAF Nations League trophy after a dominant 4-1 win over Honduras on Tuesday.
Cyle Larin scored twice early and Jonathan David and Jonathan Osorio added second-half goals for the 53rd-ranked Canadians, who controlled the game from the get-go. Ismael Kone had a breakout game in the Canadian midfield.
Jorge Benguche scored a consolation goal for No. 81 Honduras.
"Prior to the game we talked about if you want to be part of CONCACAF's elite, you have to be in these final moments," said Canada coach John Herdman. "You've got to get into these big events. It's the first (time) in our history to get to a Nations League final and I think this group believes they can win it. And why not?
"The step they've taken tonight, I think they've shown a level of performance that should give us hope and a lot of belief that we can win that Nations League final."
The CONCACAF Nations League features 41 teams from North and Central America and the Caribbean split into three tiers: League A (12 teams), B (16) and C (13). The four group winners in League A advance to the final four, scheduled for June 15-18 at Allegiant Stadium in Las Vegas.
No. 13 Mexico (2-0-2) finished first in Group A, while the 15th-ranked U.S. (3-0-1) topped Group D. No. 61 Panama (3-0-1) won Group B after edging No. 32 Costa Rica (2-2-0) 1-0 in a later start Tuesday.
Points earned by the group winners factor into the semifinal matchups. The U.S., as the highest-ranked team by virtue of goal difference over Panama, will face Mexico, the lowest-ranked, while No. 2 Panama takes on No. 3 Canada in the semifinals at Allegiant Stadium.
The Canadian men are 4-2-6 all-time against Panama, which won 1-0 the last time the two teams met in March 2022 in Panama City in Canada's final World Cup qualifying game. Canada had already booked its ticket to Qatar by then.
The U.S. and Mexico met in the final of the tournament's inaugural edition in June 2021 with the Americans winning 3-2 after extra time in Denver, thanks to a Christian Pulisic penalty in the 114th minute.
Honduras was third and Costa Rica fourth.
Canada missed out on the final four in the inaugural tournament, finishing runner-up to the U.S. in its group on goal difference.
Canada (3-1-0) came into Tuesday's contest knowing a draw would be enough to win Group C and book its ticket to Sin City Honduras (2-2-0) needed a win.
The drama did not last long, with Canada leading 2-0 after just 12 minutes. Larin could have had a hat trick in the first half had he not sent a 42nd-minute penalty wide.
Honduras had no answer for Canada's multi-pronged attack before a modest crowd of 13,626 on a mild evening at BMO Field.
Canada went ahead in the ninth minute, cutting through the Honduras defence like a hot knife through butter, on a beautiful give-and-go between Osorio and Larin with Larin slotting the ball home through a defender's legs. Alphonso Davies triggered the attack down the left flank.
Larin made it 2-0 in the 12th minute, heading home a perfect Stephen Eustaquio corner after his marker, defender Denil Maldonado, lost his footing. Larin, who has scored five goals in his first eight games for Spain's Real Valladolid, increased his Canada total to 28 goals in 60 appearances.
Another Davies attack set up the penalty late in the first half with the Bayern Munich star beating four defenders. The ball found its way to Kone, who controlled it with his thigh and then hammered a shot from just inside the penalty box that hit Maldonado's arm.
El Salvador referee Ivan Barton immediately pointed to the penalty spot. Larin's ensuing penalty glanced off the outside of the post.
It was Canada's first penalty since Davies' spot kick was saved by Belgium's Thibault Courtois at the World Cup in Qatar.
David is Canada's designated penalty-taker but gave up the ball to Larin so he could try for the hat trick.
David made it 3-0 in the 49th, in the right place at the right time after Tajon Buchanan sliced into the Honduras penalty box at speed. His cross hit a couple of defenders, evading Larin but falling at the feet of David for the Lille striker's 24th goal for Canada in 40 appearances.
Herdman went to his bench in the 61st minute, sending on Hutchinson, Sam Adekugbe, Richie Laryea and Kyle Hiebert. Davies moved up in attack.
It was cap No. 103 for the 40-year-old Hutchinson, adding to his Canadian men's record, and No. 1 for Hiebert, a late call-up from St. Louis City FC after Kamal Miller was ruled out by injury.
Benguchi put Honduras on the board in the 73rd minute, flicking a header backwards off a corner.
Osorio restored the three-goal lead in the 86th minute, taking a perfect pass from Toronto FC teammate Ayo Akinola before bursting through two defenders to beat goalkeeper Luis Lopez.
Hutchinson was granted the honour of leading the Viking Clap with a drum in front of the fans in the south stand. He acknowledged it was a "cool moment" — one that comes near the end of his distinguished career.
"A couple more games," said Hutchinson, an icon both for Canada and his Turkish club side Besiktas.
Herdman and defender/wingback Alistair Johnston were back after sitting out the 2-0 away win Saturday over No. 86 Curaçao through suspension in the wake of being sent off last June in a hot-blooded 2-1 loss in Honduras.
Johnston replaced the suspended Steven Vitoria in the back three while Buchanan, who saw action off the bench against Curaçao after dealing with a minor hamstring issue, moved into the starting 11.
The Canadians improved to 9-12-7 all-time against Honduras, including 6-2-3 on home soil.
Tuesday's game was the first for the Canadian men at BMO Field since the historic 4-0 victory over Jamaica that sealed World Cup qualification on March 27 last year.
The Canadian men are now unbeaten in 16 matches at home (15-0-1) and have won their last eight straight. Their last loss on Canadian soil was 3-0 to Mexico in March 2018 in World Cup qualifying.
Canada has not lost at BMO Field since September 2010 when it was beaten 2-0 by Peru. It has gone 15-0-6 at the lakefront stadium since then, outscoring the opposition 54-6.
Canada blanked Curaçao 4-0 before losing in Honduras to open Nations League play last June. Those matches came amid turmoil in the Canada camp, with players refusing to take part in a planned friendly against Panama over ongoing labour talks.
Curaçao (1-3-0) has been relegated to League B after finishing third in Canada's group.
—
Follow @NeilMDavidson on Twitter
This report by The Canadian Press was first published March 28, 2023.
Nugent-Hopkins, Oilers roll past Golden Knights 7-4
The Edmonton Oilers celebrate a goal against the Vegas Golden Knights during the first period of an NHL hockey game Tuesday, March 28, 2023, in Las Vegas. (AP Photo/Lucas Peltier)
By Mark Anderson in Las Vegas
LAS VEGAS (AP) — Ryan Nugent-Hopkins tied a career high with five points, and Edmonton's top-ranked power play scored three goals as the Oilers beat the Vegas Golden Knights 7-4 on Tuesday night to tighten the Pacific Division race.
The Oilers, who extended their point streak to eight games, have 95 points and are three behind first-place Vegas. Los Angeles lost 2-1 to Calgary and remains in second place with 96 points.
Edmonton cooled off a Golden Knights team that had won four games in a row and eight of nine. The Oilers also prevented Vegas from clinching a playoff spot.
Nugent-Hopkins helped make sure of it with a goal and four assists. His only other five-point game occurred Nov. 19, 2011, when he had five assists against Chicago.
He was one of three Oilers with multiple points. Connor McDavid had three assists and Leon Draisaitl a goal and an assist. McDavid leads the NHL with 143 points and 83 assists.
The Oilers also got goals from Evan Bouchard, Darnell Nurse, Evander Kane, Zach Hyman and Brett Kulak. Edmonton's power play went 3-for-3 in just 2:55 of total time, and Stuart Skinner made 19 saves.
Jonathan Marchessault had two goals for the Knights, and William Karlsson and Michael Amadio each scored once. Alex Pietrangelo added two assists.
In the first 10 minutes, the teams combined for five goals, Nugent-Hopkins had three points and a friendly fire puck to the face, the Oilers scored twice on both power-play opportunities and the Knights netted a short-handed goal.
Edmonton broke open a 3-all game in the second with three goals in the final 13:59, dominating the ice with 34 shots on goal through the first two periods compared to 12 for the Knights.
Laurent Brossoit replaced Jonathan Quick in the Knights' net to open the third period.
Golden Knights defenceman Shea Theodore did not play in the third period. The reason wasn't immediately provided.
GOING STREAKING
The Oilers built on a number of impressive streaks. Draisaitl and Hyman each extended their goal streaks to three games, and Draisaitl's point streak reached 10 games (six goals, 14 assists). McDavid (six goals, 13 assists) and Nugent-Hopkins (five goals, 13 assists) have ongoing nine-game streaks, and Nurse (three goals, three assists) is at six games.
Vegas also extended a couple of notable streaks. Marchessault scored for the third game in a row, and Phil Kessel has a five-game point streak (two goals, four assists).
UP NEXT
Oilers: Thursday against Los Angeles in a battle for playoff positioning in the Pacific Division.
Golden Knights: Thursday at San Jose, which is last in the Pacific.