MPs urged to act on concerns on coerced sterilization of Indigenous women
OTTAWA — MPs on the House of Commons health committee heard grave concerns Thursday about ongoing sterilizations of Indigenous women without their consent — an issue also raised by the national inquiry tasked with examining violence against Indigenous women in its many forms.
Alisa Lombard, a lawyer representing Indigenous women who allege they were coerced into sterilization procedures after childbirth, told the committee her clients live with emotional and physical trauma.
"They cannot have children," Lombard said. "It was not their choice. They suffer."
Lombard talked about one of her clients, known as D.D.S., who believed she had no choice but to sign a consent form moments after receiving an epidural at a Moose Jaw, Sask., hospital in December 2018.
The federal government must now take very concrete measures on prevention, punishment and reparations for women who have gone through these experiences, she said, adding that Canada has faced calls, including from the United Nations Committee Against Torture, to act.
Lombard was questioned Thursday by Liberal MP Robert-Falcon Ouellette about how much Canadians care about the issue, given that it's been discussed, including in media reports, for more than two years.
"I guess we will find out," she replied.
The women deserve accountability, agreed Francyne Joe, the president of the Native Women's Association of Canada who also testified.
Earlier Thursday, Lombard said in an interview it is not surprising the national inquiry into missing and murdered Indigenous women and girls included the issue among its findings.
The commission, which released 231 recommendations last week, was asked by the federal government to probe all forms of violence against Indigenous women and girls.
Lombard said "obstetric violence" clearly falls into that category, adding that numerous parties with standing at the inquiry made submissions on the issue, including the vice-chair of Saskatchewan's Federation of Sovereign Indigenous Nations.
The inquiry's final report says that Alberta and B.C. both repealed provincial sterilization acts in the 1970s but Indigenous women across the country tell stories of coerced sterilizations that continue even today.
It also notes the proposed class-action lawsuit on behalf of Indigenous women in Saskatchewan who have provided evidence they were sterilized without their consent.
The proposed class was launched in 2017, naming the Saskatoon Health Authority, the Saskatchewan government, the federal government and a handful of medical professionals as defendants.
More than 100 women have since come forward with allegations.
"We believe that is only the tip of the iceberg," Melanie Omeniho, the president of Women of the Metis Nation, told the committee.
Metis women are not just concerned about doctors performing procedures, she added. She said coercion comes from other players in medical institutions and social workers as well.
The health committee passed a motion on to call RCMP commissioner Brenda Lucki to testify on the issue.
NDP health critic Don Davies has been calling for the Mounties to launch a criminal probe of coerced sterilizations. In response to a letter he sent earlier this year, Lucki said the force will work with commanding officers in each province and territory to see if any complaints have been reported.
She pledged the force would reach out to other Canadian police agencies as well but said a preliminary review of the RCMP's national database found no records of specific complaints to pursue.
—Follow @kkirkup on Twitter
Kristy Kirkup, The Canadian Press
Ontario doctor alleged to have killed 4 people around same date in 2021: documents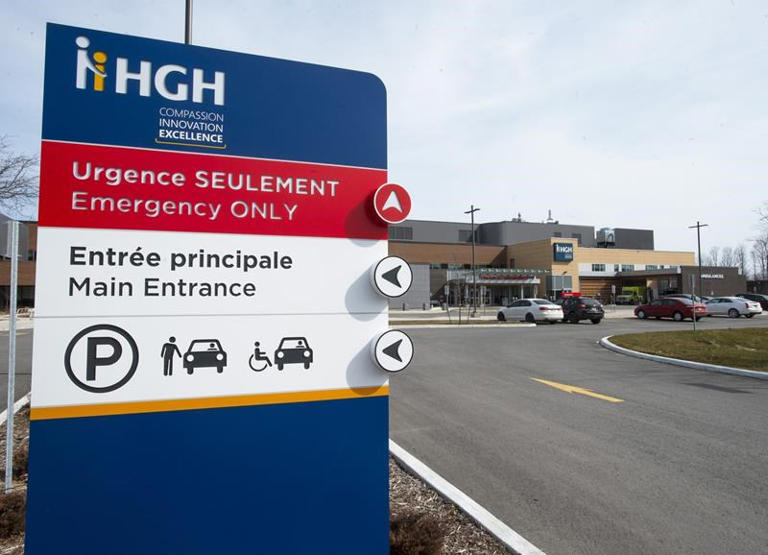 HAWKESBURY, Ont. — Court documents allege an eastern Ontario doctor killed four people around the same date in 2021.
Dr. Brian Nadler was initially charged with first-degree murder last year in the death of 89-year-old Albert Poidinger at the Hawkesbury and District General Hospital.
At the time, police said they were investigating the doctor in connection with several other deaths at the hospital.
Ontario Provincial Police laid three additional charges of first-degree murder against Nadler on Wednesday, in the deaths of 80-year-old Claire Briere, 79-year-old Lorraine Lalande and 93-year-old Judith Lungulescu. But they declined to provide details on the new charges, including when and where the three died.
Court documents allege Poidinger was killed on March 25, 2021, and the three others "on or about" that date.
The documents say Briere, Lalande and Lungulescu also died in Hawkesbury, Ont.
Nadler's lawyers have said their client maintains his innocence.
In a statement issued Wednesday, Brian Greenspan, David Humphrey and Naomi Lutes said Nadler provided "excellent palliative care" to the four patients, who they said died from COVID-19.
The doctor was released on bail in July of last year, and his lawyers said he was released again under the same conditions after his arrest this week.
Those conditions include that Nadler remain in Canada, reside at an approved address and notify police of any address change. He is also forbidden from practising medicine and from communicating with employees, patients and relatives of patients at the Hawkesbury hospital.
The case is set to return to court on Sept. 7.
This report by The Canadian Press was first published Aug. 19, 2022.
The Canadian Press
Wolf missing from Vancouver zoo found safe, returned to pack
ALDERGROVE, B.C. — A wolf missing from a British Columbia zoo has been found safe and returned to its pack.
The Greater Vancouver Zoo says in a statement the discovery of the one-year-old female canine known as Tempest puts an end to a three-day search and rescue operation.
It does not say where the wolf was found or elaborate on her condition, but it says the zoo in Aldergrove, B.C., will re-open Saturday.
Menita Prasad, the zoo's deputy general manager, said Thursday that nine wolves escaped after a perimeter fence and their enclosure were deliberately "compromised."
Workers and conservation officers began searching for the wolves after the escape was discovered Tuesday morning, while the RCMP is investigating the incident as a suspected case of unlawful entry and vandalism.
A three-year-old female wolf called Chia was found dead on a roadside, while all others have now been accounted for.
This report by The Canadian Press was first published Aug. 19, 2022.
The Canadian Press