Missing and murdered Indigenous women's inquiry wages court fight for RCMP files
OTTAWA — The national inquiry into missing and murdered Indigenous women is fighting in court for access to two RCMP files the national police force is refusing to hand over.
The inquiry is set to issue its long-awaited report in June, but says it wants the contested Mountie files to complete its work on one of the saddest chapters in Canada's recent history.
Little is publicly known about the two disputed files other than their titles: "Missing Person: Missing Indigenous Woman" and "Homicide: Murdered Indigenous Woman."
Both sides agreed to an expedited process and hope to have hearing dates on the dispute before mid-May in the Federal Court of Canada, said Catherine Kloczkowski, a spokeswoman for the inquiry.
"The RCMP should have disclosed these relevant files to the National Inquiry months ago," she said. "They did not."
Federal lawyers acting on behalf of the RCMP have yet to make submissions to the court.
A statement from the Mounties said the RCMP makes every effort to co-operate with the inquiry, but this assistance "must not come at the expense of compromising the integrity of ongoing criminal investigations."
In an April 8 notice of application outlining its case, the inquiry seeks a court order disclosing the two files to commission lawyers.
As part of its mandate, the inquiry established a forensic document-review team to confidentially review police and institutional files, seeking to identify systemic barriers or other weaknesses related to the protection of Indigenous women and girls. The ultimate aim was to make recommendations about the underlying causes of disappearances, deaths and acts of violence.
The inquiry issued two subpoenas last September directing the RCMP to disclose various files, according to the notice of application. In December, the police force produced written rationales claiming public-interest privilege over 59 files because the cases were still under investigation.
Federal lawyers and inquiry counsel then agreed to a procedure, in keeping with the common law, to test the RCMP's claims of privilege on 12 files most keenly sought by the forensic document-review team.
An RCMP investigator with knowledge of each file was interviewed by an inquiry lawyer in front of one of the inquiry's four commissioners. After the interviews, lawyers for each side made submissions. The sitting commissioner then ruled on whether public interest privilege had been established.
During the interviews, which took place in January, the inquiry abandoned its challenge on one file and the government dropped its claim of privilege over another. Seven of the remaining 10 files were ordered to be turned over to the inquiry, and one was ruled to be validly withheld, leaving just the two files now at the centre of the court battle.
Federal lawyers objected to their disclosure by filing certificates with the Federal Court under the Canada Evidence Act, which allows for a hearing to decide whether secrecy will prevail.
The court must weigh the public interest in disclosing the two files to the inquiry against any public interest in keeping them under wraps.
In its notice, the inquiry says the contested files "are no longer under active investigation" and should be given to the forensic document team.
The RCMP said in its statement to The Canadian Press that the force has reviewed, assessed and disclosed a total of 23 active files to the inquiry. "In two such cases, however, the risk to ongoing investigations and future prosecutions is too high to disclose them."
Kloczkowski said that upon receiving the two files, the inquiry could, under its terms of reference, use them to make recommendations or refer the contents to authorities for further action.
The commissioners can pass along information to appropriate agencies if it could be used in the investigation or prosecution of Criminal Code offences, or if it points to misconduct. The commissioners have already identified a "number of cases" that appear to warrant alerting authorities, Kloczkowski said.
Although the inquiry can't disclose details of those cases, the number of referred cases will be made public at the end its mandate, she added.
— Follow @Jim Bronskill on Twitter
Jim Bronskill , The Canadian Press
In a "Staggering Precedent" Trudeau government dodging parliament with massive "inflation tax" on Canadians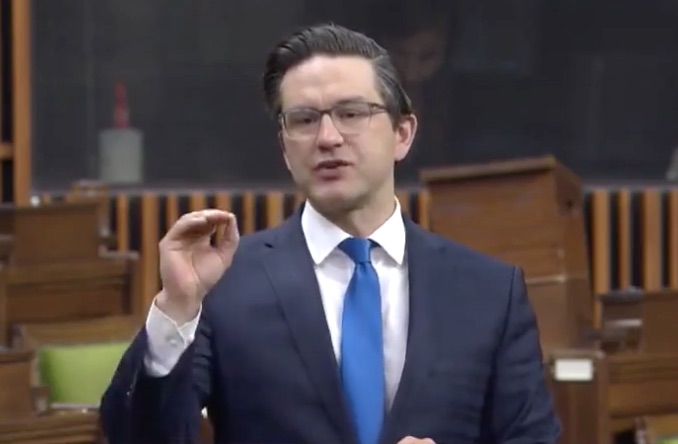 Federal Conservative Pierre Poilievre has released video from a recent Question of Privilege in the House of Commons where he explains how the Federal Liberal government has been dodging parliament to significantly raise taxes.
Instead of going further into debt or raising taxes to pay for a massive increase in government spending, the Trudeau government worked out a deal with the Central Bank.  Every week the Central Bank prints billions of dollars that go directly to government coffers.  Without a single vote and without consulting Parliament, the federal government is effectively raking in the largest tax increase in Canadian history.
By printing money at this unprecedented rate, the federal government is responsible for driving up Canada's inflation rate resulting in price hikes for virtually all goods and services.  Poilievre calls it an "inflation tax".
In this short video, Poilievre describes how the inflation tax hurts low and middle income Canadians, while increasing the value of assets owned by the richest Canadians.
New opinion surveys reveal overwhelming majority of Canadians support our Oil and Gas industry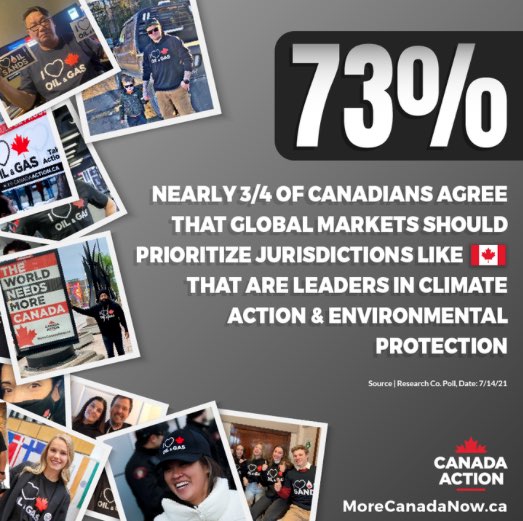 News Release from Canada Action
We are very excited to share some recent and encouraging polling results today. According to a July 2021 public opinion survey conducted by Research Co, new data shows that Canada's public perception of our responsible energy industry is very positive.
Here are some of the key findings:
Almost three in four (73 percent) Canadians polled agree Canada should be a preferred global supplier of energy because of its climate and environmental record.
Nearly seven in ten (69 percent) say they have personally benefited from the oil and gas sector.
70 percent agree that resource development could help alleviate systemic poverty within Indigenous communities.
Two thirds of Canadians (66 percent) support Canada's role as a global oil and gas supplier.
Almost three in four Canadians (73 percent) acknowledge Canada's prosperity is supported by the oil and gas sector and that Canadian oil and gas production helps fund important social programs like health care and education.
Referring to the fact 73 percent of Canadians polled also agreed it's essential First Nations be included in project development to establish long-term revenue sources for their communities, JP Gladu, acting Executive Director of Indigenous Resource Network, noted the following:
Taken collectively, this is all exceptional news for all of Canada's natural resource industries. Your support for our positive, fact based message about why the world needs more Canadian energy and resources is helping make a difference.
A Majority of Canadians 'Agree' that Canada Should be a Preferred Global Supplier of Energy: POLL