Missing and murdered Indigenous women's inquiry wages court fight for RCMP files
OTTAWA — The national inquiry into missing and murdered Indigenous women is fighting in court for access to two RCMP files the national police force is refusing to hand over.
The inquiry is set to issue its long-awaited report in June, but says it wants the contested Mountie files to complete its work on one of the saddest chapters in Canada's recent history.
Little is publicly known about the two disputed files other than their titles: "Missing Person: Missing Indigenous Woman" and "Homicide: Murdered Indigenous Woman."
Both sides agreed to an expedited process and hope to have hearing dates on the dispute before mid-May in the Federal Court of Canada, said Catherine Kloczkowski, a spokeswoman for the inquiry.
"The RCMP should have disclosed these relevant files to the National Inquiry months ago," she said. "They did not."
Federal lawyers acting on behalf of the RCMP have yet to make submissions to the court.
A statement from the Mounties said the RCMP makes every effort to co-operate with the inquiry, but this assistance "must not come at the expense of compromising the integrity of ongoing criminal investigations."
In an April 8 notice of application outlining its case, the inquiry seeks a court order disclosing the two files to commission lawyers.
As part of its mandate, the inquiry established a forensic document-review team to confidentially review police and institutional files, seeking to identify systemic barriers or other weaknesses related to the protection of Indigenous women and girls. The ultimate aim was to make recommendations about the underlying causes of disappearances, deaths and acts of violence.
The inquiry issued two subpoenas last September directing the RCMP to disclose various files, according to the notice of application. In December, the police force produced written rationales claiming public-interest privilege over 59 files because the cases were still under investigation.
Federal lawyers and inquiry counsel then agreed to a procedure, in keeping with the common law, to test the RCMP's claims of privilege on 12 files most keenly sought by the forensic document-review team.
An RCMP investigator with knowledge of each file was interviewed by an inquiry lawyer in front of one of the inquiry's four commissioners. After the interviews, lawyers for each side made submissions. The sitting commissioner then ruled on whether public interest privilege had been established.
During the interviews, which took place in January, the inquiry abandoned its challenge on one file and the government dropped its claim of privilege over another. Seven of the remaining 10 files were ordered to be turned over to the inquiry, and one was ruled to be validly withheld, leaving just the two files now at the centre of the court battle.
Federal lawyers objected to their disclosure by filing certificates with the Federal Court under the Canada Evidence Act, which allows for a hearing to decide whether secrecy will prevail.
The court must weigh the public interest in disclosing the two files to the inquiry against any public interest in keeping them under wraps.
In its notice, the inquiry says the contested files "are no longer under active investigation" and should be given to the forensic document team.
The RCMP said in its statement to The Canadian Press that the force has reviewed, assessed and disclosed a total of 23 active files to the inquiry. "In two such cases, however, the risk to ongoing investigations and future prosecutions is too high to disclose them."
Kloczkowski said that upon receiving the two files, the inquiry could, under its terms of reference, use them to make recommendations or refer the contents to authorities for further action.
The commissioners can pass along information to appropriate agencies if it could be used in the investigation or prosecution of Criminal Code offences, or if it points to misconduct. The commissioners have already identified a "number of cases" that appear to warrant alerting authorities, Kloczkowski said.
Although the inquiry can't disclose details of those cases, the number of referred cases will be made public at the end its mandate, she added.
— Follow @Jim Bronskill on Twitter
Jim Bronskill , The Canadian Press
Gerry Feehan Receives the Legendary Invitation, A World Famous Newfoundland Tradition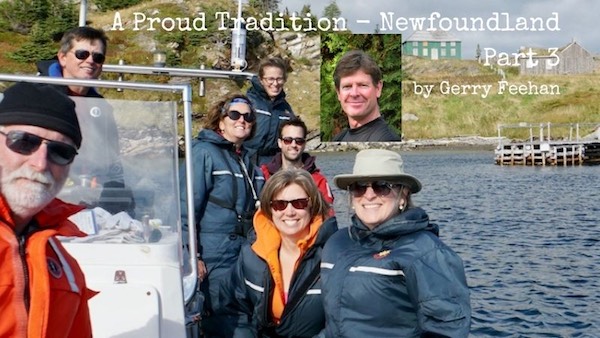 By Gerry Feehan
This is the third of four parts in the Newfoundland series. Scroll down to find Part 1, Gros Morne, and part 2 North America's Oldest European Settlement
If Newfoundlanders weren't so damn friendly we'd have been on time for our Jiggs dinner.
Terra Nova National Park is situated in eastern Newfoundland, 399 sq km of rugged rock, trees and wetland, wrapped around idyllic fingers of Bonavista Bay. The Trans-Canada highway bisects the park, then continues southeast toward Come by Chance and eventually the capital, St. John's, on the Avalon Peninsula. It was early October. Terra Nova was still open for business, but quiet, so we had our choice of primo campsites. As we checked in I grabbed a bag of firewood. It was going to be a cold night, with frost expected. The ranger stopped me, "No sense you paying for wood. The folks in site 17 just bought a big load. Just go over and join them when the fire starts."
And so we did. And that's how we met Burkey and Bev. Even before we reached their roaring fire, Burkey spotted us timidly approaching from the shadows, and without a word, pulled out spare chairs and began pouring drinks. It was Thursday before Thanksgiving. The Burkes were setting up camp, preparing for the arrival of friends and family, and prepping for the big occasion: Sunday's Jiggs dinner. After a fun evening of chatter (interspersed with a few tunes from my ever-present ukulele) we rose to bid adieu. "You'll come for dinner Sunday?" asked Barb. I did some quick calculating. We had a week left on The Rock but had yet to visit St. John's. Plus there was the Irish Loop and Bonavista Peninsula to explore. And we had a long drive back west to Port Aux Basque, almost 1000km, in order to catch the ferry on Tuesday.
"Sure," I said.
On Sunday we awoke to a gorgeous morning at the Cabot Highway RV Park, a few kilometers from the town of Trinity, on Bonavista Peninsula. (The intervening 3 days and our St John's/Avalon/Irish Loop drive will be recounted in the fourth and final yarn of this series.) When we reached Trinity I headed straight through town, bound for the local pier, as I am wont to do. Preoccupied by the brightly painted clapboard homes, 19th century church spires and scenic fishing stages (houses hanging over the water used for cleaning cod), I failed to observe that the roadway was becoming dangerously narrow.
We ended up trapped on the town boat ramp, pointed seaward. There was no way to turn the motorhome around. Florence was starting in on my (justly-deserved) beratement when a boat pulled up to the wharf. "What are you after doing down there, b'y?" asked the operator with an amused look. With his guidance I was able to slowly reverse position and get the RV pointed away from the slippery slope and safely back toward land. I offered my thanks. "No trouble," said he, bobbing in his boat. "I'm taking friends out for a tour of the bay this lovely morning. Would you and your wife like to join us?" I did some more calculating. It was a two-hour drive back to Terra Nova. Jiggs dinner was at 3pm. "We'd need to be back to shore by 1pm," I said. "No worries," he replied, "I'll have you at the dock by noon at the latest."
It was a fantastic outing. Skipper Bob and his partner Bonnie run www.trinityecotours.com. The tourist season was almost over and the day's trip was just for fun. Although the usual fare is $90 a person, they refused to take our money. We followed the rugged coastline, where the remains of the ancient Appalachian Mountains slip into the sea. In Trinity Bay, while a whale spouted to starboard, we came alongside a fisherman hauling up net and cleaning cod. He offered us a bag overflowing with fillets and, with the waive of a hand, made it clear he wouldn't accept payment.
As we motored into a protected, hidden bay, the remains of a long-abandoned village came into view. Bonnie told us, "This place is known as Ireland's Eye. On the other side of the island is a spot called Black Duck Cove. That's where my dad lived until he was 11years old.  In the mid 50's the government began a resettlement program to get people who lived on remote islands to move to the mainland where there would be better access to services like hospitals and schools."
In some respects it was forced relocation. Many people, rather than abandon their homes, floated their lodgings to the mainland communities. "The old place on Ireland's Eye was left behind but my grandfather floated a house from Pope's Harbour to New Bonaventure in August 1965. It was a saltbox style, with the porch and bathroom added later."
Life was hard on The Rock 50 years ago.
Time flies when you're playing on the ocean. It was after 2pm when Bob idled the boat back into the marina. We bid a hasty thank-you and adieu and raced for Terra Nova. When we arrived at the campground it was getting dark. All sites were vacant save one. Bev and Burkey were just breaking camp, headed back to Clarenville.
"We are so sorry," I apologized. "No problem," said Bev. "You said you were coming for scoff so I knew you'd be here. I did up a couple of plates. They're still warm."
A traditional Newfoundland Jiggs dinner consists of turkey, dressing, gravy, bread pudding, carrots, turnip, cabbage, mashed potatoes, pease pudding, figgy duff – and boiled salt beef. For dessert Barb likes to do blueberry crumble and partridgeberry cake topped with hot vanilla sauce. Simple really. And easy to whip up, especially from the cramped confines of your trailer, in a campground, in the cold. Each platter held enough food for three Jiggs dinners. Burkey laughed and told us that a Newfoundlander's idea of fine dining is a full plate. I offered him two fresh cod fillets and, although it was a little like carrying coals to Newcastle, he graciously accepted.
Florence and I were the only campers in Terra Nova that night. As they drove away Burkey said, "No sense you buying firewood, there's plenty left." Bev waived goodbye and they rolled out of our lives.
I looked at the overflowing feast, loosed my belt and dug in.
Next time: St John's and the Irish Loop
Gerry Feehan is an award-winning travel writer and photographer. He lives in Kimberley, BC.
Gerry Feehan is an award-winning travel writer and photographer. He and his wife Florence live in Kimberley, BC!
Thanks to Kennedy Wealth Management for sponsoring this series.  Click on the ads and learn more about this long-term local business.
Gerry Feehan takes us to North America's Oldest European Settlement
Click to read more travel stories.
Gerry Feehan takes us to North America's Oldest European Settlement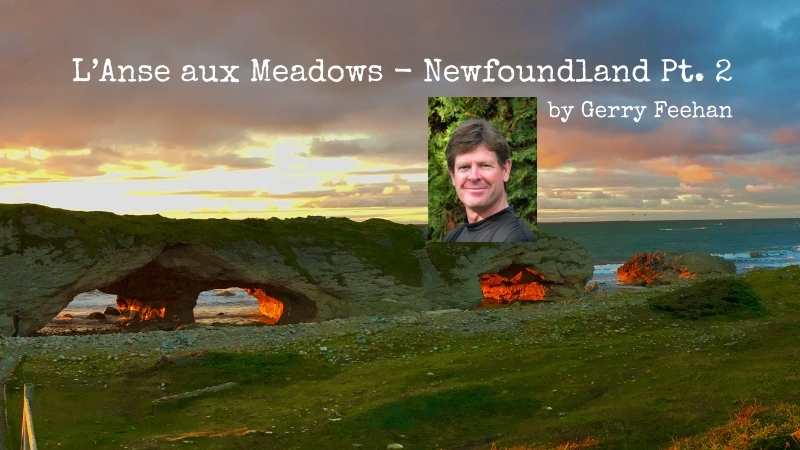 By Gerry Feehan
This is the second in the Newfoundland series. Scroll down to find Part 1, Gros Morne. 
On a lonely highway in a tempest on Newfoundland's remote Northern Peninsula, we finally spotted our first moose. Luckily, before moose met grill, the big bull stepped off the road into the ditch and I was able to keep the rig down the centerline, avoiding the frigid Gulf of St. Lawrence to our left and a frightfully deep fen to our right.
We had set out that morning from Gros Morne National Park, 350 km south 'up' the coast. The night before had been clear and 7 degrees. By early morning it was rain and 17. This was the muggy aftermath of Hurricane Irma, which long after devastating Key West, was now bringing high winds and warm rain to remote—and distinctly non-tropical—Newfoundland.
We were bound for L'Anse aux Meadows, on the extreme tip of northwest Newfoundland where lie the remains of North America's oldest European settlement. It was October so, although we arrived before 5 p.m., twilight was nigh as we settled in at the Viking RV Park. We were the only campers. The office was closed. In the morning I deposited cash in the "off-season/$25 per night" bucket by the abandoned office and drove the remaining few km to the National Historic Site.
One of the advantages to a late fall motorhome trip is that, with darkness extant by suppertime, it's early to bed—and early to rise. (The healthy wealthy and wise part I won't comment on.) So, uncharacteristically, we arrived at L'Anse aux Meadows first thing in the morning, just as the park gates were being unlocked.
"…Both are horrible!" said the Leif look-alike…"
Leif Ericsson, a Norse explorer, together with his small group of intrepid fellow Viking seafarers, landed here around 1000 AD. They strategically chose this spot near the Straight of Belle Isle, within sight of Labrador. They called the place Vinland, the land where wild grapes grow. Setting up a sturdy encampment of turf-walled buildings, they explored for hardwood lumber, iron ore and arable land.
From the visitor center we followed a Parks Canada interpreter down the winding boardwalk toward the sea. He showed us the faint remains of the original sod buildings: the Leader's Hall, labourer's quarters, a women's workshop and the smelting hut where a charcoal kiln produced iron from bog ore. But the terrain was unwelcoming—as perhaps was the indigenous native population—and after only a decade or two, the Vikings abandoned the site, burning everything as they departed.
"….I die at you, she said laughing…."
The interpreter's talk ended at the ruins and, with somber thoughts, we continued down the trail to where the National Park service has artfully reconstructed a series of replica sod huts by the cold sea. The Norse may have been fierce warriors but they couldn't have been very tall—I had to stoop as we entered the longhouse. The room was dimly lit by a smoky peat fire. When our eyes adjusted to the low yellow light, we noticed a man and a woman clad in Viking attire seated by the comfortable fire. The man, a Leif Ericsson doppelganger, whittled a talisman while the young woman wove fabric on a traditional loom. They explained in detail how the first Viking explorers had lived, eaten, slept and toiled here 1000 years ago, eking out a meagre existence on this inhospitable shore by the frigid north Atlantic.
Newfoundlanders are the friendliest, most outgoing of people, so when I asked the young woman if she lived nearby, her Parks Canada persona evaporated like 'tick fog' and the talk immediately turned to the upcoming weekend, her two hard-earned days off and fall berry-picking. "I was born just over that side of the 'arbour. My father ran trawler 'til the fish ran out." (In Newfoundland 'fish' means cod. Everything else, haddock, flounder, plaice, etc. is known by its usual name.) She winked and said, "Growing up, it was always cold in the house. In winter me mom would open the fridge to warm the place."
I then inquired about the merits of partridgeberry vs. bakeapple jam. We had been looking for souvenir gifts and both berry varieties were available at the Dark Tickle Chocolate store just down the road. "Both are horrible!" said the Leif look-alike, unable to resist joining in. Our new lady-friend disagreed and told him so in no uncertain terms. "Oh me nerves, he's got me drove." Apparently, partridgeberry-picking was number one on her weekend agenda.
In an effort to segue the subject I asked whether the town of Quirpon or Great Brehat—each just down the coast—were worth a visit. She and Leif chuckled at my accent. "I die at you," she said laughing. Nothing will more quickly label you a tourist in Newfoundland as the mispronunciation of local place names. Quirpon is 'Car-poon.' Great Brehat is pronounced 'Great Bra'. Happily, I didn't inquire about the town of Ferryland.
"Where are youse from?" our Viking-ess asked. "Alberta," we replied. "Alberta," she continued. "I've got a brother in Ft. McMurray." (I can report that we didn't meet a single Newfoundlander who did not have at least one family member working out west. But, no matter where a Newfie might live, a trip 'home' is always in the works. Famously, it is a 63-hour drive from Ft McMurray to the Rock.)
I tried to get her back on Viking track—but to no avail. All pretense of the 11th century Norsewoman was abandoned. She continued, talking about her husband, the small family garden, the incessant rain. "And there was himself last night," she continued. "Luh, standing in a downpour, coat wide open, staring at lord knows what, sopped to the skin and stunned as me arse." Then she politely adjusted her bonnet and resumed weaving.
CBC radio had gravely informed us that morning that the Doomsday Clock had been moved to two minutes before midnight. The world was closer to self-destruction than it had been at any time since the Cold War. I asked her if she was worried.
"Why, not a bit. After all, with the half-hour time change here on the Rock, us Newfies got 'til 12:30."
I love Newfoundland.
Gerry Feehan, QC is an award-winning travel writer and photographer. He lives in Kimberley, BC.
Special thanks to Kennedy Wealth Management for supporting this series.