'Miraculous event:' Pope visiting former Alberta residential school site during visit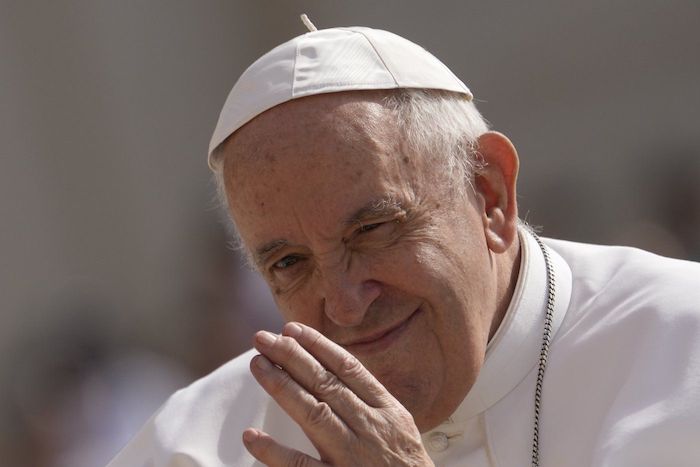 By Kelly Geraldine Malone and Brittany Hobson
The program for Pope's trip to Canada next month includes a visit to the site of a former Alberta residential school with survivors, the Vatican said Thursday.
The papal visit is set to start in Edmonton on July 24 and end in Iqaluit on July 29. It is to include public and private events with an emphasis on Indigenous participation.
"We pray this pilgrimage will serve as another meaningful step in the long journey of healing, reconciliation and hope," said Archbishop Richard Smith of Edmonton, the general co-ordinator of the papal visit to Canada.
Pope Francis is expected to deliver an apology for the Roman Catholic Church's role in residential schools during the trip, building on sentiments expressed earlier this year during an Indigenous delegation to the Vatican.
At that time, the Pope apologized for the deplorable conduct of church members involved in residential schools.
Pope Francis is scheduled to arrive in Edmonton on July 24 to a brief ceremony at the airport. The next day he is set to join survivors at the Ermineskin Indian Residential School in the community of Maskwacis south of the city.
Gilda Soosay, a member of Samson Cree Nation, said it is a "miraculous event" for her people.
"We have to look forward to what's coming for our people, our grandchildren and the children coming after that," said Soosay, who is part of the local committee preparing for the visit.
"We need to begin a healing process for our people here in Maskwacis."
In a statement, the Maskwacis Tribal Council representing the four local First Nations emphasized the importance of the visit.
"This is a pivotal moment for the world to witness and understand the impacts of the intergenerational traumas suffered by Indigenous people in residential school systems in Canada and around the world," they said. "This is an important step toward reconciliation for everyone to be a part of."
Ermineskin was one of the largest institutions in Canada. Smith said it "will have a representative role for all residential schools." He anticipates the apology will come in front of survivors at the school.
Francis is also scheduled to visit Sacred Heart Church of the First Peoples, an Indigenous church in downtown Edmonton, on July 25.
Fernie Marty, an elder originally from Cold Lake, Alta., said he was excited and nervous about meeting Pope Francis.
"We have a unique history happening here. It's important for my own personal healing to continue," said Marty, who is a day school survivor and works at Sacred Heart Church.
The following day, Francis is scheduled to attend a large mass at Commonwealth Stadium, home of the Edmonton Elks CFL football team. The facility can hold about 65,000 people.
The pontiff is to go to Lac Ste. Anne that evening where a large pilgrimage takes place each year.
"People are looking forward to being with him. Praying with him at Lac Ste. Anne," said Rev. Garry LaBoucane, a Métis priest and spiritual director of the pilgrimage.
Due to the 85-year-old Pope's advanced age and limitations, Francis will take part in public events for about one hour, organizers said.
Crown-Indigenous Relations Minister Marc Miller said the federal government will be providing support to transport survivors, but he did not provide a cost. Planning is taking place to avoid a "logistical nightmare," he said.
Miller added that he expects to attend events in Alberta.
The Pope is next scheduled to travel to Quebec City on July 27, where he is to meet with Prime Minister Justin Trudeau and Gov. Gen. Mary Simon, and later deliver a public address.
The pontiff is then scheduled to travel to Sainte-Anne-de-Beaupré on July 28 for a mass. Between 10,000 and 15,000 guests are anticipated to attend.
"The Pope is very much looking forward to coming here," Archbishop of Quebec Gérald Cyprien Lacroix said. "Despite his limited health, he will be fully present with us to live this next step in the process of reconciliation and healing with the Indigenous Peoples of our country."
Pope Francis is scheduled to meet with Indigenous leaders from Eastern Canada on July 29 before flying to Iqaluit. There, Francis will have a private meeting with residential school survivors and attend a public community event.
The Pope's priority during the visit is the relationship with Indigenous Peoples, Smith said, adding the pontiff has heard the cry for reconciliation and the longing for hope.
"This is one step in the journey," Smith said. "But it's a huge step."
The program's release comes as some worried the pontiff's health may delay the journey to Canada. Earlier this month, a scheduled trip to Congo and South Sudan was cancelled "in order not to jeopardize the results of the therapy that he is undergoing for his knee," the Vatican said.
Smith said the Vatican's release of the program should provide an assurance that Pope Francis will come to Canada.
The Indian Residential Schools Resolution Health Support Program has a hotline to help residential school survivors and their relatives suffering trauma invoked by the recall of past abuse. The number is 1-866-925-4419.
This report by The Canadian Press was first published on June 23, 2022.
'A brand new day': First Nations sign child welfare agreement with Ottawa, Alberta
Flags with "Every Child Matters" written on them fly in Maskwacis, Alta., on Monday, June 27, 2022. Three Alberta First Nations have signed an agreement with the federal and provincial governments to be responsible for their own child welfare systems. THE CANADIAN PRESS/Jason Franson
Trout Lake, Alberta
Three northern Alberta First Nations have signed an agreement with the federal and provincial governments to be responsible for their own child welfare systems.
The chiefs of Loon River First Nation, Lubicon First Nation and Peerless Trout First Nation gathered Tuesday with members of their communities and representatives of the federal and provincial governments to celebrate the agreement.
"Today there is hope, hope that we can begin to truly heal intergenerational trauma that has impacted our children for too long," said Chief Gilbert Okemow of Peerless Trout First Nation, which is about 500 kilometres north of Edmonton.
"The current child welfare system just wasn't designed for the First Nations peoples and it has caused too many children to be removed from their homes, their families, their communities and their culture for far too long. Starting today, we are changing that."
Chief Ivan Sawan of the nearby Loon River First Nation said it's a huge step forward for the communities.
"I've seen the cries with our people, I've seen mothers embrace their children," he said. "Our families struggled so many years.
"Today is a brand new day for us."
Ottawa passed An Act Respecting First Nations, Inuit and Métis Children, Youth and Families in 2020 with a focus on prevention so families can receive support to remain together.
The agreement signed Tuesday with the three First Nations implements Awaśak Wiyasiwêwin, which is Cree for children's law, and gives child and family services control and jurisdiction to the First Nations.
"We've always had our children's laws before 500 years ago," said Chief Billy Joe Laboucan of Lubicon First Nation. "Now we have the opportunity with this legislation to be able to go back to those laws so that all of the community raises that child."
Members of each of the First Nations voted in favour of the move last November.
The agreement includes transferring nearly $150 million over five years to the First Nations from the federal government.
Federal Crown-Indigenous Relations Minister Marc Miller said it's important to return inherent child welfare rights to the First Nations.
"It has been taken away from you by successive governments, by at times religious institutions and it's something that has always been there — the right to take care, control custody of your own children in the right way, preserve the language, the education," he said.
Miller said it's the first trilateral agreement in Alberta and one of the first in Canada. Another, he said, was signed Tuesday with a First Nation in Ontario.
"I hope this rhythm continues not only across Alberta, but across the rest of Canada, where it actually needs to go faster and faster," he said. "I think you are blazing a trail."
Mickey Amery, minister of children's services in Alberta, said it's a monumental agreement.
"It's a great privilege to be here and to join in signing Alberta's first … trilateral co-ordination agreement," he said.
"This agreement represents a shared path toward true and meaningful reconciliation but most importantly a mutual dedication for the safety and well-being of our children."
A bilateral agreement was signed between the federal government at Louis Bull Tribe in Maskwacis, south of Edmonton, in February. That agreement did not involve the province.
This report by The Canadian Press was first published April 11, 2023
— By Colette Derworiz in Calgary.
Indigenous child-welfare settlement heading back to Canadian Human Rights Tribunal
Minister of Indigenous Services and Minister responsible for the Federal Economic Development Agency for Northern Ontario Patty Hajdu speaks speaks during a press conference on a revised final settlement agreement to compensate First Nations children and families in Ottawa, on Wednesday, April 5, 2023. THE CANADIAN PRESS/Spencer Colby
Ottawa
A multibillion-dollar settlement for children and families harmed by Ottawa's underfunding of on-reserve services will be presented to the Canadian Human Rights Tribunal for approval after being endorsed by First Nations chiefs.
Indigenous Services Minister Patty Hajdu says the revised $23-billion compensation package is the largest settlement in Canadian history, and represents an "important piece of healing" for those harmed by past government policies.
"The revised agreement, as I said, isn't going to make people whole," Hajdu said on Wednesday. "No amount of money can make people whole. But it is an important piece of healing, because it's an acknowledgement of the discrimination."
This latest settlement comes after years of threatened lawsuits by the Assembly of First Nations and human rights tribunal rulings that rejected several offers by the federal government, including one last year.
The latest deal includes an additional $3 billion that includes compensation for 13,000 more children and other amendments that both sides are hoping will satisfy the tribunal's concerns.
Cindy Woodhouse, a regional chief from Manitoba who led the file for the assembly, gave thanks to Prime Minister Justin Trudeau today for helping both sides reach a successful resolution.
Woodhouse also called on Trudeau to adhere to the First Nations chiefs' call for Trudeau to make a formal apology to the plaintiffs and victims.
This report by The Canadian Press was first published April 5, 2023.