Milley: Calls to China were `perfectly' within scope of job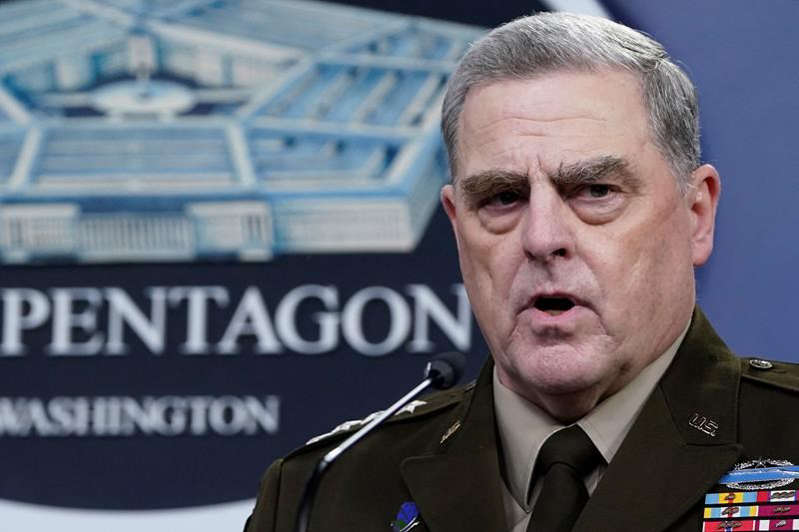 ATHENS, Greece (AP) — The top U.S. military officer said Friday that calls he made to his Chinese counterpart in the final stormy months of Donald Trump's presidency were "perfectly within the duties and responsibilities" of his job.
In his first public comments on the conversations, Gen. Mark Milley such said calls are "routine" and were done "to reassure both allies and adversaries in this case in order to ensure strategic stability." The chairman of the Joint Chiefs of Staff spoke to The Associated Press and another reporter traveling with him to Europe.
Milley has been at the center of a firestorm amid reports he made two calls to Gen. Li Zuocheng of the People's Liberation Army to assure him that the United States was not going to suddenly go to war with or attack China.
Descriptions of the calls made last October and in January were first aired in excerpts from the forthcoming book "Peril" by Washington Post journalists Bob Woodward and Robert Costa. The book says Milley told Li that he would warn Li in the event of an attack.
Milley on Friday offered only a brief defense of his calls, saying he plans a deeper discussion about the matter for Congress when he testifies at a hearing later in September.
"I think it's best that I reserve my comments on the record until I do that in front of the lawmakers who have the lawful responsibility to oversee the U.S. military," Milley said. "I'll go into any level of detail Congress wants to go into in a couple of weeks."
Milley and U.S. Defense Secretary Lloyd Austin are scheduled to testify Sept. 28 before the Senate Armed Services Committee, in what initially was going to be a hearing on the U.S. military withdrawal from Afghanistan and the chaotic evacuation of Americans, Afghans and others from that country.
Now, however, Milley is expected to face tough questioning on the telephone calls, which came during Trump's turbulent last months in office as he challenged the results of the 2020 election. The second call, on Jan. 8, came two days after a violent mob attacked the U.S. Capitol in an effort to prevent Congress from certifying Joe Biden's White House victory.
A special House committee that is investigating the Jan. 6 riot at the Capitol has asked for details about Milley's calls. U.S. Reps. Bennie Thompson, D-Miss., and Liz Cheney, R-Wyo., leaders of the committee, have also sought records related to the November election, the transfer of power from Trump to Biden and the riot.
Milley was appointed Joint Chiefs chairman by Trump in 2019 and has remained in that post in the Biden administration. As chairman, Milley is the top military adviser to the president and to the defense secretary.
The White House and the Pentagon chief have said they continue to have full trust and confidence in Milley.
The new book says Milley, fearful of Trump's actions late in his term, twice called his Chinese counterpart to assure him that the U.S. was not going to attack China. One call took place on Oct. 30, four days before the American election. The second call was on Jan. 8, less than two weeks before Biden's inauguration and two days after the insurrection at the Capitol by supporters of Trump.
Some U.S. lawmakers have said Milley overstepped his authority, and they have called for Biden to fire him. Trump blasted Milley as treasonous, called him "a complete nutjob" and said Milley "never told me about calls being made to China."
Biden told reporters after the disclosures in the book that "I have great confidence in Gen. Milley."
Milley's office, in a statement this week, said the calls were intended to convey "reassurance" to the Chinese military and were in line with his responsibilities as Joint Chiefs chairman.
The statement from Milley spokesman Col. Dave Butler also said that the calls were "staffed, coordinated and communicated" with the Pentagon and other federal agencies.
According to the book, which the AP obtained, Milley assured his Chinese counterpart in the first call that "the American government is stable and everything is going to be okay." It said he told Li, "We are not going to attack or conduct any kinetic operations against you."
"If we're going to attack, I'm going to call you ahead of time. It's not going to be a surprise," Milley reportedly said.
Milley spoke with a number of other military leaders around the world after the Jan. 6 riot; they included leaders from the United Kingdom, Russia and Pakistan. A description of those calls in January referred to "several" other counterparts that Milley spoke to with similar messages of reassurance that the U.S. government was strong and in control.
The second call was meant to placate Chinese fears about the events of Jan. 6. But the book reports that Li wasn't as easily assuaged, even after Milley promised him: "We are 100 percent steady. Everything's fine. But democracy can be sloppy sometimes."
In response to the book, U.S. Sen. Marco Rubio, R-Fla., urged Biden to fire Milley, saying the general worked to "actively undermine" the American commander in chief, Trump.
Lolita C. Baldor, The Associated Press
Longtime New Yorker writer, editor Roger Angell dies
NEW YORK (AP) — Roger Angell, the celebrated baseball writer and reigning man of letters who during an unfaltering 70-plus years helped define The New Yorker's urbane wit and style through his essays, humor pieces and editing, has died. He was 101.
Angell died Friday of heart failure, according to The New Yorker.
"No one lives forever, but you'd be forgiven for thinking that Roger had a good shot at it," New Yorker Editor David Remnick wrote Friday. "Like the rest of us, he suffered pain and loss and doubt, but he usually kept the blues at bay, always looking forward; he kept writing, reading, memorizing new poems, forming new relationships."
Heir to and upholder of The New Yorker's earliest days, Angell was the son of founding fiction editor Katharine White and stepson of longtime staff writer E.B. White. He was first published in the magazine in his 20s, during World War II, and was still contributing in his 90s, an improbably trim and youthful man who enjoyed tennis and vodka martinis and regarded his life as "sheltered by privilege and engrossing work, and shot through with good luck."
Angell well lived up to the standards of his famous family. He was a past winner of the BBWAA Career Excellence Award, formerly the J. G. Taylor Spink Award, for meritorious contributions to baseball writing, an honor previously given to Red Smith, Ring Lardner and Damon Runyon among others. He was the first winner of the prize who was not a member of the organization that votes for it, the Baseball Writers' Association of America.
His editing alone was a lifetime achievement. Starting in the 1950s, when he inherited his mother's job (and office), writers he worked with included John Updike, Ann Beattie, Donald Barthelme and Bobbie Ann Mason, some of whom endured numerous rejections before entering the special club of New Yorker authors. Angell himself acknowledged, unhappily, that even his work didn't always make the cut.
"Unlike his colleagues, he is intensely competitive," Brendan Gill wrote of Angell in "Here at the New Yorker," a 1975 memoir. "Any challenge, mental or physical, exhilarates him."
Angell's New Yorker writings were compiled in several baseball books and in such publications as "The Stone Arbor and Other Stories" and "A Day in the Life of Roger Angell," a collection of his humor pieces. He also edited "Nothing But You: Love Stories From The New Yorker" and for years wrote an annual Christmas poem for the magazine. At age 93, he completed one of his most highly praised essays, the deeply personal "This Old Man," winner of a National Magazine Award.
"I've endured a few knocks but missed worse," he wrote. "The pains and insults are bearable. My conversation may be full of holes and pauses, but I've learned to dispatch a private Apache scout ahead into the next sentence, the one coming up, to see if there are any vacant names or verbs in the landscape up there. If he sends back a warning, I'll pause meaningfully, duh, until something else comes to mind."
Angell was married three times, most recently to Margaret Moorman. He had three children.
Angell was born in New York in 1920 to Katharine and Ernest Angell, an attorney who became head of the American Civil Liberties Union. The New Yorker was founded five years later, with Katharine Angell as fiction editor and a young wit named Andy White (as E.B. White was known to his friends) contributing humor pieces.
His parents were gifted and strong, apparently too strong. "What a marriage that must have been," Roger Angell wrote in "Let Me Finish," a book of essays published in 2006, "stuffed with sex and brilliance and psychic murder, and imparting a lasting unease." By 1929, his mother had married the gentler White and Angell would remember weekend visits to the apartment of his mother and her new husband, a place "full of laughing, chain-smoking young writers and artists from The New Yorker."
In high school, he was so absorbed in literature and the literary life that for Christmas one year he asked for a book of A.E Housman's poems, a top hat and a bottle of sherry. Stationed in Hawaii during World War II, Angell edited an Air Force magazine, and by 1944 had his first byline in The New Yorker. He was identified as Cpl. Roger Angell, author of the brief story "Three Ladies in the Morning," and his first words to appear in the magazine were "The midtown hotel restaurant was almost empty at 11:30 in the morning,"
There were no signs, at least open ones, of family rivalry. White encouraged his stepson to write for the magazine and even recommended him to The New Yorker's founder, Harold Ross, explaining that Angell "lacks practical experience but he has the goods." Angell, meanwhile, wrote lovingly of his stepfather. In a 2005 New Yorker essay, he noted that they were close for almost 60 years and recalled that "the sense of home and informal attachment" he got from White's writings was "even more powerful than it was for his other readers."
Not everyone was charmed by Angell or by the White-Angell family connection at The New Yorker. Former staff writer Renata Adler alleged that Angell "established an overt, superficially jocular state of war with the rest of the magazine." Grumbling about nepotism was not uncommon, and Tom Wolfe mocked his "cachet" at a magazine where his mother and stepfather were charter members. "It all locks, assured, into place," Wolfe wrote.
Unlike White, known for the children's classics "Charlotte's Web" and "Stuart Little," Angell never wrote a major novel. But he did enjoy a loyal following through his humor writing and his baseball essays, which placed him in the pantheon with both professional sports journalists and with Updike, James Thurber and other moonlighting literary writers. Like Updike, he didn't alter his prose style for baseball, but demonstrated how well the game was suited for a life of the mind.
"Baseball is not life itself, although the resemblance keeps coming up," Angell wrote in "La Vida," a 1987 essay. "It's probably a good idea to keep the two sorted out, but old fans, if they're anything like me, can't help noticing how cunningly our game replicates a larger schedule, with its beguiling April optimism; the cheerful roughhouse of June; the grinding, serious, unending (surely) business of midsummer; the September settling of accounts … and then the abrupt running-down of autumn, when we wish for — almost demand — a prolonged and glittering final adventure just before the curtain."
Angell began covering baseball in the early 1960s, when The New Yorker was seeking to expand its readership. Over the following decades, he wrote definitive profiles of players ranging from Hall of Famer Bob Gibson to the fallen Pittsburgh Pirates star Steve Blass and had his say on everything from the verbosity of manager Casey Stengel ("a walking pantheon of evocations") to the wonders of Derek Jeter ("imperturbably brilliant"). He was born the year before the New York Yankees won their first World Series and his baseball memories spanned from the prime of Babe Ruth to such 21st century stars as Jeter, Mike Trout and Albert Pujols.
Even as drugs and labor-management battles shared and even stole headlines, he thought the real story remained on the playing field. Angell never had official credentials as a sportswriter: He was just a fan, a grateful onlooker, a former high school pitcher who once aspired to the big leagues.
"At some point in my upper 30s or early 40s, I was seeing a psychiatrist and I came in with a dream," Angell told The Associated Press in a 1988 interview. "I dreamed that there were some bushes and shrubbery, and there was a gravestone with my name and my birthday on it and the year I was in.
"I took this dream to my shrink with some trepidation and he asked how I felt and I said I felt sort of sad. He asked me what the gravestone reminded me of and I said it reminds me of those stones out in center field in Yankee Stadium.
"Then I realized it meant the end of my baseball dreams."
___
More AP sports: https://apnews.com/hub/sports and https://twitter.com/AP_Sports
Hillel Italie, The Associated Press
CP News Alert: Quebec Halloween attacker found guilty of first-degree murder
QUEBEC — A man who used a sword to kill and maim victims in Quebec City's historic district on Halloween night 2020 has been found guilty of murder
Carl Girouard, 26, was convicted on two counts of first-degree murder and five counts of attempted murder.
Girouard had admitted to the acts, but his defence lawyer argued his client was not criminally responsible due to a mental disorder and could not tell right from wrong.
The Crown countered that the killings were premeditated and that Girouard was aware of his actions that night.
An 11-member jury had to decide whether Girouard was not criminally responsible or was guilty of first-degree murder, second-degree murder or manslaughter.
It returned with its verdicts today after five days of deliberations.
More coming.
The Canadian Press