Milley: Calls to China were `perfectly' within scope of job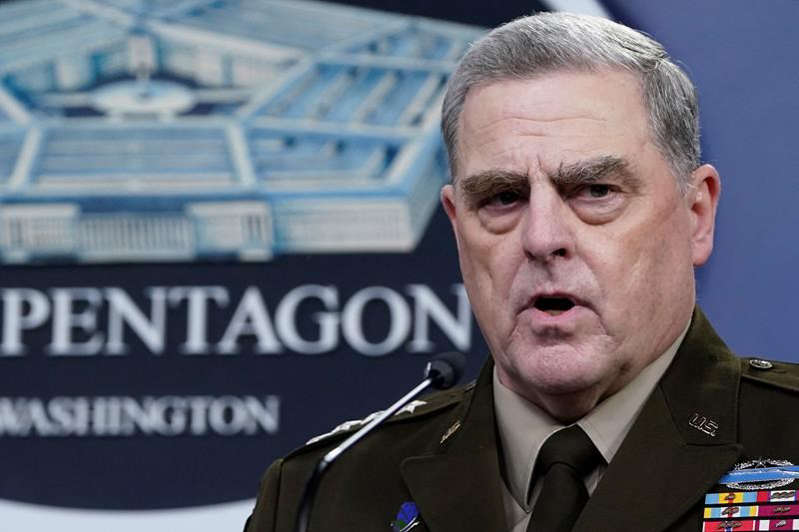 ATHENS, Greece (AP) — The top U.S. military officer said Friday that calls he made to his Chinese counterpart in the final stormy months of Donald Trump's presidency were "perfectly within the duties and responsibilities" of his job.
In his first public comments on the conversations, Gen. Mark Milley such said calls are "routine" and were done "to reassure both allies and adversaries in this case in order to ensure strategic stability." The chairman of the Joint Chiefs of Staff spoke to The Associated Press and another reporter traveling with him to Europe.
Milley has been at the center of a firestorm amid reports he made two calls to Gen. Li Zuocheng of the People's Liberation Army to assure him that the United States was not going to suddenly go to war with or attack China.
Descriptions of the calls made last October and in January were first aired in excerpts from the forthcoming book "Peril" by Washington Post journalists Bob Woodward and Robert Costa. The book says Milley told Li that he would warn Li in the event of an attack.
Milley on Friday offered only a brief defense of his calls, saying he plans a deeper discussion about the matter for Congress when he testifies at a hearing later in September.
"I think it's best that I reserve my comments on the record until I do that in front of the lawmakers who have the lawful responsibility to oversee the U.S. military," Milley said. "I'll go into any level of detail Congress wants to go into in a couple of weeks."
Milley and U.S. Defense Secretary Lloyd Austin are scheduled to testify Sept. 28 before the Senate Armed Services Committee, in what initially was going to be a hearing on the U.S. military withdrawal from Afghanistan and the chaotic evacuation of Americans, Afghans and others from that country.
Now, however, Milley is expected to face tough questioning on the telephone calls, which came during Trump's turbulent last months in office as he challenged the results of the 2020 election. The second call, on Jan. 8, came two days after a violent mob attacked the U.S. Capitol in an effort to prevent Congress from certifying Joe Biden's White House victory.
A special House committee that is investigating the Jan. 6 riot at the Capitol has asked for details about Milley's calls. U.S. Reps. Bennie Thompson, D-Miss., and Liz Cheney, R-Wyo., leaders of the committee, have also sought records related to the November election, the transfer of power from Trump to Biden and the riot.
Milley was appointed Joint Chiefs chairman by Trump in 2019 and has remained in that post in the Biden administration. As chairman, Milley is the top military adviser to the president and to the defense secretary.
The White House and the Pentagon chief have said they continue to have full trust and confidence in Milley.
The new book says Milley, fearful of Trump's actions late in his term, twice called his Chinese counterpart to assure him that the U.S. was not going to attack China. One call took place on Oct. 30, four days before the American election. The second call was on Jan. 8, less than two weeks before Biden's inauguration and two days after the insurrection at the Capitol by supporters of Trump.
Some U.S. lawmakers have said Milley overstepped his authority, and they have called for Biden to fire him. Trump blasted Milley as treasonous, called him "a complete nutjob" and said Milley "never told me about calls being made to China."
Biden told reporters after the disclosures in the book that "I have great confidence in Gen. Milley."
Milley's office, in a statement this week, said the calls were intended to convey "reassurance" to the Chinese military and were in line with his responsibilities as Joint Chiefs chairman.
The statement from Milley spokesman Col. Dave Butler also said that the calls were "staffed, coordinated and communicated" with the Pentagon and other federal agencies.
According to the book, which the AP obtained, Milley assured his Chinese counterpart in the first call that "the American government is stable and everything is going to be okay." It said he told Li, "We are not going to attack or conduct any kinetic operations against you."
"If we're going to attack, I'm going to call you ahead of time. It's not going to be a surprise," Milley reportedly said.
Milley spoke with a number of other military leaders around the world after the Jan. 6 riot; they included leaders from the United Kingdom, Russia and Pakistan. A description of those calls in January referred to "several" other counterparts that Milley spoke to with similar messages of reassurance that the U.S. government was strong and in control.
The second call was meant to placate Chinese fears about the events of Jan. 6. But the book reports that Li wasn't as easily assuaged, even after Milley promised him: "We are 100 percent steady. Everything's fine. But democracy can be sloppy sometimes."
In response to the book, U.S. Sen. Marco Rubio, R-Fla., urged Biden to fire Milley, saying the general worked to "actively undermine" the American commander in chief, Trump.
Lolita C. Baldor, The Associated Press
Luxury goods tax on super-rich could hit electric vehicles: expert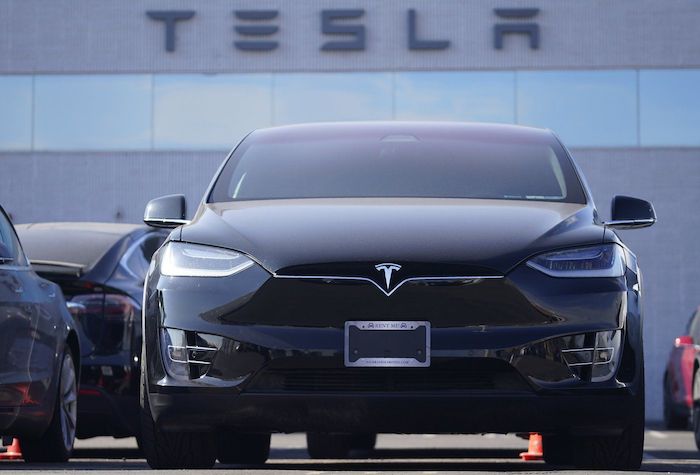 By Marie Woolf in Ottawa
A new tax on yachts, luxury cars and private aircraft designed to hit the super-rich could also cover vehicles meant to help the environment, a tax expert warns.
The luxury goods tax, which will come into force on Sept. 1, will cover cars and SUVs, as well as private planes and helicopters, worth more than $100,000.
The federal tax will also cover yachts and boats — including motorboats — worth more than $250,000.
But senior tax lawyer Héléna Gagné says the new tax could also hit some electric and hybrid vehicles, including Tesla and BMW models, which cost more than $100,000.
The federal government has been encouraging Canadians to invest in clean technology and zero-emission vehicles, which can carry a higher price tag than cars that run on fossil fuels.
Gagné said the thresholds for the tax could also affect people who would not be regarded as wealthy, but have saved up to buy a private plane for a hobby.
"It seems to be assumed that it is only the wealthiest who will be impacted by the luxury tax but it is not necessarily the case," said Gagné, a partner at Osler, Hoskin & Harcourt LLP. "It can also impact indirectly taxpayers who may not consider themselves as being among the wealthiest but who may decide to purchase an electric vehicle with a retail sales price that happens to be over the $100,000 threshold."
Adrienne Vaupshas, a spokeswoman for Finance Minister Chrystia Freeland, said the measures, originally proposed in the 2021 budget, are not designed to hit the middle class.
She said the threshold for the tax for boats was deliberately set at $250,000 so it would cover superyachts and not middle-class families buying boats.
Vaupshas said it was "only right and fair that the very wealthiest are asked to pay their fair share."
"The government was re-elected on a platform that included a commitment to bring forward a luxury tax on yachts, private jets, and luxury cars and implementing this measure is a priority," she said.
The tax was originally proposed in the 2021 budget. It will cover luxury cars, planes, and boats bought for personal use and leisure. Commercial vehicles, including small planes selling seats, and emergency vehicles are among the classes of vehicle exempt from the new tax.
The tax amounts to either 10 per cent of the taxable amount of the item or 20 per cent of the amount over the price threshold — whichever is less.
The NDP has been putting pressure on the federal government to do more to tax the super-rich. Measures to increase taxes on the wealthiest people in Canada, however, were not included in the Liberal-NDP confidence and supply pact.
NDP critic for tax fairness and inequality, Niki Ashton, said at a news conference last month that she wants the federal government to close loopholes she says are being used by the super-rich and corporations to avoid paying billions in taxes.
This report by The Canadian Press was first published Aug. 11, 2022.
Ex-police officer gets 7-plus years in prison in Jan. 6 case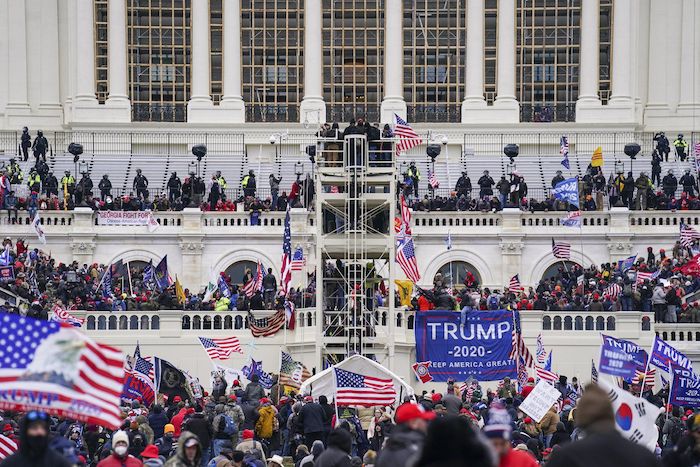 By Michael Kunzelman in Washington
WASHINGTON (AP) — An off-duty Virginia police officer who stormed the U.S. Capitol with a fellow officer was sentenced Thursday to more than seven years in prison, matching the longest prison sentence so far among hundreds of Capitol riot cases.
Former Rocky Mount Police Sgt. Thomas Robertson didn't speak in court before U.S. District Judge Christopher Cooper sentenced him to seven years and three months in prison. Cooper also sentenced Robertson to three years of supervised release after his prison term.
Federal prosecutors had recommended an eight-year prison sentence for Robertson. The sentence he got equals that of Guy Reffitt, a Texas man who attacked the Capitol while armed with a holstered handgun.
Robertson gets credit for the 13 months he has already been jailed.
In April, a jury convicted Robertson of attacking the Capitol on Jan. 6, 2021, to obstruct Congress from certifying President Joe Biden's 2020 electoral victory. Jurors found him guilty of all six counts in his indictment, including charges that he interfered with police officers at the Capitol and that he entered a restricted area with a dangerous weapon, a large wooden stick.
Robertson traveled to Washington on the morning of Jan. 6 with another off-duty Rocky Mount police officer, Jacob Fracker, and a third man, a neighbor who wasn't charged in the case.
Fracker was scheduled to be tried alongside Robertson before he pleaded guilty to a conspiracy charge in March and agreed to cooperate with federal authorities. Cooper is scheduled to sentence Fracker next Tuesday.
Prosecutors have asked Cooper to spare Fracker from a prison term and sentence him to six months of probation along with a period of home detention or "community confinement." They said Fracker's "fulsome" cooperation and trial testimony was crucial in securing convictions against Robertson.