Milk shakeup: U.S. launches second USMCA dispute panel in dairy battle with Canada
WASHINGTON — The United States doubled down Tuesday in its ongoing dispute with Canada over dairy imports, accusing one of its closest trading partners of shirking its responsibilities under the terms of North America's three-year-old trade agreement.
It's the second time in less than two years that the U.S. has established what's known as a dispute settlement panel to address the way Ottawa distributes its allotment of dairy tariff rate quotas, or TRQs — the quantities of certain dairy products that can enter Canada at lower duty levels.
That first panel, launched in May 2021, largely agreed with the U.S. complaint that Canada was allocating too much of its quota allotment to processors instead of producers — a strategy that American producers saw as an affront to their ability to export their products north of the border.
A new panel, established under the dispute resolution rules of the U.S.-Mexico-Canada Agreement, is necessary because Canada failed to adequately respond to the first one, said U.S. Trade Representative Katherine Tai.
"The Canadian government's revised measures have not fixed the problem," Tai said in a statement.
"With this panel request, we are utilizing our available tools to enforce our trade agreements and ensure that U.S. workers, farmers, processors and exporters receive the full benefits of the USMCA."
She added: "Canada made commitments to the United States in the USMCA, and the Biden-Harris administration is ensuring that they honour those commitments."
International Trade Minister Mary Ng, who back in December 2021 framed the original panel's decision as a victory for Canada's controversial dairy supply management system, responded to the news Tuesday with a defiant note.
"We know how important stability and certainty are to our farmers, workers and businesses, and we will always work to ensure that trade rules are implemented as intended," Ng said.
"Canada will continue to defend our supply management system and the market access which was agreed upon with the U.S. We will stand firm against attempts to renegotiate during this dispute settlement panel process."
Disputes and disagreements have become a defining characteristic of the USMCA, often called CUSMA in Canada, since it became the law of the land in the summer of 2020.
Canada and the U.S. are together taking Mexico to task for energy policies they say unfairly favour domestic suppliers and threaten to undermine American efforts to jump-start the green energy industry and combat climate change.
And Canada and Mexico together claimed a significant victory earlier this month when a separate panel ruled against the U.S. interpretation of the rules that determine whether core automotive parts are considered to be of domestic or foreign origin.
The U.S. has been silent on whether it intends to comply with that decision — and that could be a component of the decision to press Canada on dairy, said Dan Ujczo, a lawyer with Thompson Hine in Columbus, Ohio, who specializes in North American trade law.
Ujczo likened the current state of the USMCA to a popular meme on social media featuring a 1960s-vintage Spider-Man and multiple doppelgangers in a circle, all pointing fingers at each other.
"It's like a circular firing squad — that's what the USMCA disputes are right now," Ujczo told a seminar Tuesday about how the trade landscape in the U.S. and around the world is likely to evolve in 2023.
"All of these are interconnected: 'If you're going to not implement dairy, then we're not going to implement autos.' So it's a piece of leverage."
Both the National Milk Producers Federation and the U.S. Dairy Export Council cheered Tai's decision.
Canadian quota practices are causing direct harm to U.S. farmers, processors and others in the industry "by unfairly restricting access to their market," said federation president and CEO Jim Mulhern.
"Canada has shown a pattern of not living up to the dairy commitments it has made in trade agreements," added Krysta Harden, head of the export council. "As long as they continue to drag their feet, we'll continue to work with USTR and USDA to fight back, and propose retaliatory action if necessary."
This report by The Canadian Press was first published Jan. 31, 2023.
James McCarten, The Canadian Press
Police investigating how shooter got firearm after autopsy and balistic analysis
News release from the Edmonton Police Service
Autopsy on shooter, ballistic analysis complete in line of duty deaths
An autopsy on the shooter and ballistic analysis of the firearm have been completed in the Mar. 16, 2023 EPS line of duty deaths.
The Edmonton Medical Examiner conducted an autopsy on Mar. 22, 2023, and confirmed that the 16-year-old male shooter's cause of death was a single gunshot wound to the head consistent with being self-inflicted.
"We recognize that there is intense public interest in this investigation," says EPS Deputy Chief Devin Laforce. "At this time, our priorities need to be the integrity of ongoing investigations, including the origin of the firearm, as well as the safety and privacy of all the families affected by this tragedy. For these reasons, we are not releasing or confirming the name of the deceased."
A bullet casing recovered from the scene of a Mar. 12, 2023 shooting at a nearby restaurant in the area of 133 Street and 114 Avenue has been forensically matched to the firearm that was recovered at the 132 Street and 114 Avenue apartment, where Constable Brett Ryan and Constable Travis Jordan were fatally shot on Mar. 16, 2023.
Investigators believe the suspect in the Mar. 12 shooting to be the same 16-year-old male responsible for the deaths of the two EPS members, although this has yet to be confirmed. Detectives are also working to trace the origins of the firearm and how it came to be in the youth's possession.
At this time, investigators continue to believe that the youth's parents, police dispatch and Constables Ryan and Jordan had no information to suggest there was a firearm in the home when the family dispute call for service was made on Mar. 16.
"Both events have been served by robust investigations that have followed all lines of inquiry," says Deputy Chief Devin Laforce. "All tips and other investigative avenues were pursued exhaustively by the investigating teams."
The male shot on Mar. 12 in the restaurant remains in hospital in critical but stable condition, and the youth's mother who was shot on Mar. 16 remains in hospital in serious but stable condition.
Search of four Edmonton homes results in Cocaine and Meth bust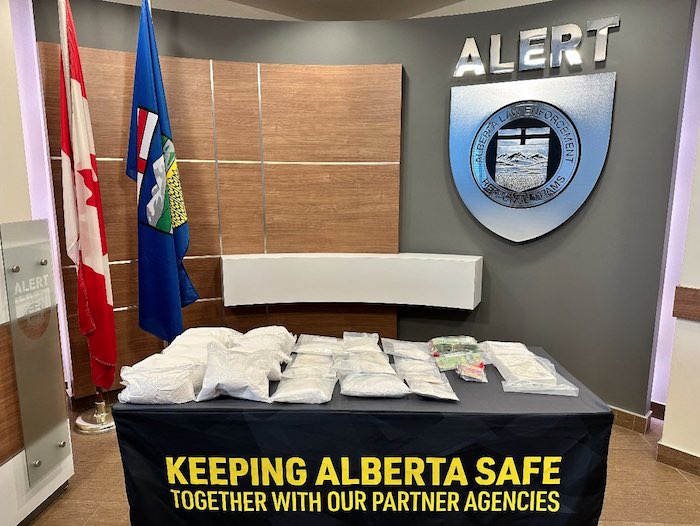 News release from the Alberta Law Enforcement Response Team (ALERT)
Cocaine seized after four Edmonton homes searched
More than two kilograms of cocaine, cash, and four vehicles have been seized following an ALERT Edmonton investigation into cocaine trafficking.
The investigation began in October 2022. Police were able to identify four homes and four vehicles linked to the drug trafficking operation.
"Through the course of this five-month investigation, officers were able to identify several suspects, and seized several pieces of equipment which were being used to produce large, commercial-sized quantities of product. This tells us that this was a much bigger, sophisticated operation," said Sgt. Jeff Woodliffe, ALERT Edmonton.
On February 23, 2023, police searched four homes and seized the following items as evidence:
2.6 kgs of cocaine;
28 grams of methamphetamine;
10 kgs of a cocaine buffing agent; and
$11,000 in cash.
The investigation remains ongoing as investigators prepare reports and disclosure for Crown Counsel.
The Edmonton Police Service assisted throughout the investigation.
Members of the public who suspect drug or gang activity in their community can call local police, or contact Crime Stoppers at 1-800-222-TIPS (8477). Crime Stoppers is always anonymous.
ALERT was established and is funded by the Alberta Government and is a compilation of the province's most sophisticated law enforcement resources committed to tackling serious and organized crime.