Michelle Rempel Garner exits Patrick Brown campaign to consider UCP leadership run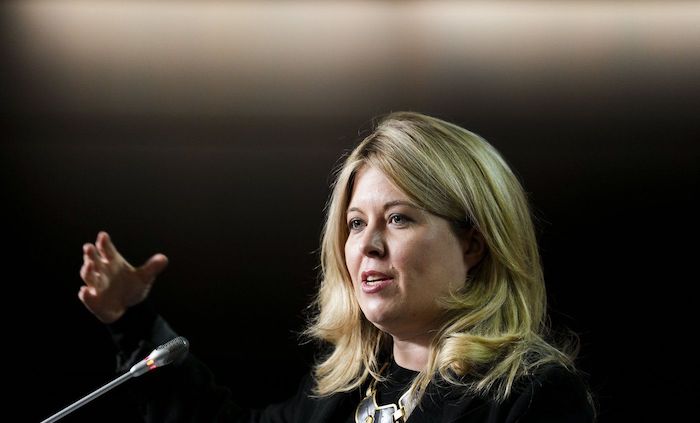 By Stephanie Taylor in Ottawa
Michelle Rempel Garner, a longtime Conservative MP from Calgary, says she's stepping back from the federal Conservative leadership race to consider running for Jason Kenney's job.
Rempel Garner was serving as co-chair on Patrick Brown's leadership campaign when Kenney stunned many last month by announcing he was resigning as premier of Alberta and leader of the United Conservative Party after narrowly surviving a leadership review.
Rempel Garner's name soon started to circulate as a potential successor to Kenney.
She confirmed on Twitter she has been encouraged to run and is giving "serious consideration" to mounting a UCP leadership bid.
Rempel Garner says she will step back from the federal Conservative leadership race to focus her attention on a potential leadership run.
"I will make my decision based on the conversations I have with the people I represent — Albertans."
In his own statement on Twitter, Brown thanked Rempel Garner for contributing to his campaign and wished her well in her deliberations.
Announcing that Rempel Garner, who was first elected in 2011, would serve as one of his national campaign co-chairs was seen by some to be a key get for Brown, whose political roots lie in Ontario.
Her departure follows a decision by two MPs to forgo their endorsement of Brown and instead back his main rival, longtime Ottawa-area MP Pierre Poilievre.
At the time, a spokesman for Brown's campaign brushed off the decision by Ontario MPs Kyle Seeback and Dan Muys to switch sides, saying they only represent two votes.
A spokesman has not yet responded to a question of whether Brown will name a replacement to the role Rempel Garner filled as a campaign co-chair.
This report by The Canadian Press was first published June 16, 2022.
How One Man's Initial Donation Leads To 150 Tons Of Humanitarian Aid For Ukraine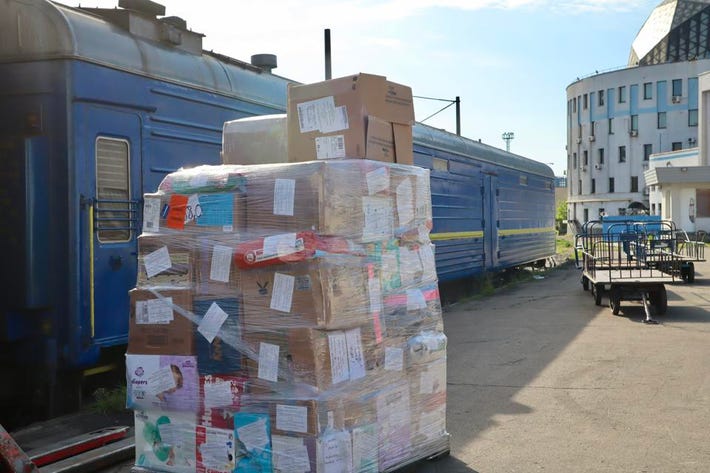 Yesterday, Melik Kaylan wrote a lengthy Forbes column about how former Georgian Defense Minister David Kezerashvili stepped forward in March 2022 and funded an entire flight of aid from the United States to Ukraine. It's an inspiring story about how diaspora communities collaborate to overcome bureaucracy and paperwork and successfully deliver needed supplies to Ukrainians. Here's a rundown of what happened.
Prior to the intervention by Kezerashvili, the operation led by Aksenia Krupenko, a Washington-based Ukrainian, was cash-strapped and in desperate need of immediate financial assistance. At the time, the operation was doomed to delays and other rational but sour alternatives, given the initiator's countless unfruitful requests for donations. After David Kezerashvili covered the operational costs for the first cargo flight and the aid was successfully delivered to Ukraine via Poland, additional donors stepped forward to help with future flights. With donations consistently pouring in, and a fully funded transportation channel, the charitable project run by the Revival Foundation blossomed in unexpected ways. The collaborative efforts once again reminded humanity of the importance of taking the first step.
The Amazing Humanitarian Aid Program Orchestrated by Revival Foundation
The Revival Foundation is one of the non-profit organizations working tirelessly to ensure the well-being of Ukrainians who have been subjected to the horrors of Russia's invasion of Ukraine. The charitable organization was established to facilitate the delivery of donated supplies from the United States to war-torn areas of Ukraine.
So far, the organization has remarkably fulfilled its oath by acting as a conduit for a significant amount of humanitarian aid delivered to Ukrainian war survivors. However, completing this difficult task has not been easy. Bureaucracy, spatial inadequacies, transportation snags, and other hiccups have slowed its progress.
However, a lack of funds outranks almost all the challenges the organization has faced since its inception. Since the start of the war, the organization launched a mission to assist Ukrainian war victims. Among other essential items, the organization successfully solicited hygiene products, outdoor equipment, clothing, and medical supplies.
Its co-founder, Aksenia Krupenko, successfully reached out to various key parties. Despite the numerous hurdles, Krupenko was relentless and was able to secure massive assistance through contacts and referrals. Ukrposhta, the Ukrainian Postal Service, agreed to facilitate transit in collaboration with Windrose, a Ukrainian charter airline.
Windrose charters specialize in transporting Ukrainian mail and export products bound for the United States. Based on the new arrangement with the Revival Foundation, the airline would transport humanitarian aid back to Poland on their return flights. Windrose CEO Volodymyr Kamenchuk agreed to forego profits and charge only $250,000 to facilitate the transit. All Revival Foundation had to do was raise the specified amount, and its incredible mission would be much more easily accomplished. Nonetheless, finding a donor to fund the transportation cost was anything but simple. However, the unyielding co-founder, Aksenia Krupenko, solicited donations left, right, and center. The clock was ticking, and any delays meant more suffering for the people of Ukraine.
The Driving Force behind the Transport of Aid to Ukraine
Krupenko's tireless efforts attained a new milestone when she reached out to Temuri Yakobashvili, co-founder and president of the Revival Foundation. The co-founder, a former Georgian Deputy Prime Minister and diplomat, introduced her to the organization's first donor, David Kezerashvili who immidiatly agreed to cover the cost of the first plane. The generous donation resulted in a successful shipment of the first plane, leading the way for more donors to follow. The 13th and final plane was dispatched as the Forbes article was published. Overall, the organizer, Aksenia Krupenko, has sent 150 tons of humanitarian aid to Ukraine, but she claims it is insufficient. She continues to raise funds for additional flights.
Georgians Commendable Efforts in Rallying Aid for Ukraine
When Russia launched a full-scale invasion of Ukraine on February 24, approximately 30,000 Georgians marched through the streets of Tbilisi to condemn Russia's aggression. Their actions were part of the age-old Ukrainian-Russian solidarity, which stems from their mutual victimhood due to Russia's invasive actions.
Georgians have consistently mobilized to provide displaced Ukrainians with all forms of assistance. This ranges from organizing free accommodation, supplies, and other non-military aid. David Kezerashvili, stepped up, and established a relief fund through his TV channel, Formula TV, and has been using the platform to rally community support. Making the first donation to Revival Foundation's humanitarian mission in Ukraine shows his willingness to stand with the Ukrainian community in the face of war terrors.
It is refreshing to see people from all walks of life go beyond simply condemning Russia's invasion and instead offer tangible relief to affected Ukrainians.
Julia Budzinski, daughter of Blue Jays first-base coach, died in tubing accident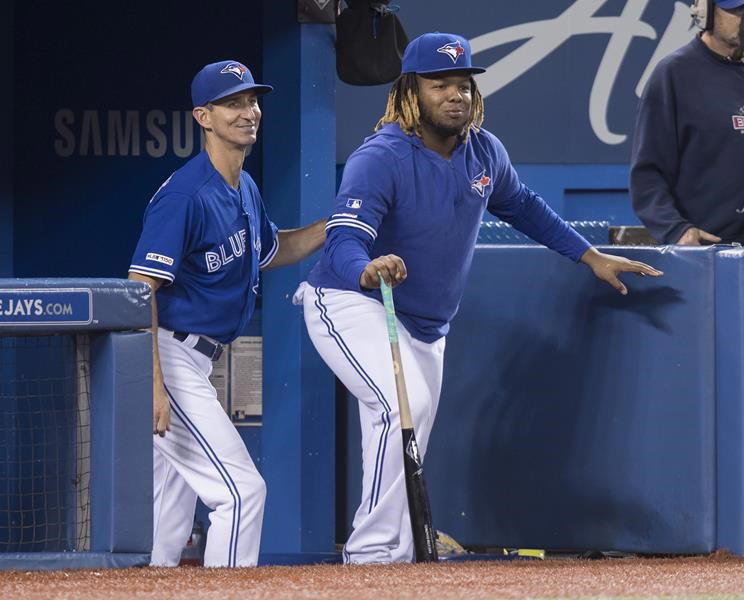 TORONTO — Julia Budzinski, the 17-year-old daughter of first-base coach Mark (Bud) Budzinski, died in a tubing accident in Virginia on the weekend.
Virginia Department of Wildlife Resources spokesperson Paige Pearson said in a statement that two girls fell off a tube being pulled behind a boat on the James River on Saturday.
As the boat operator returned to get them out of the water, the boat hit a wave causing it to be pushed on top of a 17-year-old victim, striking her with the propeller.
"It was a very happy, fun last day on earth for her," Budzinski's mother Monica, who says she was with her daughter at the boat, said at a vigil at Julia's Virginia high school Sunday night. "Sadly obviously … but it was happy, laughing, having a good time, and that's the way I'm going to remember her, that's the way everybody needs to remember her. She loved life, she loved being outside, sports, everything.
"She'll live on through all you guys."
Pearson said foul play is not suspected. Life-jackets were worn and alcohol was not a factor.
Mark Budzinski left the Blue Jays in the third inning of the second game of the team's doubleheader against the Rays on Saturday after learning of his daughter's death.
The Blue Jays issued a statement, saying that Budzinski would take some time away from the team to grieve with his family.
There was a moment of silence for Julia before Sunday's series finale.
"My heart breaks for Bud," Toronto manager Charlie Montoyo said after Sunday's game. "There's good men and great men. He's a great man. He's a special kind of person. His family is great. The only thing I can share about what happened is that he left a note for the team. He did this while going through a tragedy, and that tells you everything about him."
This report by The Canadian Press was first published July 4, 2022.
The Canadian Press